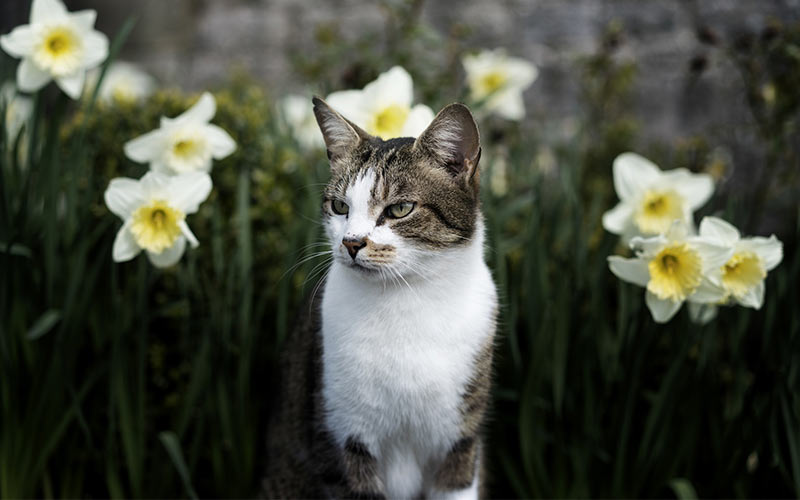 Did you know that cats can have allergies? Just like us! In this article we are going to give you a complete guide to plants cats are allergic to.
Helping you to keep your kitty safe in your home and back yard.
We like to think our cats are a lot like us. Cats have their likes and dislikes, favorite foods.
They even seem to have some pretty strong opinions about the people they hang out with.
Kitties can become ill from a common virus too, and they may even develop allergies.
That is correct, cats can develop a case of hay fever like you or I.
And you may even see symptoms in your cat about the same time that your seasonal allergies act up!
In this article, we discuss cat allergies, what they are and what you need to look out for when it comes to plants.
Giving you a comprehensive guide to plants cats are allergic to.
What Is A Cat Allergy?
Before we start looking at all the things that cats may be allergic to, you may want to know what an allergy actually is.
And why certain cats develop allergies.
Allergies in cats are similar to allergies in humans.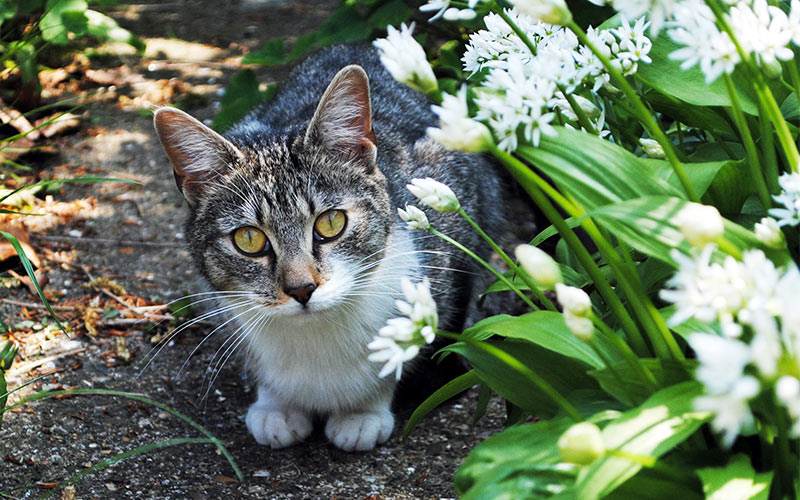 The allergy occurs when the body reacts to a substance that is not typically toxic or harmful.
In essence, allergies are an overreaction of the immune system where the body senses something foreign in the body and acts out against it.

Poisonous Plants For Cats To Avoid
Once the foreign substance is detected by the immune system, antibodies are released into the body.
Antibodies are special proteins that are released in response to an antigen.
Still with us?
Well, each antibody is specific to the antigen.
Whether it is a virus, bacteria, or allergen.
The antibodies attach themselves to cells called mast cells and they release histamine once the allergen comes into contact with with antibody.
Antihistamines
You have probably heard a whole lot about antihistamines.
Especially if you need to fight off seasonal allergies yourself.
However, some people are not nearly as familiar with the term histamine, even if drugs are taken to fight off the substance.
Well, histamine is an inflammatory substance that causes the muscles and soft tissues of the body to contract. It also makes blood vessels dilate.
When the histamine is released into your cat's body, he will probably feel a lot like you do when an allergy attack springs up.
Cat Allergy Symptoms
A few common allergy symptoms include:
Coughing
Wheezing
Sneezing
Runny and itchy eyes
Sensitive or swollen paws
Snoring
Vomiting
Diarrhea
One of the more interesting symptoms of a cat allergy is the presence of an ear infection.
Histamine can cause swelling of the ear canal and bacteria can then become trapped in the ear. The trapped microorganisms thrive and infect the soft tissues of the ear.
If you notice your cat shaking his head, scratching his ears, and losing his balance, then an ear infection may be to blame. Some other symptoms include bright red ears and a strong pus odor.
According to the Veterinary Institute of Integrative Medicine, your cat is likely to cry out if you touch his infected ear.
While allergies may lead to an ear infection, the ailment must be treated like any other ear infection; with antibiotics. Make sure to speak with your veterinarian if you think an ear infection is possible.
When it comes to the other symptoms, they are likely to come ago as the seasons change.
Is Cat Asthma A Common Problem?
Asthma and allergies are linked, and asthma is a major concern for cats.
According to the Cornell University College of Veterinary Medicine, around 800,000 cats in the United States have an asthma condition.
While this is a small number of felines, at about 1% of the cat population, asthma is a serious respiratory ailment.
Pollen allergies are one risk factor for developing the disease. You are likely to see some telltale signs of an asthma attack if your cat develops the respiratory issue.
Cat Asthma Symptoms
You may see your cat's breathing become rapid and his chest moving in and out at a fast pace.
Your furry friend will probably have his mouth open like he is trying to gasp for air.
Wheezing sounds may also be heard as your cat breathes out. This noise can be heard as air tries to move out through the constricted and swollen airways.
If you notice an asthma attack, do not panic just yet. Mild and moderate cases are most common. They typically pass quickly and do not interfere with your cat's normal activities. While this is true, you definitely need to get your cat to the vet, but an emergency appointment probably is not needed.
Acute and severe asthma attacks, on the other hand, are an emergency. This type of attack is likely to leave your feline incapacitated. If you notice the nose, tips of the ears, or the lips turning blue at any point, then transport your feline to an animal hospital right away.
This means the blood is oxygen deprived since the lungs are not pulling in much air.
But getting back on to what you would typically consider with allergies – plants!
What Kind Of Allergy Is A Plant Allergy?
Before we look at the plants cats are allergic to, let's talk about plant allergies in general.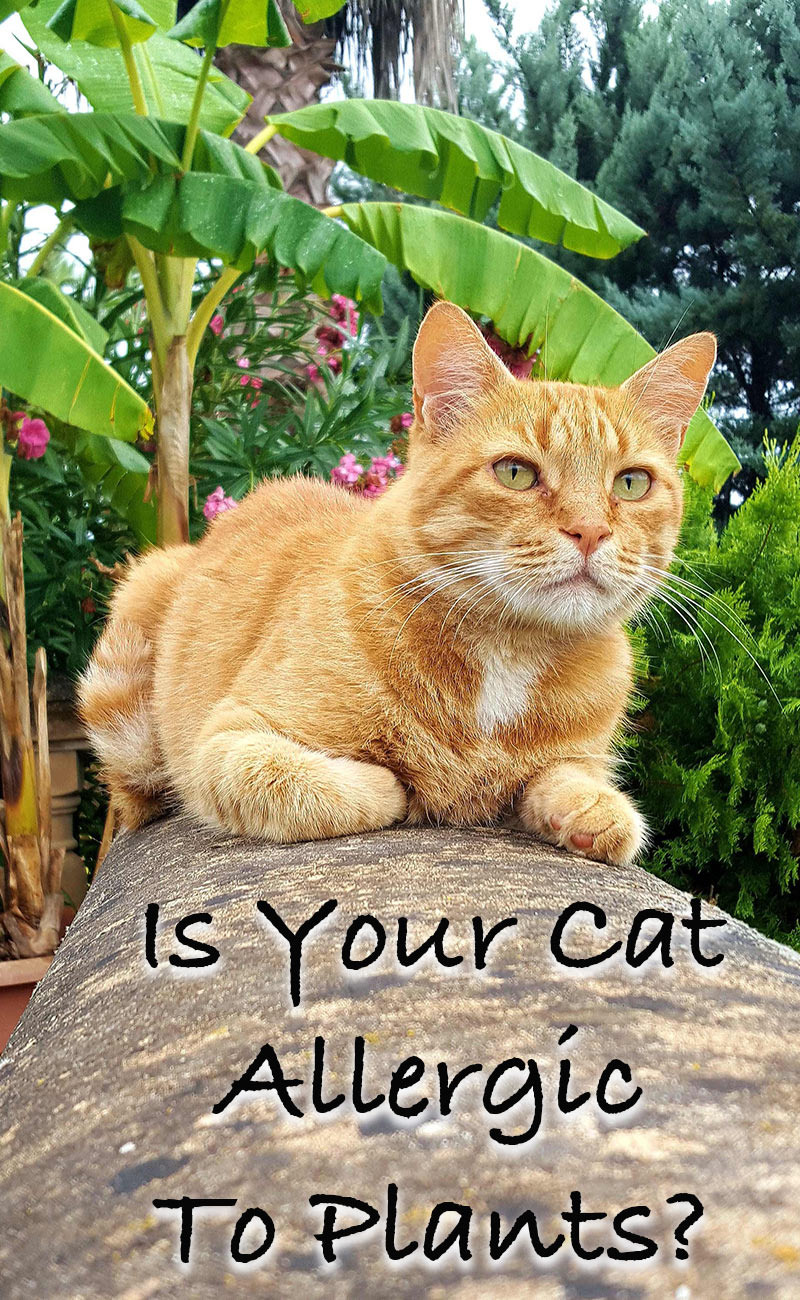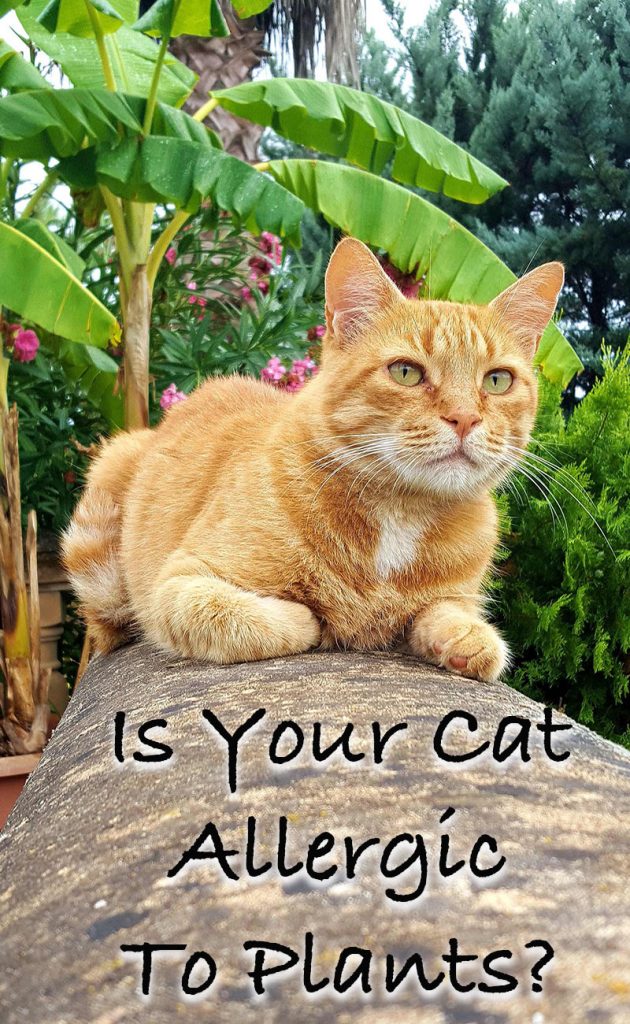 Now that you know what allergies are and what some of the symptoms may be, you might wonder a little bit about the different categories of allergies that your cat can develop.
Well, the allergies are similar to human ones and can be separated into three different categories.
Flea, environmental, and food allergies make up the categories.
Plant allergies are environmental ones and involve allergic reactions to plant pollen. Plants, like grasses, release pollen at various times throughout the spring and summer.
The vast majority of weeds release their pollen into the air in the fall. If you have ever heard of late summer and early fall referred to as "ragweed season", then this is why.
Like many human allergy sufferers, weed pollen can cause feline allergies to act up. So fall may be quite the troublesome season for your cat.
You should know that flowers and flowering plants can cause allergy problems as well.
Flowers, unlike weeds, grasses, and trees, typically create a sticky and thick pollen that can be carried from plant to plant by bees and other insects.
This pollen does not float in the air, so it does not typically cause an allergy problem for your cat unless flowers are kept indoors or your cat brushes against flowers when outside.
Are Cats Allergic To Lillies?
As a pet owner, you should understand that there is a huge difference between an allergy and a reaction to a toxic substance that has been digested or inhaled.
While a common wildflower or a daisy may cause a pollen allergy, contact with a lily can actually cause your feline to become quite ill.
In fact, lilies are poisonous to cats and felines cannot be around Day, Tiger, Easter, Japanese show, or Asiatic lilies. Both the pollen and the plant parts of the lily are toxic to cats. This means that if your cat decides to chew on a stem, leaf, stamen, or pedal, he will become very sick.
Unfortunately, your furry pal may go through kidney failure soon after ingesting part of a lily. This is one reason why it is extremely important to keep these flowers out of your home and your yard.
There is a shimmer of hope when it comes to lily intoxication. Research shows that the toxin that causes toxicity is unknown, but there is a viable treatment as long as you rush off to the animal hospital as soon as your cat ingests part of a lily. The treatment involves the administration of IV fluids to help your feline create a good deal of urine.
This is called fluid diuresis and it helps to flush out the toxin from the kidneys before kidney failure sets in. If you suspect that your cat has come into contact with a lily, then made arrangements for your cat to receive emergency care ASAP.
Are Cats Allergic To Tulips?
Tulips are in the same category as lilies when it comes to cats and toxicity.
In fact, tulips are part of the Liliaceae family, along with lilies, that include a whopping 705 flower species. The plants in this family are all toxic to cats to varying degrees.
In the case of tulips, unlike lilies, the toxins are well-known to researchers mainly due to the way the compounds in the plant cause allergic dermatitis in humans. The same compounds, called lactones, are tulipalin A and tulipalin B and are toxic to cats.
The majority of the toxins are located in the bulbs of the tulips, but there are traces in the leaves and flowering parts of the plant. This means that your cat can become ill by eating tulips, but only if a larger quantity is consumed. Since the bulbs are highly toxic though, it really is a good idea to just keep tulips away from your furry friend.
Are Cats Allergic To Orchids?
If you enjoy the delicate beauty of orchids, then it may be a relief to hear that these blooms are not toxic to cats. There are hundreds of other plants and flowers that are non-toxic as well, and the ASPCA has a searchable database that can help you figure out which plants you can add to your home and which ones you should definitely avoid.
With this in mind, your cat may still be allergic to orchids or any other type of flowering plant, so if you see any telltale sings of allergy discomfort, try removing the plant from your home to see if your cat experiences some relief.
Poisonous Plants For Cats
If you want to know more about which plants are potentially harmful to your kitty in a poisonous manner, then check out this extensive guide.
Poisonous Plants For Cats
It gives a list of all the common plants that are dangerous if ingested by cats.
Cat Allergy Assessments And Treatment
If you have ever had the misfortune of dealing with seasonal allergies yourself, then you may know that it can be extremely difficult to pinpoint an allergen, especially if you are allergic to many different types of pollens. You may very well have this same experience with your kitty.
You can wait to see if mild to moderate symptoms go away on their own. However, If your cat seems to have some pretty significant pollen, plant, flower, or grass allergies and you cannot figure out the allergen, speak with your veterinarian. The professional can complete a blood test to find out what the allergen may be.
If one or several allergens are found, then avoidance is the key to relief for your furry friend. Sometimes, a medicine regimen must be started as well that includes an antihistamine. Steroid medications, allergy injections, and cortisone treatments may be needed as well. Your veterinarian can come up with a comprehensive treatment plan based on the needs and symptoms of your cat.
Plants Cats Are Allergic To
Some plants are poisonous to cats, while others can cause an allergic reaction.
There are even a multitude of plants that have no affect on your feline at all.
It can be difficult and overwhelming to understand if you should or should not add a house plant to your home.
As a rule of thumb, if a plant is on the poisonous plants for cats list, then don't have it in your home or yard.
And if your cat suffers from pollen related allergies, then it's best to have only house plants that don't flower.
Of course, if you see your cat reacting to a plant, then remove it and seek out care so an allergy or asthma assessment can be completed.
Is your cat allergic to plants?
Do you have a cat with seasonal allergies, or does your cat simply love the plants that you add to your home? Let us know in the comments below.
References
Division of Dermatology, Clinical Hospital, Faculty of Medicine, University of Sao Paulo (HC-FMUSP) – Sao Paulo, Brazil, Anais Brasileiros de Dermatologia, An. Bras. Dermatol. vol.85 no.4 Rio de Janeiro July/Aug. 2010
Fitzgerald KT, Lily toxicity in the cat, Top Companion Anim Med. 2010 Nov;25(4):213-7. doi: 10.1053/j.tcam.2010.09.006
Poisonous Plants For Cats