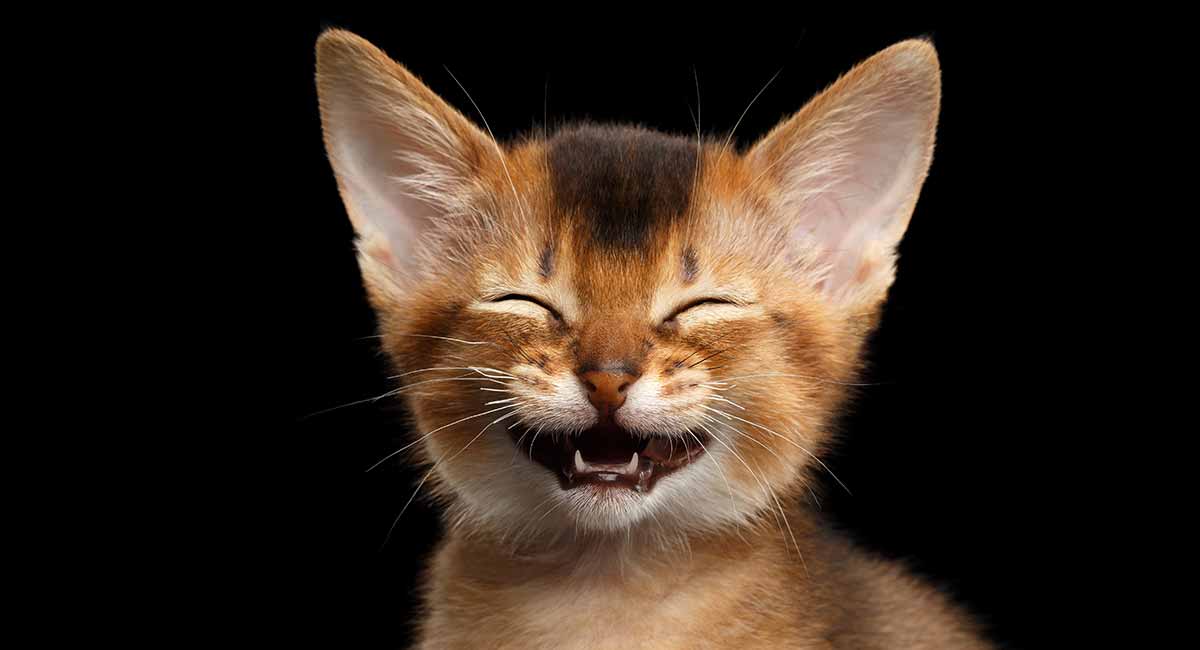 Looking for the best punny cat names for your new fur baby? We are so glad you are here.
Maybe you're searching for creative inspiration to make up your own punny cat name. Or maybe you hope to land on that perfect name as-is. Either way, we think you'll love these name selections!
Punny cat names are wildly popular today. Especially on social media, as well as in pop culture. A pun is a play on words. They can make you think and make you laugh. And they certainly make for great conversation when you introduce your cat to your family, friends, and neighbors!
In this carefully curated article, you will find some of the best punny cat names inspiration for male and female kitties in several awesome categories. So let the pun begin!
(Pun intended!)
Punny Cat Names
Giving cats punny cat names is undeniably trendy amongst the celebrity set.
Look at singer CeeLo Green's cat Purr-fect. How about singer Katy Perry's iconic Kitty Purry? Celebrities have not been shy to come up with their own paw-ticularly punny names for their favorite felines.
So, if you love to pun and really want to come up with uniquely hiss-terical punny cat names for your new kitty, you are in great company!
Here are just a few helpful tips to keep in mind as you start punning:
First, if you want to pun a name using a loved one's name for inspiration, it is always sweet to ask their permission first.
Second, don't give yourself creative block by stressing out your punny new cat name. Just focus on getting to know each other and before long you'll be punning like a pro!
Third, think about some of your favorite book or film characters, social media feeds, and cartoons. Challenge yourself to create fresh puns using them as inspiration.
Fourth, considering an overly spicy or politically incorrect punny cat name? Just make sure you will still feel comfortable with your name choice when you are hollering it so your neighbors can hear!
Wordplay Pun-spiration
Here is a list of some great cat-centric words to pun around. With a bit of practice, you will soon find yourself inserting these words into all kinds of unusual phrases where there is a phonetic match.
For example, "perfect" becomes "purr-fect."
Claw
Feline
Fur
Purr
Tail
Paw
Cat/Kat
Litter
Sniff
Hiss
Tomcat
Meow
Kitten
Fluff
Puss
Mog/Moggy
Mew
Hair
Lick
Bite
Pounce
Leopard
Yawn
Fuzz
Scent
Lion
Tabby
Catnip
Itch
Scratch
Kit
Flea
Poop
Feral
Puma
Collar
Spay
Whisker
Wherever possible in each list here that follows, we have hyphenated each punny cat name so you can see exactly how these keywords have been inserted to create the puns!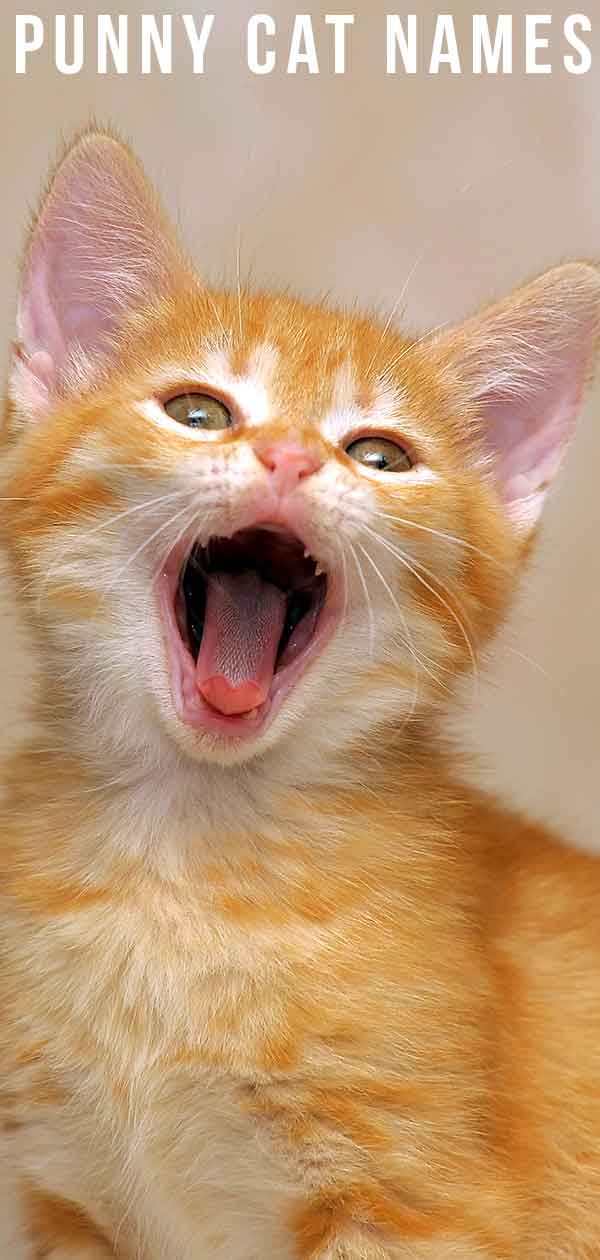 Best Punny Cat Names
Celebrities sometimes say it best. These are some of the best punny cat names, courtesy of the social media elite!
Kitty Purr-y (Katy Perry)
Purr-fect (CeeLo Green)
Colonel Meow (feline Guinness Book record holder for "longest fur")
Edward Scissor-paws (Instagram kitty)
Stevie The Wonderful (blind Instagram kitty)
Groucho Meow-x (Instagram kitty)
Juni-purr (one of a pair of Instagram kitties)
Deputy Snuggle-up-a-gus (Instagram kitty)
Cat-ticus (feline mascot of a bookshop)
Punny Cat (Instagram kitty)
Female Punny Cat Names
These fabulous female punny cat names take inspiration from pop culture, history, literature, music and more. You might find your kitty's purr-fect new name here!
Of course, some of these might be used for a male cat name, too.
Cleo-cat-ra
J.K. Meow-ling
Cat-sy Cline
Margaret Scratch-er
Fur-gie
Cat-alie Portman
Jane Paw-sten
Claw-dia Sniff-er
Angeli-cat Hiss-ton
Dolly Purr-ton
Jenni-furr Paw-rence
Oprah Whisker
Paw-dry Hepburn
Em-purr-ess
Cat-meron Fleas-z
Anne Cat-away
Kim Cat-dashian
Purr-iwinkle
Paw-la Dean
Es-purr-anza
Male Punny Cat Names
Whether your interests lean towards science, literature, blockbuster movies, sci-fi, news reporting or music, you will find something to love in this list of male punny cat names.
Again, if one of these just seems to fit well for your female cat rather than your male cat, go for it!
Shakes-purr
Charles Lick-ens
Paws McCartney
Fuzz Aldrin
Purr-nest Kitten-way
Walter Cron-kat
F. Scott Fitz-feral
Taylor Paw-tner
Meow-ly Cyrus
Shia La-Fluff
William Cat-ner
Cat Damon
Fur-lock Holmes
Leopard Nimoy
Cat-rick Stewart
Christo-fur Reeve
Tabby Maguire
Paw-l Revere
Kit Hiss-topherson
Tomcat Cruise
Cool Punny Cat Names
We think there is a reason the word "cool" is associated with cats and not, say, with dogs or other pets.
After all, cats are the very epitome of cool. And these cool punny cat names from mainstream media, kids' cartoons, ancient and modern history, politics and music demonstrate!
The Great Cat-sby
Cat Man
Tom Paw-yer
Cat Stevens (a UK singer whose real name is Steven Demetre Georgiou)
Don Dra-purr
Brad Kitten
Feline Dion
Cat King Cole
Cat-sper the Friendly Ghost
Furr-nando Cortez
Prince of Purr-sia
Cat-atouille
Cat-baret
Fleas-navidad
Snow Bite
Cat-ch 22
Abraham Lynx-in
I Claw-dius
Pope John Paw-l
Paw-claw-hontas
Cute Punny Cat Names
Cats may be naturally cool, but they are also really cute!
This makes it almost ridiculously easy to immortalize the cuteness of kittens and cats into endearing, cute punny cat names like the names on this list!
Cat-abunga
Dan D. Lion
Meow-gli
Paw-sy Paw-sborne
Pounce de Leon
Ru-Paw
Cat-astrophe
Cat-atonic
Hairy Houdini
Scratch-asaurus Rex
The Little Purr-maid
Furr-est Plump
Freddie Purr-cury
Cat-tillac
Furr-less Leader
Cat-serole
Cat-mandu
Purr-fection
Mr./Ms. Paw-fect
Miss Ameri-cat
Funny Punny Cat Names
Cats may not always mean to be funny. And they probably rarely try. It just comes naturally.
These funny punny cat names will make guests laugh and strangers smile. And perhaps one of these names will perfectly capture your cat's inner comedian!
Bob Scratch-it
Cat-tyshack
Jerry Flea Lewis
Hair-y Potter
Snoop Catty Cat
Winnie the Purr
Pablo Pi-cat-so
Just Kitten Around
The Fur-inator
Debbie Hair-y
Flea-yonce
Hairy Poppins
Tina Spay
Anderson Poop-er
Cat-sanova
Bing Claw-sby
Sir Isaac Mew-ton
Lionel Itch-y
Obi Wan Cat-nobi
Will Feral
Unique Punny Cat Names
Politics, pop songs, even James Bond. They're all potential targets for unique punny cat names.
The Mog-father
Dalai Claw-ma
James Claw-nd
Octo-puss-y
Meo-tenant Dan
Sir Purr-cival
Cat-erpillar
Cat-apult
Kitty Kitty Bang Bang
Cat Middleton
Cat Kerouac
Purr-ince
Purr Diddy
The Notorious C.A.T.
Kit Rock
Kitty-licious
Stone Cold Kittens
Jim Cat-rey
Claw-nald Trump
Prince Hairy
Tough Punny Cat Names
Who says you can't be tough and punny at the same time? Not these tough punny cat names, that's for sure!
From Star Wars to The Princess Bride, World War II to the ancient Orient, these tough punny cat names do their best to walk that fine line between gutsy and funny!
Emperor Paw-Paw-tine
Darth Meow-l
Luke Sky-whisker
Jean Claw-ed Van Damme
Inigo Meow-ntoya
Meow-ard Stern
Winston Fur-chill
Dirty Hairy
Purr-gatory
The Fuzz
Frank Lloyd Bite
Butch Cat-sidy
The Sundance Kitten
Catnip Everclean
Yawn Solo
Cat-zilla
David Meow-ie
Henry Hiss-inger
Chairman Meow
Genghis Cat
Fun Facts About Punny Cat Names
Why are punny cat names so popular? Because they make us smile and laugh, of course!
Yet punning, or wordplay as it is formally called, has a serious history all its own. Going all the way back to the 7th century B.C.!
Did you know there is such a thing as a Pun-Off? The winners earn titles such as "Punniest of Show" and "Punslingers." Former winners have put their verbal knack to work penning political speeches, cartoons, popular and academic books, and even pet food campaigns!
In fact, many languages naturally incorporate puns. Yet the English language is considered particularly friendly to the punster in us all. However, it is the Sanksrit language that gave us the word "pun-dit," which means "public expert." Of punning, no doubt!
Sadly, no one seems to quite know just when the first cat pun was created or who we have to thank. So we can just be grateful that cat puns were invented by someone, sometime. And have fun creating even more!
Congratulations on your new feline family member! When you do choose your cat's punny new name, let us know. We would love to hear the name you created and the story behind it!
Also, take a look at these amazing funny cat quotes, perfect for any cat lover!
Re-fur-rences And Fur-ther Reading