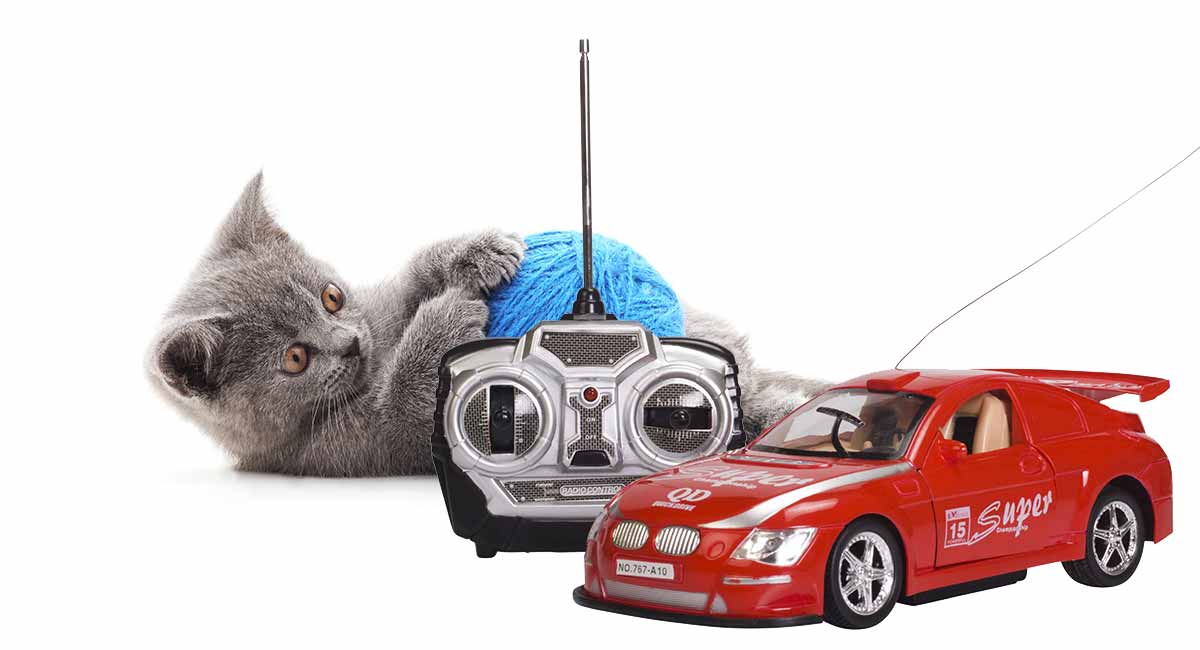 The best remote control cat toys provide hours of fun and enrichment for our furry friends. They give your cat a way to exercise indoors, and even hone their hunting skills well away from the local wildlife. Whether controlled by app or controller, these cunning inventions are also a great way to strengthen the bond between you and your pet, for a whole lot less effort and energy than other teaser toys. They also keep you well away from those enthusiastic claws and teeth. It's therefore a surprise to find that there aren't a huge number of them available right now, many of them fall along the same lines, and some don't even look entirely safe for cats. Fortunately over the years I've found some great options that I'm confident your feisty feline will love as much as mine does.
Contents
These toys work best on hardwood, linoleum or laminate flooring, but don't let that put you off if your home is mostly carpeted, because I bet your bathroom isn't! Whether you're snugged on the sofa or perched on the edge of the tub, you'll find somewhere you can make the most of these seriously modern ways to play.
How To Play
To make the most of play time with your cat, make sure he's in the mood. Most kitties won't be interested in even the most fun toys when they're having a nap, but plenty of them will play with great enthusiasm if it's nearly dinner time.
Mechanical toys with moving parts often make a lot of noise. If your cat is a little nervy, they might take a while to get used to the toy and want to interact with it. Start by turning it on when they are at the other side of the room, and hold it behind your back to gauge whether they are keen or concerned. Remember, we don't want to make our pets jump or upset them, the idea is to encourage and roll with those natural instincts.
Keep Them Keen
To get the most out of anything your cat might want to play with, keep sessions short. It might sound counterproductive, but you want to end playtime with your cat still wanting more. Ten minutes is enough for most kitties.
You also want to store these interactive toys somewhere they can't see them and play with them without you. I only keep a ball and a traditional mouse toy out all the time for my cat. The rest are either hidden away until play time or on rotation. I've found they last a lot longer for it.
Best Remote Control Cat Toys
Remote control toys that look like mice can be a great way of keeping your cat's predatory needs fulfilled, while avoiding little surprises that you have to clean up! They are a classic choice, which is probably why there are so many out there. These little squeakers range from the cute to the robotic.
Some of them have "flyers" for tails, with feathers and other items attached, just as an extra enticement to your cat to chase and pounce!
WEFOO Electronic Mouse
Do you own an outdoor cat? Then you've probably been given unwanted 'gifts' by your little hunter. The WEFOO electronic mouse toy* would be much more welcome around the house! However, it's larger than expected and more of a rat than a mouse really, so probably best for adult cats or larger breed kittens.
Hexbug Mega Autonomous Set
This remote control mouse* cat toy actually comes in a cool set of two. These cute little mice are much smaller than the first toy option on this list, making them a great gift for kitties young and old!
Electric Motion Cheese Chaser
Another prey shaped option, this remote control operated toy* is incredibly cute with round pink ears and a ball nose. It also has a long, feathery tail to add a little extra excitement to your cat's play! Feather increase the impression of movement and look more like their natural prey.
Smart Phone Controlled Toys
In this modern day and age, we rely on our phones for practically everything. Contacting friends around the world, setting our heating and cooling, tracking our eating habits — entertaining our cat? Sure, why not?
A smartphone works excellently as a remote control. And with toys that include downloadable apps, you can turn your phone into an on/off switch for your cat's entertainment.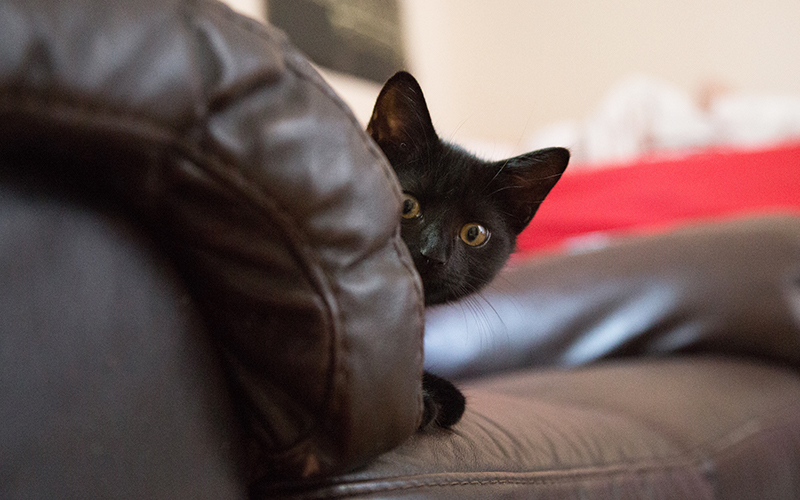 Petronics Interactive Robotic Cat Toy
This high-tech-looking mouse toy* plays either automatically or with a smartphone app. So whichever way works best for you, you've got it! It has quality, durable construction, so it can withstand even a rough-playing cat. And it even has a Driver Assist function, to help it out if it gets stuck, not that it's likely to do so, as it can even cope with pile carpet!
Remote Control Laser Pointer
Laser pointers are extremely popular as toys for cats. But typically they require the owner's assistance! That's where remote control laser pointers come in.
There aren't a lot of these on the market. Most are automatic and battery operated, and have a short length of time before they shut off. Here is a true remote control laser pointer which can be used as a cat toy, and another app-based interactive laser toy*.
Everything is controlled by an app on your smartphone, and the toy includes a pet-safe laser for interactive play even while you're away from home. Even if you're too busy at work to play long-distance, the pet cam also has automatic settings for the laser toy, so you can set it to entertain or exercise your cat while you're taking care of business!
Can You Use Human Remote Control Toys For Cats?
It can be tempting just to use kids' toys, but overall it's better to use one that is specifically designed for a cat. This will help to avoid any potential accidents that may come from use of the toy.
Another important point to look for is that the toy is appealing to your cat! This seems like a no-brainer, but not every toy works for every cat. You may need to try out a few different ones to see what your cat finds amusing.
Best Remote Control Cat Toys
Remote control cat toys keep your pet mentally and physically active for hours. Some of them even allow you to provide for your cat's needs from a distance, even when you're not home.
Have you tried any of these or any other remote control toys with your cats? What did you think of them? Let us know how you and your cat enjoyed remote control toys in the comments below!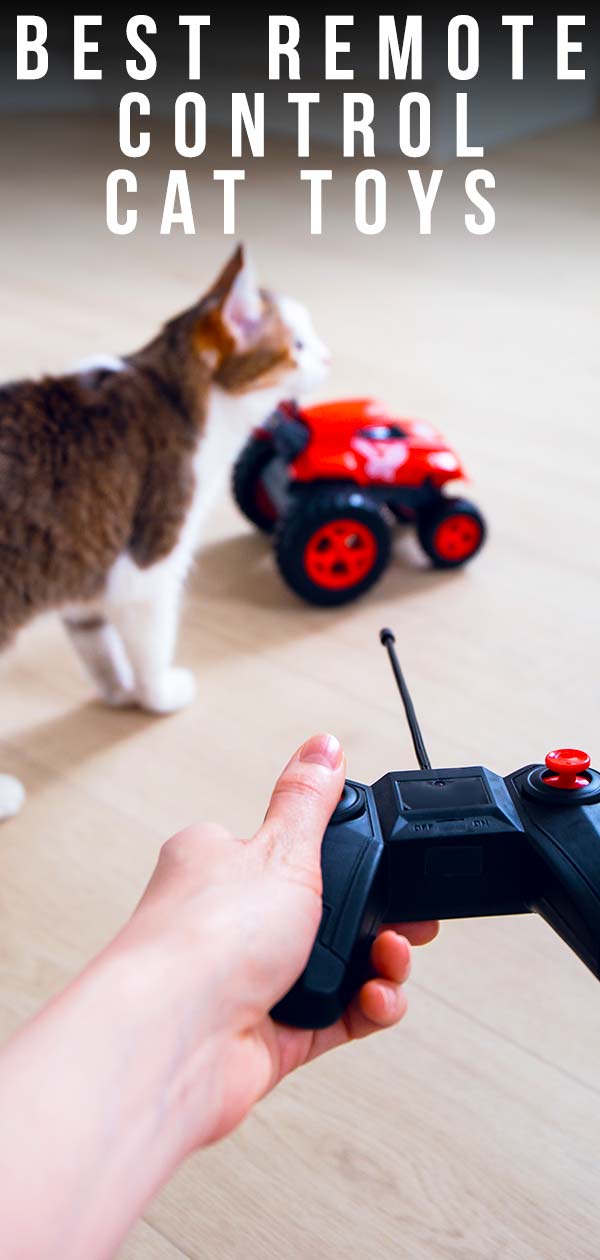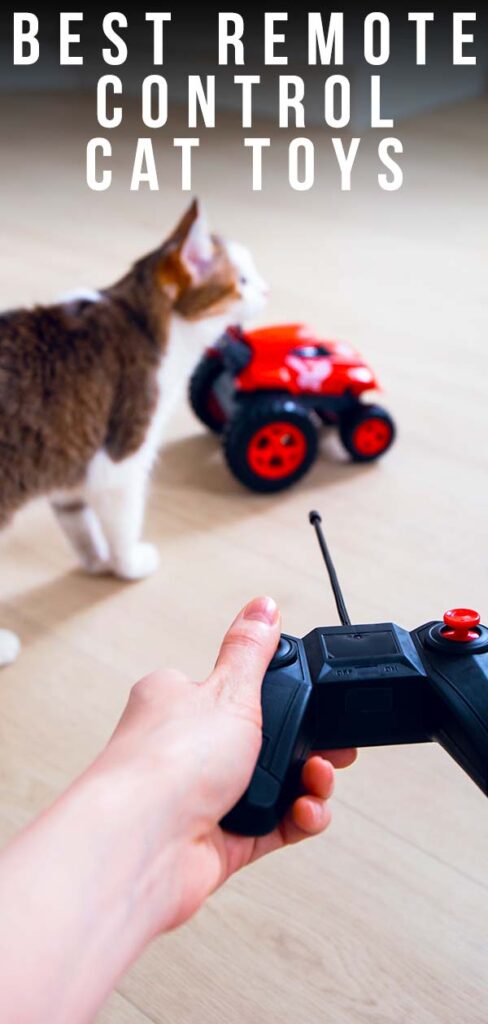 Affiliate link disclosure: Links in this article marked with an * are affiliate links, and we may receive a small commission if you purchase these products. However, we selected them for inclusion independently, and all of the views expressed in this article are our own.