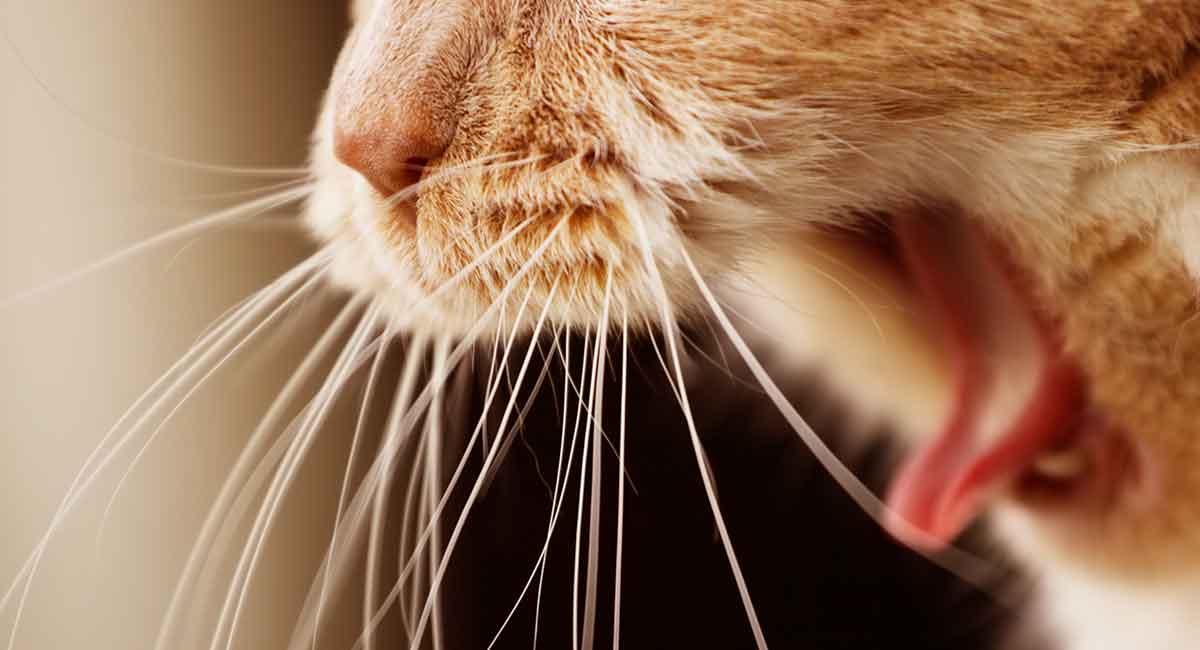 "Rodent ulcer cat conundrum" is the phrase we've come up with to describe just how confusing rodent ulcers in cats are.
They can vary in appearance and location, are called different names, and their cause is sometimes nearly impossible to find, which is why they are a conundrum.
Rodent ulcers are typically seen on a cat's mouth, but can also form on the tongue. They might look pink and inflamed, or yellow and pussy.
The exact cause of rodent ulcers is unknown, but it is believed that they are caused by an allergic reaction.
However, finding what set off that allergic reaction can be pretty hard.
Though sometimes rodent ulcers don't look very serious, it's important that you take your cat to the vet for treatment.
They do not go away on their own.
Do you think your cat has rodent ulcers?
In this article we will cover everything you need to know about the rodent ulcer cat conundrum, such as symptoms, causes, treatments, and prevention.
What's In A Name? Rodent Ulcers Aren't Rodent Bites
The term rodent ulcer is actually a misnomer.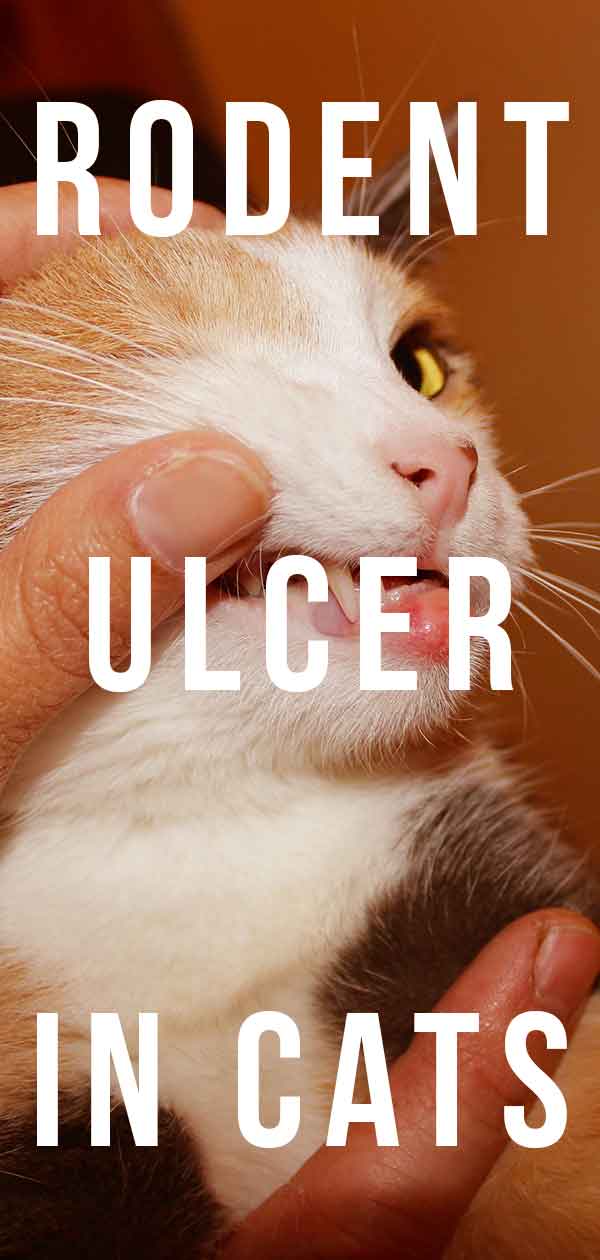 It was once believed that the ulcers found on cats' lips were caused by rodent bites, but that theory has since been proven false.
Though the layman's term of rodent ulcer has stuck around, there are other names commonly used to describe it, including indolent ulcers and Eosinophilic Granuloma Complex (EGC).
EGC actually describes a group of skin diseases.
What these skin diseases have in common is the eosinophil, which is a type of white blood cell.
When an ulcer is examined at the microscopic level, eosinophils are always found.
What Does a Rodent Ulcer Look Like? Symptoms
Rodent ulcers typically appear on a cat's lips, inside their mouth, or on their tongue.
They are often inflamed, sometimes looking very much like a sore.
Other times they are more puffy and even tumor-like.
In some cases they are a yellowish pink, and even appear as though they will ooze puss.
Depending on the size, location, and severity of the ulcer, it may be painful or it may not.
However, ulcers inside the mouth can complicate swallowing and thus lead to a loss of appetite.
If you notice any sores or inflammation on or in your cat's mouth, make an appointment with your veterinarian to get things checked out.
Though rodent ulcers are relatively easy to treat, mouth sores can also be indicative of other issues.
The Rodent Ulcer Cat Conundrum: What Causes Rodent Ulcers?
The exact cause of rodent ulcers is still unknown.
This is partially because it is an EGC disease, which present themselves in many different ways.
However, veterinarians and researchers do have some idea of what might cause rodent ulcers.
It is currently believed that these skin lesions are the result of extreme allergic reactions.
These allergic reactions could be in response to food, mosquitoes or fleas, inhaled allergens, or a myriad of other irritants.
If the allergen cannot be identified, then it is possible for your cat to develop ulcers again.
There is no evidence of rat ulcers being contagious, which makes sense if they are, in fact, an allergic reaction to something.
They also affect cats of all ages and breeds, and thus do not appear to be a genetic or geriatric problem.
Rodent Ulcer Diagnosis
Your vet will only have to do a simple examination of your cat to determine whether or not it has rodent ulcers.
In some cases, they may perform a biopsy to get a better understanding of a lesion and to be certain there is no cancer present.
How To Treat Rodent Ulcers in Cats
Treatment is a straightforward affair.
Typically, your vet will administer a steroid injection to your cat, which usually takes care of the issue.
If the ulcers do not clear up after the initial shot, your vet may advise a second or third steroid injection or prescribe steroid pills.
Antibiotics may be necessary if the vet finds the ulcer to be infected.
Your vet may also recommend an allergy test to help determine the cause of the problem.
Feline Rodent Ulcer Prognosis
In most cases, rodent ulcers will clear up after steroid treatment.
However, since the cause of these ulcers is often very difficult to find, they may recur.
How to Prevent Rodent Ulcers in Cats
It is recommended that you keep your pet up to date with its flea protection.
You can use liquid treatments that are applied to the cat's skin between the shoulders every 30 days, such as Frontline or PetArmor.
Or you can choose to buy a flea collar, which can protect your cat for up to 8 months, depending on the brand.
Aside from administering flea and tick protection, there are a few other things you can do to help prevent your cat from developing rodent ulcers.
The first is to identify the allergen, if possible, and remove it from your cat's life.
Already a challenge, this becomes more difficult if your cat is allowed to roam outdoors.
Sometimes a change in diet, such as switching foods, can solve the problem.
Wash food and water dishes often. This should keep them from growing any harmful bacteria.
Though rodent ulcers are typically not bacterial in nature, there are, of course, a few outliers.
Keeping food dishes clean can also help prevent other issues, like chin acne.
The Rodent Ulcer Cat Conundrum – Summary
Rodent ulcers are a type of Eosinophilic Granuloma Complex, which is a group of skin diseases characterized by the presence of white blood cells (eosinophils).
They often appear inflamed, puffy, and even tumor-like or yellowish pink.
What causes these ulcers is quite difficult to pinpoint, which is why they are such a conundrum.
However, they are believed to be caused by an allergic reaction to something. Figuring out that something is the hard part.
Luckily, rodent ulcers are easily treated with steroid injections, but if the cause cannot be found, they may recur.
This makes prevention a challenge, but there are some simple steps you can take, such as administering flea protection, adjusting your cat's diet, and keeping bowls clean.
References and Further Reading
"A Mysterious Skin Disease Has a Host of Painful Signs." Cat Watch, 2014.
"Eosinophilic Granuloma Complex in the Cat: Etiopathogenesis Remains Elusive." DVM, 2005.
Hoskins, "Diverse Group of Diseases Culprits for Feline Eosinophilic Granulomas." DVM, 2005.
Jeromin, "When Steroids Quit Working for Eosinophilic Granuloma Complex in Cats." DVM, 2003.
Kovács et al. "Laser-Assisted Removal of a Feline Eosinophilic Granuloma from the Back of the Tongue." Acta Veterinaria Hungarica, 2009.
"Myriad Causes of Mouth Sores" Cat Watch,  2018.
Ward, Ernest. "Feline Eosinophilic Granuloma Complex in Cats." , VCA Hospitals, 2009.