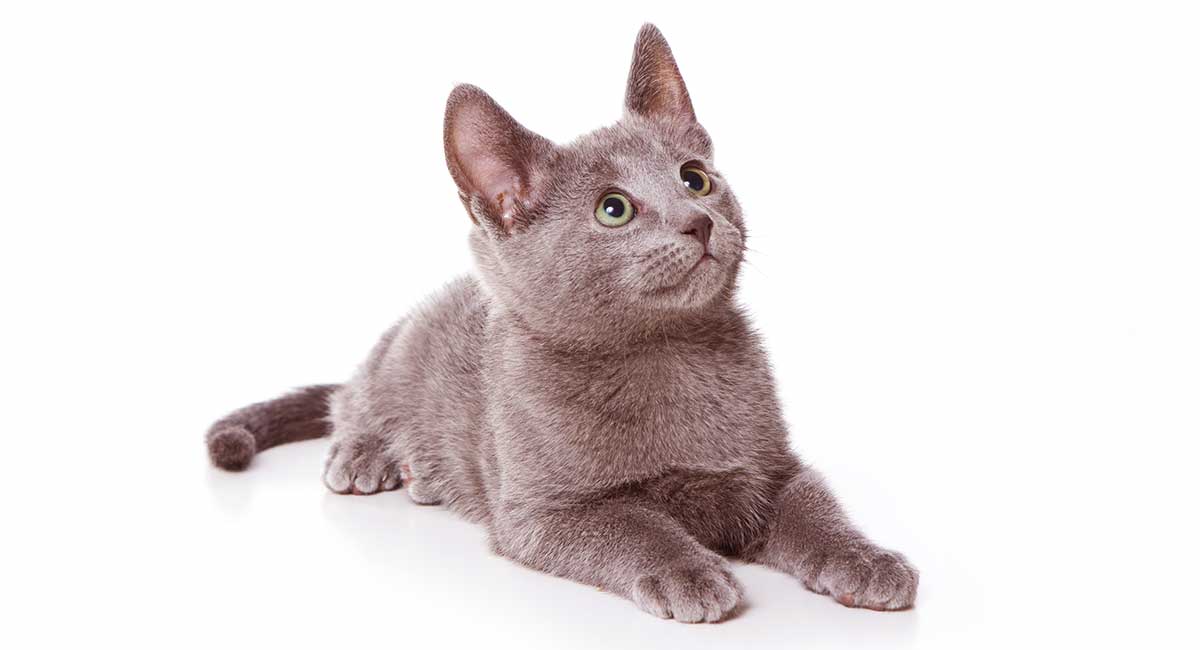 Most people will agree that Russian Blue kittens are absolutely gorgeous. With their divine and unique coat, thoughtful green eyes, and playful nature, they make great family pets. It's no wonder that they are so popular and have spread from their Siberian homeland to all around the world.
However, if you want one of these delightful Blue Russian kittens, how do you find one? Do these fluffballs need any special care and attention, and do they suffer from any health issues?
There are many questions to answer, so we figured that this distinct breed of kitten deserves its very own care guide.
Welcome to our Blue Russian kittens guide where we will give you all the answers you need.
This article is chock full of information about how to find Russian Blue kittens for sale and make sure they're healthy.
We'll look at the history of the breed and show how it spread from its Russian home into the hearts of families around the globe.
This useful Russian Blue guide will show you their characteristics and what supplies you need to give them the perfect home. We may even take a little diversion and look at this cat's royal connections and its place in folklore.
We'll finish off with some sage advice about helping your kitten settle in to help you navigate the kitten years all the way through to cat-hood. Finally, we can look at the Russian Blue personality and share some healthcare tips, although our Russian friends are generally very robust cats.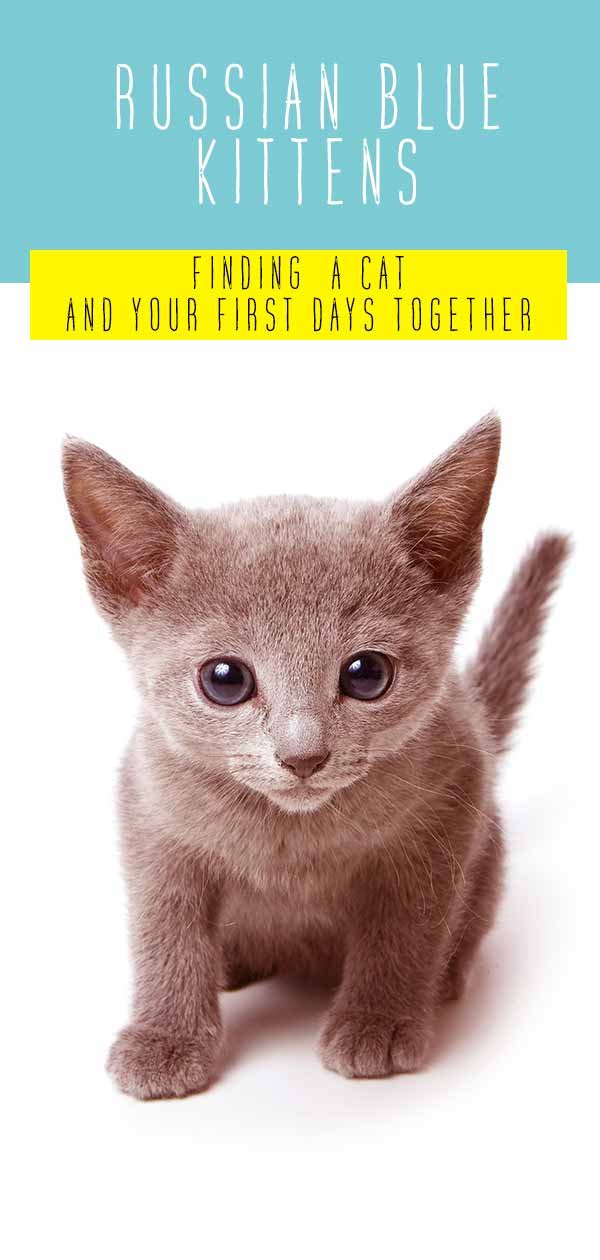 Let's start off with the obvious question.
What is a Russian Blue kitten?
What Is a Russian Blue Kitten?
A Russian Blue kitten is simply a young Russian Blue cat. It's not as silly a question as it sounds, because some other breeds share the famous blue-tinged coat. The Chartreux cat, the British Shorthair, and the Thai Korat can have blue coats.
Now, let's start at the beginning. If you want a kitten rather than a full grown cat, what age should they be?
Kittens are not considered to be adult cats until they are over a year old. Until that age, they will still show kitten-like behavior.
These kittens will grow up to be medium-sized cats, ranging from 8 to 12 pounds.
The Russian Blue is thought to be a naturally occurring breed, but there are breeders who try to select particular traits to give them the classic appearance and coat.
Before we go any further, why don't we wander off the beaten track and take a look at the history of this noble breed. They are a mysterious cat with a rich history that involves sailors and royalty.
Russian Blue History
So, where did the Russian Blue Cat come from? Obviously, you can guess that they are from Russia, but where in that vast country. And, how did they spread to the rest of the world?
Well, your little kitten playing with her toys has a very interesting history.
Although their history is unclear, they probably originated in the Archangel Isles, not far from the Arctic Circle, so they developed their thick coat to protect them from the bitter cold.
From there, British sailors carried them around the world in the middle of the 19th century, no doubt fascinated by their unique appearance and gorgeous coat.
Perhaps their royal link helped, too, making the Russian Blue a status symbol. According to legend, the Russian Tsars loved these cats.
No wonder your Russian Blue will want to be spoiled rotten and kept in a manner that matches her noble lineage!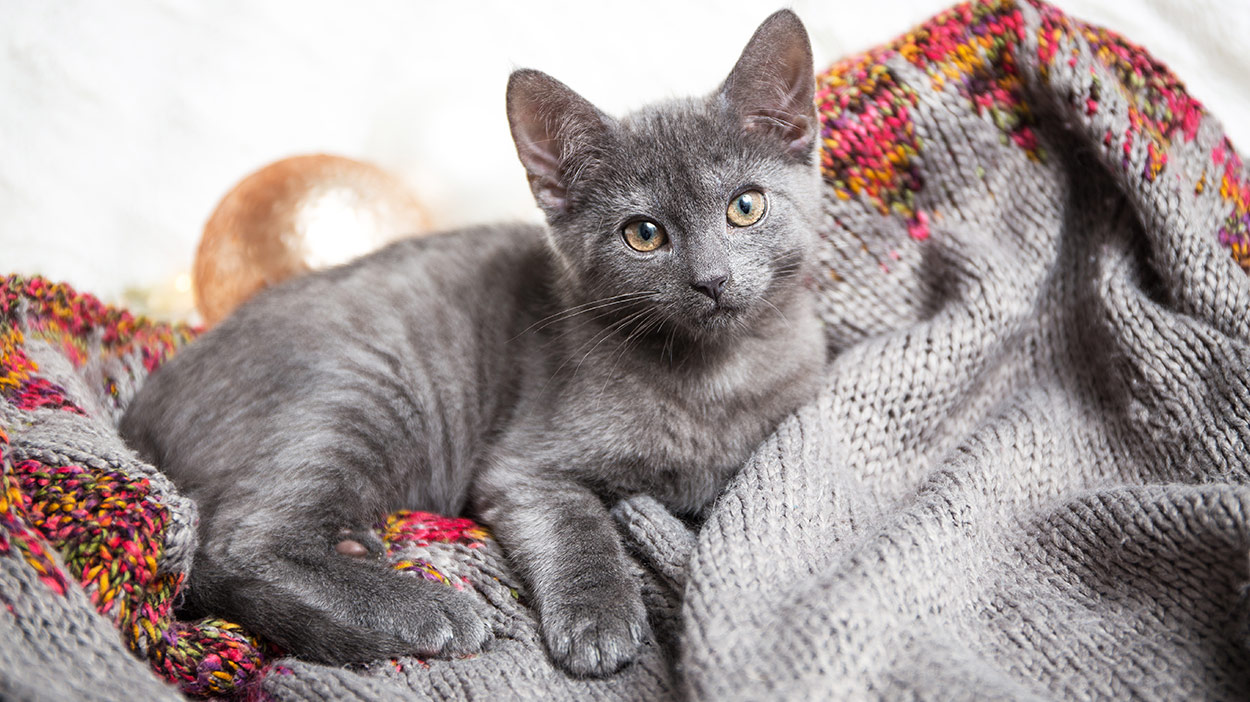 Some folklore even argues that a Russian Blue cat once healed a royal prince, and that they helped to ward off evil spirits from royal children.
Anyway, the wider world first found out about the breed in 1875, at London's Crystal Palace exhibition. Originally advertised as the Archangel Cat, this fantastic feline soon entered our hearts and quickly found its way into our homes.
Now, it's popularity continues to grow!
So, after our little journey through history, let's get back to the kittens. What characteristics can you expect from a Russian Blue kitten.
Russian Blue Kitten Characteristics
The Russian Blue breed is known for its distinct deep blue-gray coat, which is shiny and plush.
Their coat immediately draws attention, making them a very sought-after breed. However, it's not just their looks they are noted for. Russian Blue kittens and cats have lovely, family-friendly temperaments.
A Russian Blue kitten will have a distinct personality compared to other breeds.
Shy at first, a Russian Blue kitten will strongly bond with their caretaker after enough time and interaction. They may be wary of strangers, but grow to love their family, even if they tend to favor one of their humans most.
They love to play, even when they grow into adults, and they are intelligent, thoughtful companions.
After they bond, they are affectionate and loyal!
A Russian Blue kitten is a perfect companion for a relaxed and playful household.
To learn more about this lovely breed, check out our in-depth and complete guide for the Russian Blue Cat!
So, you have decided that the Russian Blue is the kitten for you, due to its beautiful color and friendly nature. What supplies do you need to help it settle in and make sure it has everything it needs?
Kitten Supplies
A new kitten requires lots supplies, especially if this is your first ever kitten. While this long list might seem quite scary, there is nothing here that is too difficult to find.
A trip to a pet store or general retailer should yield all that you need.
Overall, pet stores have better deals on these items, as well as more coupons.
At the least, you will need
High-quality Russian Blue kitten food
Food bowl
Water bowl
Cat brush
Nail trimmer
Breakaway collar
Scratching posts

(paid link)

/cardboard scratchers
A litter box
Cat litter
A litter box scooper.
You may have some of things already, but they are not too expensive or difficult to find. For food, find a good brand with a low grain content to make sure they grow strong and healthy.
And, go easy on the treats – Russian Blues are prone to becoming fat!
A quick note on food and water bowls; try to get ceramic or stainless-steel bowls(paid link) for your Russian Blue kitten.
These bowls are easy to clean and harbor fewer bacteria than their plastic counterparts. Plus, you might pay a bit extra for stainless steel, but it will last for many years and it works out cheaper over time.
If you want to get some fun accessories consider picking up a mixed bag of cat toys(paid link), a cat bed, some cat treats, interesting shaped cat scratchers, and a cat tower.
Most of all, find them a boa or string cat toy(paid link), because these blue kittens just love to play
Russian Blue Kitten Toys
The more you get to know your sweet Russian Blue kitten, the more you'll see what kinds of toys they like.
Some kittens really enjoy balls, while others may prefer mouse toys.
Russian Blue cats and kittens have been known to play fetch!
Try taking a smaller toy like a catnip stuffed mouse and throwing it.
You may be surprised to find your new kitten brings it back just like a dog would!
It may take a few tries for the Russian Blue kitten to catch on, but once they do fetch, it will become a regular part of play time.
If your kitten is not quite getting the hang of fetch, you can try reinforcing the behavior with treats.
Don't force them, though – if they are not interested, you have many other games you can play together. You'll have great fun.
Of course, perhaps we are getting ahead of ourselves with talk about play. When you adopt a small kitten, you have to bring him home first and make sure that he feels safe and secure.
This takes a bit of time and patience, but it really is worth it. It's wonderful to see a small frightened kitten grow in confidence as you win her trust.
Bringing Home Your Russian Blue Kitten
Traveling, arriving at new places, and meeting new people are all very intense and stressful experiences for a Russian Blue kitten.
When you get your kitten home, you need to make sure that you give them time and space to adjust to their new location.
Prepare a small room for them to explore by tucking away any cords, laying out their food and water, and placing their litter box away from their food.
Put the carrier and Russian Blue kitten in a small room.
After this, you can open the carrier door and let the kitten explore as they wish.
Do not try to force the kitten out or chase them as they explore. They like to do things in their own time and you are best letting them get on with it.
This is a stressful time for them, as it's the first time they are away from their mother and siblings.
As they begin to explore on their own they will gain confidence and start to show the Russian Blue personality.
Soon they will associate this space with comfort and safety, and once they see that you bring them nice things like food, toys, and attention, they will learn to trust you.
Just be patient and let them work things out in their own time. It can be a couple of days before they feel truly comfortable.
The Adjustment Period
For optimal adjustment, it is good to spend the better part of the first two days of transition with the Russian Blue kitten.
The weekend is an excellent timeframe for this, but taking a few days off of work is another good option.
Once they are eating, playing, and comfortably using the litter box in that room, you can open the door to let them explore more of your home.
Make sure not to move their litter box or their food and water while they are getting comfortable with the rest of your house. It's usually a good idea to keep their bed in the same place, too, because it will become their place of sanctuary.
When they are comfortable, you can make sure they know how to use the litter box.
Kitty Litter Training
Usually, kittens are litter box trained by their mother.
This is almost exclusively the case when the kittens come from breeders and adoption agencies.
Of course, you still want your Russian Blue kitten to keep up the good work, so you need to provide the right tools for your kitten.
Make sure you get a litter box(paid link) that the kitten can get in and out of easily: one with a low ledge or entryway is fine.
You can get a higher-sided box when they are older, if you prefer, and want to keep things tidy.
Put the litter box in a quiet spot where your cat can still see anyone approaching and feels safe when he is at his most vulnerable.
Then, you can help your kitten learn that everything they already know about using the toilet still applies in your house. You can find the information you need in this article about toilet training.
Sometimes, despite your best efforts, your Russian Blue kitten refuses to use his litter box. The main reason for this is the type of litter, because some are better than others.
Choosing Litter for Russian Blue Kittens
As Russian Blue cats and kittens are generally short-haired, you can use clumping litter.
Clumping litters are generally very popular because they're easy to clean out.
There are many different types of clumping litter available such as corn, walnut, clay, and paper.
If you get a longhaired Russian Blue kitten, avoid clumping litter so that it doesn't get stuck in their fur.
Your Russian Blue kitten will almost certainly have their own opinions about acceptable cat litters too – buy small quantities at first to see which kind of litter they like the best.
Now that they have a secure sanctuary and a clean toilet, are there any health issues you should look out for?
Your Russian Blue Kitten's Health
All cat breeds come with their own unique challenges. Russian blue cats are no exception. By understanding the issues that our common in our cat, we can prepare more effectively.
A 2001 study of just under 300,000 cats found Russian Blue Cats had an increased risk of urocystolithiasis.
Cats suffering from this condition have stones in their lower urinary tract. These stones typically form from minerals in their urine.
If your Russian cat is having difficulty urinating, it's a good sign that this condition could be the culprit.
Russian Blue Cats are generally as healthy as any other breed. It's important to learn what conditions your cat might be predisposed to, though.
Like many kittens, a healthy and well-balanced diet really can make a difference and cut down the visits to the vet. What sort of food should you give you Russian Blue kitten?
Russian Blue Kitten Food
Behind every healthy, energetic kitten, there is a nutritious food.
It's really important to make sure that your Russian Blue kitten is getting exactly what they need from their diet.
Kittens need a high-calorie, nutrient-rich diet to help them develop.
Your kitten will probably come home with some of the food they weaned on. If not, ask your breeder in advance what food brand the kitten prefers. Reputable Russian Blue cat breeders generally use very good quality food.
Give them the same food when they get home, and make any changes gradually after they are fully settled in.
If you are worried about your kitten's diet, you think it might be unsuitable in any way, or you'd like to try another diet to address specific health concerns, always talk to your vet first.
For our favorite Russian Blue cat food recommendations, check out our Russian Blue cat food guide!
One important part of life with a Russian Blue kitten is grooming, because their sleek coat takes some looking after. They usually love grooming time and it is a great opportunity for you to bind with your little one.
Russian Blue Kitten Grooming
A Russian Blue kitten's coat is unlike a typical shorthaired cat's coat because it sheds less.
Breeders selected cats for their beautiful coats, and these lovely cats have plush, thick, and soft coats that do not shed constantly.
The key to keeping this type of coat beautiful and full is occasional brushing.
Your fastidious feline will loves self-grooming, too!
If you get a long-haired Russian Blue kitten, they will require some help from you to keep their coat silky smooth.
After reading these tips, we hope that you are not too worried about adopting a Russian Blue kitten because they are no more trouble than any other cat.
If you want to go ahead and adopt one, where can you buy a Russian Blue Kitten?
Where to Buy Russian Blue Kittens
There are many ways to purchase a Russian Blue kitten.
The best known and most common way is through a Russian Blue cat breeder.
You can usually find out online if there are any Russian Blue kitten breeders in your area. You'll be able to look at some reviews, too, to check that they are reputable and ethical.
TICA keep details of some Russian Blue cat breeders.
In the US you can also try the Fanciers Breeder Referral List for Russian Blues or the American Cat Fancier's equivalent page, and if you're reading this in the UK try the Russian Blue Breeders Association.
Alternatively, you may want to start your search at local rescues, shelters, or humane societies.
These kittens may not be purebred, but Russian Blue mix kittens often have the same beautiful coats and personalities.
Of course, finding a purebred cat can cost money, so you'll have to be prepared to pay this if a mix isn't for you.
Russian Blue Kittens Price
Depending which route you choose also determines how much money you will spend.
A Russian Blue kitten price varies widely -a breeder will be more expensive than an adoption agency.
The average price for a purebred Russian Blue kitten is $600-800, whereas the average adoption cost for a kitten ranges from $75-150.
Some Russian Blue cat breeders charge more because their kittens have show-winning parents, or because there aren't many other breeders nearby.
I've seen one breeder charge $2,800 for a single Russian Blue kitten – but this is an extreme example!
If the price is too steep, or you can't find Russian Blue cat breeders, why don't you look for Russian Blue Mix Kittens? They are another useful option.
Russian Blue Mix Kittens
If you see the purebred Russian Blue kitten cost and start to sweat, consider seeking out a Russian Blue mix kitten.
These cats are quite common in shelters and humane societies.
Because these types of cats are of mixed origin, you can see some fun variations in their appearance.
One of my personal favorites is seeing a long-haired Russian Blue kitten mix.
They have all the color, spunk, and energy as part of their Russian Blue personality, but with long and beautiful fluffy hair.
Some of these mixed kittens will have eye colors that look stunning with their steely gray coats.
I have seen orange, olive, and yellow-green eyes!
There are lots of types up for adoption, and you really can find the perfect cat for you and your family.
Russian Blue Adoption
From volunteering at my local rescue for 3 and a half years, I can safely say that Russian Blue cats and kittens are very common. If you are looking at Russian Blue adoption, you can usually find something.
Mostly, the kittens that pass through are Russian Blue mix kittens rather than purebred Russian Blue kittens.
Sometimes they are long haired Russian Blue kittens rather than short haired.
In my experience, even these mixed kittens have distinct Russian Blue personalities.
Most start out shy, but once they get to know you, they become energetic and playful little love bugs!
Begin by looking up all the adoption agencies in your area. Most will have a website you can visit.
Petfinder is also an excellent online resource to find Russian Blue kittens for adoption in your local area: it is an online registry for local animal shelters to list their pets for adoption.
Once you find a kitten, what can you call it? Should you give it a Russian name or one that suits its personality perfectly?
Picking a Name for Your Russian Blue Cat
Finally, a job that should be great fun: picking your Russian Blue kitten's name.
Once your kitten is settled in and has a name, that's when they really begin to feel like part of the family.
But, picking a name can be hard if nothing really leaps out at you.
Luckily, whether you're thinking of something cool, cute or clever, we have over 300 brilliant ideas in our Russian Blue Cat Names article!
So, let's recap. Is a Russian Blue Kitten going to be the perfect breed for you? Will it grow into a divine adult cat that is a friend to all the family?
Is This Kitten Right for Me?
If you want a beautiful, mellow, and sweet cat, a Russian Blue kitten may be the perfect fit!
You can be sure that your future includes lots of lap snuggles and lots of attention!
Luckily, because the Russian Blue enjoys well-earned popularity, their kittens are widely available, and Russian Blue mix kittens are often rehomed by animal shelters too.
Always put the welfare of your new cat first, and if your Russian Blue kitten comes from a breeder make sure they are committed to rearing healthy kittens.
Make sure that you and your family are ready to welcome a new member into your household: preparing for a new arrival really is the key to success.
Have You Raised a Russian Blue Kitten?
If you already know the delights of raising a Russian Blue kitten, why don't you share your favorite memories in the comments down below! What is best about the Russian Blue personality that makes you love these cats so much?
One thing's for sure – these cats are full of stories to fit their regal lineage! We last updated this article in August 2019, but we are always looking for extra stories!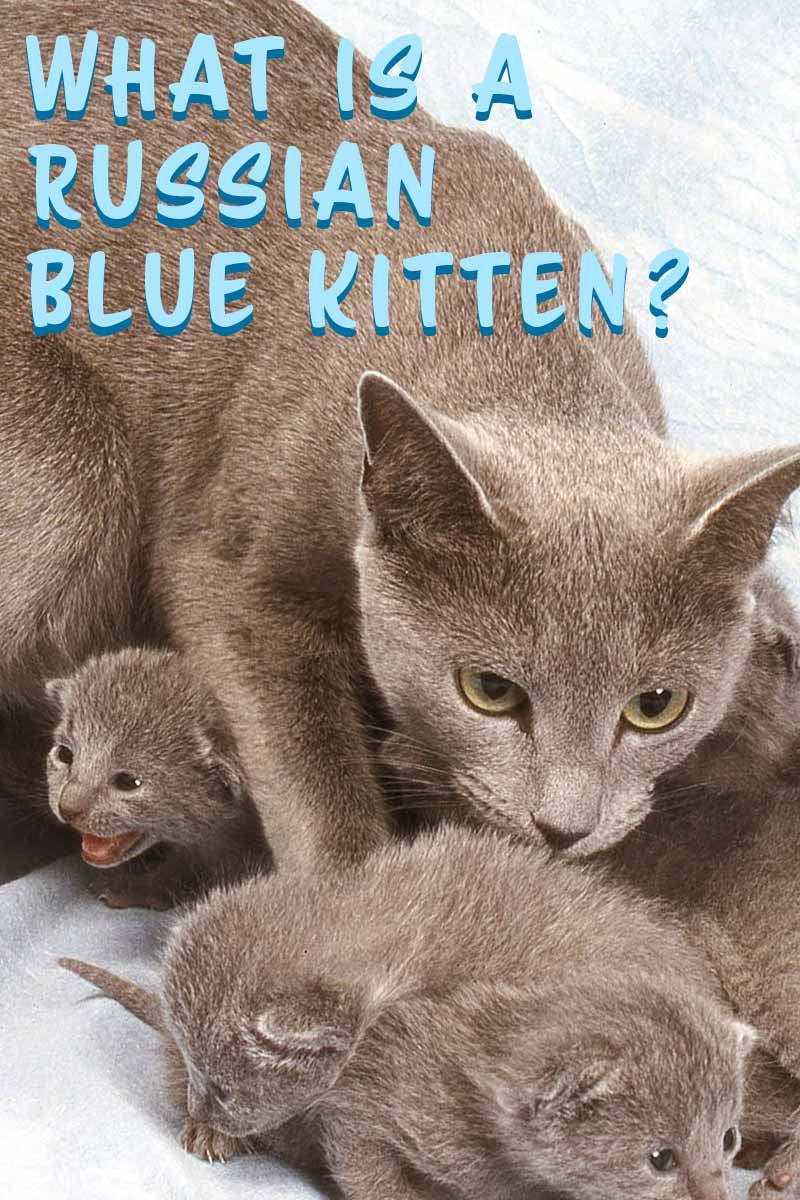 References
American Animal Hospital Association, Bringing a New Kitten Home, 2011.
Chalermpol Lekcharoensuk, DVM, MPH et al Epidemiologic study of risk factors for lower urinary tract diseases in cats 2001
P. L. Jody DVM, PHD et al Biologic Behavior of Feline Lower Urinary Tract Diseases 1996
Salonen, M., Vapalahti, K., Tiira, K., Mäki-Tanila, A. and Lohi, H., 2019. Breed differences of heritable behaviour traits in cats. Scientific reports, 9(1), p.7949.