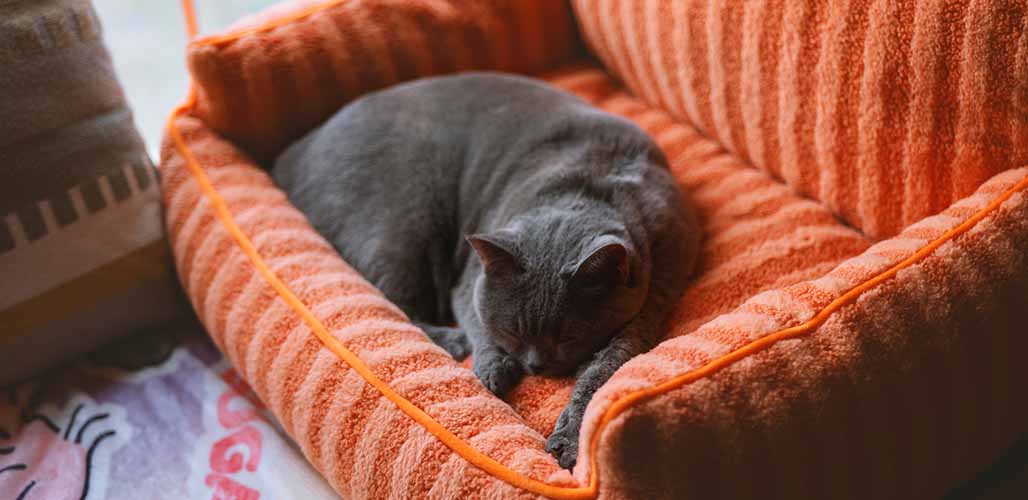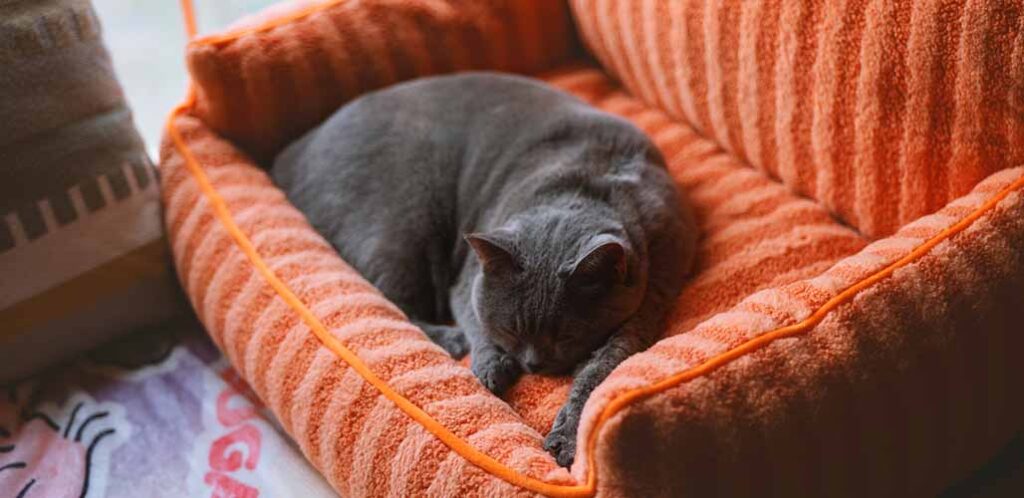 If you have two cats, should each cat have their own bed? What about if you have more than two cats – is one bed per cat enough? Having multiple cats with multiple cat beds can start to feel cramped pretty quickly, especially if you live in a small space! But I wanted to be sure of the answers to these questions before I adopted a new pal for my own pet feline. And I've discovered that for cats to be happy and unstressed by their environment, they really need at least one bed each. Even if they ultimately decide not to use them all! In this article, we examine the finer points of cat bedtime needs and how to make sure your cats feel secure enough to rest deeply.
Contents
Do Cats Need Separate Beds?
Should each cat have their own bed if you live in a multi-cat family? To answer this question, we need to take a look at how cats deal with their sleep needs in a wild setting.
The truth is, most adult wild cats live largely solitary lives. This includes the African wild cat, the wild feline that is most closely related genetically to today's pet housecat. In fact, out of all the large wildcat species, only lions live in social community groups called prides. Other than lions, the only time wild cats are seen in groups is when cats are mating or when cat mothers are actively raising their cubs.
Seen from this perspective, it makes sense that cats would naturally gravitate towards having their own private sleeping space that they don't have to share with another cat. But what about when we are talking about domestic pet cats rather than wild cats? Does the same theory apply when it comes to pet cat sleeping arrangements?
Do Two Cats Need Two Beds?
Cat experts agree – it is smarter to give each cat their own bed. Why is this? Cats can form complex social relationships that make sense only to the cats involved. Just because two cats share a physical space doesn't necessarily mean these cats like one another or want to spend time together. So in the majority of cases, having more than one cat in your family is going to mean having more than one of each amenity a cat would need. This means more than one feeding and water bowl, more than one litter box, more than one cat tree….and more than one cat bed.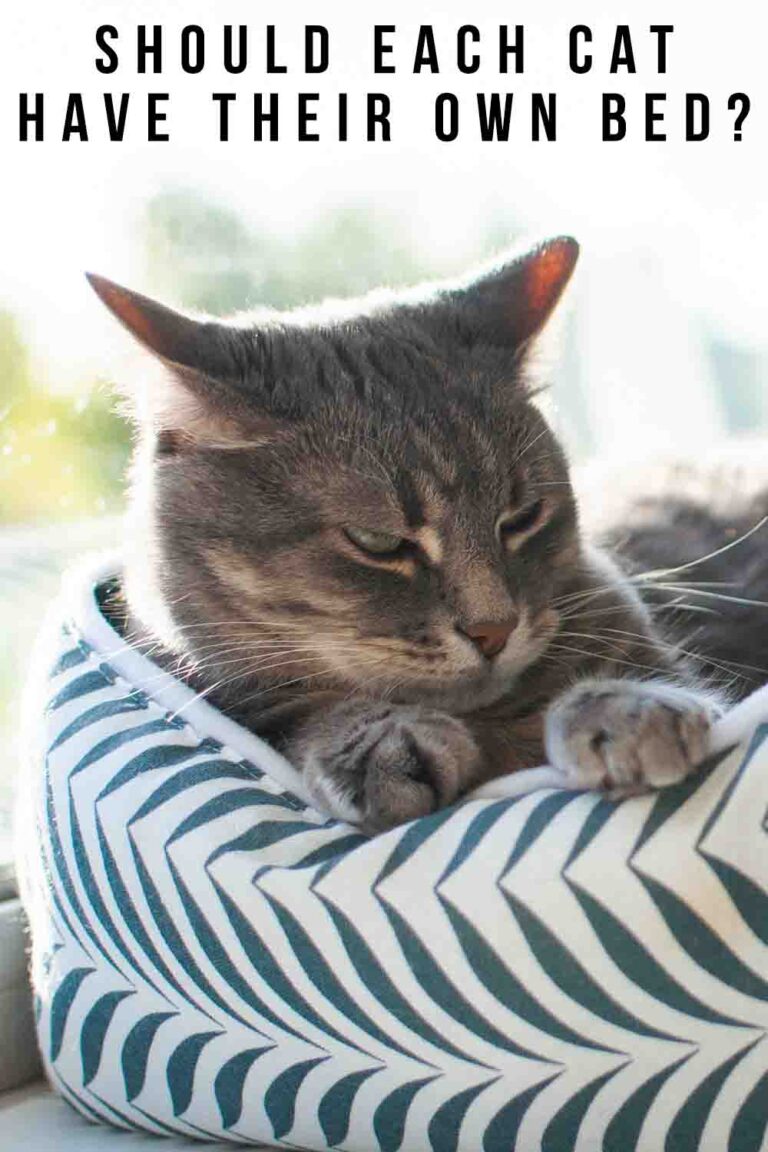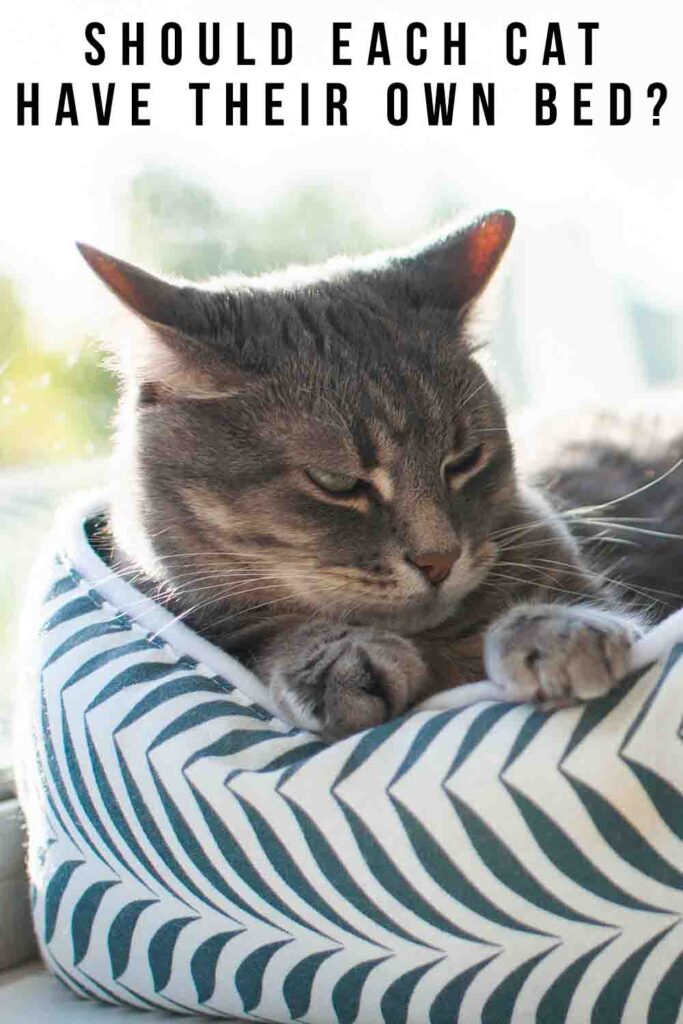 Your cats may surprise you by deciding they want to share a single cat bed together sometimes. However, even two closely bonded felines will still appreciate having their own separate sleeping quarters readily available. So, two cats should have a minimum of two cat beds between them. If there is space to provide a 3rd and even 4th option, that can further reduce social tension (by reducing the likelihood of them both preferring the same one). Try to position the beds as far apart as possible.
Can Two Cats Share A Bed?
The vast majority of wild cat species are solitary in adulthood, and establishing territory is very important for adult wild cats. This carries over for many domestic cat breeds as well. Certain activities, such as using the litter box, eating and drinking, grooming and sleeping are also associated with increased vulnerability. Or in other words, your cat is less able to defend themselves or their territory whilst they're engaged in them. This in turn can increase the chances of feline to feline aggression. For instance, if a cat is sleeping in their own cat bed and another cat approaches or tries to climb in, the sleeping cat might respond aggressively towards the intruder because they were caught off guard.
But that being said, some closely bonded pairs – particularly siblings pairs from the same litter – sometimes enjoy each other's company at nap time throughout their lives. So while two cats sometimes choose to share a bed, both cats must be comfortable with this arrangement. Also consider that cats establish and defend a territory to make sure they have access to everything they need. So a pair of cats with access to two beds might be happy to share. But take away the 'surplus' bed, and suddenly their territory becomes less bountiful and has only just enough sleeping space in it to meet their needs. This can prompt one or both of them to become possessive over the remaining sleep space, and drive the other one out. In other words, it's easier to share when there's more than enough to go around!
Should I Share A Bed With My Cat?
There is a lot of disagreement about whether or not it is smart or healthy to let your cat share your bed. Part of the controversy is because people are diurnal and cats are nocturnal. So while people like to sleep at night, cats generally become more active after sundown. If you do shift work or are a night owl naturally, letting your cat sleep with you might not bother you. But many cat owners discover that allowing their cat to sleep in their bedroom means less sleep and less restful sleep for them. There can also be concerns about pet allergens and even contact with pet waste if you let your cat sleep in bed with you. Sharing a bed with your cat is a very individual decision, especially for light sleepers and pet allergy-prone cat owners.
Do My Cats Like Each Other If They Sleep Together?
There are many logical reasons why pet cats might choose to sleep together. The most important fact to realize, however, is this: cats that sleep together are making an active choice to do so. Cats that are not bonded together or do not regard each other as social equals will not choose to spend time together or sleep together. This holds true even if the cats might otherwise benefit from sleep-time proximity, such as through sharing body heat on cold days.
If your pet cats are choosing to sleep together, this behavior definitely indicates that some type of friendly social bond exists between the two cats. When you see two cats sleeping in the same bed and these two cats are also sharing other resources such as toys, food, hiding spaces or playtime activities, you can feel sure these are two cats who really like each other.
Should Each Cat Have Their Own Bed – Summary
Should each cat have their own bed in your home? After reading this article, you now know why the answer is yes. Evolutionarily speaking, cat behavior defaults to living life in relative solitude except during mating and rearing the young. So cats naturally crave their own resources and space. However, even if you provide each pet cat with their own bed, your cats may surprise you by choosing to sleep together in a single bed.
Do you care for two cats who sleep together in a single bed? Have you tried to get your cats to sleep together but they refuse to? Share your stories in the comments.
More Of Your Questions Answered
References