Previously on Billy's blog..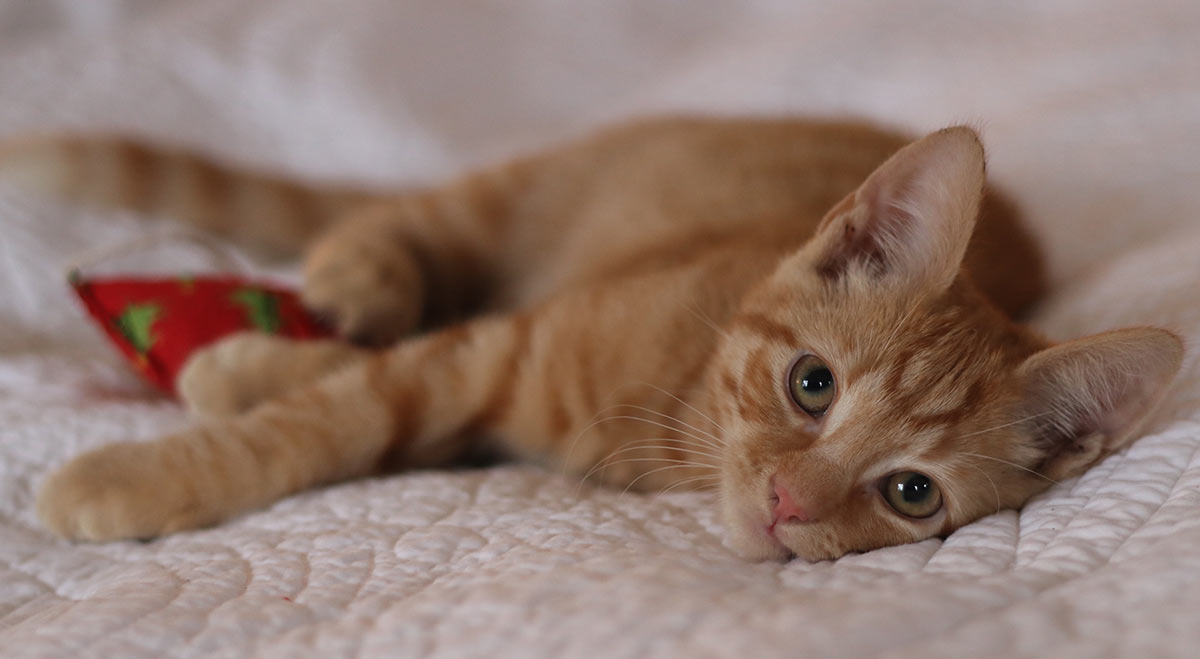 Billy will be sixteen weeks old on 13th December. You can find out what sixteen week old kittens weigh and how much they need to eat below.
A while back, I bought a couple of Christmassy mice for Billy.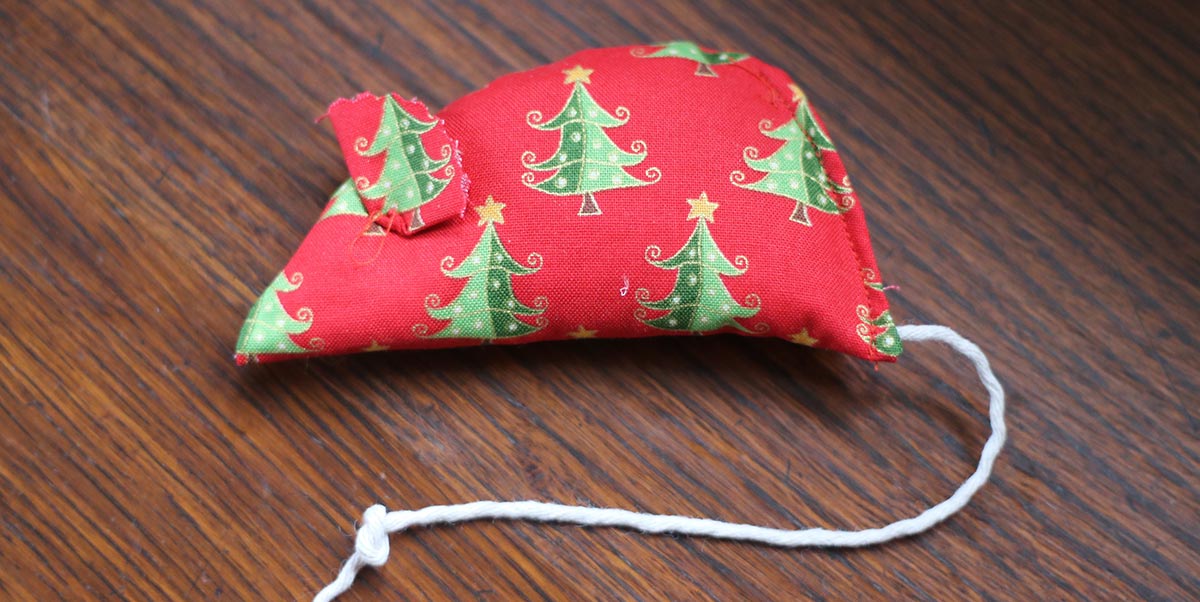 My original intention was to hang them on the Christmas tree
Yes I know, it was a silly idea. And likely to result in Billy deciding to start Christmas a bit early!

So today I gave him one to play with while I cleaned upstairs.
Billy thought it was brilliant, and spent a happy half hour getting to know it better on my bed!
Since he arrived here Billy has slept each night in his travel crate, which is on the floor in my office.
De-crating our kitten
He goes willingly into the crate each night – I place a few tiny pieces of kibble in there for him. He then purrs and kneads his vet bed as he settles down for the night.
Up until yesterday, we then closed the door and didn't open it until we got up next morning at around 6am.
For a while now we'd been thinking about leaving the door open all night, so Billy could have free access to the whole of my office.
Kitten on the loose!
De-crating Billy is something we knew we would have to do at some point in any case, as Billy will be eventually be too big to be shut in there for the whole night.
The question was, should we do it now, or wait a little longer. And we finally decided that now is a good time.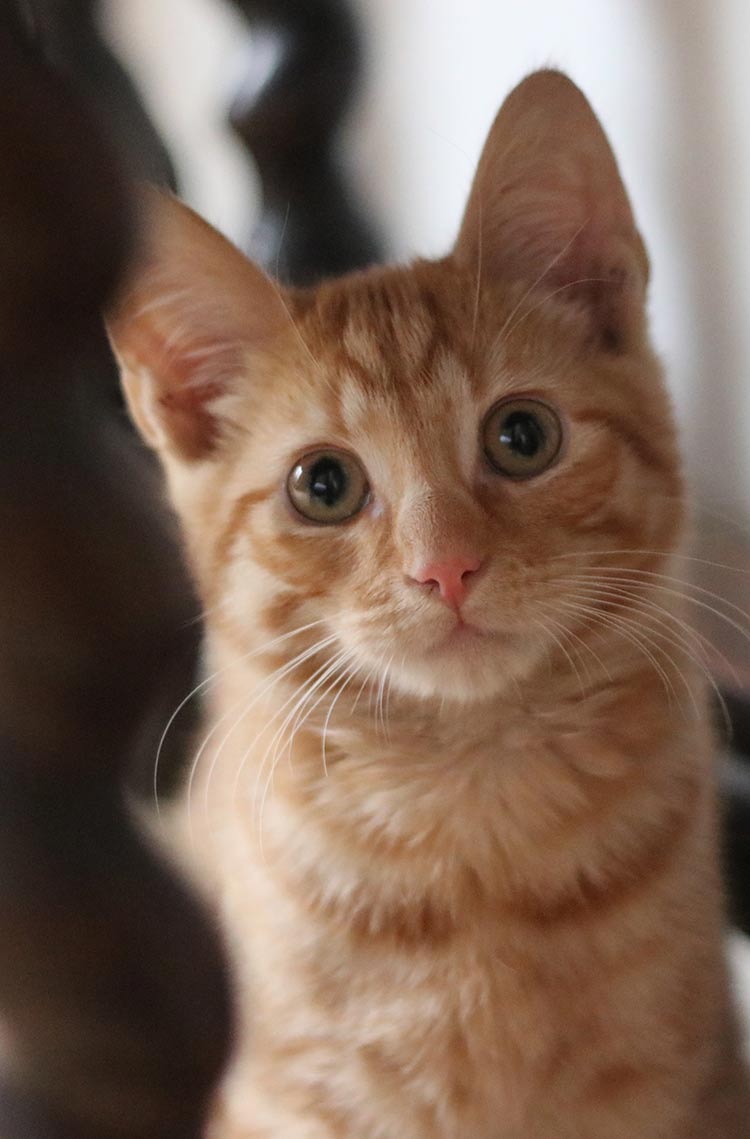 Being free at night means that Billy will be able to choose where he sleeps, which will probably be the kitten cave on top of my desk. It also means he can get at his litter tray if he needs it during the night.
Kitten chewing cables?
My main concern was that there are two treadmills in the office with cables that we cannot completely prevent him from accessing.
I was worried that Billy might decide to gnaw through the cables and electrocute himself, or even cause some expensive damage.
Rowdy kitten?
Alternatively he might bounce around playing all night and keep us awake
However, Billy has shown no interest in the cables for some time, and we have left him shut in the office for a couple of hours on several occasions when we have been out, or had plumbers working in the house.
Happily, Billy seemed perfectly happy with the new arrangement last night, and made no attempt to rewire my treadmill desk or hold a midnight party.
Hopefully this trend will continue!
In addition to playing in boxes, Billy is crazy about chewing those cardboard tubes that come inside rolls of wrapping paper
So if he gets rowdy at night, I'll leave him with one of those, and his toy mice, and hope that they will occupy him if he want to gnaw on something.
What do sixteen week old kittens weigh
Billy weighed in at 4 and a half pounds on my scales today.  Again, they are only accurate to around the nearest half pound.
But I am continually surprised by how much he weighs because he isn't remotely plump.
In fact he looks a bit on the skinny side to me. And you don't have to press hard along his back to feel the knobbles on his spine
What do sixteen week old kittens eat?
Billy is already having the maximum recommended by the kitten food manufacturers. He is obviously going to be a fairly big cat though.  Many sixteen week old kittens won't need this much.
When I added the extra half ounce or so (25g) of lily's kitchen to Billy's breakfast, he had a slightly upset stomach
I starved him for half a day to settle his tum, and have gone back down to his previous rations of
1 tin thrive for breakfast – just over 2 and 1/2 ounces  (75g)
1 pouch of James Wellbeloved or Royal Canin Kitten Instinctive for lunch  – 3 ounces (85g)
3/4 of 1 tray of Lily's kitchen – just over 2 and 1/2 ounches 75g for supper.
What I might do is find an alternative to Lily's kitchen for his evening meal as it seems quite rich and it smells rather strong.
Hopefully Billy's growth rate will start to slow down soon and he won't need to eat his own body weight every five minutes for much longer!
How tall is a sixteen week old kitten?
I thought it would be interesting to try and measure Billy's height.
This was tricky.
Each time I put the end of the tape measure on the floor he bent down to look at it.
So I couldn't get a truly accurate measurement, but as a rough guide, Billy's height at the shoulder is between 8 and 9 inches.
Crochet Kitten
I had a lovely surprise this week. Lucy has made me a crochet version of Billy!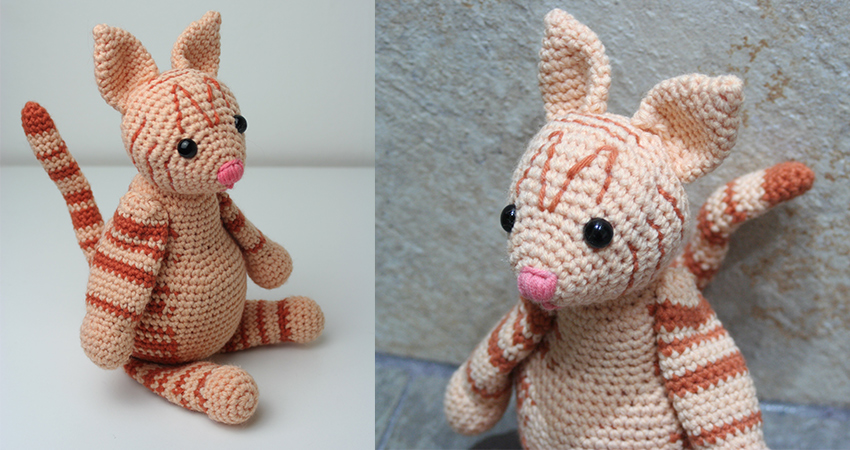 Isn't he cute?
If you want to have a go at making a crochet kitten yourself – you can find the pattern over on her  crochet website, together with a whole range of other gorgeous crochet toys
They are washable with child-safe eyes too.
If you decide to get busy with a crochet hook, do let us know how you get on!
Free Updates For Cat Lovers!
Our cat care articles, tips and fun facts, delivered to your inbox