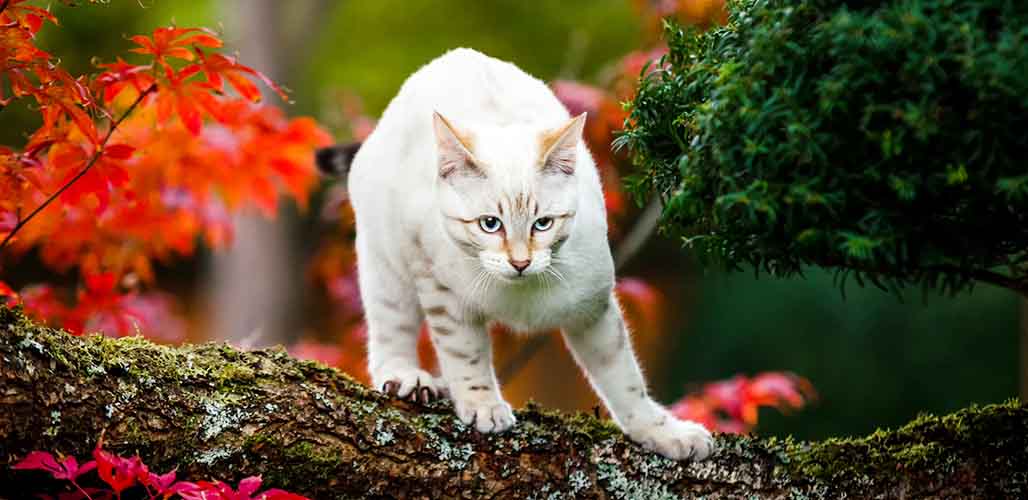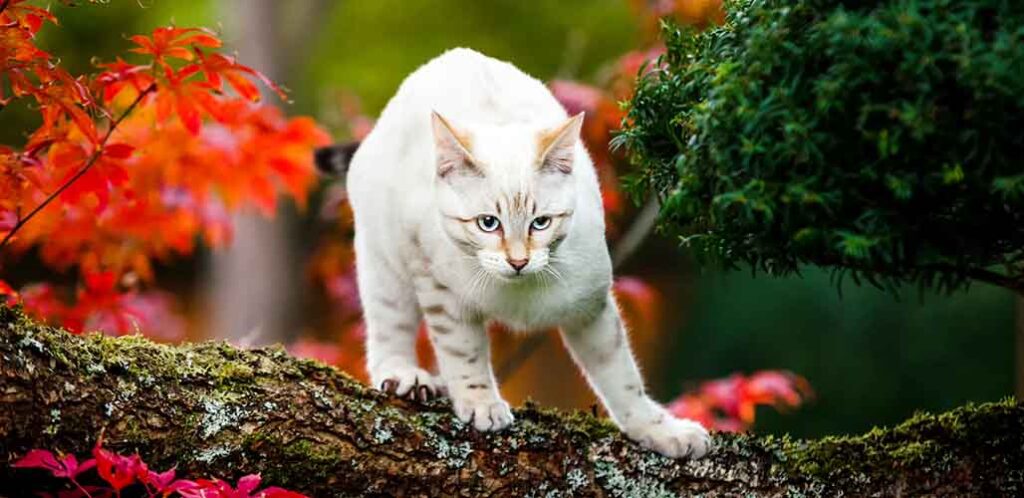 A snow lynx Bengal cat has pale white fur and Bengal markings, making them look like your own mini snow leopard! Bengals are friendly, playful medium cats with an overall exotic appearance. Snow lynx coloring comes from Siamese and Burmese ancestry. It is actually caused by a type of albinism, which creates more pigment at cooler areas on your cat's body. This coloring is very popular with owners that want to get a truly wild looking cat with an affectionate, family-oriented personality. But is this uncommon color right for you?
Contents
What is a Snow Lynx Bengal?
The Bengal cat breed gets its exotic appearance from wild roots. In the 1980s, a breeder combined a domestic cat with the Asian Leopard Cat. And it wasn't long until Bengals became an accepted TICA breed. And, over the past decades, Bengals have only grown in popularity.
Snow lynx refers to the coloring and pattern on your Bengal's coat. This pattern and color comes from Siamese and Burmese ancestry. Other than this coloring, snow lynx Bengals will be very similar to other Bengals, with the same affectionate, friendly temperament.
What Does a Snow Lynx Bengal Look Like?
Bengal cats are medium sized, usually growing to weigh between 6 and 15 lbs. There are two main varieties – short haired and long haired. Short haired Bengals need less grooming than the long haired variety. But, both will have the same 'wild' looking markings that descend from their Asian Leopard Cat ancestors.
Snow Bengals are colorpoint cats. Their pigmentation is affected by a form of temperature sensitive albinism. The coolest parts of a cat's body will be the most intense in pigment. So, the main part of a snow Bengal's body will be white, cream, or ivory, and their extremities, like their face, ears, tail, and feet, will be darker. This darker coloring can be as pale as tan, ranging to a dark chocolate brown.
The exact coloring of a snow lynx Bengal's markings will depend on the color genetics they inherit. But, they will have a pink nose and blue eyes.
Snow Lynx Bengal Cat Temperament
One of the major aims when creating and standardizing the Bengal breed was to produce a cat with wild looks and a domestic personality. Bengals are curious, playful, and friendly cats.
They particularly love to explore and climb around the home. They are affectionate and cuddly when they're ready to relax, but will spend a lot of their day playing and gallivanting. So, if you want a cat that you can spend all day cuddling, this might not be the right breed for you.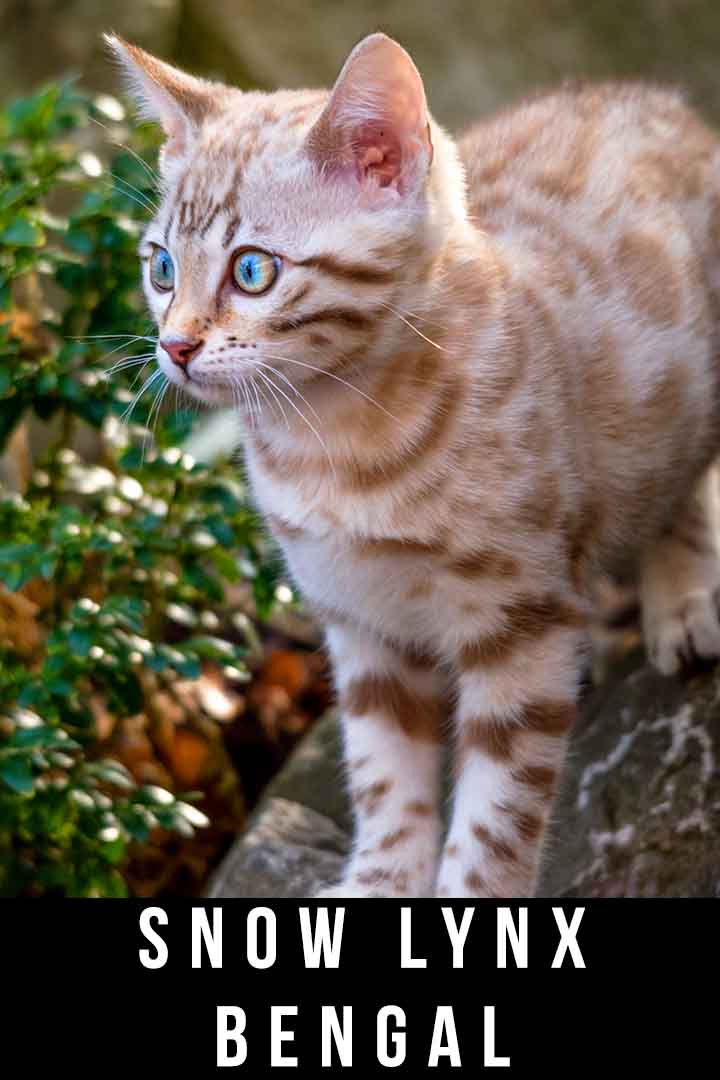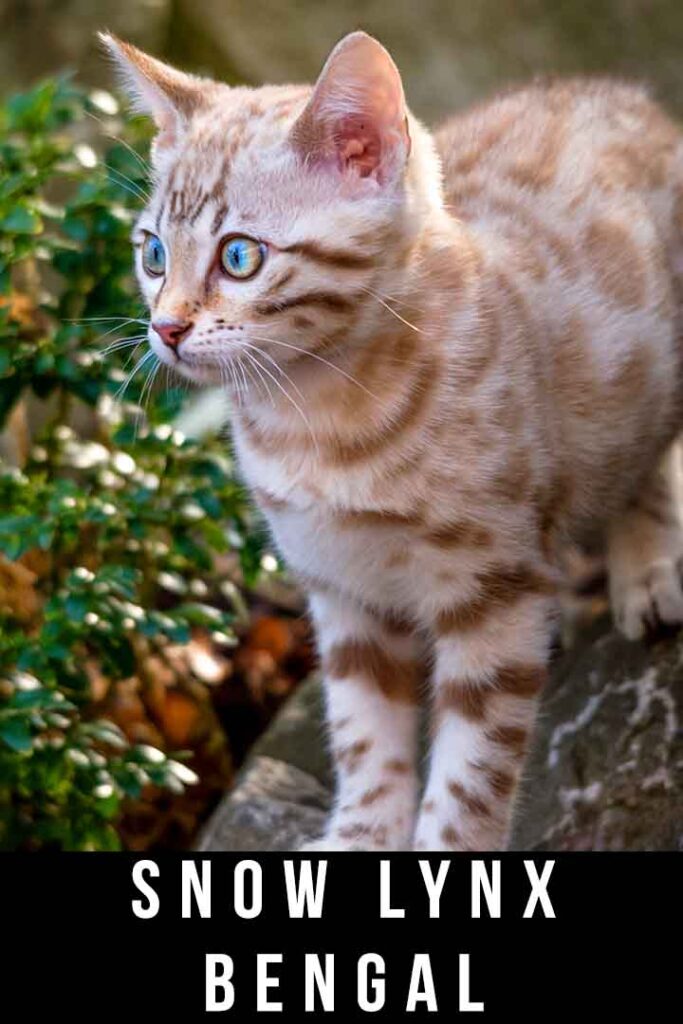 Bengals thrive in an active family that want a cat they can play with, and even train! They enjoy water, and will like being with you, even if they're playing independently rather than looking for a cuddle. Some Bengals may be vocal, but others tend to be more quiet – it will completely depend on the individual!
Other Types of Bengal
Snow Bengals are less common than darker shades. But, there is even some variation amongst Bengals with snow coloring. Snow mink and snow sepia are two other popular variants of the snow Bengal coloring. But, darker shades are also available. Other popular Bengal colors include:
Brown tabby
Silver tabby
Seal lynx point
Seal sepia tabby
Spotted marble
Charcoal spotted
Charcoal marble
Your Bengal's color won't impact their personality, though it can impact how people perceive their personality! For instance, one study found that people believed white cats were less bold and more calm than darker colors. So, a snow lynx Bengal may be viewed this way.
Snow Lynx Bengal Health and Care
If you choose a short haired Bengal, they won't need much grooming. But, long haired varieties may need more regular brushing or detangling with a comb. You can help to keep your cat's teeth clean with a meaty diet or a chew toy. Like all cats, Bengals are carnivores that need a high protein diet.
There are some potential health concerns that this breed can experience. Here are some common issues that Bengals can face:
Hypertrophic Cardiomyopathy
Progressive Retinal Atrophy
PK-deficiency
Cataracts
Obesity
Cataracts
Health testing is available for some of these problems, though good care and nutrition can go a long way to helping your Bengal stay at its healthiest.
Finding a Snow Lynx Bengal Kitten
Bengal kittens are extremely popular, so you might experience a wait list when searching for a snow lynx variety. You may also want to search for a breeder that specializes in the snow Bengal variety.
Kittens from a reputable breeder can cost anywhere between $1000 and $3000 depending on their coloring. Snow lynx Bengals are often at the higher end of this range, since their coloring is popular and less common than many darker shades.
An alternative option is to search for Bengal cats in need of rescuing. Some of these may be available at general cat rescue centers, but breed-specific rescues are also an option. Cats from rescue centers are usually older, but are also often much cheaper than a kitten from a reputable breeder.
Is a Snow Lynx Bengal Cat Right for Me?
If you're searching for a cat with a wild appearance, a Bengal could be a great option. Snow lynx Bengals look just like mini snow leopards. They have high mental stimulation needs. So, expect them to make their own entertainment if you cannot provide enough! If you're searching for a calm, cuddly breed, you might want to search for something slightly different.
Do you already have a Bengal cat at home? Or is the snow lynx Bengal your next kitten? We'd love to hear about your experiences in the comments!
Readers Also Liked
References and Resources
'The GCCF Registration Policy for Bengal Cats', The Governing Council of the Cat Fancy (2017)
Kaelin, C. (et al), 'Developmental Genetics of Color Pattern Establishment in Cats', Nature Communications (2021)
The International Cat Association
Delgado, M. (et al), 'Human Perceptions of Coat Color as an Indicator of Domestic Cat Personality', Anthrozoos (2012)
Gershony, L. (et al), 'Who's Behind that Mask and Cape? The Asian Leopard Cat's Agouti (ASIP) Allele Likely Affects Coat Colour Phenotype in the Bengal Cat Breed', Animal Genetics (2014)
Kucharczyk, N. (et al), 'Hereditary Cataract in the Bengal Cat in Poland', BMC Veterinary Research (2020)
Martinez-Caja, A. (et al), 'Behavior and Health Issues in Bengal Cats as Perceived by their Owners: A Descriptive Study', Journal of Veterinary Behavior (2021)