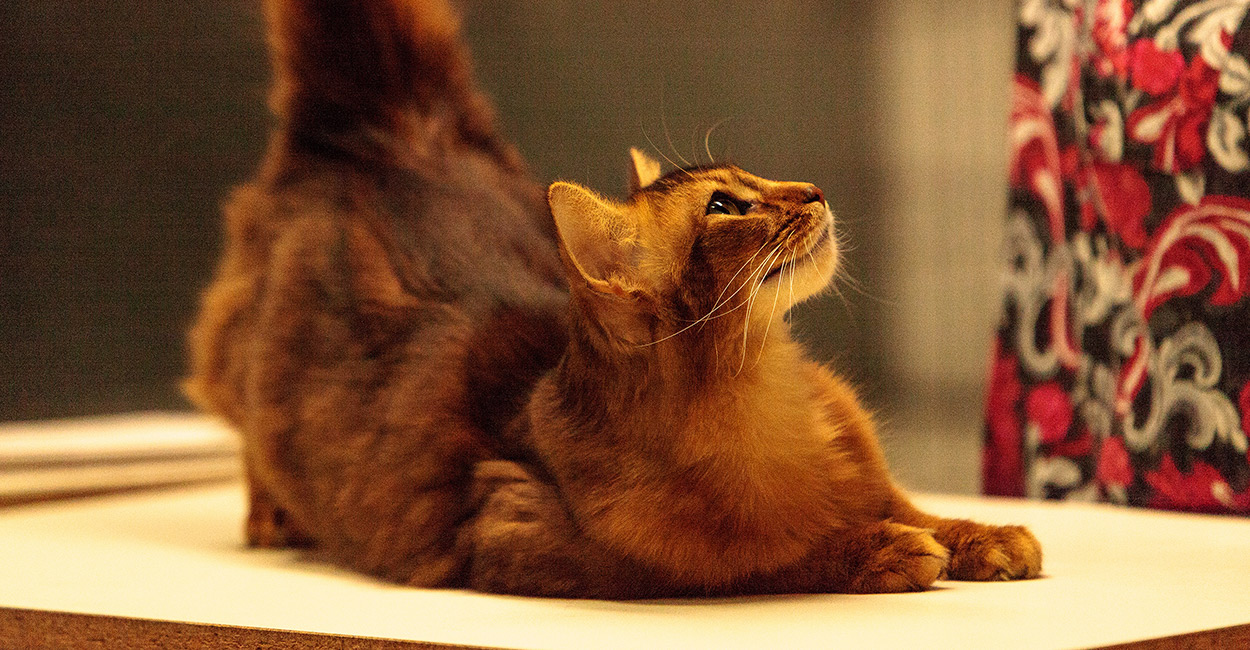 Welcome to your complete guide to the best Somali cat names, giving you plenty of inspiration for naming this lion-lookalike breed.
The Somali is a special cat with "big" and shimmering fur, and an even bigger personality.
Giving your Somali a name that reflects her gorgeous mane, her active personality, or another favored feature will showcase her uniqueness.
After all, the exotic and mysterious Somali cat deserves an equally exotic and mysterious name!
Naming your Somali cat
The Somali cat is a unique breed whose lineage has blessed it with some very good genes.
Due to its Abyssinian cat heritage, the Somali has a long version of its cousin's agouti (or ticked) coat, almond-shaped eyes, and long legs (the better for jumping and climbing!)
Somali cats also enjoy the Abyssinian's characteristic intelligence (that can get him into trouble at times), and ninja-like athletic abilities.
Having said that, there are lots of uniquely Somali cat qualities for which you could name your kitty!
They are highly trainable, quintessentially extrovert, and love exploring every nook and corner of your house.
Choosing Somali cat names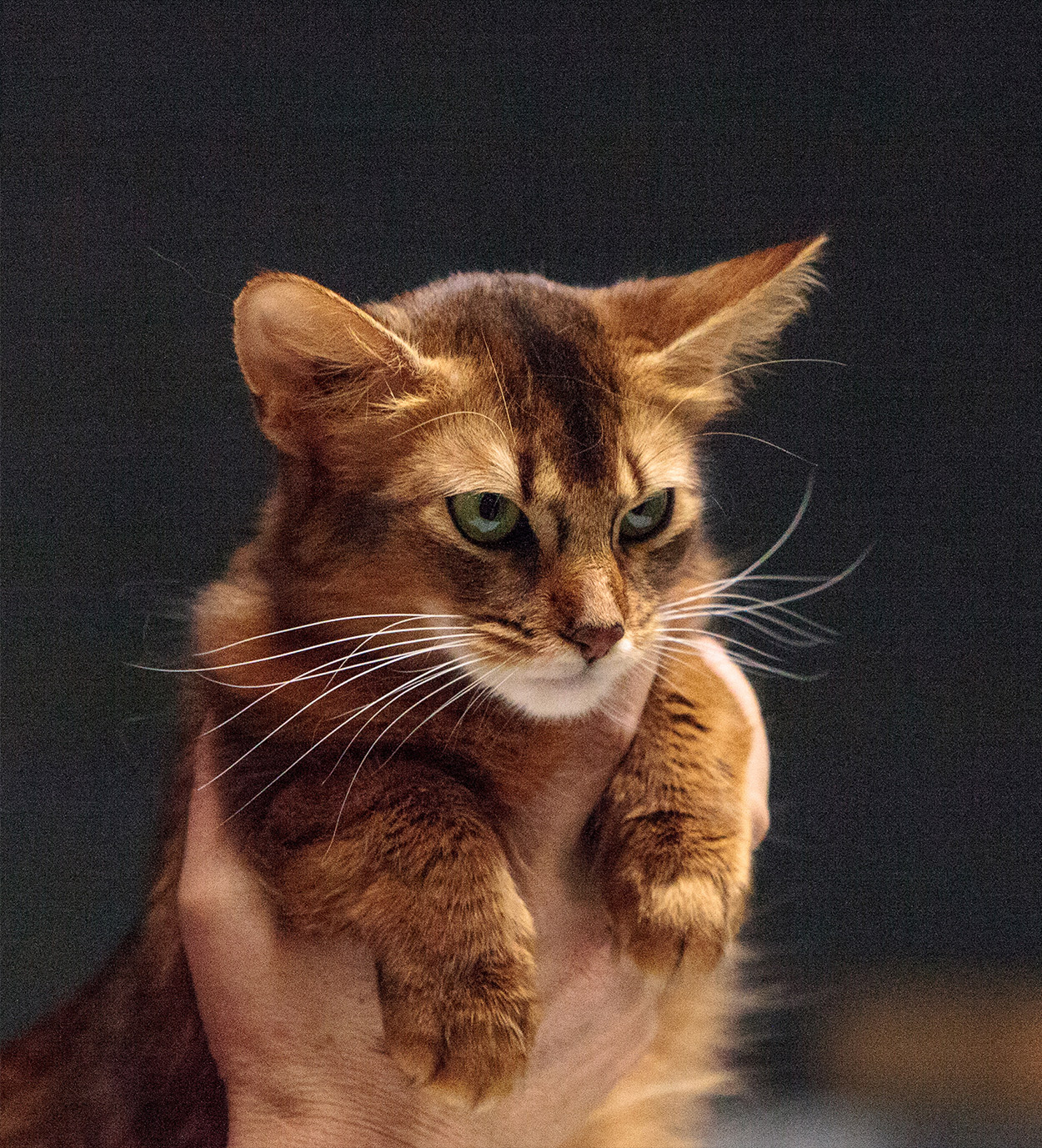 No matter what feature that you name your cat for, be sure that it's easy to pronounce and will be easy for her to distinguish.
You'll be saying it and she'll be hearing it many times throughout her life, so keeping it simple might also be the secret to keeping it sweet.
Furthermore, the name that you pick should be individual and not sound similar to any other pet's (or family member's) names in the house.
If his name sounds too similar to someone else's name, then your Somali may not know when he's being called.
If all these guidelines sound like a lot to remember, don't worry – we've got you covered!
Perhaps consider looking for a name that will highlight your Somali's Abyssinian roots, huggable nature, or bouncy personality?
In the following sections, you'll find examples of names for Somali cats in various categories, such as names for little boy Somalis, funny Somali cat names, and other adjectives that remind us of the magnificent Somali!
Male Somali cat names
If you've brought home a handsome fellow of a Somali cat, then you might consider giving him an equally handsome name!.
After all, your manly cat probably won't appreciate a "cutesy" name.
So you may wish to steer clear from names such as "Fluffy" and "Foxy"…no matter how much you want to call out his full "fox" tail!
Cat names for boys can be ultra masculine, or they may be inspired by familiar male figures.
Here are some male Somali cat names which remind us of manly men:
Donald [Draper, from the "Mad Men" television show]
James [Bond]
Indie [Indiana Jones]
Robin [Robin Hood]
William [Prince William]
Captain
Fitzwilliam [Darcy, 'Fitz' or 'Willy' for short]
Jordon [Michael – famous basketball player, baseball player, and spokesman for Hanes underwear]
Maxiumus ('Max' for short)
Tobias ('Toby' for short)
Clark [Gable]
Thor
Joe [G.I. Joe]
Colonel
Wayne [Bruce – Batman]
Handsome Somali cat names
It's common knowledge that Somali cats are some real "lookers".
Gaze into those golden-amber eyes or run your fingers through that gorgeous mane, and you can't help but give in every time your kitty meows for a treat or rubs on your leg for attention.
(Just be sure that you show some restraint, as you don't want your Somali getting too fat or spoiled!)
Is your Somali so dashingly handsome that he has every lady that he meets (human or otherwise) wrapped around his paw?
If so, then you might consider naming him after one of these good-looking fellows:
Hugh [Laurie, Grant, Jackman]
Jake [Gyllenhaal, or Jacob Black from the Twilight series]
Tom [Cruise, Hiddleston, Hanks]
David [Beckham, Tennant, Duchovny]
Liam [Neeson, Hemsworth, ]
Channing [Tatum, 'Chan' for short]
Chris [Pratt, Evans, Rock]
Ian [McKellen, Somerhalder]
George [Clooney, or Wickham from Pride and Prejudice]
John [F. Kennedy, Wayne, or Willoughby from Sense and Sensibility]
Leonardo [DiCaprio, 'Leo' for short]
Sean [Connery]
Keanu [Reeves]
Naveen [Disney prince from "The Princess and the Frog," 'Nav' for short]
Harrison [Ford, 'Harry' for short]
Female Somali cat names
When it comes to things of beauty, a female Somali is truly a sight to behold.
Although she may not sit still long enough for you to take her beauty in its entirety, you can still appreciate the splendor of these ultra-feminine felines.
Her extra energy has its perks, too – you get to watch her ticked fur shimmer as it moves!
However, Somalis are so much more than pretty faces.
They are also super intelligent and can be easily taught to walk on a leash or even to perform tricks!
Somali cats of the female persuasion could be named to emphasize their femininity or perhaps after strong female figures.
Here are a couple examples of both to give you some inspiration:
Jackie [Kennedy]
Eleanor [Roosevelt, 'Elle' for short]
Maya [Angelou]
Joan [of Arc]
Elisabeth [I, II, or Bennet from Pride and Prejudice – 'Liz' or 'Lizzy' for short]
Katharine [Hepburn, 'Kat' for short]
Jane [Austen]
Marilyn [Monroe]
Aretha [Franklin]
Julia [Child, Roberts]
Dolly [Parton]
Golda [Meir]
Meryl [Streep]
Cher
Diana [Princess, 'Di' for short]
Exotic Somali cat names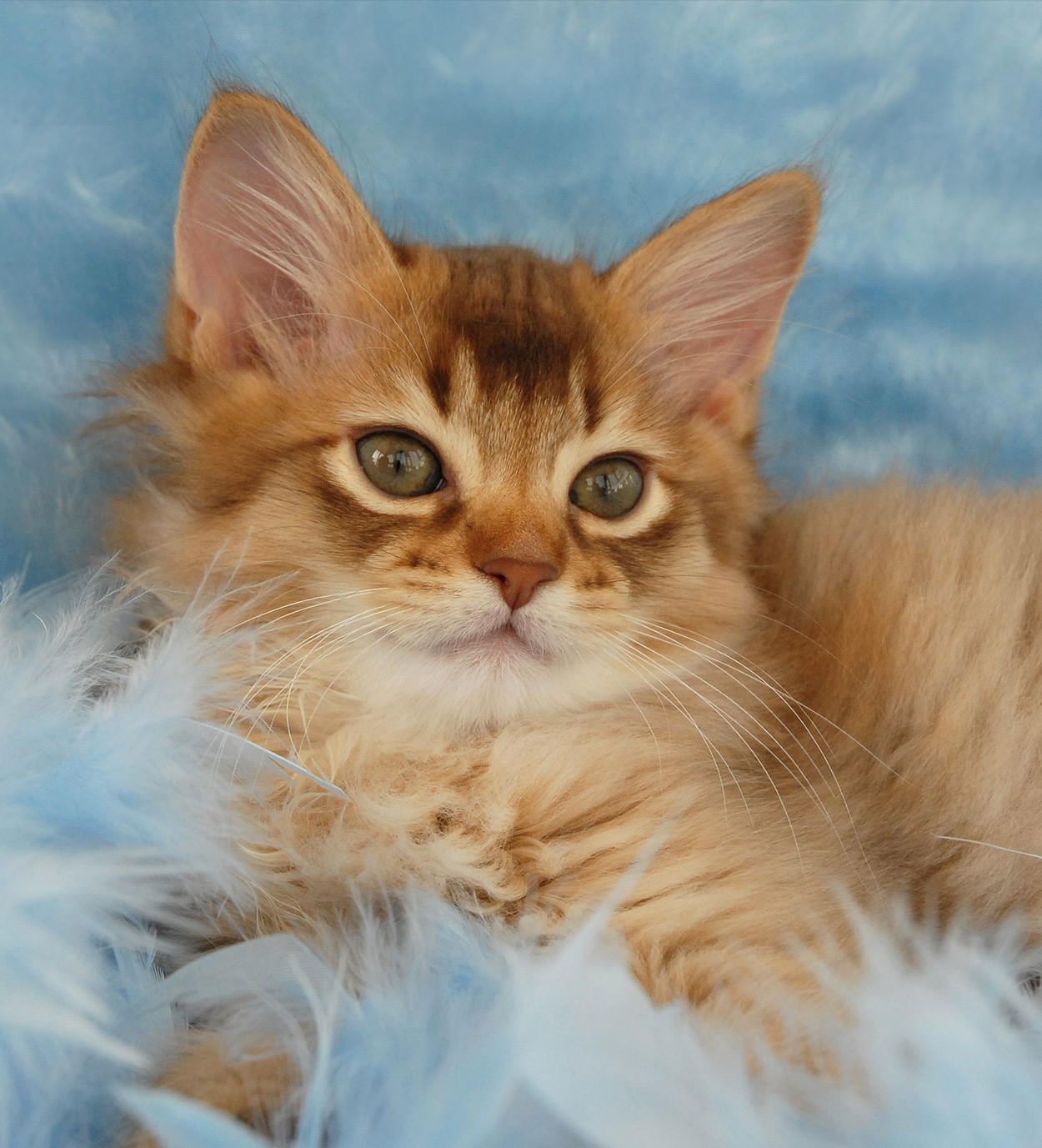 If you've never seen a Somali cat in person, their resemblance to a lion or a fox might make you think that they are wild instead of domestic cats!
With their elongated body, lanky legs, tall ears, full tail, and characteristic mane, it's no wonder they are sometimes referred to as the "feline fox" or the "fox cat"!
The fox-like characteristics are emphasized when the Somali's coat is red or ruddy.
Since Somalis are a bit more in touch with their wild side, why not name yours something that brings out his or her exotic appearance?
Below are some exotic baby names which we think perfectly describe a typical Somali cat's appearance and/or personality.
Phoenix – Greek for "dark red"
Ari – Hebrew for "lion"
Xenos – Arabic for "bright"
Killian – Irish for "bright-headed"
Melina – Greek for "honey" (we think this would be lovely for a fawn-colored Somali)
Elina – Greek for "sun ray"
Dempsey – Irish for "proud"
Sirena – Greek for "enchanter"
Sari – Hebrew for "princess"
Vashti – Persian for "beautiful"
Alegra – Italian for "lively"
Veda – Latin for "lively"
Kali – African for "energetic"
Aine – Celtic for "fire"
Azure – French for "sky blue" (we think this would be lovely for a blue-colored Somali)
Mysterious Somali cat names
The Somali cat's earliest origins are, as some say, shrouded in mystery.
It may also be a mystery as to how your Somali got himself into a particularly small or oddly shaped space!
(If you've not owned a Somali or Abyssinian cat before, then you'll want to be prepared to find them up high or nestled into the tiniest of crannies. They are true gymnasts!)
Why not replicate that in your Somali cat's name?
If you'd like to highlight your cat's curious breed origins or perhaps their elusive tendencies, then check out these names.
Here are some Somali cat names which are reminiscent of famously mysterious natural wonders, characters, and animals:
Phantom
Sherlock [Holmes]
Arrow
Ghost
Dragon
Grail
Loch Ness ('Nessy' for short)
Sphinx
Yeti
Babylon ('Baby' for short)
Olympus ('Ollie' for short)
Nancy [Drew, from the mystery novel series]
Harriett [the Spy – children's spy television series]
Marple [Miss Marple]
Dodo [extinct bird]
Somali kitten names
There is nothing much cuter in this world than an adorable little kitten.
And when the kitten happens to be a Somali kitten, then it's pretty much a given that they will be a precocious little booger with an eye for mischief!
His abundant playfulness is something that you'll definitely need to get used to.
Here are some names that you may find suitable for your little bundle of energy (and joy, of course):
Tigger
Elmo
Dash
Squirt
Sparrow
Speedy
Gizmo
Dory
Simba
Turbo
Grace
Dexter
Spider
Zip
Sprout

The best Somali cat names
The best Somali cat names will bring out the best in your cat.
From her signature good looks, to her upbeat personality, to her incredible climbing and hiding skills, there are plenty of qualities in a Somali in which to find some inspiration.
No matter how you select a name, just make sure that it is short enough to flow off the tongue easily and that your kitty will be able to distinguish it from other pet's or people's names.
Good luck!
For more inspiration, take a look at some of our other name guides, like black cat names.
Have you found the perfect Somali cat name?
What is it?
Where did you look for inspiration, and how did you know when you'd found The One?
Please tell us your story in the comments section below!