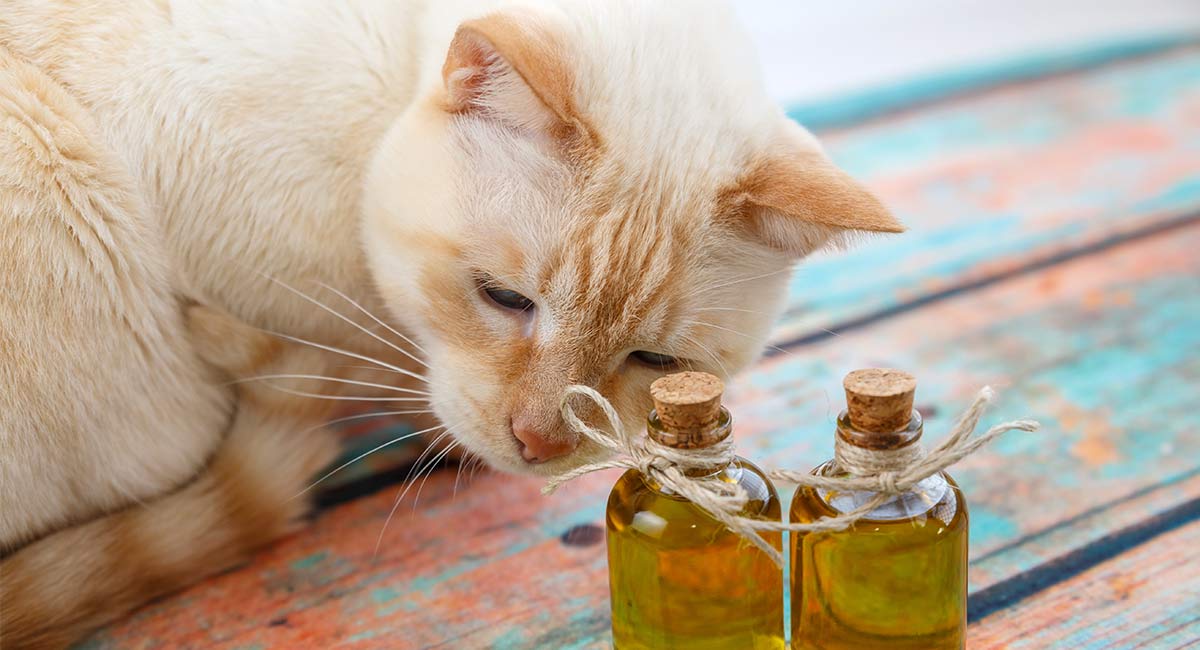 Welcome to our guide to tea tree oil for cats. Is tea tree oil safe for cats, or is tea tree oil toxic to cats?
Does tea tree oil kill fleas on cats? Or should we be keeping this essential oil away from our pets?
It's sometimes tempting to use our favorite home remedies on our pets.
But it's also important to remember that cats can react very differently to certain products, so caution and a bit of research is required.
In this article we're going to take a look at the use of tea tree oil for cats and whether it has any benefits.
We're also going to look at the dangers of using tea tree oil incorrectly, and the tragic consequences this has had in the past.
First, let's take a look at what tea tree oil does and how exactly it works.
Tea Tree Oil For Cats
Tea tree oil for cats is used as an ear cleaner, shampoo or antibacterial spray. But unfortunately this alternative remedy is not safe. Potentially toxic to cats at relatively low concentrations, this one is best avoided.
So why do people want to use it instead of modern remedies, and is there a solution to the toxicity problem?
Tea tree oil is also known as melaleuca oil. It comes from the tree tea plant (Melaleuca alternifolia) which is native to Australia.
Tea tree oil is well known for its wide range of uses and benefits to humans and as a result, many of us have this essential oil at home.
It has antibacterial, antifungal, antimicrobial and anti-inflammatory properties.
The pure essential oil is used for treating acne, burns, insect bites and a range of other skin conditions in humans.
Tea tree oil is also found diluted in a range of other products including shampoo, toothpaste and soap.
How does tea tree oil work?
The composition of tea tree oil is complex, but the chemicals which provide tea tree oil with its medicinal properties are from a group of compounds known as terpenes.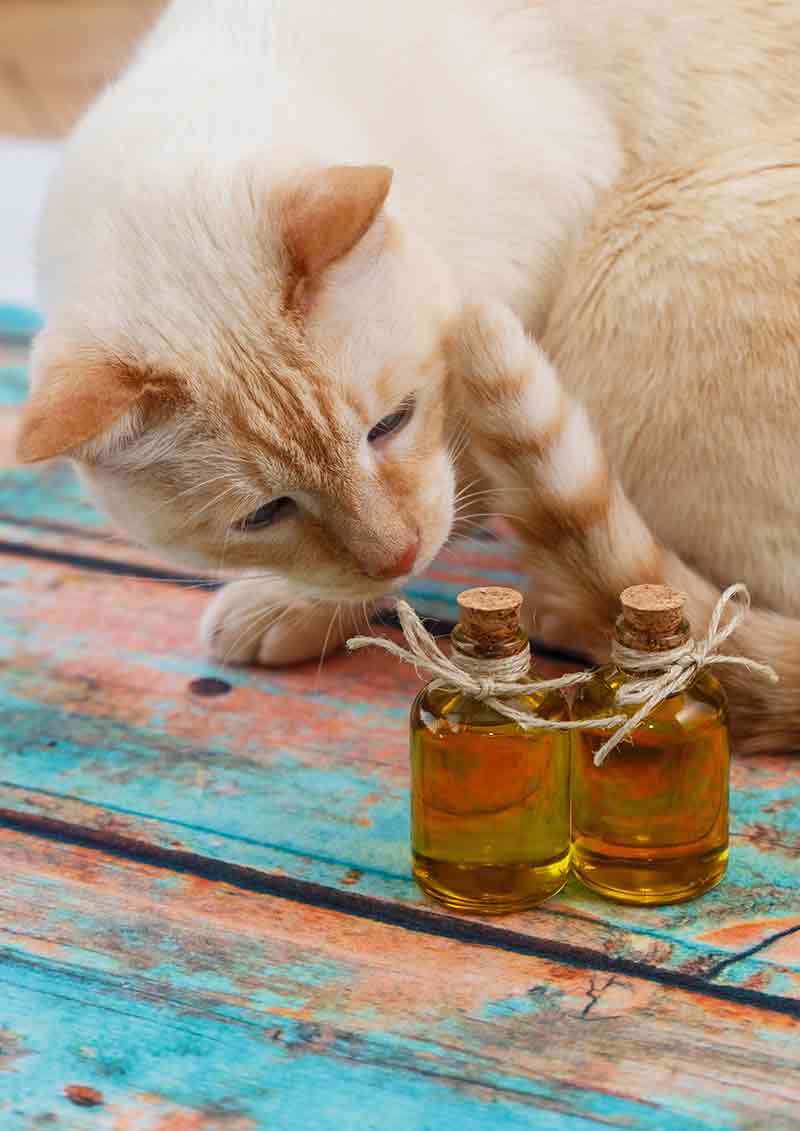 In particular, tea tree oil contains a large amount of the terpene terpinen-4-ol, which is both antibacterial and antifungal.
But as we'll find out next, some terpenes – including those in tea tree oil – can also cause toxicosis (poisoning) in cats when they are applied incorrectly.
Is tea tree oil safe for cats?
The answer to this very much depends on the concentration of the tea tree oil used.
Tea tree oil toxicosis has been reported in cats, dogs, rats and humans.
This toxicity is caused by high concentrations of terpenes, the same molecules which also give tea tree oil its beneficial properties.
Because terpenes are quickly absorbed into the body, the use of this oil either on the skin or orally can often have the same poisonous effect.
Because cats groom themselves, this also increases the risk of toxicity when topical applications to the skin are applied in an area where your cat can lick it off.
A high concentration of tea tree oil for cats can lead to toxicosis because their livers are less efficient than ours at removing toxins.
Signs to look out for include:
weakness
low body temperature
staggering
unable to walk
tremors
and eventually coma.
Treatment will depend on the level of toxicosis, but usually involves skin decontamination by washing and the use of intravenous fluids.
Despite the danger of toxicosis, there are many different products containing tea tree oil in various dilutions available for both humans and pets.
It's worth taking a look at these in a little more detail, so let's look at the use of 100% tea tree oil first.
Cats and 100% tea tree oil
Pure tea tree oil is NOT safe for cats.
The Pet Poison Helpline lists tea tree oil as poisonous to cats.
The toxicity level is listed as moderate to severe and can be life-threatening.
A ten year study using data collected by the ASPCA Animal Poison Control Center database found details of 106 cats and 337 dogs that were exposed to 100% tea tree oil and suffered toxicosis as a result.
In 89% of these pets, the tea tree oil was applied intentionally by the owners.
This demonstrates the lack of awareness that this oil can be toxic.
This study also found that younger and smaller cats had a higher risk of developing serious clinical signs.
Another veterinary report of three cats treated by their owner with undiluted 100% tea tree oil as a flea treatment resulted in all three being treated for symptoms of poisoning, and one sadly dying.
Using tea tree oil for cats safely
It's not difficult to find information on the internet and in books regarding the use of tea tree oil for fleas on cats, using tea tree oil for ringworm in cats and using tea tree oil for  ear mites in cats.
Despite this, it's best to exercise extreme caution. Studies have found that if products are used incorrectly, or not diluted enough they can cause poisoning and even death.
It's important to note the difference between dilutions.
100% tea tree oil is highly poisonous to cats, but there are some products available with a lower concentration.
Let's take a look at those now.
Diluted Tea Tree oil products
Products that have a concentration of less than 2% tea tree oil are non-toxic to cats if used according to the directions.
There's a wide range of products available which contain diluted tea tree oil.
These include ear cleaner, tea tree oil shampoo for cats, conditioning spray and tea tree cream for cats.
Because these are often marketed as "natural" it can be tempting to assume that they will be better for our cats.
Be aware though, that some of these products don't always list the dilution of tea tree used.
It's still worth exercising caution when using treatments containing dilutions of essential oils.
A study looking at the use of natural flea preventatives (not just one based on tea tree oil) found that 92% of animals showed adverse effects.
The products were applied as per instructions for 77% of those animals.
Tea tree as a diffuser oil
With oil diffusers becoming more popular in our homes, it's also worth looking at whether diffusing 100% tea tree oil into the air can also be harmful for your cats.
The ASPCA say that many essential oils, including tea tree oil, can be harmful to cats when being used in a diffuser.
If you still want to use your diffuser with tea tree oil, consider placing it in a room which your cat doesn't have access to and only using it for short periods.
Bear in mind if your cat already has breathing problems, it's probably best to stop using your diffuser completely.
Cats have a much more sensitive sense of smell than we do, so could easily find the smell overwhelming.
Again, young and small cats are potentially more likely to suffer negative effects.
The importance of using modern approved treatments
Whilst it can be tempting to prepare a treatment against fleas and other pests yourself, it's always best to use a modern, veterinary proved treatment instead.
It's very difficult to accurately dilute 100% tea tree oil to the correct dose at home.
A study using data supplied by veterinarians to the National Animal Poison Control Center found that in the majority of cases involving tea tree oil toxicosis, 100% oil was applied at an inappropriately high dose.
The Merck Veterinary Manual also notes that the quality control and manufacturing standards required for herbal medicines are not as strict as for pharmaceutical products.
This means that herbal products may vary from batch to batch.
Finally, this study notes that health food stores often advertise tea tree oil as a safe, non-toxic product.
This means that you could be given the wrong advice regarding the use of tea tree oil.
It's safest to only use products approved by your vet.
Always ask for veterinary advice
It's best to consider the use of essential oils in the same way that you would consider giving your cat any pharmaceutical medication.
Always visit your vet to ask them for advice first.
If there's a product containing a safe dilution of tea tree oil that you would like to use, then speak to your vet.
They will have access to the latest research and be able to advise you further.
Tea tree oil and cats – is it safe?
Although it might be tempting to mix a dilution of tea tree oil for cats ears, or to use as a flea repellent, there's enough evidence to suggest that this is not a good idea.
It's very difficult to accurately dilute 100% tea tree oil at home, so you could end up accidentally giving your cat a higher dose that you intended, with terrible consequences.
For that reason, it's best to be safe and keep this pure essential oil well away from your cat.
There are a range of products available with dilutions of tea tree oil so if you decide to use one of these then read the label carefully and always speak to your vet first.
And finally, always seek veterinary help immediately if your cat has come into contact with tea tree oil and experiences any of the symptoms listed earlier.
Final thoughts
Tea tree oil contains terpenes, which can have medicinal properties at very low concentrations, but are highly toxic to cats in high concentrations.
Never use 100% tea tree oil as a topical treatment for your cat, and keep oil diffusers far out of reach of all pets.
Tea tree oil at very low (less than 2%) concentrations can be safely tolerated by some cats, but since homeopathic remedies are unregulated the risk of incorrect dosing is high.
Coupled with this, the consequences of incorrect dosing are severe.
It is unwise to use an uncontrolled, unpredictable "natural" treatment in place of a regulated, safe pharmaceutical treatment without a very compelling reason to do so.
Which is why we recommend using modern, licensed and regulated veterinary treatments, and always visiting your vet when your cat is unwell.
Do you treat your cat with tea tree oil?
Has your vet recommended a safe tea tree oil treatment for your cat?
If so, please tell us about your experiences with it in the comments section!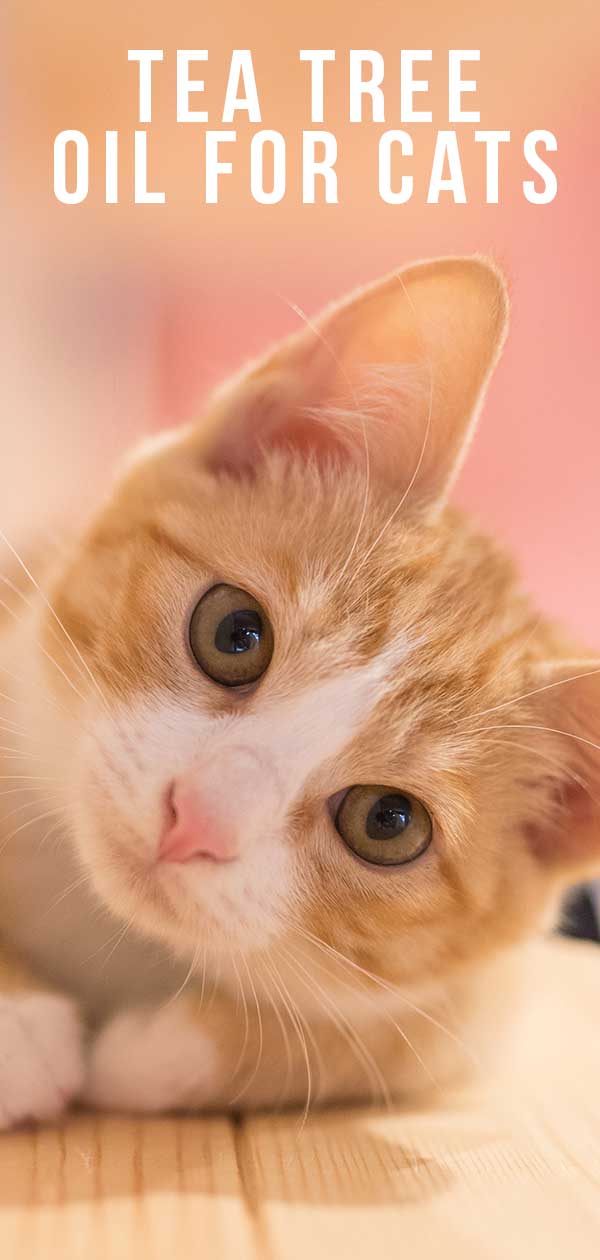 References and further reading
Khan et al. 2014. Concentrated tea tree oil toxicosis in dogs and cats: 443 cases (2002-2012). Journal of the American Veterinary Medicine Association.
Genovese et al. 2012. Adverse reactions from essential oil-containing natural flea products exempted from Environmental Protection Agency regulations in dogs and cats. Journal of Veterinary Emergency Critical Care.
Carson et al. 2006. Melaleuca alternifolia (Tea Tree) Oil: a review of antimicrobial and other medicinal properties. Clinical Microbiology Reviews.
Robinson. Herbal Medicine. Merck Veterinary Manual.
Vilar et al. 1994. Toxicity of melaleuca oil and related essential oils applied topically on dogs and cats. Veterinary and Human Toxicology.
Bischoff and Guale. 1998. Australian tea tree (Melaleuca alternifolia) oil poisoning in three purebred cats. Journal of Veterinary Diagnostic Investigation.
Pet Poison Helpline. Tea Tree Oil.
The ASPCA. Is the latest home trend harmful to your pets? What you need to know!