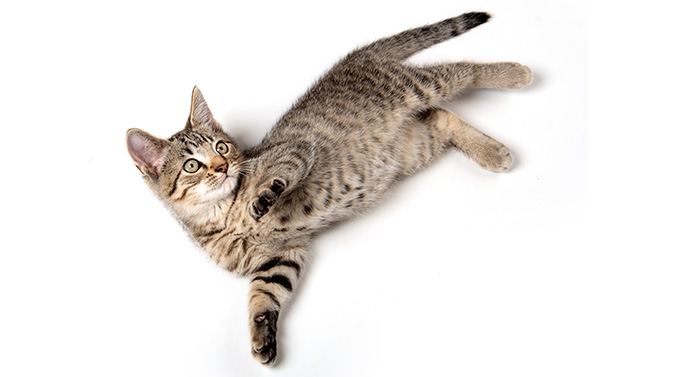 What does it mean when a cat rolls over?
When your cat rolls over on their back, they may be looking for attention or trying to play with you. Some cats roll on their backs in response to catnip, and others do it when they come into heat.
In rare circumstances, rolling onto their back could be a sign that your cat is unwell, particularly if you notice other symptoms, like sore, itchy skin.
Let's take a closer look.
What Does It Mean When a Cat Rolls Over?
Deciphering cat behaviors is a great way to understand your pet better. Learning what they are feeling can help us interact with them appropriately, and keep our cats happy and comfortable!
So, what does it mean when a cat rolls over or around on her back? Generally, it is a positive behavior!
But, there are lots of different potential explanations. We will look at them all in detail in this guide, but here's a quick summary of the possibilities:
Your cat could be feeling playful, or wanting some attention
They feel secure with you
They are marking their territory
If they're female, your cat could be in heat
They're reacting to catnip
They're just scratching an itch they can't reach!
As you read about them, you might realise which potential option fits your cat's behavior the best! So, let's dive in – what does it mean when a cat rolls over?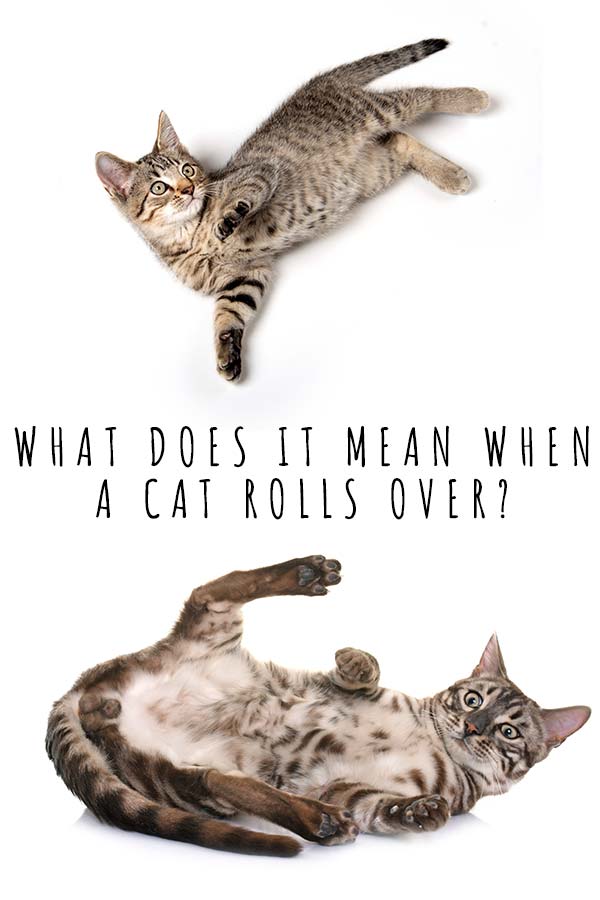 Feeling Playful/Wanting Some Attention
Lots of cats will roll over on their backs when they are hoping to play with you!
You might notice that cats also roll on their backs during play time with other cats.
If your cat is rolling on their back for attention, the behavior may be accompanied by meows or purrs.
They will also likely roll on their back when you are coming towards them, or come over to you to get closer before rolling over.
If you have a cat that loves belly rubs or tummy tickles, it's likely they'll be rolling over to get some much-loved affection from you!
They Feel Secure Around You
Cats that love to sleep lying on their backs around you will likely roll over because they feel so safe in your company.
Rolling over and exposing their tummies is actually quite a vulnerable position for cats. They aren't able to run away from threats as easily or to defend themselves.
So, if your cat rolls over near you, it's a sign that they trust you a lot.
And if your cat likes to sleep on their back around you, you should feel even more special!
Cats that fully relax lying on their backs definitely only do so if they trust you. Can you hear them purring too?
They're Marking Their Territory
Cats have scent glands on their face and tails. So, it's possible that they're rolling onto their back to mark their territory.
If your cat loves to rub up against lots of different objects in your house, rolling onto their backs could be an extension of this marking behavior.
Cats that roll on their back when they can't see you may be marking their territory rather than trying to interact with you in some way.
It's most likely that your cat is trying to mark their scent if they roll around on their back, particularly if they rub their cheeks into the ground as they do it.
They're in Heat
Another potential reason that your cat is rolling on their back is because they're in heat! Of course, this will only apply if you have a female kitty.
Other signs that your cat is in heat include: wailing, restless behavior, increased affection, excessive licking, and more.
Cats can stay in heat anywhere from two to nine days, and the frequency of heat cycles will vary depending on the cat.
If your cat has been spayed, she won't be rolling on the ground because she is in heat.
But, if this is a potential reason for your cat's rolling behavior, make sure to take extra care to avoid unwanted pregnancies at this time!
A Common Reaction to Catnip
What does it mean when cats roll over? It could be a reaction to their environment.
Some cats will roll over in response to catnip.
If you have recently given your cat some catnip, or purchased a new toy or scratching post for them that contains catnip, this is probably the reason they've started rolling over!
You can take a closer look at catnip and its effects in our complete guide.
They're Scratching an Awkward Itch!
Of course, it's also entirely possible that your cat has rolled on their back and is wriggling around to scratch an awkward itch!
We've all been there – an itch that we just can't reach on our backs. Cats experience it too!
This is usually no cause for concern. But, it can be a symptom of health problems in extreme cases.
Look out for any other signs of skin problems, such as redness, dry or flaky skin, or fur loss.
If you notice any of these alongside rolling over on their back a lot, take your cat to the vet for a check up.
What Does it Mean When a Cat Rolls Over?
So, as you can see, there are loads of potential reasons why your cat is rolling over! To find out which one applies to your kitty, take a look at their other behaviors too.
If they're meowing or purring, they're probably trying to get your attention for some affection.
If they haven't been neutered, there's a chance they could be in heat. And they could just be trying to itch an awkward point on their back!
Does your cat roll on their back a lot when they're in your company? Tell us why you think it is in the comments box down below!
Readers Also Liked
References and Resources