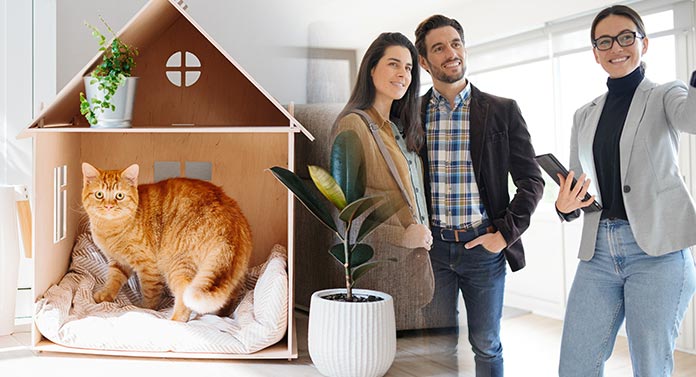 Smart sellers think about what to do with their cat during house showings ahead of time. Some decide they can trust their cat to stay in place and be discreet. But if your cat is scared of visitors, or even over friendly, you might want to keep them out of the way.
Contents
Why think about what to do with your cat during house showings?
Selling your house is a stressful and exciting time. You're likely to be preoccupied with making sure that everything is tidy, your laundry is out of sight, and your rooms are staged to perfection. Half your thoughts might already be on the new house you hope to move into once your current place is sold. Amongst all this, the whereabouts of the cat during showings can end up being an afterthought!
So the fact that you've even thought to search for the answer is great! Of course, what you decide to do will depend on a few things. Including your cat's disposition, and if opening your house up for show could put their safety at risk.
Leave Them In Place?
The easiest thing to do, obviously, is nothing. Just let your cat stick to their normal daily routine of patrolling the yard, or napping in a sunny spot on the carpet.
I've looked around several apartments and houses with resident cats in place during the viewing. I said "oh cute cat!", my husband rolled his eyes, and the cat regarded us both with imperious disinterest. Then we all continued with our business.
This option is great if it is open to you. It's most appropriate for calm, adult cats who live both indoors and outdoors. Even moderately shy cats are sometimes best left in situ.
Rather than causing them stress by removing them from the house, it's kindest to let them find a hiding spot where they feel safe, and let them wait the appointment out.
Your potential buyer may not even know there was a cat under the spare bed the whole time!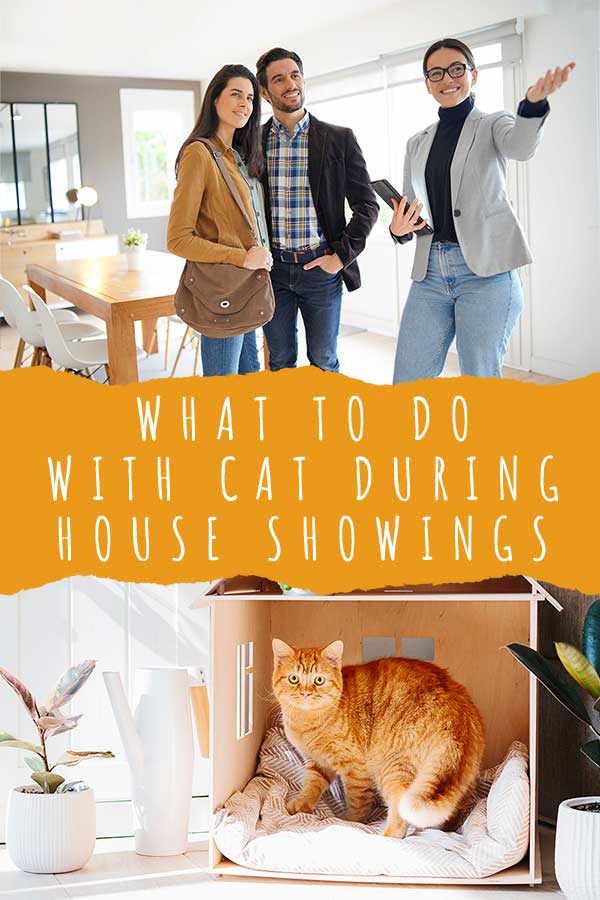 Indoor cats
If your cat lives exclusively indoors, then having them at home during house viewings can pose a safety risk. Buyers are likely to want to open all the external doors, and come and go from the yard a few times.
During an open house, those doors will be opened, closed, held open for the next people, and even carelessly left open by non-cat people, over and over again.
It's a lot of chances for a house cat to escape. Especially one who's agitated by all the strangers coming and going from their home, and perhaps keen to get away from all the activity.
Unless you REALLY trust your realtor to make sure your indoor cat is kept safe during viewings, it might be best to make sure you've got this risk under control yourself.
Open house events
On the subject of open house events, bear in mind that even cats who normally like visitors can end up irritable and annoyed after a whole day of different strangers coming and going.
Open house events are a great way to cram all the disruption of getting your property ready for viewing and making yourself scarce into one hit. But they can be tough on your cat. Especially since you won't be around to reassure them.
Cats that bite or scratch
I love spotting a cat during a house viewing. But I know better than to try and pet them. If your cat has a history of biting or scratching – either through playfulness or when they feel threatened – have a think about if they're safe to be left during house showings.
What will happen if an adult, child, or older person tries to stroke them? Is it something you want to to have to worry about when you're thinking about selling your house?
Overly-friendly cats
At the other end of the spectrum are the overly friendly cats. A very chatty, vocal cat who follows everyone round like a furry shadow might distract potential buyers from all the great things your house has to offer.
If anyone viewing your house has a cat allergy, they might even decide to cut short their viewing.
Option #1 – Take them for coffee
A single house viewing rarely takes more than half an hour. Possibly the easiest way to get around it is to pop your cat in their carrier and go out.
If they like being carried in a sling, you can go for a walk. Or put them in a fully enclosed carrier and go for a drive. You can give them some treats or catnip to pass the time, and grab yourself a coffee or run some errands. But never leave a cat shut in a hot car!
Option #2 – Walk them
Are you feeling avant garde? Would your normally indoor cat like a taste of the outside world? Cat harnesses and leashes are affordable and widely available.
If you only expect to have to be out for a few minutes, taking your cat for a walk around the block is a simple way to get out of the way for a bit. And you can repeat it over and over. Without spending a fortune on takeaway coffee!
Option #3 – Check them into a cat boarding kennel
For an all day open house event, the most practical solution might be to leave your cat with a kennel for the day.
They might not love it there. But they're not likely to love it at home either, and for indoor cats, this is the option that most guarantees their safety. It also leaves you free to enjoy a day out without worrying about your cat.
Other things to consider
Selling a house a cat lives in is more than just working out what to do with them on the day. Before your first prospective buyers arrive, also think about:
Repairing damage caused by scratching
Has your cat damaged the carpets, walls or woodwork in your home through scratching? Did they nibble the baseboards when they were a kitten, and you've simply stopped noticing the marks?
This kind of damage can put off buyers who want a turnkey property, without any work to be done. So your house might appeal to more people, sell quicker, and achieve a higher price if you fix cat damage before marketing it.
Hide litter boxes
If your cat is going to be out during a house viewing, then their litter box should be out of site too! Unless you've got a cleverly concealed tray, the chances are your kitty's litter box is a bit of an eyesore. And is taking up precious floor space too.
Try stashing it in the shed, until you return. But don't do this if your cat will be at home and might need to use their litter box during the viewing!
Tidy up their breakfast
You've probably read countless tips about making fresh coffee or baking bread right before people view your house. A lot of people think that a house which smells great is easier to sell. But what doesn't smell great? Leftover cat food that's been sitting out in a warm house for hours.
The sight of it can make some people pretty queasy too. So put the bowls in the dishwasher, and sweep up any crumbs or spills. But if your cat will be at home, then of course make sure you leave their water bowl in place!
What to do with cat during house showings – summary
There's a lot to think about in the run up to marketing and selling a property.
Emotions are likely to be running high. And there are lots of documents and phone calls to keep on top of.
What to do with the cat during viewings isn't likely to be the first thing you thought of.
But once you've got a plan in place, you'll feel a bit more confident that you're doing the best you can to sell your house, and to protect your cat from the disruption.
So good luck, and we hope the offers come rolling in soon!