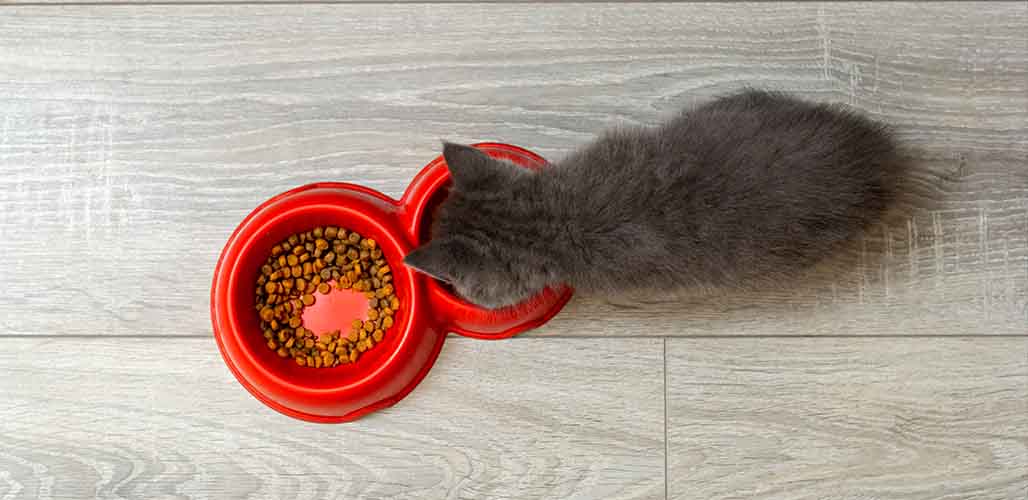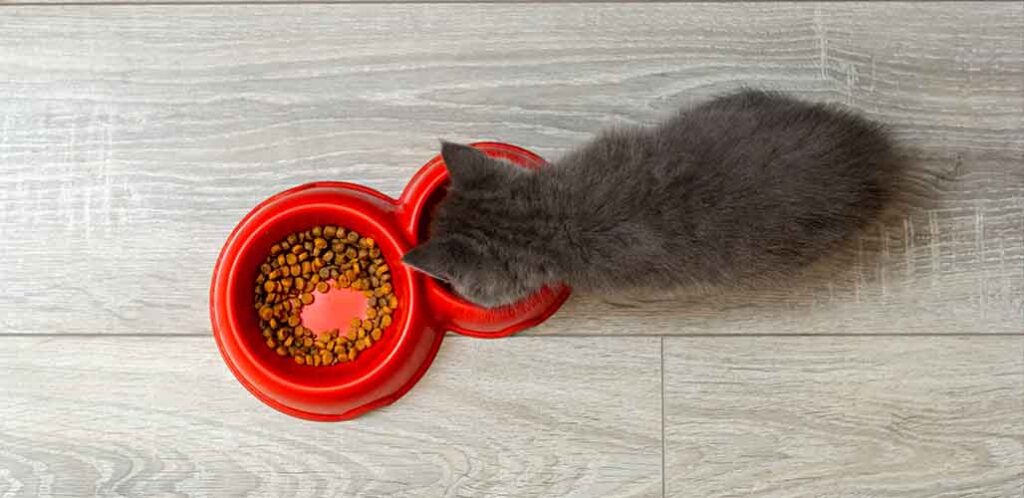 When can kittens eat dry food only? Introducing my first kitten to dry food was a daunting task. But, I soon discovered there was no need to worry. Cats are smart and curious animals, even from a young age, and my kitten quickly understood what was happening. Opinions on the best time to introduce dry cat food to your kittens vary. It's a good idea to start off by mixing dry food with your kitten's wet food. And, over the span of a few weeks, usually from the age of about 2 months, you can change your ratios to dry food only. In this guide, I'll take a closer look at how to feed your kitten dry food, and why it's so important to wait until your kitten is the right age.
Contents
When Can Kittens Eat Dry Food Only?
Opinions vary on the exact right time to start weaning a kitten. Your breeder will introduce solid foods somewhere between 3 and 4 weeks, but this will usually be in the form of wet food. If you are raising kittens at home, be wary of introducing solids before this time. Trying to wean your kittens too early could result in developmental issues, including aggression.
Different breeds mature differently. So, there's no one-size-fits-all weaning guide for kittens. Instead, you or your breeder will look for signs that your kittens are ready for solid foods. Once they are comfortable with wet food, you can slowly introduce dry food. But, feeding only dry food usually won't happen until after a kitten has been in its new home for a while (after 8 weeks). Let's take a closer look at the entire weaning process.
Effects of Early Weaning
There are many studies underway to ascertain the effects of early weaning. Currently, studies have established that cats who are introduced to food too early can experience developmental issues. These issues later develop into character problems.
For instance, a study on weaning stress in kittens found that early weaning could cause stress and aggression in cats. Aggression and stress are not just childhood problems. If the cat develops such issues, they are likely to be carried forward to adulthood. There are other potential effects of weaning your kitten too early.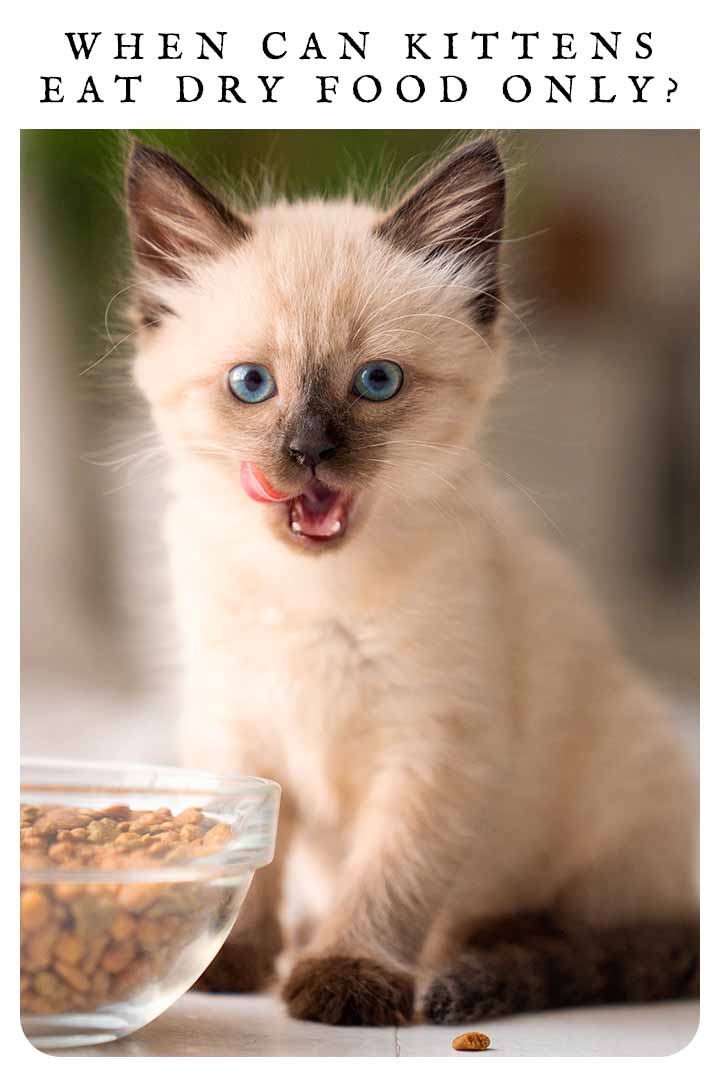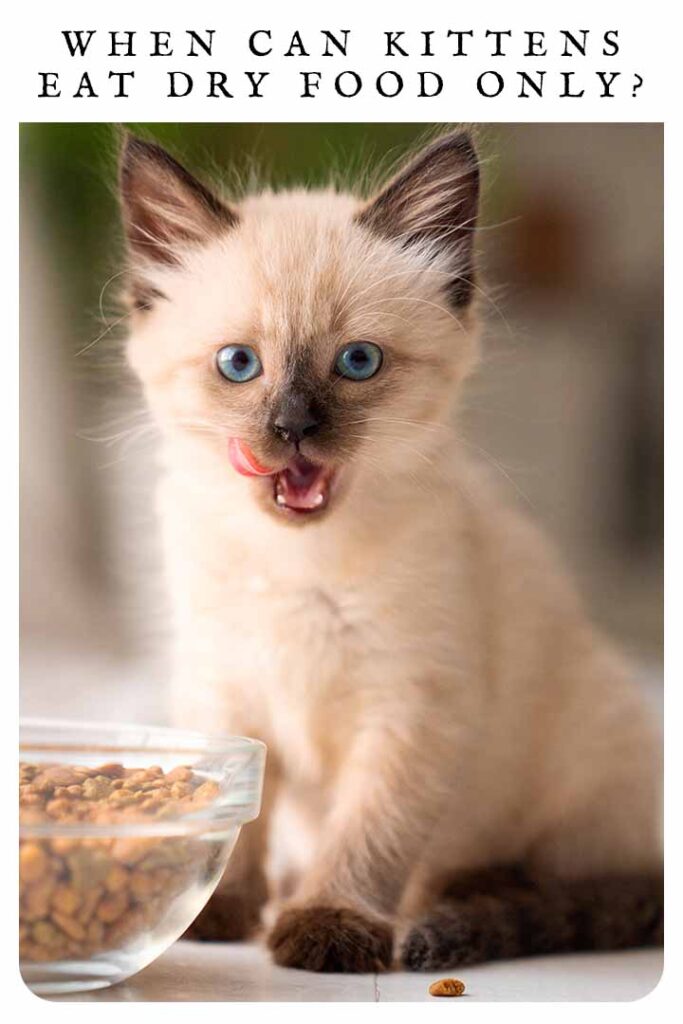 How to Know Kitten is Ready for Weaning
Recommended timelines for kittens generally suggest weaning your kittens at about 4 weeks of age. However, there are observations you can make to find out if your kitten is ready for solid food.
One of the ways is by checking their eating patterns. After a few weeks, kittens will start picking solid foods from their mother's dish. This is one of the clearest signs they are ready for solid food. The other sign could be that they don't get satisfied or do want to eat regularly. This could mean they are ready for a bit more solid food. Being observant is the easiest way to know when they are ready.
4 Weeks: Introduction to Wet Food
At 4 weeks of age, your kittens will start asking for solid food. But, your breeder will not introduce dry food immediately. Instead, they'll start by introducing wet food which is easier on their kittens' digestive systems. The first solid food for a kitten is usually gruel- a mixture of wet kitten food and kitten formula.
Kittens will still be living with their mom at this point. If a breeder tries to give you a 4 week old kitten – do not accept. But, the same care principles will apply to orphaned kittens. If you find yourself caring for an orphaned kitten, use the kitten formula for three and a half months. At this time, introduce gruel but do not use cow's milk, as this can cause stomach issues.
For the introductory meals, only use kitten foods. However, this does not mean you should stop bottle-feeding them. Make sure they are bottle-fed every 8 hours. Once they start eating semi-solid food, kittens start drinking water. Ensure that clean drinking water is available at all times as soon as they start eating.
5 to 6 Weeks- Introduction to Dry Food
Do not introduce your kittens to dry food before 5 weeks. From 5 weeks, start mixing your wet foods with some dry kitten kibble. This makes it easier for the kittens to get used to solid, harder food.
The beauty of introducing mixed food is that it is easier on their digestion. Further, solid food is ideal for longer hours of satisfaction. If your kittens always demand food, introducing a bit of solid food is the way to go. This is the time to observe and see if your kittens experience any particular issues with solid foods. If they are okay, you can slowly increase the portion of solid foods. Do not rush this process.
If you're getting your kittens from a traditional breeder, this isn't something you'll need to worry about – they'll take care of this weaning process!
6 to 7 Weeks- Introduction to Solid Food Only
From six weeks of age, kittens should be ready for solid foods only. Most breeders will either feed them a mix of dry and wet food. But, some will give either wet or dry food by itself. If they are feeding a dry food only diet, this will be a gradual process. They will slowly reduce the amount of wet food, replacing it with dry biscuits.
After You Bring Your Kitten Home
Most kittens will be sent to their new homes at around 8 weeks. This is where you have to start taking charge of their mealtimes, rather than the breeder. But, this doesn't mean you shouldn't pay attention to what your breeder fed your kitten.
Changing your kitten's food drastically when they first go to a new home can cause a lot of stress and digestive issues. Moving to a new home is already a stressful experience, so you shouldn't make things worse by also changing their food suddenly. Instead, stick with whatever food your breeder was offering for a week or so – down to the specific brand, if possible.. This might mean continuing to feed wet food, or a mix of wet and dry.
Once your kitten feels more comfortable in their new home, you can consider changing their diet. But, this should be a gradual process. Wean out any wet food over the course of a week or two, replacing it with dry food. Keep a close eye on your kitten's reaction whilst you do this, to spot any digestive problems they might experience.
Do Kittens Need Dry Food Only?
With the amount of choice available in the cat food market, there's nothing stopping you from feeding your kitten only dry food, only wet food, or a mix of both. But, it's important that you don't rush the process of switching to dry food only, if this is what you're choosing to do. All food types have pros and cons, so consider them all carefully before choosing.
Most of the weaning process will happen to your kitten before they come to your home at 8 weeks old. So, they will usually know what dry food tastes like.
When Can Kittens Eat Dry Food Only? A Conclusion
Introducing solid food to your kittens is a gradual process. Don't try forcing them to eat solid foods when they are not ready. A good cat owner must remain observant at all times. Stay in close contact to know when your kittens are asking for solid food. Most cats will be eating a mix of dry and wet food when they go to their new homes at 8 weeks. So, from 9 weeks or so, you can wean them onto only dry food.
More Kitten Help and Care Guides
References