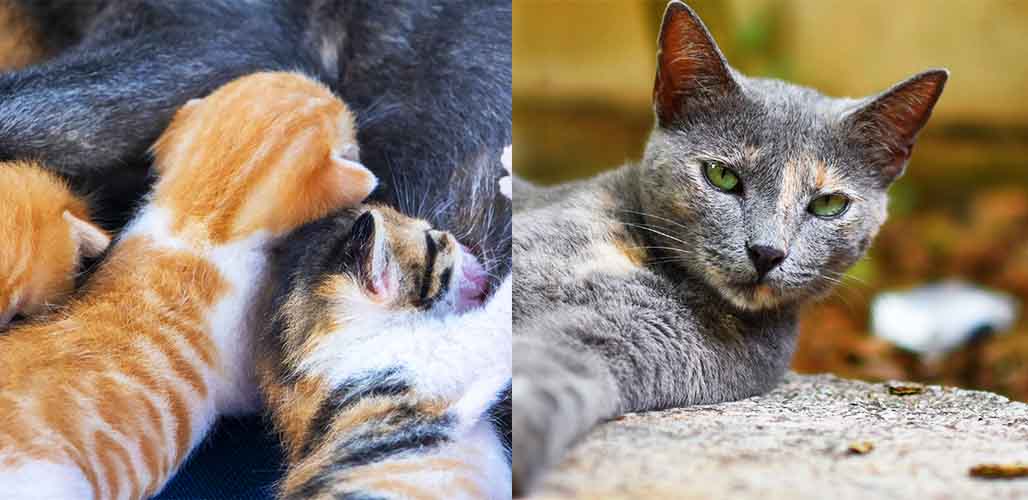 When can my cat go outside after giving birth? A nursing cat goes through many physical and psychological changes that can impact her daily life. This is especially true if this is the first time the mama cat has kittens. The new responsibility as well as the physical toll of labor can leave the cat exhausted. So you might need to take some extra precautions for her safety until she's feeling better. In this guide, I'll take a closer look at when it's safe to let your cat outside, and some other key ways you can take care of her after she's given birth.
Contents
When Can My Cat Go Outside After Giving Birth?
Our cats are often more resilient than we give them credit for! So, you might be surprised at how quickly your cat recovers and resumes her daily life while assuming the additional responsibilities of motherhood. But that doesn't mean she is ready to go outside just yet.
As long as the labor has gone smoothly and the mama hasn't had trouble giving birth, you should let her rest for at least the first 24 hours after labor. But if the labor had complications, then the cat needs at least a week before going out. Allow the mother to rest with the kitten for as long as they need and try not to disturb them often.
Is it Normal if a Cat Doesn't Want to Go Outside After Giving Birth?
Most cats won't want to or try to go out since she has kittens to take care of, watch over, and feed. So it's unlikely that the new mom would leave the kittens behind and venture out as she used to in normal circumstances. Instead, the feline mama will not leave the kittens' side for the first few days at least.
After about a week, your cat may feel recovered and secure enough to leave the room where the kittens are soundly asleep for a while. That's usually the best time to allow the cat to get some fresh air and go for a short walk.
It would be better to accompany the mom cat during those short excursions. That way you'll be able to keep an eye on her and step in if she needs help for any reason. But if she feels strong enough and wants to go on her own, don't try to restrain her. Just open the door and let her out for a much-needed break.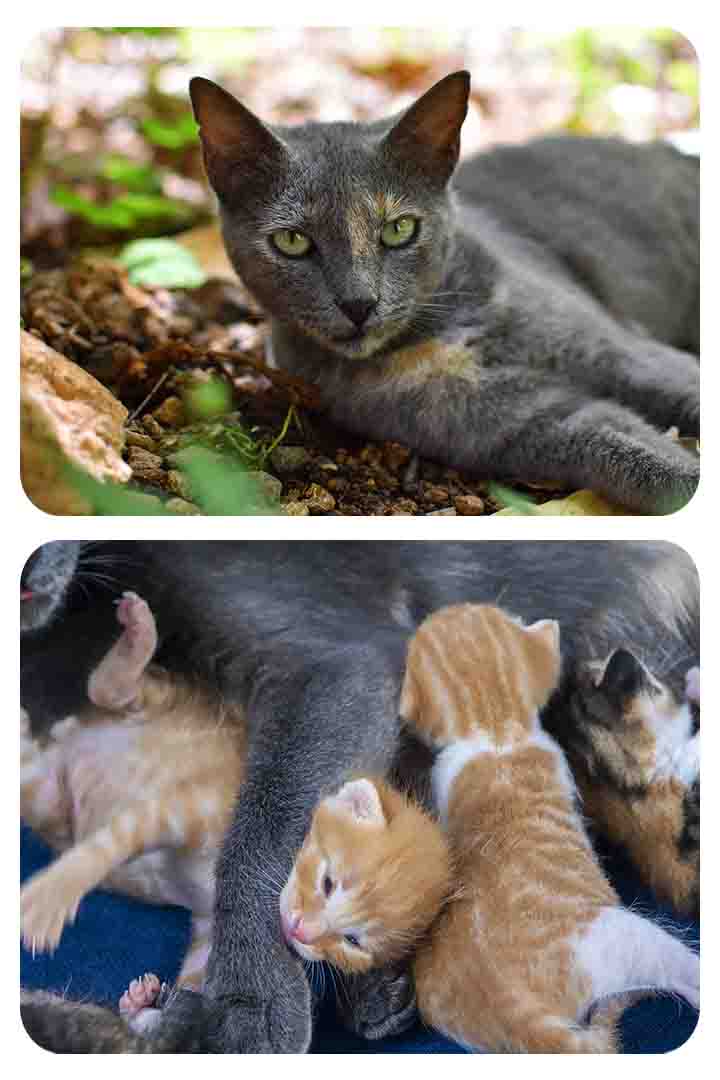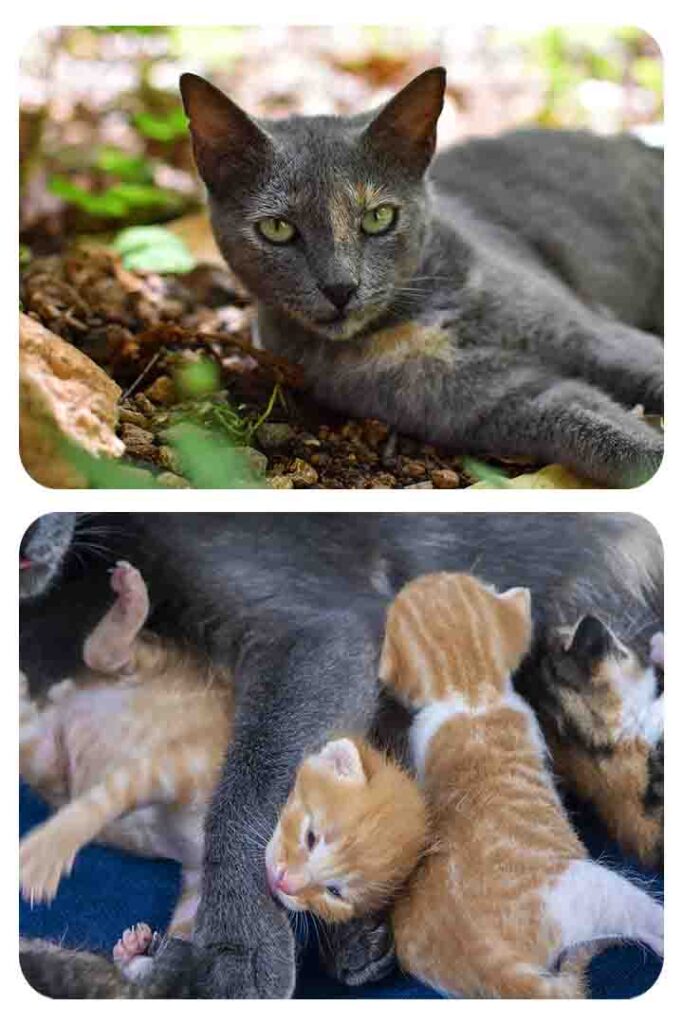 What to Consider Before Letting the New Mom Cat Outside
Usually the mama cat is the best judge of when it's convenient for her to go out for the first time after giving birth. In nature, wild mother cats would need to go hunting for food and leave the kittens behind. So it's quite normal for your cat to want to venture out so quickly after labor.
But your cat is not a wild cat and still depends on you to provide food, care, and shelter, not just for her but also for the kittens. So it falls on you to make sure that the new mother is up for the task of going out for the first time after giving birth. Here's what you need to consider before letting the cat out.
Your Cat's Physical Condition
Naturally you wouldn't let your cat out the door if she wasn't feeling well. So a quick health check up is mandatory for your peace of mind and the mama cat's best interests. The first thing to check for is body temperature. The normal body temperature for the cat is between 101 and 102.5 degrees Fahrenheit. If your cat is spiking a fever, then she's not in a good condition to go out just yet.
Also observe how she moves. If her movement is pained and sluggish, then she's still not well and you shouldn't let her out. But if she walks normally and her movement is fluid and energetic, then the outdoors would do her a whole lot of good. If you're noticing any signs of sickness or any abnormalities after your girl gives birth, give your vet a call.
Your Cat's Behavior and Patterns
As a new mama, your cat is entitled to some behavioral abnormalities. Being over-protective of her kittens is not out of the ordinary for the cat especially if this is her first litter. She might exhibit some uncharacteristic aggressive tendencies either toward you or other animals in the house. This behavior tends to go away quickly after the first few days. But it also means she can't go out just yet.
Once your cat falls back into her old patterns, habits, and behaviors, that's as good a sign as any that your feline mom is ready to face the world and leave the side of her kittens for a short time.
Your Kittens' Wellbeing
After making sure that the mama is well and strong enough to go outside, you then need to turn your attention to the kittens themselves. Although the mom will make sure they're comfortable and safe, you still need to check in on them often while their mama is out. Make sure the door of the room is closed, the room temperature is high enough and that there's no cold draft coming from an open window. Have your vet's number handy in case anything goes wrong.
How to Care for My Cat After Giving Birth
While your mama cat is taking care of her kittens, she might neglect her own needs. More often than not, the mom cat would forget to eat or drink which can impact her health. So it's your responsibility to care for the new mother. Here are 5 steps you can take to help her out and keep her feeling good.
1. Offer the Right Food
As a nursing mom, your cat is spending a lot of energy taking care of her kittens. She needs to replenish that lost energy with plenty of cat food three times a day. Focus on protein-rich wet and dry food. Kitten food is a great choice because it is naturally high in protein to support the high growth needs of kittens.
2. Monitor the Mom's Health
Check on the mama frequently and look for signs of illness or poor health. Talk to your vet and describe the symptoms of the mom if you notice anything abnormal.
3. Check Her Teats
Kittens have soft teeth but they can still cause scars and swelling on the mom's teats. This is a condition called mastitis with symptoms that include bruising, redness, and inflammation. Consult your vet immediately if you see these signs.
4. Use a Shallow Dish for Water
When offering the cat water, leave a shallow dish near her. Don't use a deep bowl which can be a health hazard for the little kittens.
5. Give the Mom Space
If the mom is overprotective of her kittens, don't go near her or try to pet them. Allow them time to feel secure and for the mom to go back to her old friendly self again. Most mom cats will be happy to bring their kittens to you when they're feeling ready to make the introductions.
When Can My Cat Go Outside After Giving Birth? Final Thoughts
The new mama cat can go out after resting for 24 hours after labor, but most cats will wait a lot longer than this before straying from her kittens. By offering the best care possible and keeping a close eye for any health issues, your cat will be back on her feet and venturing outside in no time.
More Cat and Kitten Care Tips
Do 10 month kittens need kitten or cat food?
How to pick up my cat safely
References