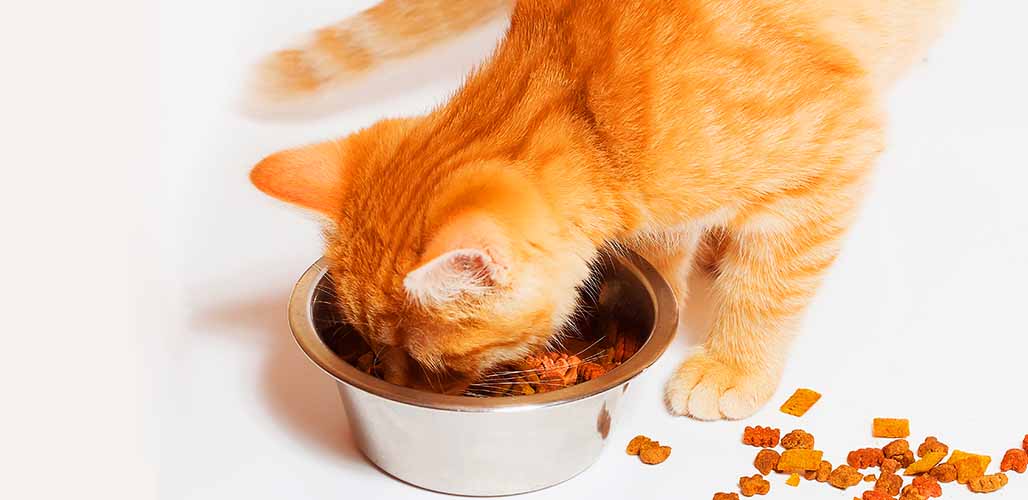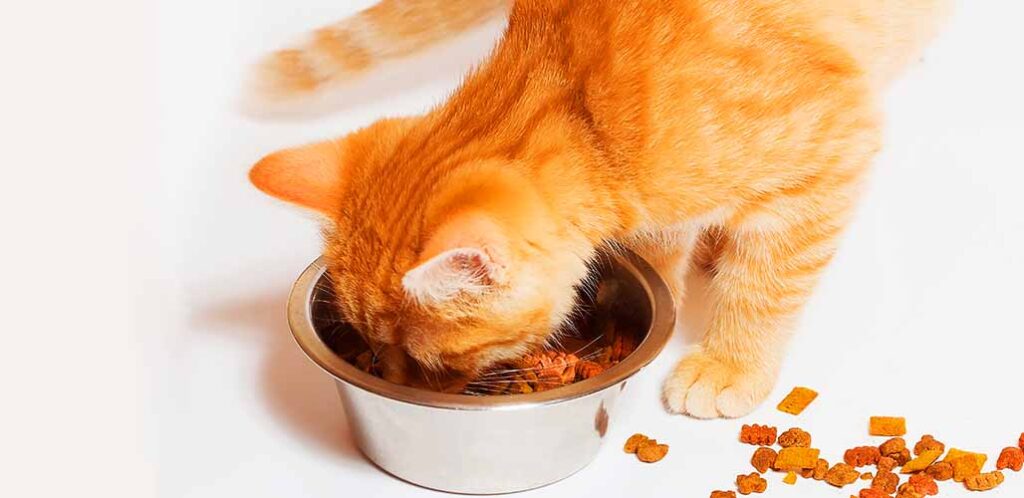 Choosing when to switch from kitten to cat food felt like a big decision for me. Most of us will always see our cat as a baby kitten. But there comes a time when they'll reach adulthood, and their wants and needs change. Kitten food is jam-packed with the vital nutrients for growing. Adult cats won't need this same balance of nutrients, so its important to switch to a more suitable food choice. In this guide, I'll take a closer look at when to make the change to adult cat food, why its so important, and how to do it safely.
Contents
When to Switch from Kitten to Cat Food
It's hard to determine the exact time to switch your kitten to cat food as all cat breeds are different, and you may not even know your kitten's actual birthday. As a general rule, however, any cat under 12 months is a kitten, and they should only be eating kitten-specific food. Larger cat breeds like Maine Coon's don't reach maturity until they're between 18 and 24 months, meaning they need to be on kitten food for a longer period of time.
If you're still unsure, then you should be feeding your kitten a growth-formulated diet until they reach 90% of their adult body weight. You can ask your vet for their recommendations to ensure you're making the right decision for your cat's diet.
Can Kittens Eat Adult Cat Food?
It's normal to wonder if there's an easier way to do things, like feeding adult cat food from early on so you don't have to make this change. But, this is actually not a great idea. Kitten food is considerably different to adult cat food as it contains more calories, protein, and fat, along with increased amounts of vitamins and minerals.
These extra components are what help your cat grow and develop through its rapid growth stage from kitten to adult cat. If you were to only feed your kitten adult cat food, then they will be missing out on vital nutrients which could alter their development and future life.
When Can Kittens Eat Dry and Wet Food?
Extremely young kittens can eat dampened dry kibble or wet food along with their mother's milk. But, this process shouldn't start earlier than 3 weeks of age. Once your kitten reaches the age of six to eight weeks, and they're weaned off milk, however, they can then eat kitten food as their entire diet.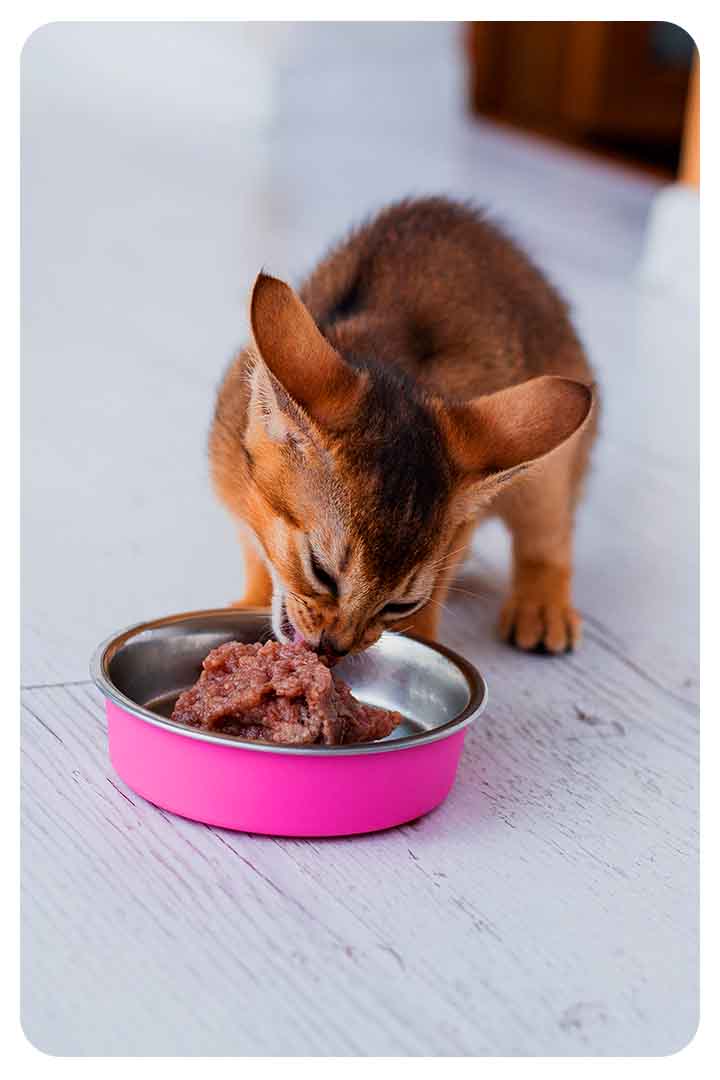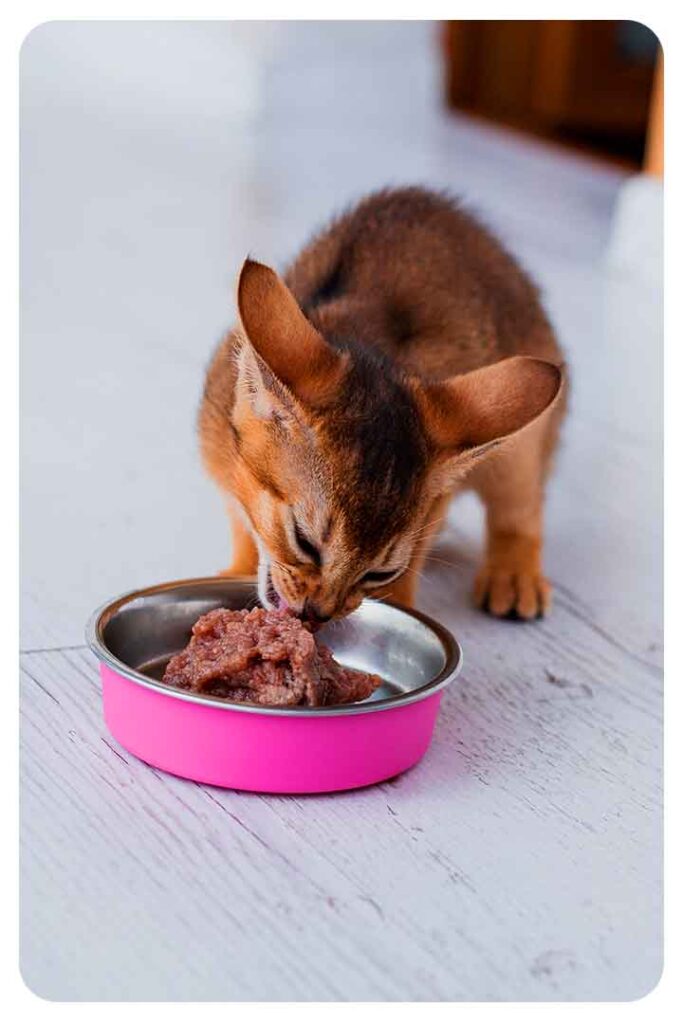 Why You Need to Eventually Switch Kittens to Adult Cat Food
So, we now know why it's important that your kitten eats kitten food until it reaches maturity, but can your cat continue to eat the same food throughout adulthood? Well, it's just as important that you switch your cat to adult cat food once they reach maturity as it is that your kitten eats kitten food until it reaches maturity.
Kitten food is full of calories, and even the most athletic adult cats will gain significant weight if they continue to eat kitten food past the age of 12 months. If your cat were to gain weight because of their diet, it could result in significant health problems such as diabetes, liver failure, and arthritis.
Pay close attention to the label on your cat's food. If it says kitten food, only give it to your kitten, but if it says "for all life stages," then it's safe to give to both your cat and kitten.
How to Switch Your Kitten to Adult Cat Food
Once your kitten reaches their first birthday (or between 18 and 24 months, depending on their breed), it's time to switch to adult food, but you mustn't just change it overnight. Transition your kitten over a 7 to 10-day period by switching small amounts of their kitten food for adult food until your kitten is eating only adult food by day 10.
Switching your cat to adult food too quickly can cause your cat to have an upset stomach, and it may even put them off eating entirely. Here are some quantities to use as a guideline:
Day 1 and 2, put ¾ kitten food and ¼ adult food in your cat's bowl
Day 3 and 4, put ½ kitten food and ½ adult food in your cat's bowl
Day 5 and 6, put ¼ kitten food and ¾ adult food in your cat's bowl
Day 7 to 10, switch to adult-only food
You can use your cat's reactions as a guideline. If they experience any stomach upset, slow the process of transitioning to the new food down.
Tips for Switching Your Cat's Food
Give your cat a safe and quiet place away from any other cats and loud noises while they transition to their new food.
Hand-feed your cat so they know the food is safe and so they feel more at ease.
Hydrate dry food to make it more appealing to your cat.
Store your cat's food correctly to ensure it is fresh and at the highest quality.
In Summary: When to Switch from Kitten to Cat Food
Switching your cat's food is a huge milestone, and it's important that you get it right, so your cat is getting all the correct nutrients and calories at each stage of their life.
If you're still unsure on when the right time to switch your cat's food is, then it's best to consult your vet, who can assess your individual cat and give you advice on the right diet and ideal time frame for switching from kitten to cat food.
More Feeding Guides
Should I force my sick cat to eat?