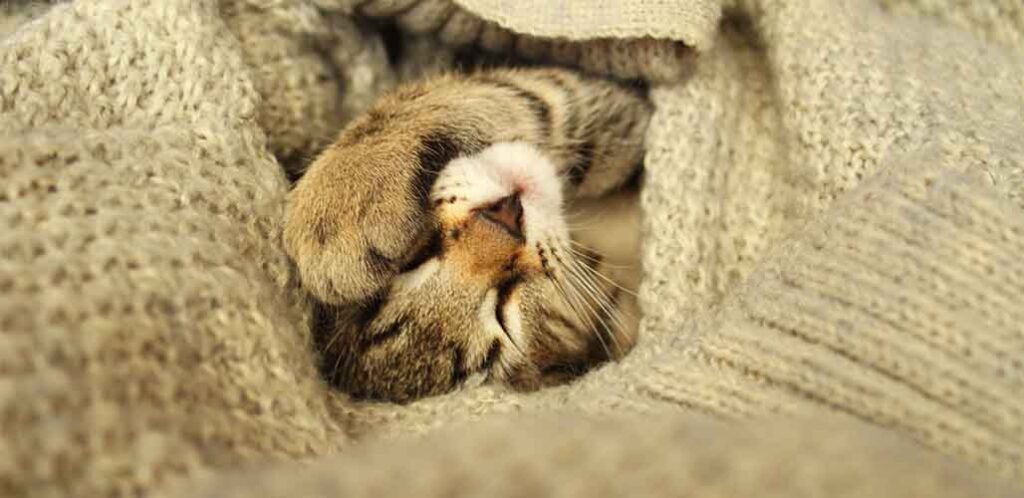 Why does my cat cover his face when he sleeps? There's nothing I love more than watching my cat snooze in the sun – it's adorable. But, I've often wondered whether there's a reason he puts his paws over his face! All over the world, cat people wonder about the strange things cats do while they are asleep. While there are many odd cat sleeping positions, your cat covering face while sleeping is definitely one of the weirdest! In this article, I'll get to the bottom of this well-documented feline behavior.
Contents
Why Does My Cat Cover His Face When He Sleeps
It can be tempting to assume the main reason your cat covers his face when he sleeps is to send you into "cuteness overload". But while this is certainly a known side effect (and one your cat is likely aware of), it isn't the primary reason for this common feline behavior.
It is also important to point out that cats may cover their face in any number of ways. The most common ways include pressing their face into your arm, covering their face with their forelegs or paws, and using the paws or tail to cover just the eyes.
Cat Covering Face While Sleeping
Researchers have developed a number of theories about why so many cat owners report seeing their cat covering their face while sleeping. First, it is important to understand that cats, like humans, have both REM (rapid eye movement) and non-REM (NREM) sleep cycles. And, like humans, cats go into atonia, a type of reduced muscle tone that causes temporary paralysis, while they dream.
Despite atonia, however, REM or dream-state sleep is when you might see your cat's eyes, whiskers, ears or tail twitching and hear a range of vocalizations. Once the cat exits REM sleep, they are able to slide into NREM sleep. NREM sleep is when the deepest rest can take place. A cat in NREM sleep during daylight hours may well cover their eyes or face to block out daylight and ambient sounds so they can rest more deeply.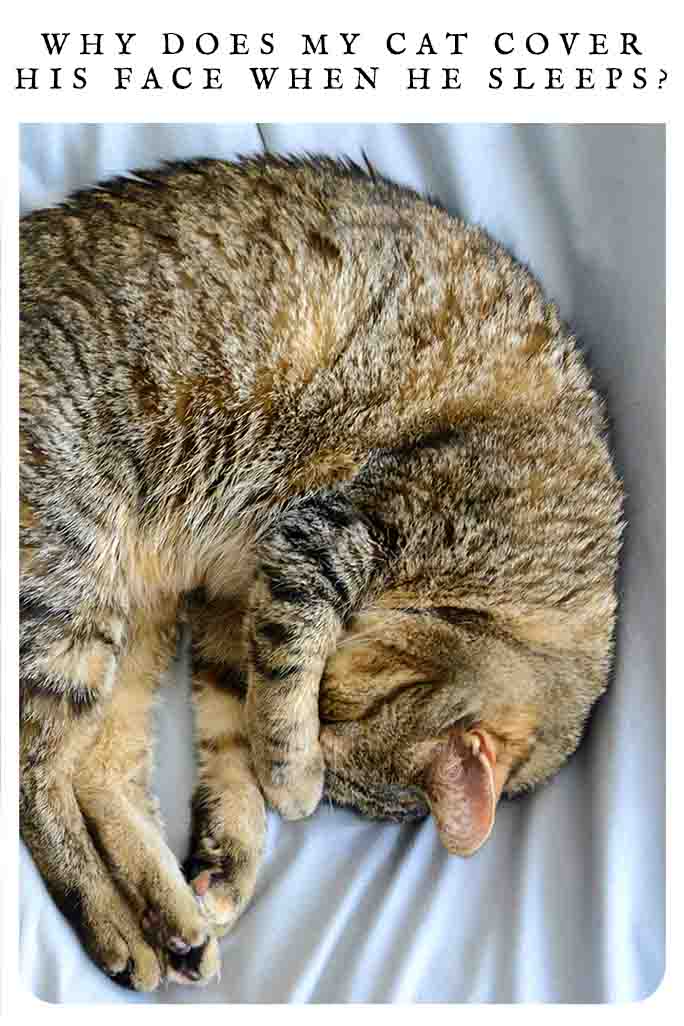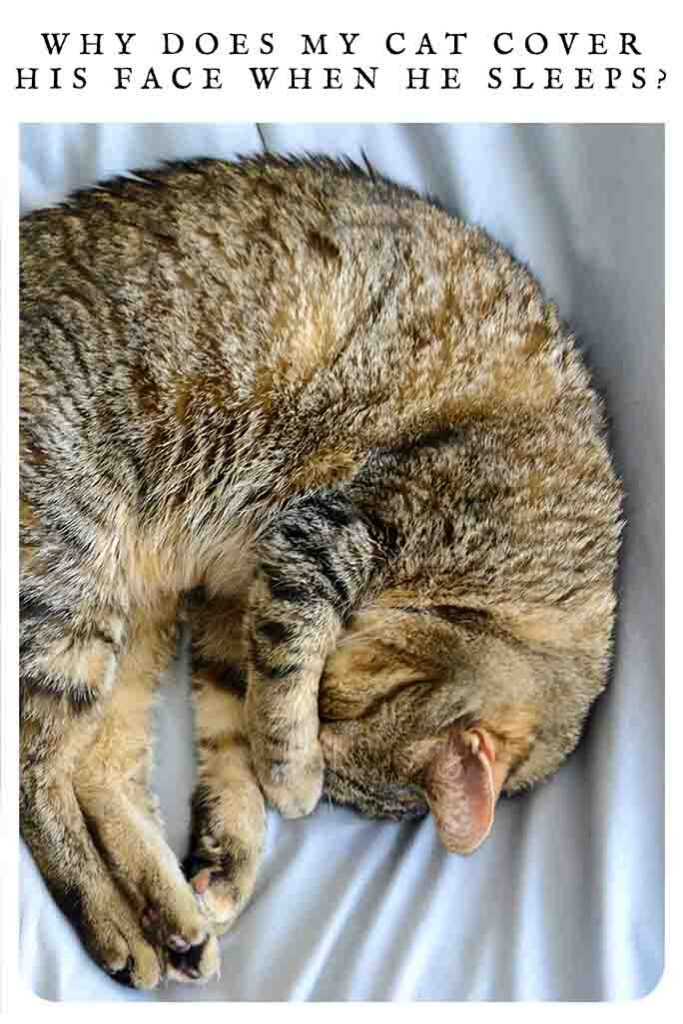 Why Does My Cat Cover His Face With His Paws
Unlike people but like most animals, cats have three eyelids: upper, lower and nicitating membrane. The nicitating eyelid or third eyelid is translucent. Its primary function is to permit vision while still protecting the eyes.
While cats may seem to sleep for hours on end, day in and day out, much of that so-called sleep is really an effort to conserve energy. Any actual sleep occurs in short bursts and the eyes often remain wide open – or appearing so with a little help from the nicitating membrane.
This is quite different than when a cat covers her face with her paws and goes to sleep. A cat that deliberately covers their eyes is intent on getting some deep sleep. Here, the cat's covered eyes can be viewed as the feline equivalent of hanging out a "do not disturb" sign.
Cat Sleeping Positions What Do They Mean
It can be very enlightening to watch your cat's sleeping positions. You can learn a lot about how your cat is feeling as well as how deeply they are sleeping by observing their position when they fall asleep. As I mentioned earlier, open eyes or half-closed eyes while sleeping indicates your cat doesn't intend to sleep deeply. This may be because your cat doesn't feel it is safe to do so or because they are simply trying to conserve energy.
But what about when your cat curls up and hides her face in her body? Or how about when your cat falls asleep on you and presses his face into your body? If your cat does either of these things or actively covers their face or eyes while sleeping, this is a clear signal that your cat intends to sleep deeply.
What is Cat Head Pressing?
A cat covering their face while sleeping can sound a lot like cat head pressing, which is another well documented feline behavior. However, there is a big difference between a cat covering their eyes and a cat pressing their head actively against something.
Cat head pressing can happen for a couple of reasons. Bunting, which is when your cat presses their face against your face, is generally interpreted as a form of bonding and a sign of trust and affection. Cat head pressing, on the other hand, is typically a symptom of head trauma or neurological dysfunction, such as that caused by stroke or a tumor. Here, a cat may press their head into a wall, door, chair, floor or other solid object.
If you think what you are seeing is feline head pressing, it is definitely time to take your cat to the veterinarian for a checkup.
Why Do Cats Cover Their Face in Your Arm
In social settings where multiple cats are present, it is common to see two cats coming together and pressing their heads together. Not only does this behavior mutually release scent hormones from the glands in the face, but it also signifies social acceptance and bonding. So when a cat presses their face into your arm, this is a sign that your cat feels close to you and safe with you and wants to bond with you.
If your cat presses their face into your arm and then falls asleep, this is a lovely sign that your cat trusts you to protect him and keep him safe while he sleeps.
Why Does My Cat Cover His Eyes While He Sleeps
After reading this article, it is easier to understand what your cat might be trying to convey when she covers her eyes while she sleeps. Covering the eyes can effectively block out light and sound. It can also send a clear message to others in the cat's social network to stay away. Most importantly, when your cat covers his eyes while he sleeps, this demonstrates that your cat feels safe, protected and at ease in your home.
Does your cat cover their eyes or even their whole face while sleeping? What have you learned from your feline about why a cat might do this while they are sleeping? Post your stories in the comments.
More Cat Behavior Guides
Why do cats pee on my furniture?
References