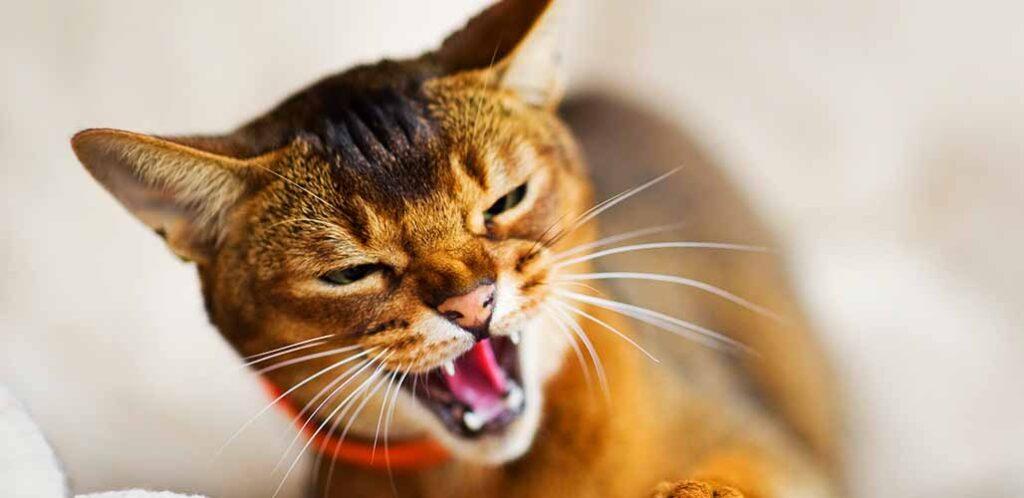 Why does my cat growl at me? Cats usually growl at you as a warning. This is normally triggered because they are afraid, hurt or feeling aggressive. We sometimes expect cats to react well to our attention, but kitty behavior and human behavior don't always mix well. Today I'll share the reasons why cats growl at you, to help you work out what your kitty is trying to communicate to you. Once you've removed the cause of your cat's growling, your relationship and bond will improve.
Contents
Why Does My Cat Growl At Me?
Cats can be strange, finicky little creatures. One moment they may be happily eating up any attention you give them, then the next they may be hissing and swatting at you. There are a few reasons why your cat may start growling at you. They may be annoyed or threatened and want you to stay away. They could also be scared or in pain.
If your cat starts growling at you, it's best to give them space. Don't ever lash out in return, or you will make things worse.
Do Cats Growl As A Warning?
Cats want to be left alone sometimes. They don't enjoy constant attention and playtime as most dogs do. If you or anyone else harasses them enough, they may hiss and growl to warn you away. On top of growling, you may also notice their ears flatten and their fur may stand up. An annoyed cat's tail may thrash back and forth. You may also see dilated pupils.
If you notice your cat is warning you away or seems irritated with you, do not continue to engage with them. Leave them alone. Even if they were playing just a second ago, they can get need a break. Never ignore your cat's warnings.
Do Cats Growl When They Are Scared
Cats may growl if something or someone is scaring them. Maybe the dog got too close, something spooked them, or they don't like the new friend you brought home. A scared cat will want to make themselves look and sound more menacing. A scared cat may also bristle up their fur. Their tail may stand up, back arch, ears may be folded back or flat. Their pupils may also be dilated.
Make sure your cat has a private space they can run to if anything scares them. This place should be impossible for any other pets to get to. You should leave them alone if they decide to go to that space. My cat is free to stay in the bedroom and sleep, eat and relax as he pleases. He knows he can always escape when he needs to.
Growling Due To Injury Or Sickness
Pain can ruin anyone's mood. Things that don't normally bother us may scare us or irritate us more. The same is true for cats. They may be more irritable and aggressive because they're sick. Figuring out if your cat is sick or in pain can be hard. They have evolved to hide it to avoid showing weakness, so you may not notice if you're not paying attention.
You need to pay attention to their energy levels and look out for subtle problems like dehydration, lack of grooming, or trouble moving around. These are all potential signs that your cat isn't feeling well.
If you notice any obvious problems like limping, vomiting, or issues using the litter box, it may be best to call the veterinarian. You may have to wrap them in a towel to protect yourself, but if there's a health problem you don't want to leave it alone. Make sure you're taking your cat to the vet regularly so they can help catch health issues early. If you wait until there's a problem, you may not catch it because of how well cats hide their pain.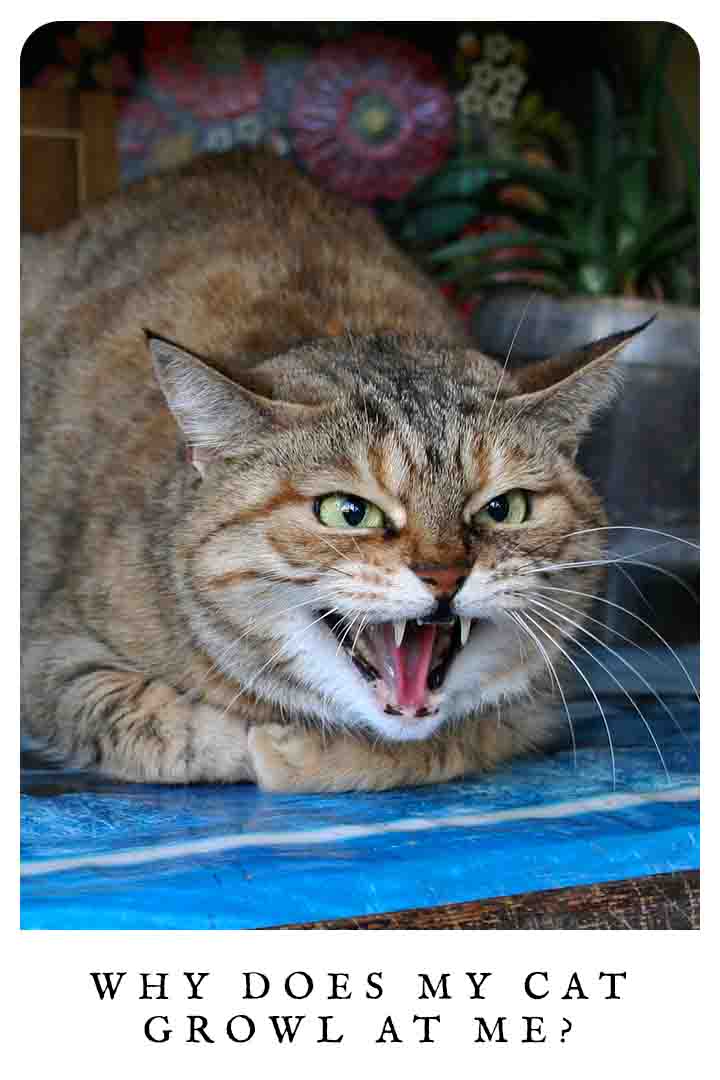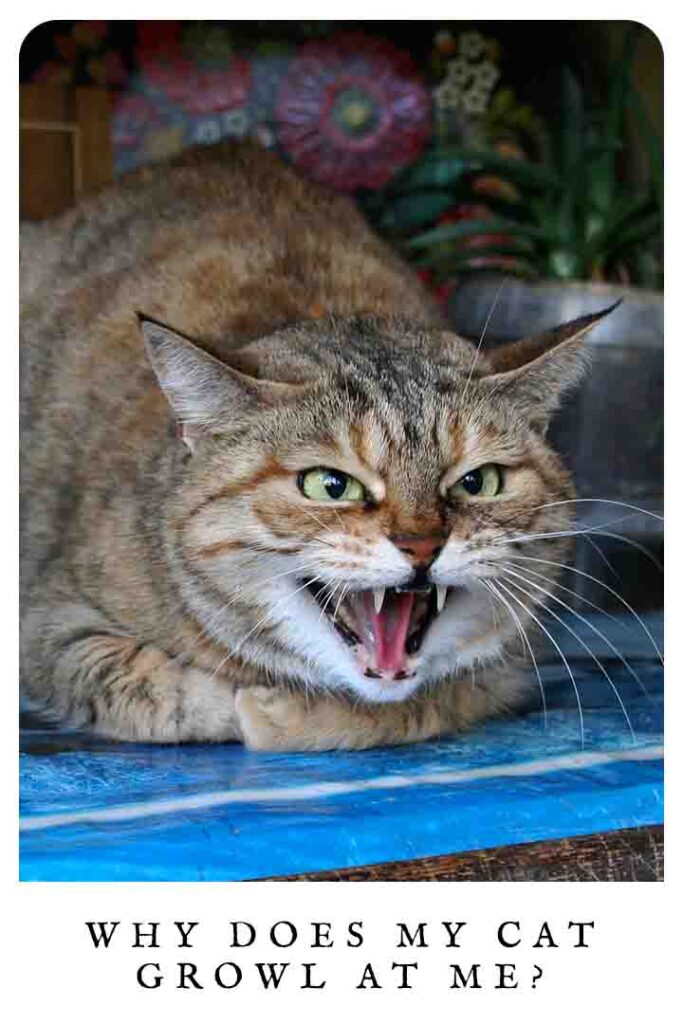 What To Do If Your Cat Growls
The best thing to do if your cat growls at you is to back off and leave them alone for a while. Never scold them or retaliate against them. It won't send the message you want it to send and could just mess with your relationship.
Most cats who growl just want to be left alone. They may be in a bad mood or they may be freaked out about something. Continuing to mess with them will just make it worse. It could even get you or someone else hurt.
A study has shown that 27 percent of cat surrenders due to behavioral problems cited aggression. It's important for cat parents to understand the signs and when to leave their cat alone, or both of you could pay the price.
If a human showed signs of irritation, would you keep messing with them? Or would you leave them alone and give them time to themselves? Cats are like humans in that regard. Usually, if you leave them alone long enough, they'll get over whatever their problem is and go back to loving you. If they stay angry for a long time, observe them for any signs of illness.
Why Does My Cat Growl At Me?
Cats can have bad days just like people. And they usually want to be left alone at those times. Make sure your cat has their own private space they can go to get away from others, including other pets, guests, and even you. If they growl and go into their private space, don't follow them. Give them time to cool off.
Pay attention to other signs like bristled fur, flat ears, dilated pupils, and an erect tail. These are all potential signs that your cat is angry or scared and that you need to back off. Don't ignore the signs and engage with a growling cat.
All cats have the potential to be grumpy occasionally. But if your cat is regularly growling or showing other signs of aggression, your first port of call should be your veterinarian, as health issues and behavior are often linked together.
More Cat Behaviors Explained
Resources