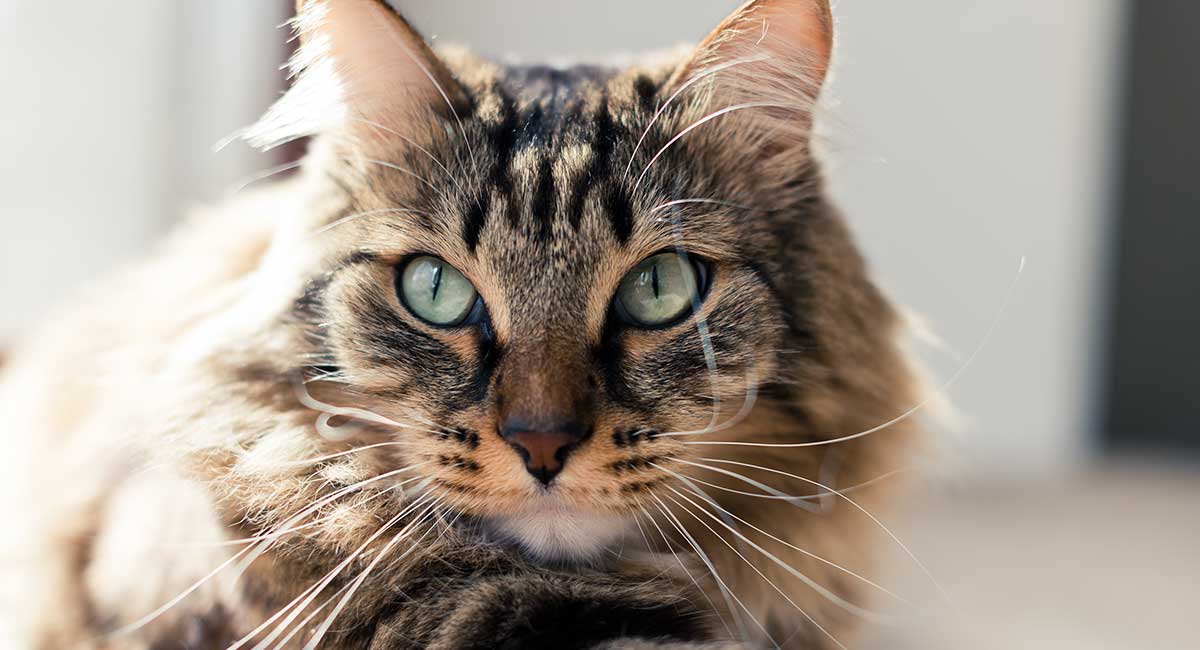 A cat drooling but acting normal is usually nothing to worry about in elderly kitties, but it can be a sign that there is a medical problem going on. Respiratory disorders, dental problems, poisoning and other illnesses can cause your kitty to dribble, but there are usually other symptoms at the same time.
Why do cats drool?
Saliva is continuously produced by several glands in the mouth of a cat to prevent dryness and to aid digestion. It also consists of an antibacterial agent that helps your kitty clean herself and heal any wounds.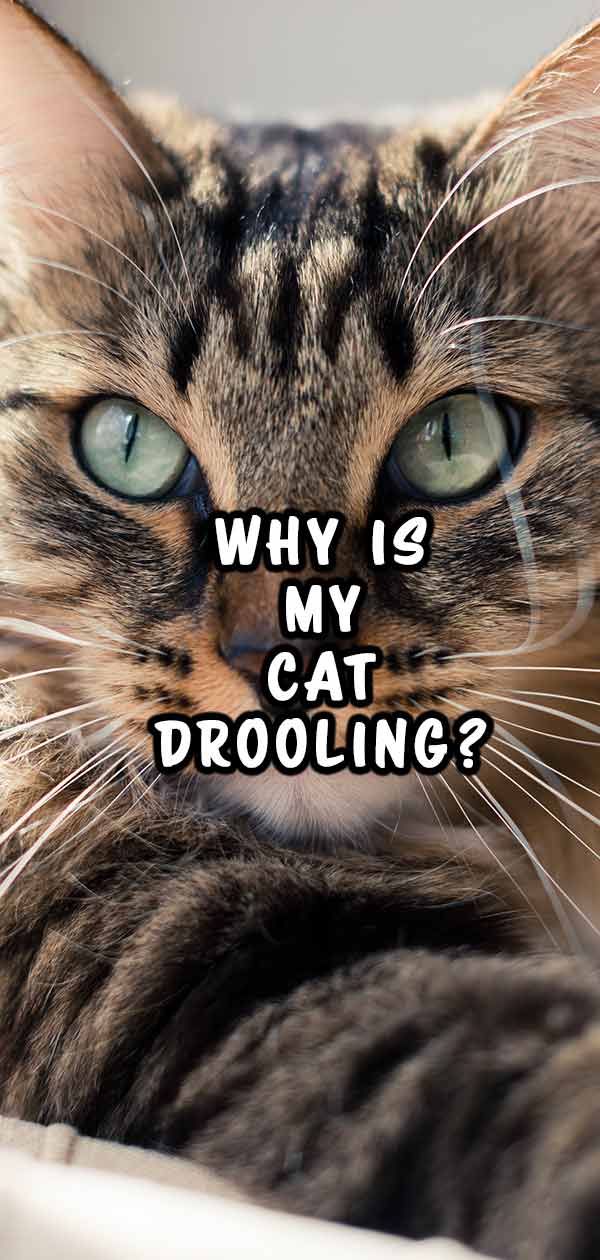 Excessive cat drooling is the uncontrollable flow of saliva that falls from the mouth.
It is also known as ptyalism or hypersalivation.
So, why is my cat drooling? Is it normal for cats to drool?
Cat dribble and drool
You may see your cat drooling but acting normal.
It is quite usual for kittens to drool.
Some adult cat drooling causes are not considered serious if just a small amount of saliva drops from the mouth.
Often a cat drools when happy and relaxed or if it is scared.
This kind of cat drooling is usually sporadic and not a sign of illness or disease.
However, a cat drooling excessively and suddenly is a cause for concern and requires veterinary attention.
Short term cat drooling causes
If you see your cat dribble over a short period and then it stops, there is no need to fret.
But, why is my cat drooling sometimes?
Here we look at the reasons why you might see your cat drooling occasionally.
Why does my cat drool when I pet her?
If a cat drools when petted it normally means that they feel secure and relaxed.
Often, it is related to the happy memories of when the cat was nursed as a kitten.
You may have noticed and wonder why do cats drool when kneading sometimes?
This drooling when kneading again goes back to being a kitten.
Kittens press their mother's abdomen before nursing and will salivate in anticipation of the next milk meal.
The feelings of happiness and calmness cause the nursing muscles to relax, producing drool.
Some adult cats often associate their feelings of contentment with that long-ago experience. And that is why they drool when petted by their owners.
Other times you may see your cat drooling is if it smells catnip or when your kitty is sleeping. Both are normal and no cause for alarm.
Do cats drool when they are stressed or scared?
It is possible to see your cat drooling if she is stressed or scared by something such as chased by a dog or going to the vet.
Why is my cat drooling when I give medicine?
Certain medications cause cat drooling due to the unpleasant and bitter taste it creates and because the cat is forced to take it.
Expect the drooling to be accompanied by some dirty looks from your kitty aimed in your direction!
Why is my cat drooling when travelling by car?
Cats dislike travelling by car.
Many suffer from motion sickness as the feline inner ear balance systems cannot cope with the various sensations experienced when car-riding, particularly in kittens.
Therefore, most cats display signs of anxiety such as crying, vomiting and drooling. This is exacerbated because most journeys end in an unpleasant experience, like visiting the vet.
For a cat that suffers from motion sickness, take your kitty on short journeys so they can get used to travelling in the car. Do not feed them immediately before a car journey.
Ask your vet if they can prescribe any medication.
Serious cat drooling causes
If you see your cat suddenly drooling excessively and it doesn't stop after half-an-hour, you should take your kitty to the vet.
Your cat may have a severe illness or condition and be in pain.
In addition to drooling, other symptoms may include
abnormal swellings
foul odour from the mouth
inability to swallow
eat or drink
lethargy
vomiting
weight loss and tremors.
Why is my cat drooling excessively?
Here we look at the reasons for a cat suddenly drooling excessively and possible accompanying symptoms.
Mouth disease and tooth decay
Nearly 90% of cats, particularly those over the age of three, develop dental health issues and is a common reason for an old cat drooling excessively.
Dental issues include tartar build-up, abscesses, ulcers or broken teeth. Often an affected cat has bad breath and drooling continuously, along with a loss of appetite and swollen gums.
Oral foreign bodies
When a cat is drooling a lot, it is sometimes due to the presence of a foreign body in the oesophagus or mouth.
Common culprits are a blade of grass or a fish bone.
Swallowing is uncomfortable for the cat, and they may try to vomit.
Rabies
It is common for an owner to fear rabies if they see their cat drooling excessively, especially if the cat has no vaccination against the disease.
By law in most states, your cat needs a rabies vaccination.
Poisoning
Many household cleaning products are poisonous to cats along with certain plants and human foods.
Also, outdoor cats may be exposed to other possible poisons.
Flea and tick treatments used on your cat also pose a risk if applied to an area your cat can easily lick.
Along with your cat drooling, other signs of cat poisoning are
vomiting
diarrhea
frequent urination
depression
convulsions
trouble breathing
and a lack of coordination in the limbs.
Immediate veterinary attention is required.
Organ disease
An old cat drooling may be a sign of a liver or kidney disease, so early diagnosis from your vet is essential.
Other indicators include loss of appetite, weight loss, vomiting and increased thirst.
Upper respiratory conditions
Like a kitty cold, this is easy to catch.
As well as cat drooling, signs include sneezing, noisy breathing, along with discharge from the eyes and nose. Often a cat with a cold develops ulcerations in the mouth.
Find out more about upper respiratory infections in cats here.
Oral cancer
Cats, especially the aged, can develop oral cancer which occurs aggressively anywhere in the mouth.
Often a cat with oral cancer has a swollen face and their saliva tinged with blood.
Nausea
There are many causes of nausea.
Cats suffering from nausea don't always vomit.
A common sign is if you see your cat drooling when food is placed in front of her but doesn't eat it.
Other indicators include panting, retching and restlessness.
Diagnosis of cat drooling causes
A cat drooling excessively must go to the vet to diagnose the primary cause.
A vet will undertake a complete physical examination of your cat's mouth and will need to know your cat's medical history.
They will ask how long they have been drooling, if they have had access to any poison or medications and any accompanying symptoms.
The vet will check the mouth for signs of dental issues, cancer or foreign objects and assess the overall condition of your kitty. Sedation may be necessary for your vet to do this.
If nothing found in the oral examination, the vet may run some diagnostic tests to find the cause.
Treatment for a cat drooling
Depending on the primary cause for your cat drooling excessively, there are various treatments that your kitty may need to have.
Dental issues involve teeth cleaning or tooth extraction, while removal of a foreign body may require sedation or anaesthesia.
A poisoned cat requires the toxin removed by induced vomiting or intravenous fluids and a cat with oral cancer may have chemotherapy.
Other issues like infections require medication, but a cat with nausea may need supportive therapy such as fluids or dietary adjustments.
Specific therapies are available for the treatment of liver or kidney conditions, but for a cat with rabies, no treatment is available, and euthanasia is the only choice.
Recovery from cat drooling conditions
The prognosis of cat drooling conditions depends on the diagnosis and is often resolved by surgery, teeth cleaning and a good oral health routine along with medications for infections.
If your cat has had surgery, your vet will give you home-care instructions along with follow-up appointments.
A cat's recovery from poisoning depends how quickly the toxin was identified and how much ingested.
Kidney and liver infections require lifelong treatment whereas the care of a cat with cancer depends on how bad it is.
Cat drooling prevention
As an owner, there are specific things you can do to prevent some causes of cat drooling.
It is vital you brush your kitty's teeth regularly along with oral examinations carried out by your vet every six months.
Vaccinate all your pets against rabies and avoid exposure to anything poisonous.
Administer anti-flea and tick treatment that is primarily for cats placing it on the neck behind your kitty's head.
Get to know and observe your cat's behaviour so you know when something is wrong immediately.
Why is my cat drooling?
When it comes to cat drooling causes, the key is to be able to differentiate between when drooling is due to a cat's emotions and when it is more serious, like an illness.
For a small percentage of cats, drooling is usual, and often seen in kittens.
Observing your cat regularly makes it is easier to detect when something is wrong.
Practice regular dental hygiene with your kitty and always take your cat to the vet immediately if she is drooling excessively.
The sooner a condition is detected, the more chance your pet has of making a complete recovery.
For senior cats, it is vital they have regular check-ups with the vet to maintain good health.
Does your cat drool?
Does your cat drool a little occasionally? Did you recognize the reason why in our list?
Or have you ever had to rush to the vet for excessive drooling?
Share your stories with other cat owners in the comments box below.
Extra Reading & References
Galabos & Rupert, Action of the Middle Ear Muscles in Normal Cats, The Journal of the Acoustical Society of America, 1959.
Clarke, Drinking Water Additive Decreases Plaque and Calculus Accumulation in Cats, Journal of Veterinary Dentistry, 2006.
Crampton & Lucot, A stimulator for laboratory studies of motion sickness in cats, Aviation, Space and Environmental Medicine, 1985.
Trimarchi et al, Experimentally induced rabies in four cats inoculated with a rabies virus isolated from a bat, American Journal of Veterinary Research, 1986.
Lommer & Verstraete, Concurrent oral shedding of feline calicivirus and feline herpesvirus 1 in cats with chronic gingivostomatitis, Oral Microbiology & Immunology, 2003.