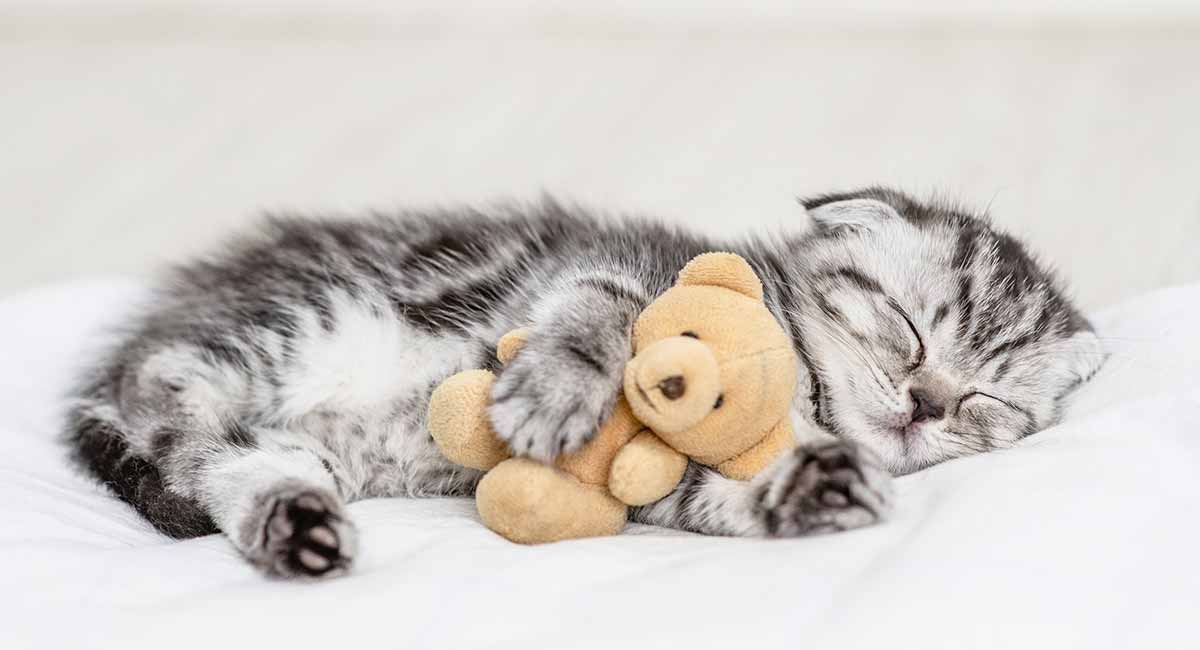 The best kitten toys usually have interactive elements. They feature feathers, tassels, bells and other interesting noises to capture your young cat's attention. We've shared dozens of types of toys with our latest kitten, Billy, and today we'll share his top 10 choices with you. Of course, not all baby cats are the same, but we're confident your kitty will appreciate them too.
Contents
Meet Our Toy Tester
Have you ever read a cat toy review and thought – "would my kitten actually play with that?" If so, you've come to the right place! Because we think that the best person to decide the best kitten toys is a kitten! Billy is the chief toy tester here on the Happy Cat Site.
Obviously we have our own thoughts too, but basically, if Billy doesn't like a toy, it doesn't go on this list! And I have bought quite a few toys over the last few months that have had a 'thumbs down' from Billy.
I should make it clear that Billy tried a LOT of toys. He is one spoilt kitten. I buy him toys, my kids buy him toys, people send him toys. It's all toys for Billy. So let's not waste any more time, let's get down to the fun and find out what kittens like best.
Kong Mice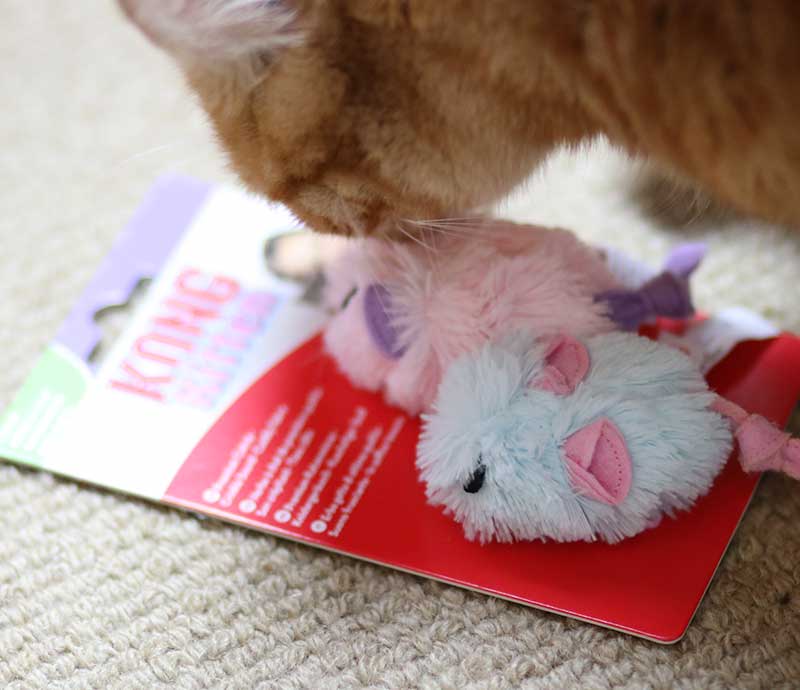 The Kong company are well known for their sturdy dog toys. I don't know how long these cute mice(paid link)* will last because they only arrived this week. But Billy certainly approves! He couldn't wait for me to get these two out of their wrapper.
As you can see Billy's are pink and blue, not pink and yellow, but he doesn't know any different! And Billy has taken a real shine to the pink one!
Interactive Cat Wand
I think what Billy likes best about these toys is the feathers. I bought them so that my grandchildren could play with Billy without getting scratched. When we grew tired of the game, we would just hang them over a door knob, and he would carry on playing on his own.
When Billy got a bit older, he managed to pull the feathers out. But to be fair, these interactive cat wands(paid link)* are not really designed for unsupervised play. And they make a great starter toy for tiny kittens, especially with kids around.
Purple Mouse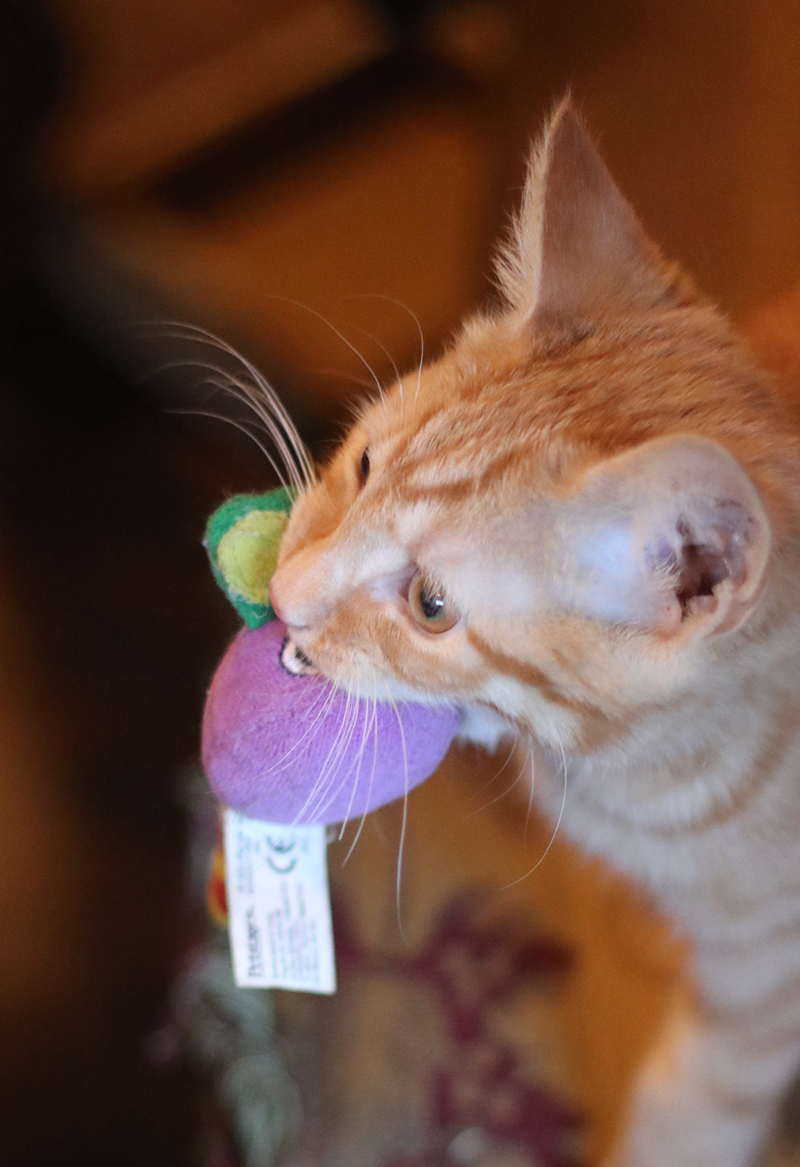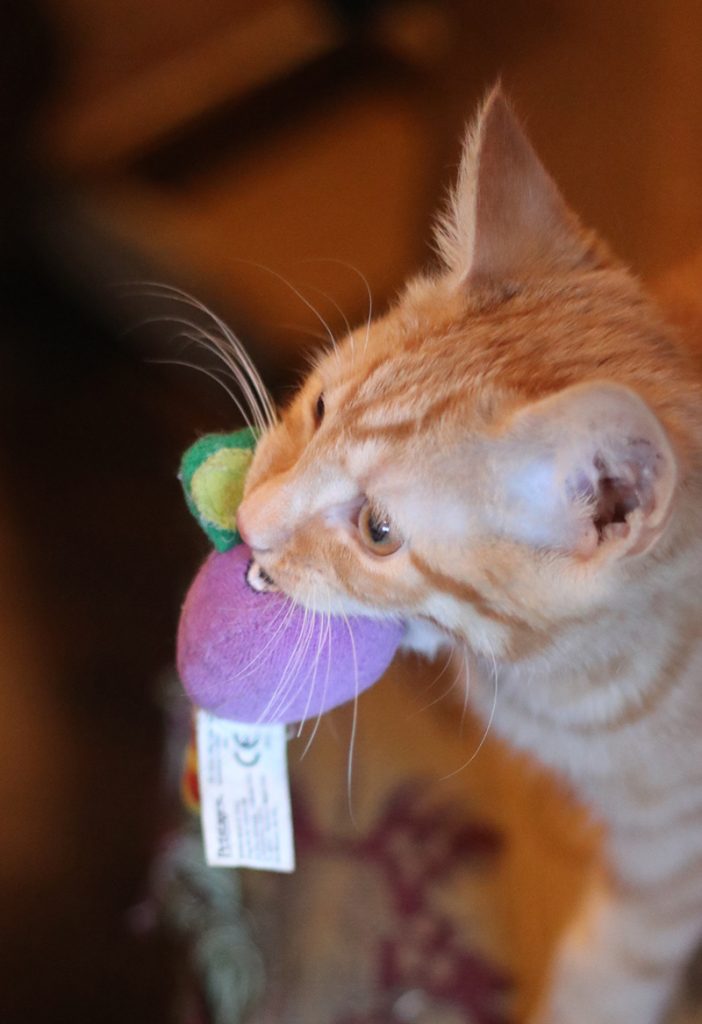 Billy trots around the house, carrying this mouse, like a little dog. Occasionally he'll settle down somewhere to get to know it better, but mostly, he just carries it about.
He has had this mouse since he came to live with us at two months old, and it has survived being beaten up at intervals by Billy and carried around from time to time by three dogs. It is really tough. Despite being 'stolen' and taken into the garden by my chocolate Labrador, it is still in one piece.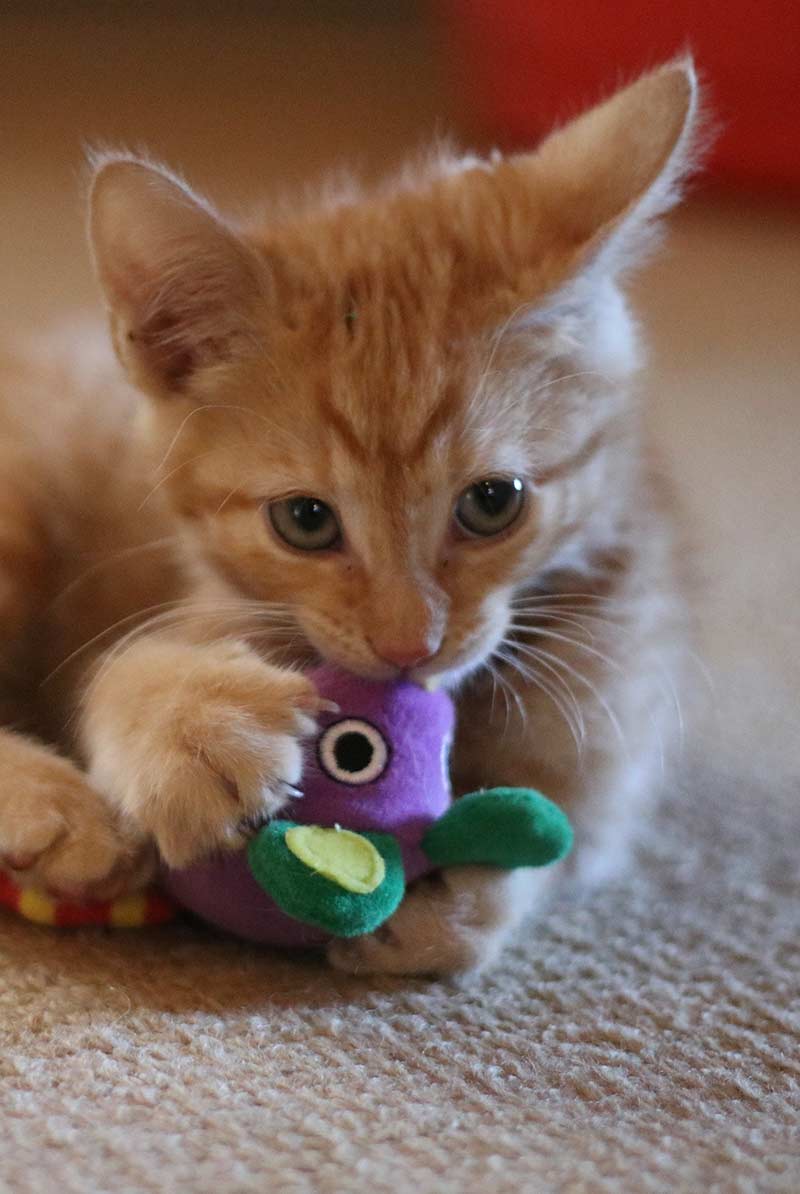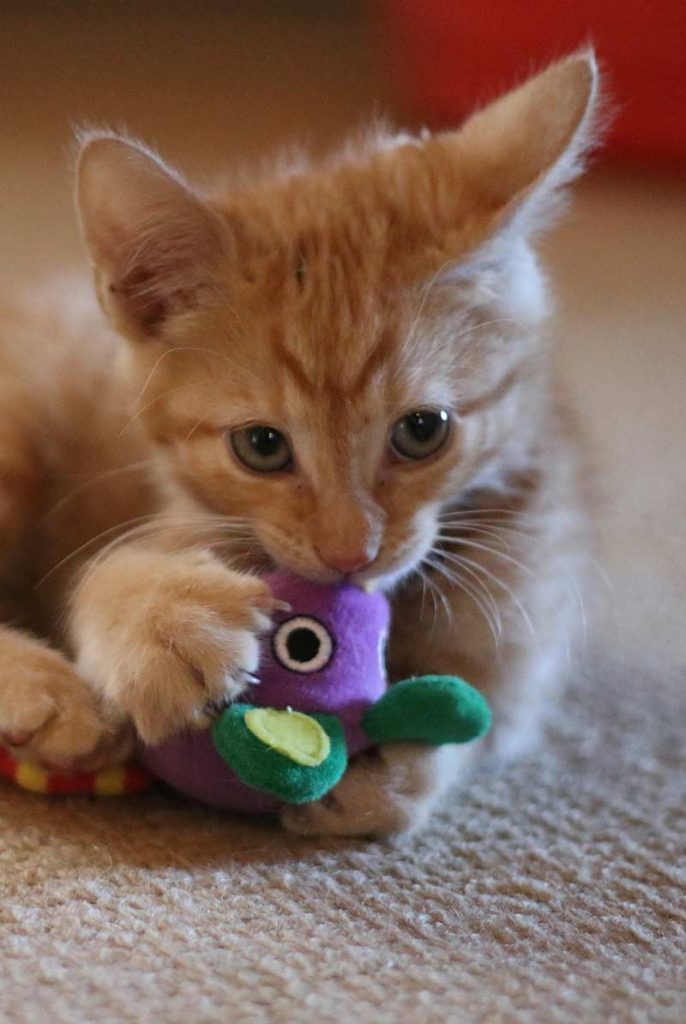 Billy's purple mouse is made by Pet Stages, but sadly seems to have been discontinued. However, there is a very similar one(paid link)* out now, that also has a rattle noise inside.
Balls
Billy loves tiny balls of any color – he especially likes ones that jingle. He races up and down the house bowling them along in front of him, batting at them with his feet. Billy's first choice(paid link)* here though, would not necessarily be mine. He likes the solid stripy balls best of all. But I have dogs too, and the solid balls could easily block a dog's airway if swallowed.
So we now compromise with balls that can allow air to pass through them(paid link)*, and save the solid ones for his puzzle toy (see below) when the dogs are not about.
Catit Senses Digger Toy
This toy(paid link)* is also a great way to string out mealtimes and provide cats with entertainment at the same time. Especially if you feed your kitten on dry kibble. The cat has to use his paws to hook the food out of the tube.
We feed wet food to Billy (here's why) and so I use freeze dried chicken treats to put in these tubes. I also sometimes put Billy's tiny toys (see below) in them, and he enjoys fishing them out.
Springs
This is such an ingenious idea. I am astonished at how much entertainment this cheap and simple toy provides for cats and kittens. The toy(paid link)* is just a spring. Well, a pack of springs. Which is just as well, as Billy loses them all the time!
These took a while to come after I ordered them but it was worth the wait. Billy seems to find them endlessly fascinating, batting them about and chasing them all over the house.
The downside is, that if I miss one when I tidy the toys off the floor at bed time my robot hoover sucks them up when it does the rounds early in the morning. And sometimes they get wedged in the brushes. The same applies to the next toy!
Pet Stages Tiny Chew Mice
These tiny mice(paid link)* from Pet Stages are huge fun. They are Billy's smallest toys, and the ones he gets most excited about. Billy likes to hold the 'chew mice' in his mouth and rip at them with his back feet. Plus, they are small enough for the tiniest kitten to carry around.
Chew mice are also great for games like 'stalk and pounce' and 'how long can a toy stay airborne.' The Pet Stages tiny mice lose their charm after a few weeks, and start to look a bit sad and grubby. But they are pretty cheap, so still very good value.
Catit Senses Play Circuit
This was Billy's Christmas present and it has been great value. He still plays with it nearly every day. The Catit track toy(paid link)* comes in sections and you join them together to build a covered see-through 'track' that a flashing ball travels along.
There are gaps in the track cover at intervals so that the cat can push the ball with his paws and get it moving again.
The cat can't remove the ball from the track. Billy is still trying to figure out a way around this annoying feature….
Replacement balls are available(paid link)* and we have replaced the ball inside once, as the battery went flat and the light stopped flashing. Billy loves this toy to bits, so I'm surprised the flashing light lasted as long as it did.
You can also buy 'add ons' for the track to make it more interesting. Sometimes Billy likes to take a nap inside it too…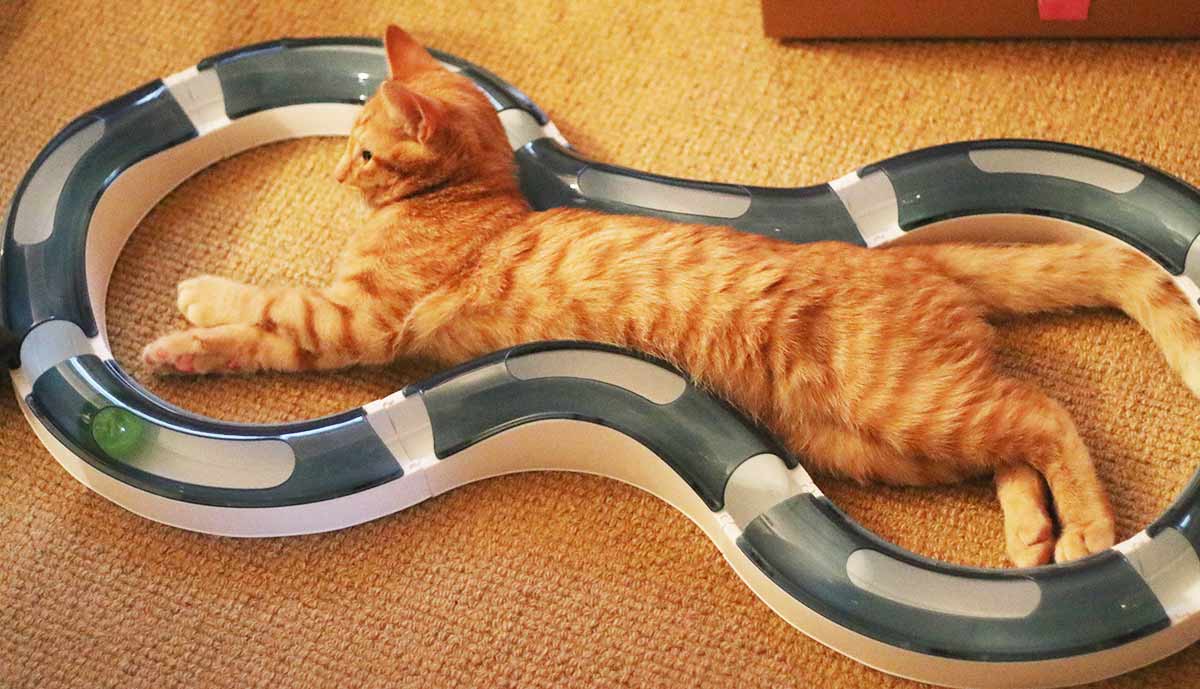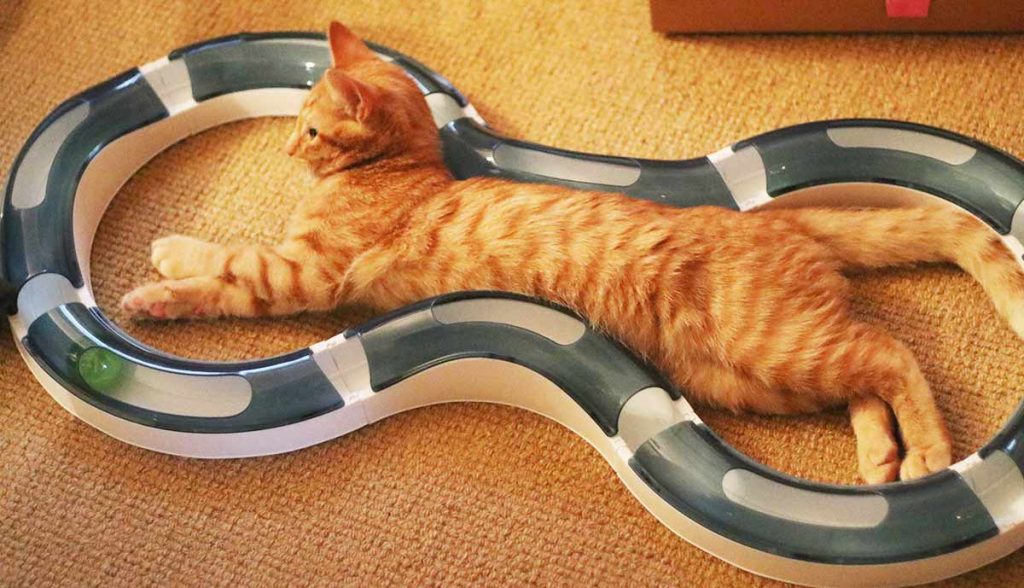 The Puzzle Box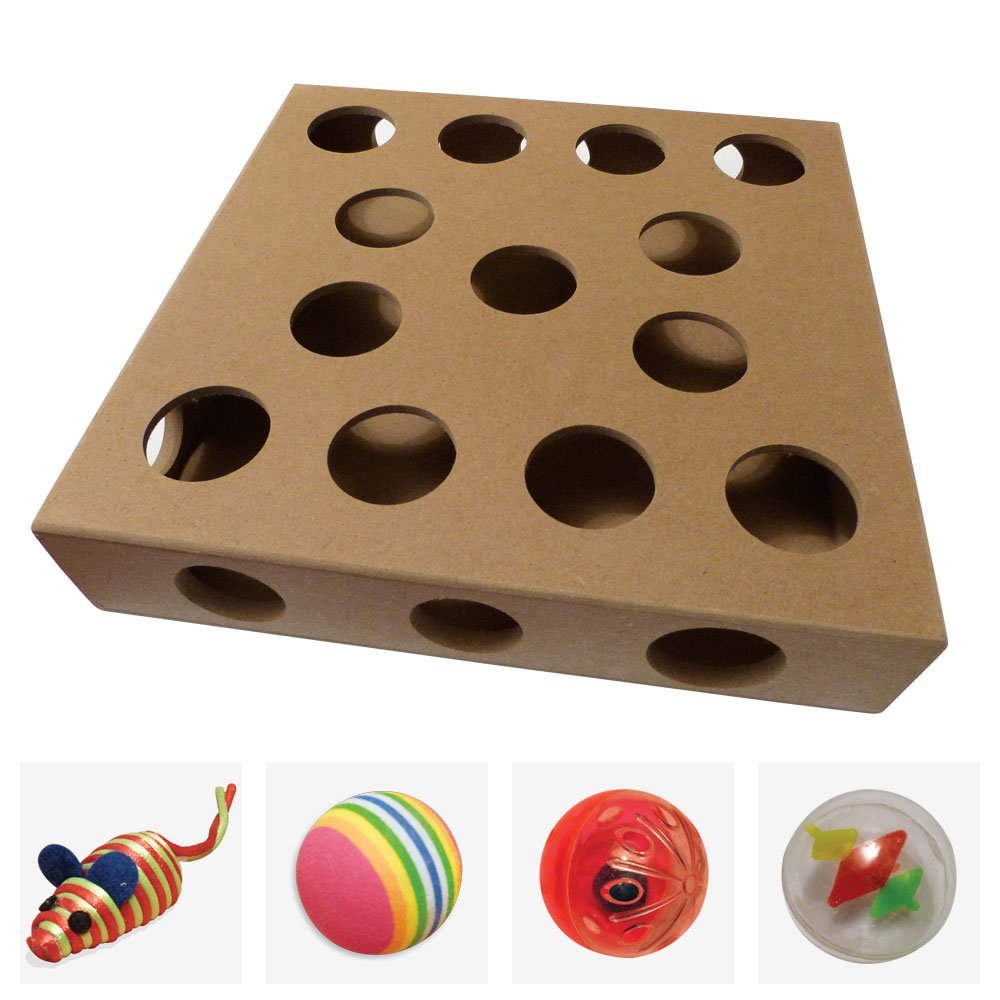 This toy(paid link) comes in a very close second to Billy's all-time favorite. In fact, given a choice between them, he'd definitely be torn.
This robust puzzle toy has been entertaining Billy since the first day we bought him home. It comes with a few balls and toy mouse included, but your kitten will enjoy it more if you add to these.
I have bought lots of extra balls for the puzzle box and the principle is that the cat has to get all the balls out of the puzzle and on to the floor. Billy throws himself wholeheartedly into the spirit of this game and with some extra toys in, it can keep him occupied for a good fifteen or twenty minutes.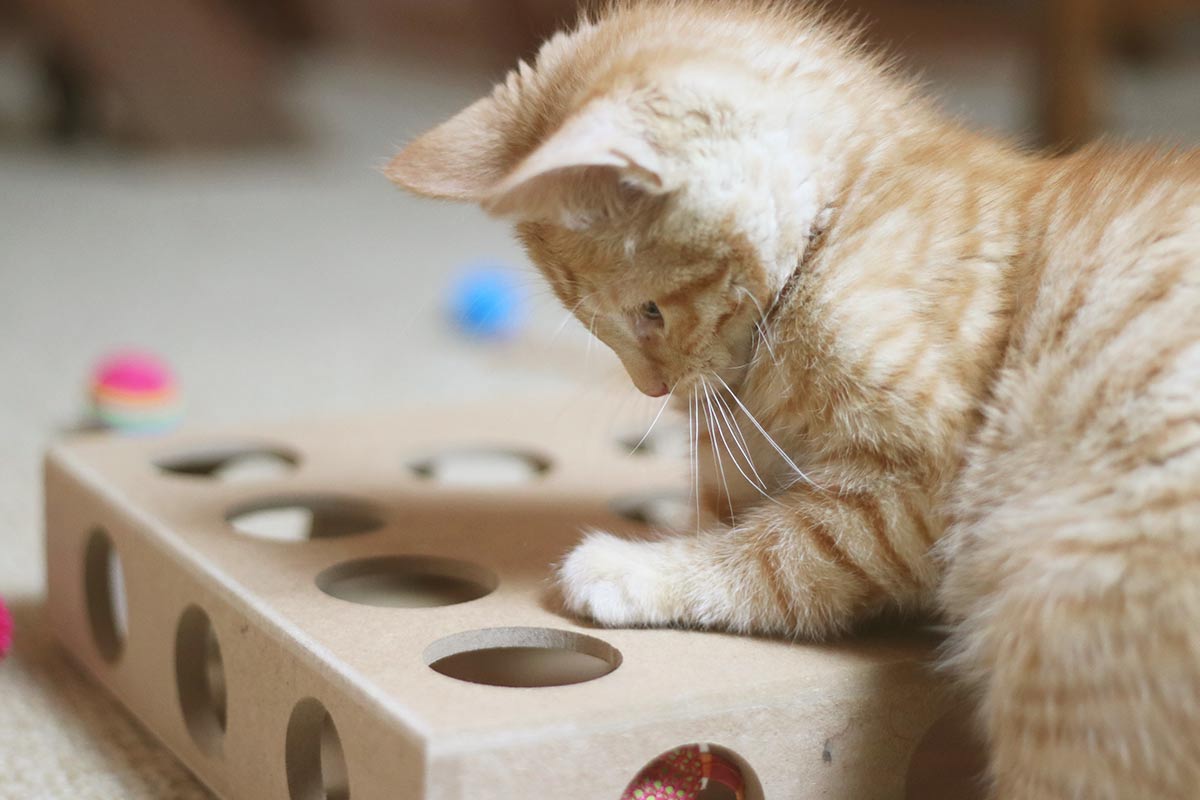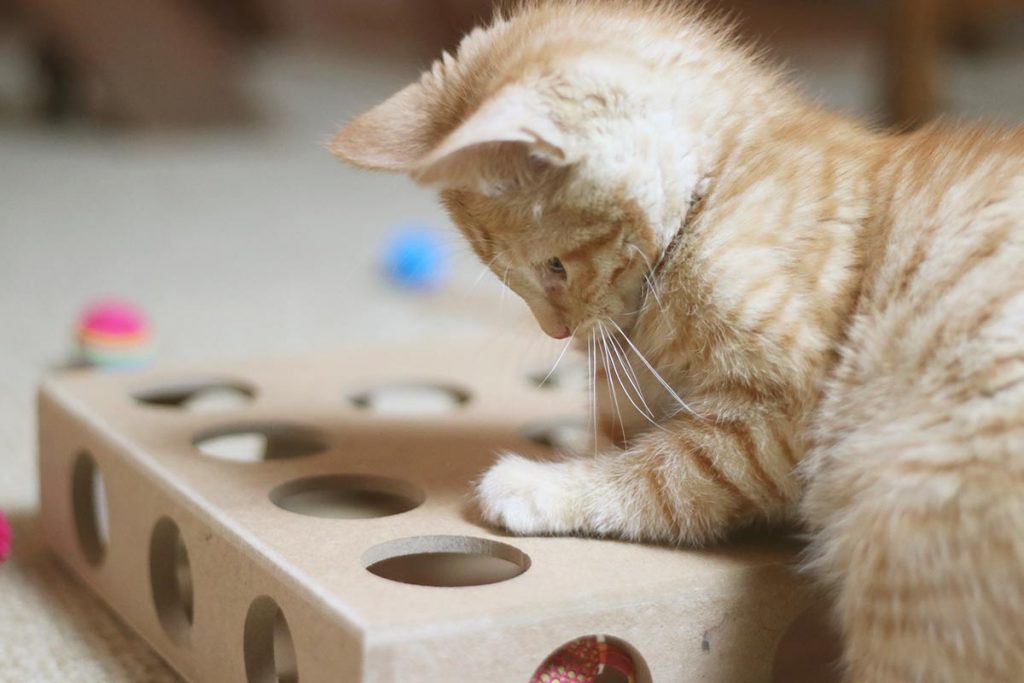 Last but not least – here it is – Billy's favorite toy….
The Cardboard Box
Coming in at number one is Billy's favourite toy in the whole wide world. The best thing is it's completely free! Some of you will have guessed it already.
Yes, it's the humble cardboard box.
Any packaging of any kind is placed on the floor for Billy to explore, before it is thrown away. And he is utterly obsessed with cardboard boxes.
He likes to hide in them and ambush passing feet, but perhaps surprisingly he also likes a box to be pushed or dragged around the kitchen floor while he sits inside it.
Pippa's Kitten Toy Tip: Just like kids, cats get bored with their toys if they are always available. So keep some aside and rotate them every now and then. I store Billy's in an old trunk and get a few out at a time.
Other Similar Ideas
If you've tried these best kitten toys, and are looking for even more ideas, don't worry! We've found a few more options that your kitten will love.
These haven't been tried by Billy, but have the best ratings from people who have used them!
Cat Dancer Colorful Wand Toy
The Cat Dancer toy(paid link)* is similar to the feathered wand toy Billy loved.
This doesn't have feathers, but instead has a long, colorful piece of fabric for your kitten to chase around. As there are no feathers to detach, this toy might last a little longer than Billy's did!
SmartyKat Flamingo Catnip Toy
If your kitten loves feathers, they will love the SmartyKat flamingo(paid link)*. This is similar to the mice we looked at above with catnip inside.
It has lots of different textures to keep your kitten engaged and entertained. Plus, it's a beautiful bright pink, so it will be hard to lose!
HIPIPET Kitten Tunnel and Toys
The HIPIPET kitten tunnel and toys(paid link)* is a great option if you're keen to bulk buy some toys for your kitten.
This comes with a tunnel for your kitten to run through and play inside, plus 21 other toys!
Lots of these additional toys are similar to the ones we've tried and tested. This includes a wand, solid and breathable balls, and little toy mice!
Best Kitten Toys
These are Billy's favorite kitten toys. Different cats may have different favourites and we'd love to hear about them!
Some of the toys featured here are attractive to the majority of cats because they contain catnip. Billy belongs to that majority.
A smaller proportion of cats are unaffected by catnip and may be less interested in the toys as a result.
So that's Billy's top ten! Now it's your turn – what is your cat's favourite toy? And what cat toy do you think I should get Billy next?
Do share in the comments box below – Billy would love to know!
Affiliate link disclosure: Links in this article marked with an * are affiliate links, and we may receive a small commission if you purchase these products. However, we selected them for inclusion independently, and all of the views expressed in this article are our own.