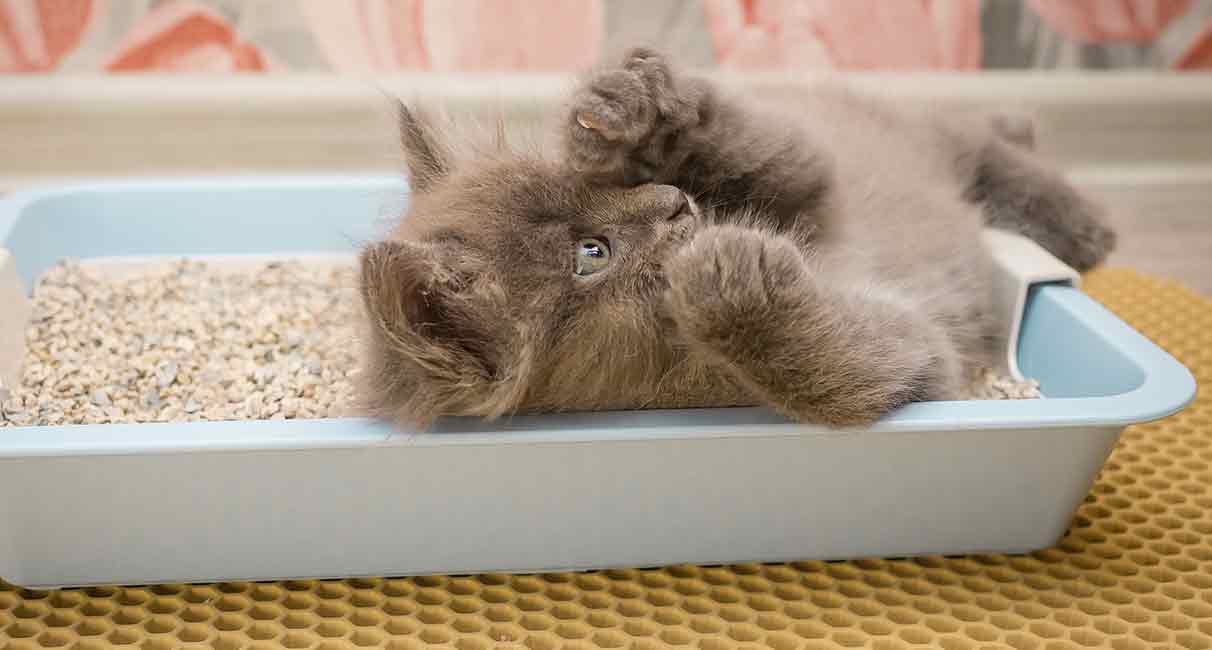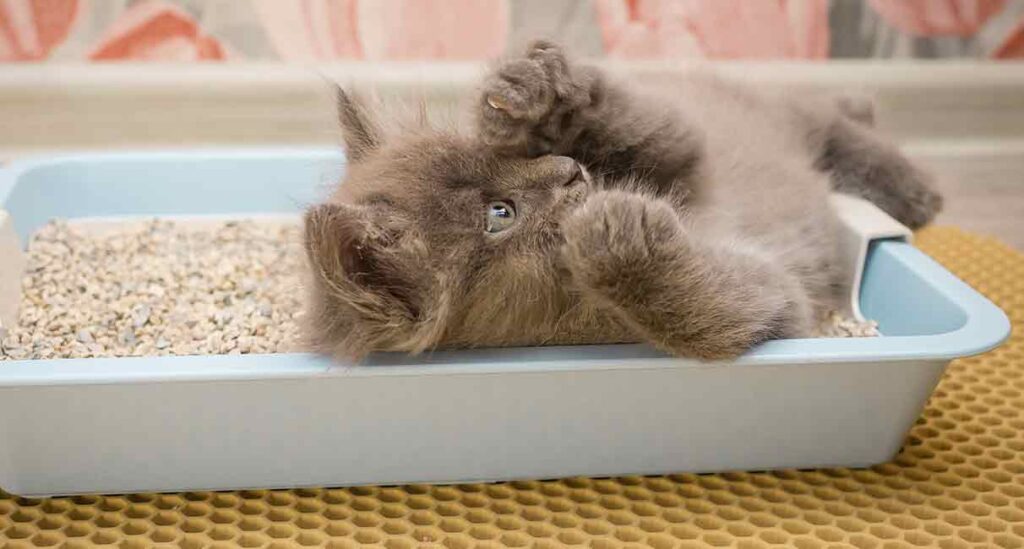 When an older, previously clean, cat poops behind the couch it can be a bit of a shock! And when one accident becomes two, it's time to take swift action.The good news, is that most litter box issues can be solved!
Contents
Sometimes a cat not using the litter box has a simple cause, and a simple solution! And sometimes the solution is a little more involved. We'll look at all the common and the less common causes of a change in litter box habits in domestic cats. And show you how to overcome them.
Why is my cat pooping outside the litter box?
If you have just added a new cat into your home, this is quite likely the cause of any house training accidents. And you can skip straight to that section below. If that's not the case, I suggest you work down through each of the following sections to see which one applies to you.
We'll start with common simple problems as those are most likely to apply to you. And the easiest to fix.
Litter box access
Can your cat access their litter box without fail, whenever they want to? Day and night?
Failure to provide continuous access to the litter box is a common cause of potty training problems in cats. Especially young cats such as recently potty trained kittens, and rescue cats that are not yet very familiar with your home.
For example, a family member might have been inadvertently closing the door to the room with the litter box in. This is a really common problem in large busy families.
Litter box location
It's worth thinking about where the cat's litter box is located.
The bathroom is a popular place to put a litter box. But people tend to shut the door during (and after) use!
The solution: Put a notice on the door of any room that contains a litter box "Please Leave This Door Open When You Leave" or something similar. And consider putting the litter box somewhere where the door can be left open.
Multiple litter boxes
Having too few litter boxes in a very large house is another possible cause, or letting a kitten or new rescue cat have too much access to too many rooms too soon.
Using a litter box reliably in a small part of the house is the best way to get a new cat or kitten into good habits, before you expand the number of rooms the cat has access to. When you are only six inches tall, going up a flight of stairs and along a corridor all by yourself can seem an awfully long way.
The solution: place the litter box in a family room or where the cat spends most of their time. And if your home is very large have more than one litter box. One upstairs and one downstairs is probably a minimum for many family homes. And one litter box for every four rooms in the house is another good rule of thumb.
Litter box lids, covers and gadgets
Once upon a time, a litter box was a simple plastic tray with some soil in it. Nowadays litter boxes can be all singing, all dancing and as complicated as you like.
You can get litter boxes with lids and doors, or that are integrated into the furniture. You can even get litter boxes that 'sense' they have been used and 'empty themselves'
With it comes to kittens or new cats, or cats with a potty training problems, simple is usually best. Covers and lids, or cat flap style doors can be enough to put some cats off using the litter tray at all. The same applies to electrically operated litter boxes that hum or whirr when the cat is still nearby.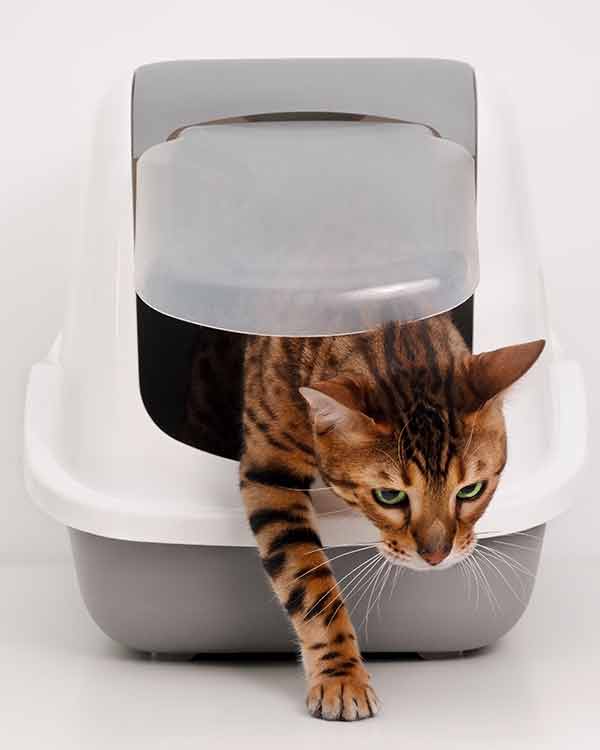 The two most common reasons we see for regression in litter training in adult cats are:
Litter box servicing issues
Introduction of another cat
If none of the simple solutions above apply and your cat is regularly having accidents, then the chances are one of these two applies to you.
Let's take the first. What do I mean by litter box servicing?
Servicing your litter box
Servicing a litter box means keeping the litter box clean and sweet smelling, to a standard that your cat finds attractive.
Because many cats keep a tidy litter box, and cover their poops neatly, it can be tempting to leave the cleaning out process for another day.
Cleaning out the litter box is no-one's favorite job. And it's always tempting to skip a day. We've all done it, and no-one is judging you for it.
But, keeping a litter box well-serviced has a greater benefit than just keeping your home smelling fresh. It actually reduces the chances of your cat looking for a new bathroom facility!
So if your cat just pooped behind the couch, an honest look at your litter box servicing standards is a really good idea. It's easy to let them slip. And in order to be really sure of avoiding accidents, the painful truth is that litter boxes should be serviced every single day. Even if they look barely used.
What does servicing a litter box properly involve?
You don't need to empty the entire box, tipping all the contents away and replacing them with fresh litter, every single day.
But you do need to remove all solid waste (use a slotted scoop to uncover the buried poop and lift them out). Also remove any areas of clumped litter where cat pee has been absorbed. Then top up with fresh litter to the required level
Once a week, empty the litter box completely and give it a good clean with hot soapy water and a scrubbing brush kept just for this purpose. If you have a spare litter box, leave the just-washed box out to dry in the sun if possible to help kill any remaining bacteria.
Hygiene precautions!
Remember that cat waste does have the potential to carry some unpleasant bugs, so it's a good idea to wear rubber or disposable gloves, and dispose of the waste carefully.
If you are pregnant, someone else needs to empty the litter box for you until after your baby is born as you and your unborn baby are at higher risk from those germs.
Okay, let's take a look now at the problems of multiple cats in one home and the potty training issues that can arise as a result of the addition of a new cat to the family
A new cat and litter box sharing
This comes right at the top of the list for causing litter box troubles. Cats do not like to share a litter box. Many cats will, if given no other choice. But when a previously clean cat starts to develop bad litter box habits, the introduction of another cat is often a feature.
There are two reasons for this. Not only do cats not like to share their litter box, but adjusting to another cat in the home is big stressor for any cat. And stress can show itself in toileting accidents.
So one way to avoid multiple cat litter box issues is to always ensure that you have a litter box for each cat and preferably an extra one as well. If you have three cats, then its best to allow for four litter boxes.
Most people have their kittens neutered nowadays, but it's worth mentioning hormones as these can have an interesting effect on toileting habits in male kittens.
Hormones and spraying
If you don't neuter your male cat then as he reaches maturity, he may start to deliberately scent mark around your home to advertise his presence. He does this by spraying urine as high as he can against a wall or item of furniture.
He can't help it, it's entirely instinctive and neutering before he is much over six months old is the best way to prevent it.
Not all un-neutered male cats will spray, but many do. Female cats will occasionally do this too, but it's much less common.
Health and aging
Last but not least, if your cat is having trouble making it to the litter box in time, it's always a good idea to consider their health and age.
Senior cats may need an additional litter box so that they don't have to go so far when nature calls urgently! An elderly cat may also need a litter box with lower sides if jumping in and out is getting painful.
And of course a cat that is unwell may have a temporary change in their toileting habits. As with any other change in behavior, if no obvious cause can be found it's always worth having a chat with your veterinarian. Just in case there's an underlying cause such as an infection.
Cats are very clean animals, they never deliberately make a mess and really appreciate a clean home. It's worth remembering that not all changes in elderly cats are permanent, some can be treated with a little professional help or a few changes, so that you and your cat can enjoy a sweet smelling home once more!
Simple litter boxes
Sometimes the simple solutions are the best. A simple litter box tray with deep sides and a low front so that kittens and old cats can get in and out without a struggle is ideal.
If you want one with a lid and a door, fit these onto the tray later when the cat is really reliable at using the base. Fit the lid first and the door last of all. And don't be afraid to go back to just the tray for a while, if there are accidents.
Remember to introduce new cats to your home in stages, with a litter box very close by for the first few weeks. Developing good habits in those early days, or restoring them again after a lapse, will go a long way to getting rid of litter box problems for good. 
Find Out More