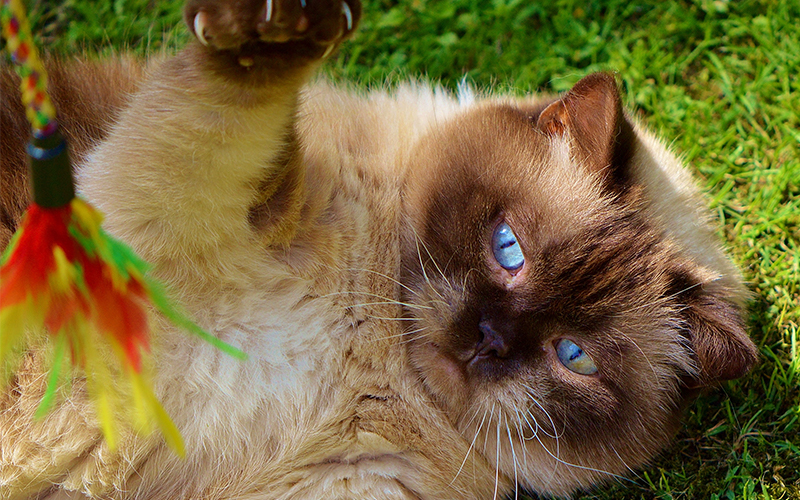 Cheap cat toys are out there if you know where to look. From bargain bins to bulk buying, home made recycled items and even swap sites online, you've got a lot of choices. And if you're anything like me, you love spoiling your pets. I can't walk into a pet store and leave without buying a new toy or treat. It's just part of the cost of owning a cat! My pets love this, but my wallet doesn't. Luckily, over the years I have discovered a few tricks. Here are a few of my secrets to help you bring fun and joy into your cats' lives without breaking the bank.
Contents
Today I'll share the best budget kitty toys and games. And even some ways to get hold of fabulous free cat toys!
Do Cats Need Toys?
Toys stimulate your cat's mind, and they especially love interactive toys that let them play with you. Active, stimulated cats are less likely to develop destructive behaviors. It also helps them stay in shape, preventing obesity and obesity related diseases.
Most cats are just as happy with cheap cat toys as they are expensive cat toys. Having a variety of toys around the house gives you more options for playing with your cat.
What Toys Do Cats Like?
The most important thing to figure out before you spend a lot of money on expensive cat toys is what kind of toys your cat likes. In general, cats like things they can climb on, scratch, chase, stalk, or bat across the floor. Some cats go crazy for catnip. Other cats, mine included, couldn't care less about the herb.
There are several ways to figure out what kind of toys your cat likes, but it will take a little creativity on your part. Let's start with the thrill of the chase.
Playing with Hunting Instincts
Grab some yarn, string, or a shoelace and tie a light object to the end of it, like a scrap of cloth or a ball of paper. Pull this object across the floor in front of your cat and see if it catches her interest. If it does, then toys that engage your cat's chasing and hunting games could be right for her.
Most of us have something round lying around that house that could be used as a small ball. Some cats love to chase balls, while others do not. You can find out if your cat likes them by experimenting with something in your home.
My cats love laser pointers, and laser pointer toys like this one are generally affordable*, but you can see if your cat chases a flashlight beam before buying one.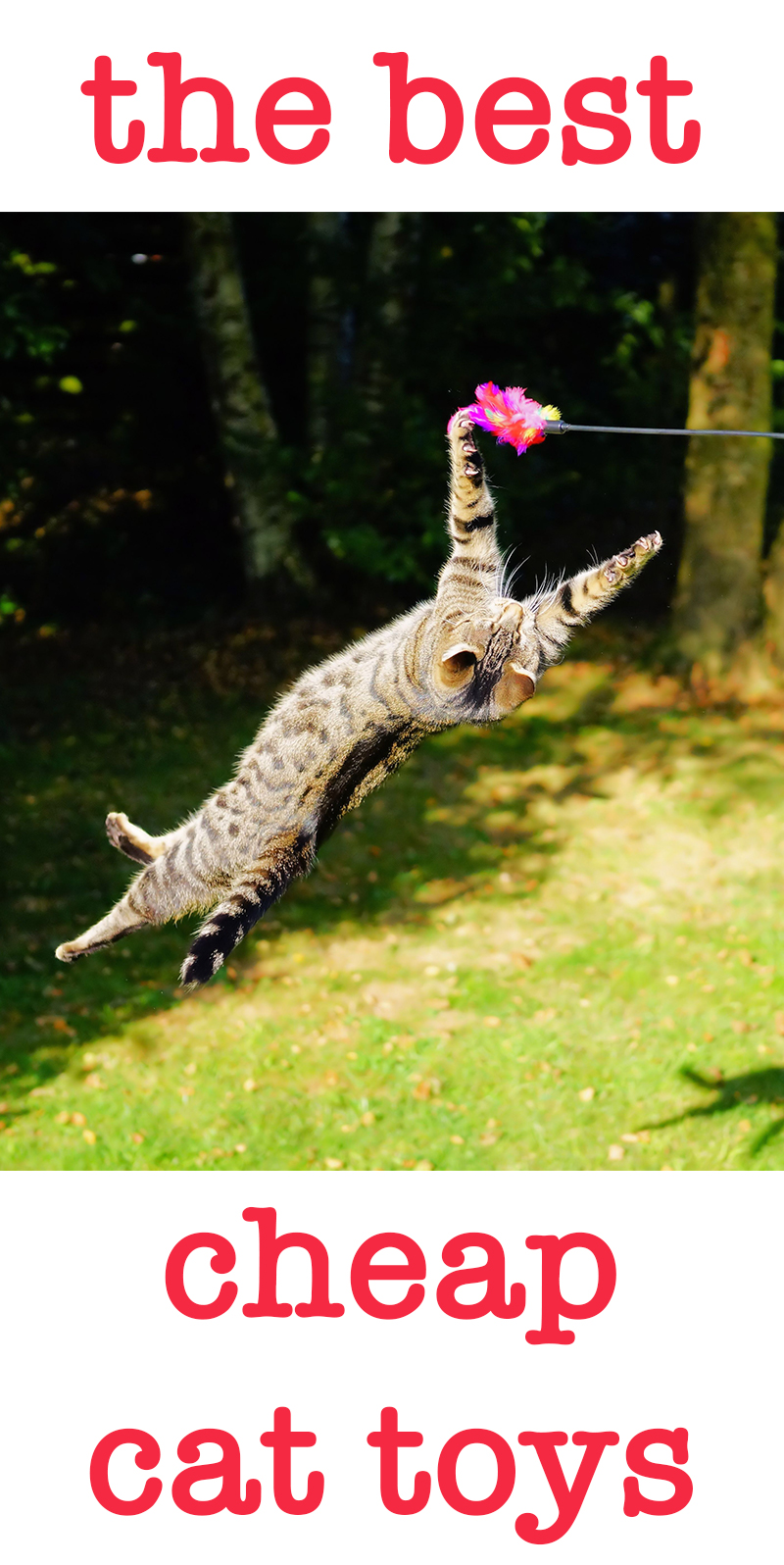 Free Cat Toys
I remember one time when I ordered my pets some toys from Amazon for the holidays. I had spent a little more than I had budgeted, but I was convinced it was worth it.
Imagine my surprise when my cats decided that their favorite toy of all was the box their other toys had come in. Cats love boxes. Behaviorists believe that this is because boxes are safe and cave like, but regardless of the reason, if you really want to make your cat's day, give her a box.
Remember that yarn or string you used to see if your cat likes to chase things? With a little creativity, you can keep your cat entertained with objects you already have, just make sure that your cat does not chew or swallow potentially dangerous objects like plastic, marbles, string, or other objects that can cause blockages.
Different Types Of Toys
If you've ever walked into a pet store, then you know how many cat toys there are on the shelves. Not only is it overwhelming, but it is also difficult to find the toys you are looking for, especially if you are shopping online. You need to know what to search for.
Fishing Pole or Teaser Toys
Most cats don't like water, but that doesn't mean you can't fish with cats. Fishing pole toys look like toy fishing poles with feathers, fluff balls, bells, and all kinds of tantalizing things dangling from the end.
All you have to do is bounce the toy around and watch your cat leap, dive, and run to get it. This is great exercise for cats of all ages. These toys are also marketed as teaser toys, because they 'tease' the cat, or wands. In this case, however, teasing is good.
This wand toy is so affordable you may want to get a few.*
I make fishing rod toys for my cat at home using a stick from the backyard and some left over crochet yarn. For the best appeal tie a feather to the end of the yarn!
Cheap Cat Balls
Dogs don't have a monopoly on balls, despite what mine tries to tell me. Cat toy balls are typically smaller than dog toy balls. They may contain bells, lights, or other noise making adaptations to catch your cat's attention.
They are fun for cats to bat around the floor, although that does mean you will find them in strange places, like under the couch or in your shoe. The best part about these toys is that they are usually very affordable, and often come in variety packs.
Check out this 20-piece variety pack full of cat toys.*
You can make your own cat balls for free too, but scrunching up some packing paper from a parcel or a scrap piece of paper. Roll it across the floor to get your cat's attention, and remember the crunchier sounding the paper the better.
Cheap Cat Toy Mice
If you're ready for a game of cat and mouse, then toy mice are for you. These mice can be rubber, cloth, felt, or plastic. Some even have wheels. Cats love batting these toys across the floor and off smooth surfaces like tables, and my cats enjoy carrying them around in their mouths.
This one really looks the part. *
However, you may find that your cat takes things a step further and attempts to shred the mice. Just be sure she does not try to eat the stuffing or tail. Mice, like balls, are cheap and often come in packs to keep your cat entertained. These mice come in an adorable pack of 10!*
Cheap Catnip Toys
Many cats adore catnip. This herb brings out their wild side, and they may show spurts of energy or just a desire to roll all over their toy before taking a nap. Some toys can be stuffed with catnip. Others come with it already inside. You can also buy catnip to sprinkle over your cat's scratching box or bed, or even grow catnip in your garden.
This refillable catnip squirrel is exactly what your cat needs.*
Perches and Cat Trees
Cats like to be high up. Whether it is the windowsill, the back of the couch, or on top of the fridge, cats find a place to perch and use it to survey their territory. You can provide them with a perch of their own to give them more places to relax, although this is no guarantee your cat will give up his other perches.
Perches can be very expensive. Cat trees are perhaps the priciest of the cat toys, but there are cheap options out there. This perch and cat house is under $20*, and folds down for easy storage.
Scratching Toys
Scratching is an important part of cat nail health. Your cat will find a place to scratch, so you might as well provide him with a scratch post or scratch box instead of sacrificing your couch or carpet. These toys can be as simple as a cardboard scratch box or as complicated as wrap-around scratch guards for table and chair legs. Some scratching posts also incorporate perches and fishing toys for added stimulation*, like this one.
If this is your cat's first scratch toy, try and place it near a place where he already scratches. This will encourage him to transition his scratching from the undesired location (couch) to the desired location (scratch toy).
Interactive Cat Toys
This category includes a variety of toys from balls to laser pointers. These toys stimulate your cat's mental powers and hunting instincts.
Laser toys are a lot of fun, and are responsible for many of the so-called cat fails on YouTube. Puzzle toys can also be interactive. These toys, like the kinds that dispense cat treats or engage her prey drive, like this toy, make your cat think.
Interactive toys can be a great way of keeping active cats entertained while also providing you with entertainment, too.
Cheap Kitten Toys
Kittens are generally more playful than older cats. They are also more prone to eating and chewing things they are not supposed to. You can help reduce this risk by keeping your kitten entertained with safe toys for kittens.
When searching for kitten toys, avoid toys with lots of yarn or string. Cats have a hard time spitting things out, thanks to their barbed tongues, and your kitten could end up swallowing by mistake. Toys that are stuffed with plastic beads or that have plastic eyes or noses can also be chewed and swallowed, and so should only be used in supervised play.
So what toys are good for kittens? Plush toys they can carry in their mouths are good choices, as long as they don't have dangerous stuffing inside. These Kong mice are designed with kittens in mind.*
Remote controlled mice and lasers are lots of fun and can help burn off kitten energy. Balls that are too big to swallow are also a good choice. Kittens under six months don't usually respond to catnip, so hold off on the catnip until your cat is a little older.
No matter what you do, don't let your kitten think your hand is a toy. This is cute now, but those needle teeth and nails can hurt, especially as your cat grows.
Buying Second Hand
Used toys are usually cheaper than new toys, and can be a great option for cat owners on a budget. You can find used toys online or in thrift stores, or even from a friend.
Before you give a used toy to your cat, however, there are a few steps you need to take. Used cat toys can introduce parasites and diseases into your home. Sterilize any new toys and wash any cloth toys. Some plastic toys can even go in the dishwasher.
Thoroughly cleaning and sterilizing used toys keeps your cat safe from unwanted parasites, like fleas. When it comes to used perches and cat beds, however, there is another risk. Some cats will mark used perches and beds by peeing on them if they smell another cat. Cat urine is hard to get rid of, so be wary about buying used beds and perches for your cat.
The Best Cheap Cat Toys
If you are looking for cheap cat toys for a good cause, you can also look around your area to see if there are any pet stores or animal rescues having toy sales. These sales usually have affordable cat toys, and best of all, your money goes towards a good cause.
Just remember to do a little research into what your cat likes before purchasing, and be patient when introducing new toys into your cat's routine.
Do you have some great ways of saving money on cat toys? Or some great fun cheap toys you have found at bargain prices? Why not let us know about them in the comments section below!
Affiliate link disclosure: Links in this article marked with an * are affiliate links, and we may receive a small commission if you purchase these products. However, we selected them for inclusion independently, and all of the views expressed in this article are our own.