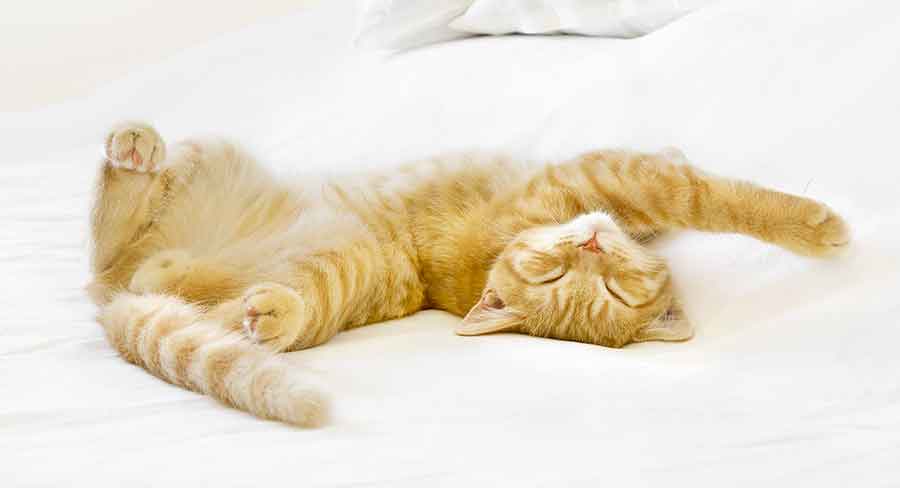 Your 3 month old kitten might have been in your home for a month now, but they could also have just arrived. Our gorgeous Billy had been home for four weeks by the time he turned 3 months old, and had his ginger paws firmly under the table. He was energetic, playful and constantly looking for something to hide inside or bat off the desk. He was also quite small, weighing around 3lbs and looking very slim and limby! Although all kittens are different, there are plenty of milestones that a 3 month old kitten should have met. And lots of tasks for you, their human family, to do to help them progress and develop into a happy, healthy cat.
Contents
3 Month Old Kitten – Ready To Come Home?
All kittens should stay with their mom until they are 8 weeks (2 months) old, which is the minimum age they can join a new home. Most rescue shelters will release kittens at this age, to make room for new cats that need their care. A lot of home breeders will release kittens at this age too. But some may insist on keeping their litter at home until 12 weeks old instead. For pedigree breeders who show their cats, this gives them longer to assess which kitten is most likely to be show quality when they grow up. In other words, which one they're going to keep.
So at 3 months old, a kitten might already be quite established in your home. And you might be reading this article to find out what's coming up next. Or you might be bringing them home for the first time at 3 months old, and wondering what to expect. There are pros and cons to being in either position.
2 month old kitten vs 3 month old kitten: which age is best to bring home?
At 8 weeks old, a kitten is still within the socialization period. This is an important stage of their emotional development, when they are most open to forming positive associations with new things. At around 9 weeks, the socialization period closes, and kittens are more likely to react fearfully to new things. If a kitten is still with their breeder at 9 weeks old, they may miss out on socialization to important aspects of your home. For example, if you have a dog, but the breeder does not.
On the other hand, studies indicate that kittens who stay with their mom until they are 12 weeks old are less likely to behave aggressively towards strangers, and less likely to perform abnormal repetitive behaviors, such as excessive grooming. Kittens who attend veterinary appointments with their siblings until they are 12 weeks old also tend to be less stressed by future visits to the veterinarian too.
So, there is no perfectly right or wrong course of action. But if you are planning to bring your kitten home at 3 months old, it is wise to talk to their breeder about what socialisation they will do while the kitten is in their care.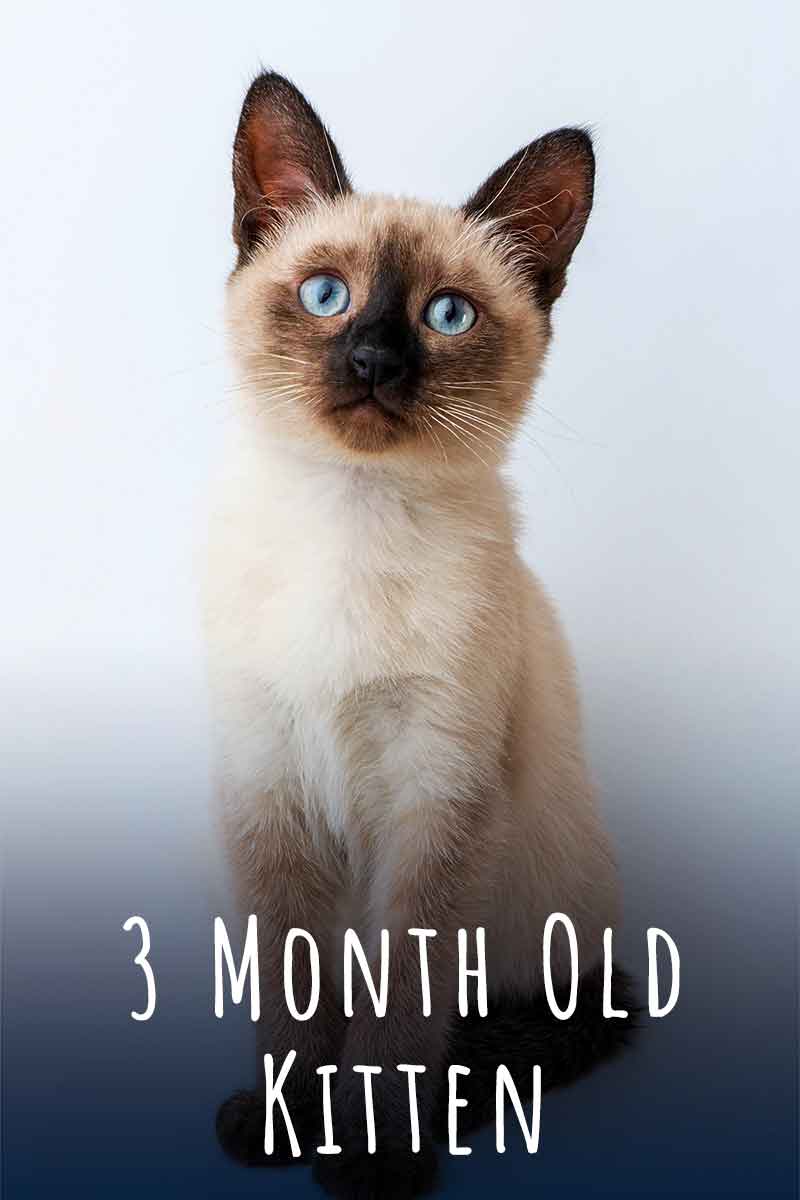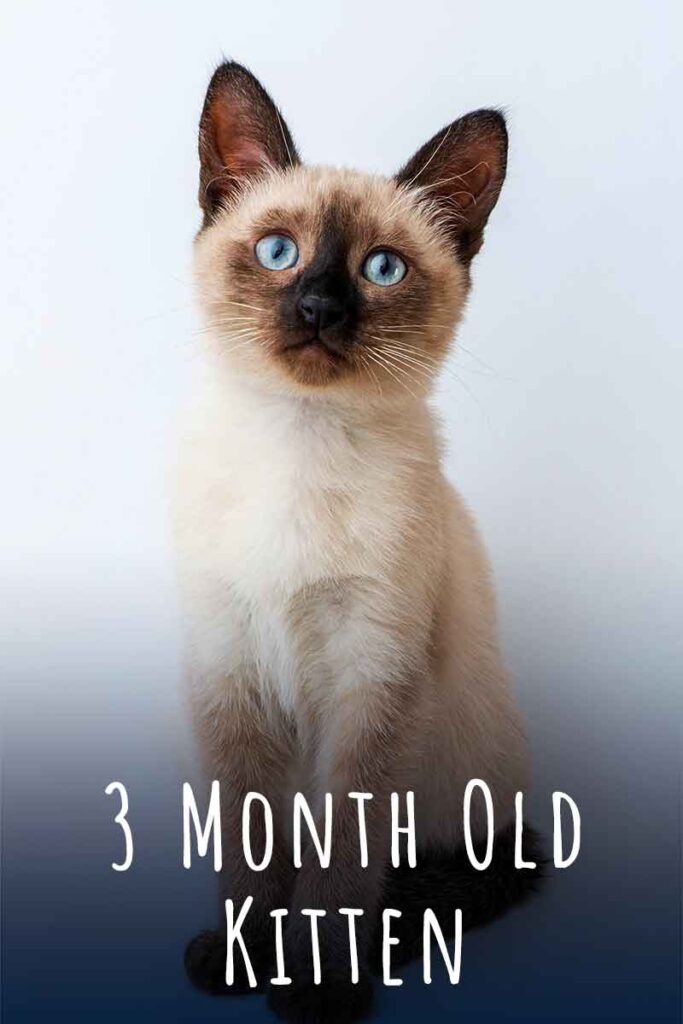 What Does A 3 Month Old Kitten Look Like?
At 3 months old, or approximately 12 weeks, kittens are still tiny and cute, but their baby looks are gradually starting to give way to more adult-like features. Let's take a look at what physical milestones to look out for at this time.
Eyes
Kittens' eyes, which were blue when they were born, have reached their adult color by 3 months old, and are unlikely to change any further. You'll probably notice that they look very different depending on how bright it is though. Not just because the pupil contracts to narrow slits or dilates to wide circles, but because the amount of light refracting through the iris can subtly change the color we see them as.
The quality of their eyesight is still improving and not quite complete at 3 months old. It won't reach peak efficiency in all levels of light until they are about 4 months old.
Teeth
A kitten should have all 26 deciduous (baby) teeth by 3 months old, and some of them might even have started to be pushed out by the permanent adult teeth underneath. This process continues for 3 or 4 months, until all 30 adult teeth have come through.
During periods of intense teething, your kitten might drool a lot, and become irritable and sensitive to handling. You can help them out by providing suitable toys to chew on – but not ones which are too hard, as these can result in broken teeth. A teething kitten's breath might also take on a bit more odor than usual, which is normal and usually passes once all the adult teeth have fully erupted.
Coat
3 month old kittens still have their 'kitten coat', which is finer, softer, and less shiny than their adult coat. They'll hang on to it until the onset of puberty at around 5 to 6 months old, so enjoy it while it lasts!
How Big Is A 3 Month Old Kitten?
The size of a 3 month old kitten depends partly upon their breed. Large cat breeds, such as Maine Coons and Norwegian Forest cats, have larger kittens than small breeds such as Siamese cats and Singapuras. And large breed kittens tend to grow faster too.
As a very, very, loose rule of thumb, a three month old kitten weighs about 3 pounds. But they can weigh as little as 2 pounds or as much as 4 pounds too. Your vet will help you monitor their weight during this time, and advise you if they weigh too much, or too little.
3 Month Old Kitten Behavior
As your kitten grows and gets more coordinated, you'll also notice they sleep less, and spend more time exploring and playing. If they met lots of people and encountered all the normal household sights and sounds during the socialization period, it's likely they'll be exploring their new home and interacting with you with confidence and swagger. If their nest was kept isolated during the socialisation period, then a 3 month old cat joining a new home for the first time might find a lot of things in it frightening.
Play time
If you've adopted a pair of sibling kittens, then between 3 months and 4 months old you'll notice that they start to play with each other less. Social play between cats is rare after 4 months old, so grab some cute videos of it while it's still happening! They'll stay interested in toys long after they stop playing with each other though.
In particular, they will enjoy practising their predator skills, by stalking, hunting, and 'killing' inanimate objects. But, you might notice that excitement turns into frustration after playing for a while. This is especially common in cats who were weaned early, and the frustration stems from the fact that the 'hunt' doesn't end in food. Swapping their toy for a few edible treats after a period of play can help the game end on a sweet note, rather than a sour one.
It's also a good idea to build up a collection of toys, and get them out in rotation, so they keep their novelty appeal.
Caring For Your 3 Month Old Kitten
So we've found out all there is to know about your 3 month old cat's physical and mental development. Here are a few more things you'll need to do to provide your kitten with the best possible care:
Vaccinations
The final shots in the core kitten vaccination schedule fall due between 12 to 14 weeks. These vaccines protect kittens against feline viral rhinotracheitis, calicivirus, and panleukopenia. Your kitten might have also begun a series of optional vaccinations against feline leukemia virus and feline immunodeficiency virus. If you already owned your kitten when they had their last set of shots, your veterinarian will tell you exactly when this final set falls due. Otherwise, your breeder will be able to tell you.
Thinking about spaying and neutering
If you haven't already done so, this is a good time to talk to your veterinarian about your spay/neuter intentions, and schedule surgery for the future. Over 3 million unwanted cats enter rescue shelters in the United States every year. Spaying or neutering pet cats is vital to curbing that trend. Traditionally, cats have been spayed or neutered around 6 months old. But to avoid accidental pregnancies before then, vets increasingly recommend neutering by 4 months old – before the onset of puberty.
Inside or outside?
You'll probably have a clear idea of whether your cat is going to be an indoor cat or an outdoor cat before you get them. And if you brought them home at 8 weeks old, 3 months old is about the time you can start letting them explore outside for the first time. (If you bought them home later, wait until they've had 4 weeks to settle in.)
Before they leave, make sure they are fully vaccinated. They should have a collar with their contact details on, and ideally be microchipped. Plan to let them out for the first time at a quiet time of day. You can even use a harness and leash to let them explore. Then they can familiarize themselves with your area, without the worry of them getting lost.
How much to feed 3 month old kitten
It's likely your 3 month old kitten will still be eating the food they were weaned on to by the breeder. If you'd rather feed them something else, you can transition them onto an alternative age-appropriate diet. Do this over the course of a week, by gradually increasing the proportion of the new food in each meal. For commercial wet and dry diets, follow the portion sizes on the packing. If you're worried your kitten isn't gaining weight quickly enough, or is gaining weight too quickly, ask your vet to assess them and advise. Remember, you'll need to deduct any calories served as training treats from their regular meals.
Training Your 3 Month Old Cat
What's this about training a cat? Well, there's still lots your young cat has to learn at this age. Here are some ideas to engage their maturing minds:
Whenever you play with your cat, always use a toy rather than playing with bare hands, so they learn what kind of things are appropriate to scratch and bite.
Invest in some puzzle feeding toys to challenge their problem solving skills.
Set up scratch posts near high traffic areas in your home. If you catch your cat scratching elsewhere, pick them up and put them down by the scratch post. Or, relocate the scratch post closer to the place they're trying to mark.
Introduce them to being handled for medical examinations and grooming. Gently touch their lips, ears, toes, tail, paws etc, followed immediately by a treat. Only work on this for a minute or less at a time.
It's also a good idea to get them used to travelling in a pet carrier. Leave the carrier out with some treats for them to find, and closing the door briefly, without actually taking them anywhere.
What was your kitten like at 3 months old? Share your stories in the comments box down below!