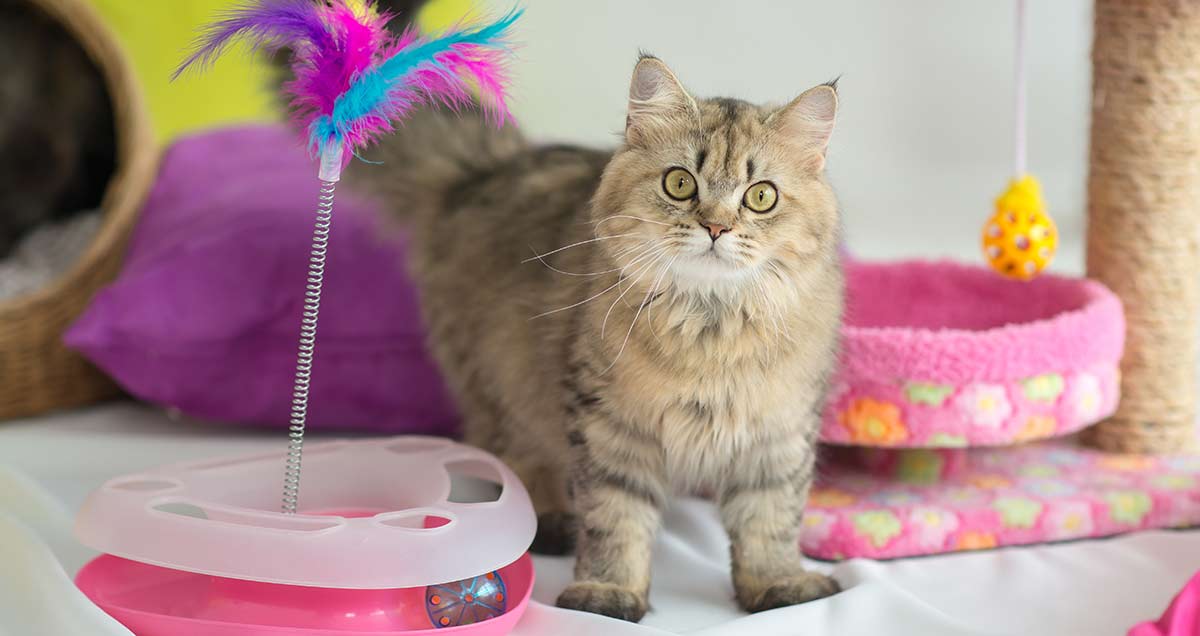 The best cat enrichment toys will keep his brain and body busy.
But it can be hard to work out which style will be the perfect fit for your kitty.
Fortunately, we've done the legwork for you!
All of these products were carefully and independently selected by The Happy Cat Site team. If you decide to make a purchase from one of the links marked by an asterisk, we may earn a small commission on that sale. This is at no extra cost to you.
Go With His Instincts
Cats love toys, especially the kind that they're hardwired to be attracted toward.
Like fluttering feather wands and furry squeak mice.
Cat toys are meant to be entertaining, but not all cats love all toys equally.
The best cat enrichment toys for my cat, might not be the best cat enrichment toys for yours.
What Does Your Cat Enjoy?
Some cats consider a whiff of catnip to be an ultra cool cat toy, while some literally turn their noses up at the crinkly green stuff.
My tabby cat Fuzzy is a technophobe: electronic cat toys send him running.
Is he afraid of the whirs and beeps and flashing lights? Or is he simply a low-tech kitty with simple tastes?
He isn't saying, but I've made careful note of his personal preferences since I have a pile of battery-operated toys he wants nothing to do with.
Silly kitty, even the best electronic cat toys he eschews! A cat string toy or cat wand toys are much more his thing.
Billy, on the other hand is a complete electric toy geek
Just in case your furry little BFF embraces technology, we have some wonderful remote control cat toy reviews for you to check out
I've no doubt that your cat, too, has a preference for certain playthings.
Does he like chasing a mechanical cat toy that scurries across the floor?
Or does a crinkle cat toy bring on fits of whirling dervish-nish?
Maybe she adores fishing out treats from interactive cat toys that dispense snacks?
Just like us humans, cats have their own tastes and sensibilities when it comes to life's pleasures.
Age, personality, and upbringing all factor into your moggie's play preferences.
But before we explore the best cat toy options, do cats actually need toys?
Do cats need toys?
It turns out that cats do need toys. Especially cats that live out their entire lives indoors as many cats do these days.
Cats have a strong need to carry out behaviors that simulate their role as a predator.
And may develop health and behavior problem when deprived of outlets for these instincts.
That's why you'll find many cat toys are designed to help them pretend to hunt.
Of course, there is still room for individuality.
Some cats are irrepressible acrobats, some prefer to sit and chew on pretend mice tails, some fancy puzzling over brainteaser toys.
Is your kitty a dreamer or a doer?
Whatever her outlook on life, doesn't she deserve to have a few stimulating cat toys handpicked just for her?
Finding the best cat toy
How do you determine the best cat toys for your moggie? After all there are tons of playthings designed to keep our furry friends fe-line fine.
If you're not sure which of his current toys are getting the most use, think about the other "playthings" your kitty likes.
Does your kitty like to climb the curtains? Scratch the sofa arms?
Chase after scuttling feet? Bat around crumbs on the floor?
If you answered yes to any of the above, rest assured that there's a much more suitable toy available to fit his fascinations.
In order to help you match the perfect toy to your cat's wants and needs we've reviewed a variety of toy types.
Cat Laser Toys
When it comes to the best cat enrichment toys, it's hard to beat a laser.
Whatever stage of life or state of mind that your cat is in, a laser light show is sure to enthral him and get his heart rate up.
The moving laser simulates the chase part of the predatory sequence. Arguably the bit that the cat enjoys the most.
There are hand-held pointer models, all the way up to sophisticated machines with multiple settings.
Chasing laser lights is a terrific way to get a little exercise into your cat's daily routine.
PetSafe Bolt
The PetSafe Bolt Interactive Laser Cat Toy* is ergonomically designed.
Aspace-age looking gadget, it comes with an adjustable mirror that enables you to point the red laser across various surfaces.

Because safety comes first, the laser will turn itself off after 15 minutes (plenty of time for your cat to get his game on!).
The device uses four AA batteries.
IGearPro Chase Toy
The pocket-sized iGearPro Chase Cat Toy* silver pointer is the traditional laser point we're all familiar with.
The compact hand held pointer requires just the push of a button to entrance your cat with a mysterious beam of red light.

The stainless steel finish is tough enough to withstand lots of play and the pointer comes with its own Mini USB Cable.
Cat Chew Toys
Does your cat like to chew on inappropriate items like Christmas trees and twist ties?
Cat chew toys can be a great addition to your cat enrichment toys basket.
They help your cat enjoy the final part of the predatory 'chase, pounce, grab' sequence.
Without anyone getting hurt!
Cats both young and old will enjoy a bit of self-directed (and sedate!) playtime with these kitty chew toys.
Petstages Catnip Pretzel
The Petstages Catnip Plaque Away Pretzel* is a great multi-tasking cat toy!
The pretzel shaped chew toy is covered in soft netting that helps scrape away plaque and tarter from your cat's teeth.

In addition, a healthy dose of catnip will have kitty coming back again and again for more play.
Cat Twigs
If you've ever seen a cat gnaw down on an oh-so-carefully decorated Christmas tree, then you know that dogs aren't the only house pets who love to chew on things they shouldn't.
The CatTwig Organic Silver Vine Catnip Alternative Stick Toy* is a great distraction.


Kitty will love biting, chewing and licking these unprocessed and 100% natural silver vine sticks.
As an added bonus the sticks have the potential to clean kitty's teeth and stimulate gums.
Mouse Cat Toy
Whoever said less is more wasn't talking about cats and mice. Obviously. Just ask Tom and Jerry!
Kitties love the thrill of the chase and these mice toys will help him to harmlessly channel his hunting instincts.
Petedge Rainbow Cat Toy
These Petedge 10 Rainbow Mice Cat Toys with Real Rabbit Fur* rattling, rabbit-fur mice are extra nice since they come ten to a pack.

Approximately 3 inches long, they will satisfy kitty's desire to hunt without all of the messy side effects.
Paws and Pals
The nifty Paws & Pals Cat Toy Interactive Training Exercise* are the best cat enrichment toys to satisfy two of your cat's favorite instincts: scratching and hunting.

A handy (pawsy?) scratch pad sits atop the toy, and a rotating mouse spins away inside.
It's made from BPA free plastic and can be returned for a full refund, for whatever reason.
Our Pet's Mouse Hunter
Hundreds of cat parents gave the Our Pet's Play-N-Squeak "Mouse Hunter" Cat Toy* all too realistic looking brown fur mouse top marks.

It's almost two inches tall, and has a suitably long tail for biting, as well as authentic curled up ears atop its furry head.
Did I mention the best part? It lets out a squeaky croak each time your cat pounces!
Catnip Cat Enrichment Toys
Should catnip be regulated? The way it sends some cats into a frenzy, followed by an uber-mellow daze, makes one wonder!
Catnip is a safe herb that some owners grow in the backyard or atop a kitchen countertop, and freely share with cats who get a kick out of it.
It's a most clever way to give your cat a zero-calorie treat!
OurPets Catnip Cat Toy
Hundreds of happy pet parents give this adorableOurPets Cosmic Catnip* toy top marks.


Filled with catnip grown in North America, it comes in seven delightful designs including a carrot, fish, snake and cactus.
SmartyKat Toys
And what about the SmartyKat Catnip Cat Toys*.
This exciting two-fer toy features three soft fishies filled with both catnip and a crinkle toy.
The fish are the perfect size for biting or chasing.


The catnip is both pesticide and chemical free to keep your cat jazzed and happy.
Kong Refillable Toy
Kong toys are king when it comes to value, quality and long-lasting entertainment.
This petite KONG Refillable Catnip Cat Toy* little plush has a refillable inner container.

Your cat's nip will always be fresh, and there is a choice of character designs including an adorable little bear in pajamas!
Kong Natural Catnip Toy
Having a catnip toy but no catnip to fill it with is like receiving an awesome toy for Christmas, but someone forgets the batteries!


Kong offers Kong Natural Catnip*. An economical, high quality dried option in your choice of several sizes and packages.
The herb is grown in North America only, and the company has seen fit to throw in a bonus toy!
Lastly, dedicated DIY'ers will love making this adorable crochet catnip mouse for their special friend
Cat puzzle toys
Food puzzles are a great way to support feline emotional health and well being
Most cat puzzle toys involve a food reward; after all who wants to work for free?
These are some of the most ingenious puzzle toys, including cat feeder toys, perfect for keeping your cat's brain cells active and stimulated.
Trixie Pet Board
Several distinct games are featured in Trixie Pet Product Fun Board for Cats*.
A variety pack of a puzzle, located on one convenient tray.


In an interesting twist, both liquid and solid snacks can be used with the specially designed board.
When it comes to entertainment this is one of the best cat enrichment toys in terms of sheer quantity of play value.
Catit Play Circuit
The Catit Design Senses Play Circuit, Original* is an economical, hide and seek plastic track with balls.


Now he sees the ball, now he doesn't!
In addition kitty can stick his paw into various track openings, stimulating his hunting senses.
The tracks can be refigured for continually new designs, and additional tracks can be purchased.
Cat feather toys
Most cats are entranced by the wisp of a fluttery feather.
One year Fuzzy received some long, exotic, glossy peacock feathers that's he's still happy to bat at.
These toys will provide tons of mild exercise for your moggie, and safely satisfy his hunting instincts.
Go Cat Kitty Kopter
If you'd rather set down a toy for kitty to explore on her own, why not try this ingenious Go Cat Kitty Kopter* upright feather toy that's made in the US?


Recommended by vets, it stands 8 inches tall. Several feathers stand atop a rolly ball that kitty can knock down again and again.
Bascolor Cat Toy
How about the Bascolor Cat Toys Interactive Electric Rotate Feather Toy*?
Like the previous toy, your cat can play with this one all on her own, but it's got an added element of sophistication.
Two AA batteries will power the base causing the feather to spin around and around on its own.


Or, you can pull the wand out and interact with kitty for hours of fun. In addition the hollow base holds a ball and/or you can add a bit of catnip for added interest.
Cat spring toy – top choices
Cat spring toys resemble an outstretched Slinky toy.
Springs are definitely one of the best cat enrichment toys.
The unpredictable movements of the stretchy springs leave cats fascinated and wanting more! Plus they are light and easy to bat about.
This is a good choice for kitties who need to burn off a little rambunctious energy throughout the day.
Spring Action Cat Toy
This two pack Categories Catty Coil Spring Action Cat Toy* has different colored, velvety springs that serve to engage kitty's mind as well as her paws.


She's sure to get a good work out flinging and chasing these wiry wascals.
Ethical Thin Springs
These colorfulEthical Pet Spot Cat or Kitten Colorful THIN Springs* measure over 6 inches long and are available in packets ranging from 10 to 100 pieces.


No matter how many cats you have, 100 spring toys are sure to keep each and every one of them occupied!
Cat scratch toys
Cats love to play, they love to scratch, so what could be better than a toy and scratcher all in one?
If you have trouble keeping your cat's claws out of the furniture, you can teach him to use one of these fun alternatives instead.
Catit Scratch
Catit Play 'n Scratch Cat Toy* is a corrugated cardboard circle sits in the middle of a circular tunnel.
It holds a tempting plastic ball. But that's not all—a spring loaded fuzzy ball sits off to one side of the brilliant value packed toy.


Both kitty's mind and body are sure to be engaged in hours of fun! Just over a foot in diameter the toy comes in your choice of colorful hues.
Smiling Scratcher
The Way-Seven Cat Scratcher Smiling Face with Catnip* is a funny item.
Is it a scratcher? Is it a toy? Actually this cute roly-poly contraption is two pieces of pure fun!


The manufacturers have taken a scratcher covered tunnel and popped into it a removable scratcher insert: genius!
Kitty can scratch it, climb it, and even take a nap in or on it.
If for some reason kitty doesn't like it, you can return for a full refund.
Petlinks Scratcher
Fuzzy has had a Petlinks Floor Cat Scratchers Dream Curl* scratcher toy for years, and he still uses it.
First he furiously scratches the sisal end, then he rests his tired head on the opposite, carpeted end for a quick snooze.


A cute little feather dangles from the middle, with just the right amount of catnip to be enticing but not overwhelming!
What is the best cat toy for my cat?
Every cat deserves a few of his favorite toys to play with!
And research has shown us that the right toys can enrich our pet's environment, improve his health , and keep behavioral problems at bay.
You may think that all cat toys are equal: equally fun, stimulating, and suitable for your unique cat's play style.
But not all cats are alike in temperament, personality, needs, and wants. What one might find fascinating, another may find supremely annoying: not every cat loves having feathers foisted upon them!
The best cat toy is one that keeps your cat happy, and the chances are this will involve some kind of chase and grab routine. You may have to experiment a bit to find out which aspect of this your cat enjoys the best.
You will get to know better than anyone what your cat likes and dislikes. Felines have such a fine-tuned way of communicating their needs, don't they?
We hope our reviews have given you some fresh and interesting ideas to supplement your moggie's toy box.
Does your favorite feline have a go-to toy? We'd love it if you shared your ideas with us in the comments section below!
For more ideas take a look at our article on cat chew toys!
Affiliate link disclosure: Links in this article marked with an * are affiliate links, and we may receive a small commission if you purchase these products. However, we selected them for inclusion independently, and all of the views expressed in this article are our own.

References and further reading
Herron M, Buffington T. Environmental Enrichment for Indoor Cats. Compend Contin Educ Vet 2014
Dantas et al. Food Puzzles For Cats: Feeding For Physical And Emotional Well Being. J Feline Med Surg 2016
Rodan et al. AAFP and ISFM feline environmental needs guidelines. J Feline Med Surg 2013