Cat treat toys are a great way to add daily excitement and enrichment to your cat's life.
This is because a cat treat toy can do so much more than just dispense treats or dinner.
Cat treat toys not only extend mealtime but also turn it into an invigorating hunting experience for your cat (witness the instant hit that is the cat treat mouse!).
Toys like an interactive cat treat dispenser call on your cat to exercise her mind as well as her body.
Some cat treat toys, like the ever-popular pull and play treat cat toy, also make a great addition to interactive play.
And toys like the classic cat treat ball can help keep separation anxiety at bay when you have to leave home for a few hours.
In this article, we'll take a look at each one of these different cat treat toys to help you narrow down your search for the perfect toys for your precious feline!
Benefits of Cat Treat Toys
It isn't always easy to remember that your cute, cuddly little fur ball is actually descended from an ancient African wildcat breed!
Once upon a time, your pet would have spent her days on the prowl looking for prey, defending her turf, caring for young and being a wild cat in a wild world.
Today, your pet cat's toughest daily challenge might be having to get up and move when the sunbeam shifts.
Cat treat toys provide necessary and fun enrichment for pet cats.
This can be especially important for more sedentary cat breeds like the Ragdoll cat, the Exotic Shorthair cat, the Birman cat, the Selkirk Rex cat and the Ragamuffin cat.
The Best Treat Dispenser Toys
Now we know how they can improve your cats life, let's dive in and examine some of the best cat treat toys being enjoyed by cats today.
Cat String Treats
Cat string treats make your kitty really work for her reward, which makes them great for keeping your cat fit and trim as well as engaged and playful!
KONG Active Feather Teaser Catnip Toy
This Kong cat treat toy string features a crinkly little winged creature on the end of a dangle string.
The toy comes pre-filled with catnip to give your cat extra incentive to "go for it" so to speak.
Some cat owners say this crinkle toy and the Kong carrot catnip toy (see next toy here) are their cats' favorites.
KONG Feather Top Carrot Catnip Toy
This well-made cat toy from the Kong company is a big hit.
To hear cat owners tell it, kitties go nuts for this little feather-topped carrot treat toy filled with catnip.
Even months of play does not distinguish the novelty – some cat owners have had to buy more than one so every cat has their own!
The toy does not come with catnip, so you will need to purchase that separately.
Kong has a natural catnip product that might work well!
Friskies Wobbert Cat Toy Pull and Play
This cat string treat is also a pull and play treat where the string itself is edible.
The flavor is chicken/cheese.
As your cat pulls the string, the toy moves and treats are dispensed.
Pull and Play Cat Treats
Pull and play cat treats mimic the experience your cat would have while hunting in nature where every part of the prey is palatable and tasty!
Yeowww! 3-Pack Cat Cigar Catnip Toy
If your cat likes catnip (and not all kitties do so if yours does not, no need to worry), this is an enduringly popular toy that is also surprisingly durable even for daily play.
Cat owners say their kitties love to pull and tug and hug and bite and carry this toy around.
You get three in a pack.
Friskies Pull 'n Play Cat Treats
These popular pull and play cat treats come in three different flavor combinations (tuna/crab, salmon/shrimp, chicken/cheese) to keep your cat guessing and intrigued.
The whole string is edible, but your cat will have to catch it to eat it!
Hartz At Play Cat Toy, Gone Fishin
This catnip-filled pull and play cat treats toy is perfect for interactive play.
You can also use the attached suction cup to adhere it to any suitable surface for solo play.
The elastic string keeps movement unpredictable and your cat interested!
Cat Treat Box
A cat treat box toy encourages natural foraging and hunting behaviors, giving your cat a multi-sensory experience that also activates mental smarts!
Petstages Grass Patch Hunting and Play Box
This fun and unique "grass patch" cat treat box gives your indoor cat a safe yet realistic experience of hunting around in the "grass" for treats!
There are plenty of different places to hide toys and treats to encourage continual interaction and mental stimulation.
This cat treat box toy also comes with jingle balls to entice your cat to keep searching.
Cat Amazing Treat Maze & Puzzle Feeder for Cats
This is another wildly popular cat treat box toy that can be used with any toy your kitty loves, from catnip mice to jingle balls to feathers to crinkle toys and more.
You can hide toys and treats in the top and side areas and then turn your cat loose to hunt them down.
Interactive Indoor Kitten and Cat Toy Puzzle Box
This creative puzzle box toy was featured on the program "The Secret Life of Kittens."
It can be filled with catnip mice or crinkle toys or any toys of your choice that your cat loves.
The toy includes three balls and a mouse to get you started.
Cat Treat Puzzle Toys
Today, veterinarians, breeders and cat owners realize that cats need and enjoy the same basic type of enrichment that pet dogs do.
These cat treat puzzle toys are especially designed with your feline in mind!
Trixie Pet Products Trixie 5-in-1 Activity Center
This highly popular and well-rated cat treat puzzle toy features five different types of strategy games you can set up for your cat to play.
Cat owners say this game continues to be a favorite, even months after purchase.
The one tip owners have is to find a way to anchor the board to the ground somehow so your cat won't just push it around.
There is also an optional game extension you can purchase (sold separately) to give your smart cat an extra challenge.
Catit Senses 2.0 Food Tree
These puzzle toys from Catit are a big hit with cats and their owners.
This BPA-free cat tree offers three levels of difficulty as your cat gets better and better at mastering the art of nabbing the treats.
This food tree can also double as a slow feeder to extend the fun of meals.
Catch Interactive Feeder for Cats
This popular and highly rated interactive puzzle feeder is designed to give your cat the experience of hunting around in the "grass" for prey.
For more realistic "grass," you can opt for the green over the purple feeder.
This feeder is also designed to help plump cats feel more satisfaction from actually eating less food!
Cat Treat Ball Dispenser
There are two basic kinds of cat treat dispenser toy – the kind that erratically dispenses treats and the automatic cat treat dispenser.
Both are great (the latter especially so for pre-scheduled feedings or slow feeder sessions to help control weight).
These cat treat ball dispenser toys keep snack and mealtimes both fun and active for your cat's enrichment and enjoyment.
PetSafe SlimCat Meal Dispensing Cat Toy
This smooth blue cat treat dispenser ball also doubles as a slow feeder at meal times.
It also comes in green, pink and orange if you prefer.
This ball is super-popular with both cats and their owners and owners say it really does help to minimize overeating in overweight cats.
The ball also adds mental stimulation and enrichment in a way cats seem to love.
Funkitty Egg-Cersizer Cat Treat Toy
This is another very popular cat treat ball dispenser toy that can add lots of fun and mental stimulation to treat time and meal time.
If your kitty is on a weight management meal plan, this is a great toy to help him burn some calories while filling back up again.
Best of all, you are in control of the difficulty level so your cat never gets bored.
SmartyKat KnockOut Treat Dispensing Toy
This fun two-color egg-shaped cat treat ball dispenser toy requires your cat to roll and bat it around in order to get to the treats hidden inside.
Treat release can be unpredictable, adding to the incentive to keep playing.
Cat Treat Toys
We hope you have enjoyed learning about each of the neat cat treat toys we featured in this carefully curated list!
Does your kitty have a favorite cat treat toy?
Please drop us a comment to let us know – we love to learn from our readers!
Find more great cat toys here!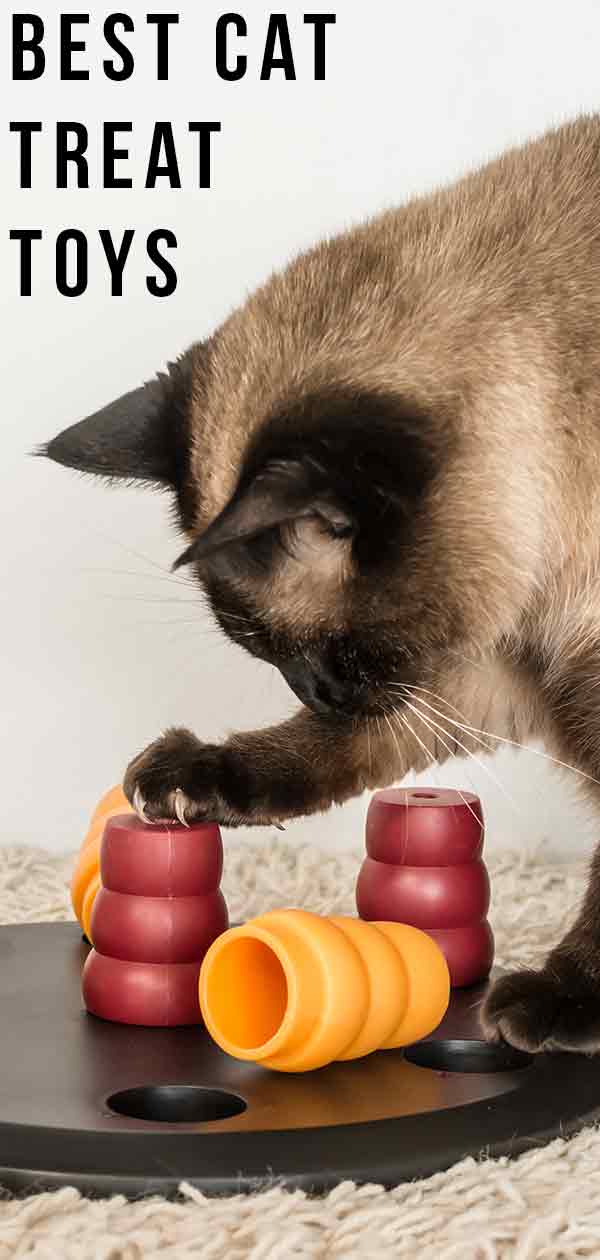 Sources
Stewart, P., DVM, "Cat-tested food puzzles," Veterinary Team DVM 360, 2017.
Pion, P., DVM, DACVIM, et al, "Cats Love Food Toys Too," New Horizons Veterinary Behavior Solutions, 2018.
Wortinger, A., BIS, LVT, VTS, "Feeding Puzzles for Nutrition and Enrichment," Today's Veterinary Nurse, 2016.
Horwitz, D., DVM, Diplomate ACVB, et al, "Cat Behavior and Training – Play and Play Toys," VCA Animal Hospital, 2008.