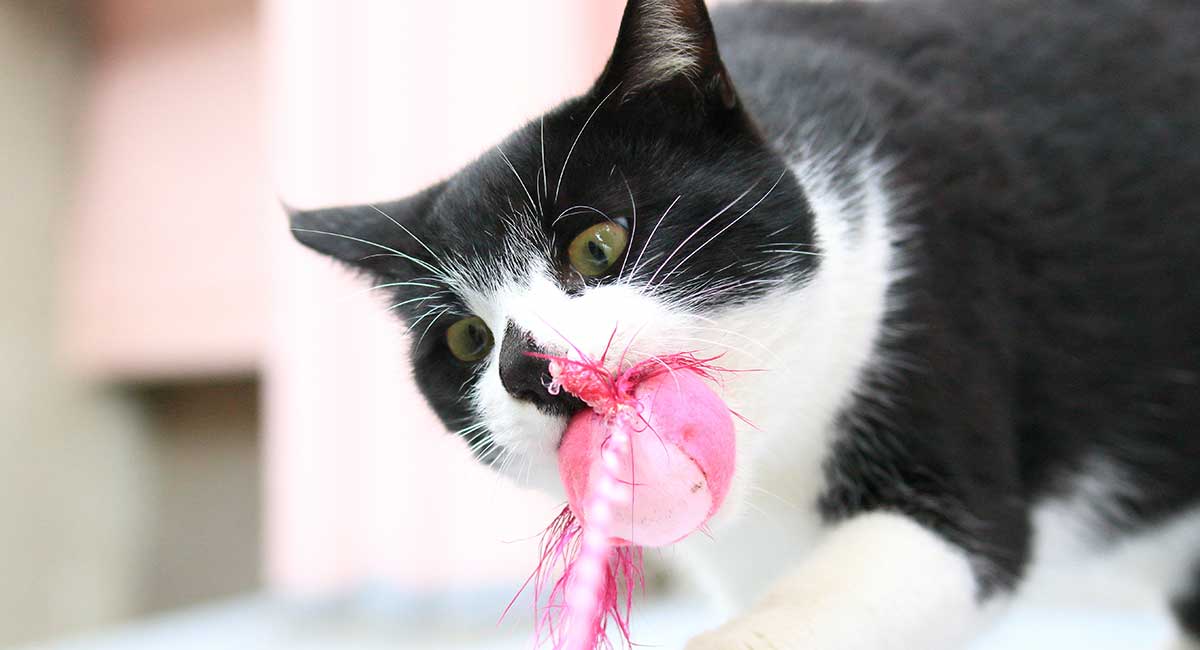 Cat chew toys are a vital and enjoyable part of your pet cat's life. They're a safe way for your cat to satisfy that natural hunting instinct.
But, cat chew toys also represent one of the best ways to prevent cats chewing cords, couch legs, mini-blinds and other household valuables!
Plus, they can be a great solution for cats who are teething.
But what are the best chew toys for cats? For that matter, how can you know you are selecting safe chew toys for cats?
These are such good questions! In this article, we will take a closer look at the wide, wild world of cat chew toys so you can pick out your cat chewing toys with confidence and ease!
Why Buy Cat Chew Toys?
To best answer this question, we need to spend a little time looking at feline evolution.
In other words, imagine your household feline is not a modern pet cat, but an ancient wild cat. What would your cat spend all day doing? Answering this question is one of the keys to providing chew toys for feline enrichment that your cat will truly love.
Feline researchers have identified a number of activities that wild feral cats as well as truly wild felines pursue on a near-daily basis.
These activities include hunting prey, eating their prey, caching (hiding) their leftovers for later, sleeping, patrolling (and scent-marking) their territory, defending their territory from other cats, hiding from potential predators, grooming, scratching on things, seeking mates, caring for young and teaching their young.
While your pet cat won't ever have to do some of the activities on this list to survive, this doesn't mean the instinct won't still be there to hunt, cache, patrol, hide and more.
The more the cat chew toys you select help to fulfill your cat's instinctive drive to do certain activities, the happier your cat, your family and your couch cushions are likely to be.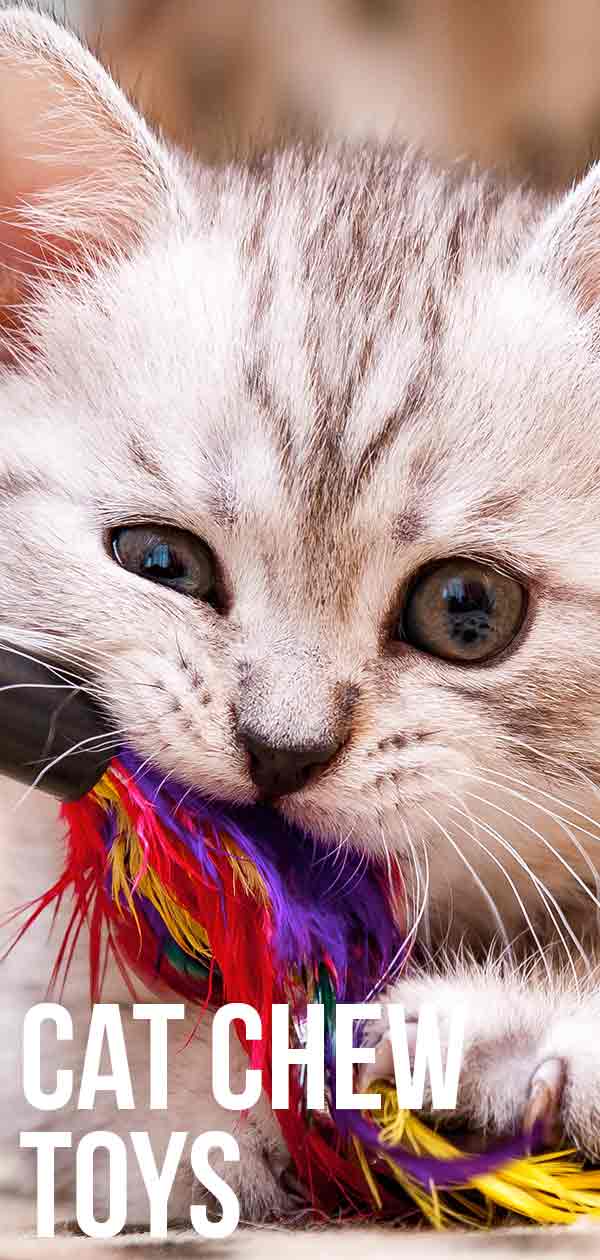 Safe Chew Toys for Cats
Cat chew toy safety is such an important consideration as you are selecting enriching chew toys for your cat!
For example, your cat is just as likely as you are to crack a tooth when biting down on a hard bone or other hard surface, so you want to steer clear of overly hard or thick chew toys.
On that note, if you do want to offer bones for cats to chew, make sure they are both thin and raw. Never offer cooked bones to your cat. Cooked bones can easily splinter while your cat chews them and, if your cat swallows the bone splinters, these can then cause internal damage or even death.
Overall, supervising your cat with any new chew toy can greatly lessen risk of mis-use.
Be especially sure to keep an eye out for small or loose toy parts your cat could detach and swallow, as well as stuffing that might impact your cat's digestion if swallowed and toys that are small enough for your cat to potentially swallow whole.
Cat Chew Toys for Teething
Living with a teething kitten can feel like you have a tiny piranha attached to your ankles 24/7. Cat chew toys for teething are a must both to control your kitten's teething pain and to keep those razor-sharp baby teeth off your fingers, wrists and toes.
Here are our top choices for teething kitties.
Colorful Chew Wheel
This visually interesting, colorful chew wheel helps control teething pain.
It can be frozen to ease sensitive gums.
Pretzel-shaped Dental Toy
This pretzel-shaped catnip-filled dental toy is covered by a durable netting.
that acts as a type of soft dental floss while your kitten chews.
Natural Chew Sticks
These natural, unprocessed cat chew sticks come infused with natural catnip to encourage chewing behavior.
Strip away the outer layer to keep re-using these sticks for teething.
Catnip Chew Sticks
These popular catnip-filled cat chew sticks by pet stages are an ultra-quiet chewing toy your kitten can enjoy at night while you catch some shut-eye.
The textured cat chew sticks are also great to gently massage gums and ease teething pain.
Cat Dental Chew Sticks
Veterinarians recommend consulting the Veterinary Oral Health Council (VOHC) list of veterinarian-approved safe cat toys before you purchase any new cat dental chew sticks or other dental toys.
Feline Greenies Chew Treats
These VOHC-approved dental chew treats by Feline Greenies come in five tasty flavors.
They are made in the USA.
Whiskas Dental Treats
These VOHC-approved dental chew treats by Whiskas help to control tartar with a crunchy outside and a chewy inside.
They come in nine tasty flavors.
Purina Chew Treats
These VOHC-approved dental chew treats by Purina for adult cats are designed to work away tartar and plaque as your cat chews.
Best Chew Toys for Cats
Sometimes the best chew toys for cats are not hard at all, but feature a softer, textured surface that has a "mouth feel" closer to that of chomping down on a live prey – like one of these chew toys!
From the Field Hemp Mouse
This unique and adorable refillable hemp mouse by From The Field comes in short-tail and long-tail versions.
Both the mouse and the catnip are USA-made and sourced.
Kong Cat Chew Toy
Cat owners and cats alike give this chew toy by KONG a unanimous tails-up.
It has a soft fleece exterior, crinkly interior and fresh North American catnip filling.
Yeowww Textured Chew Toy
This USA-made popular textured cat chew toy by yeowww! comes in several fun shapes.
It's filled with organic catnip.
Orca Floppy Worm Toy
This intriguing floppy worm-shaped toy by Orca has a textured surface to help clean teeth and massage gums and is infused with catnip to encourage repeat chewing sessions.
What Are Your Kitty's Favorite Cat Chew Toys?
Now you have lots of ideas for fun cat chew toys to add excitement and enrichment to your cat's daily life from kittenhood all the way through to the golden years.
Remember, always supervise your cat with any new cat chew toys to be sure they are safe!
Does your kitty already have some favorite cat chew toys? Please share your cat's personal faves in the comments section – we love to learn from our readers!
More Cat Products
If you've loved learning about all the great cat chew toys out there, you'll love reading more about the other products and accessories available to you.
Check out some of our other articles below for even more information about the cool things available for your cat.
References and Resources