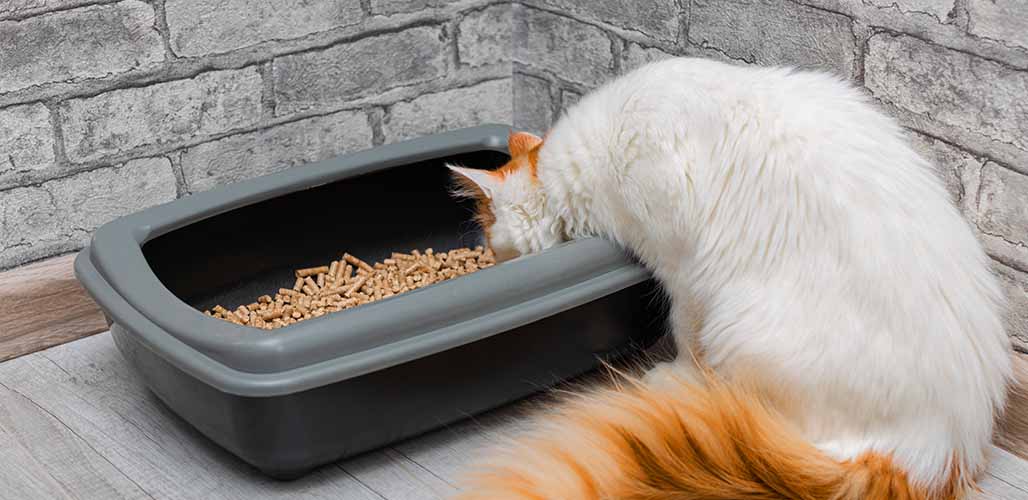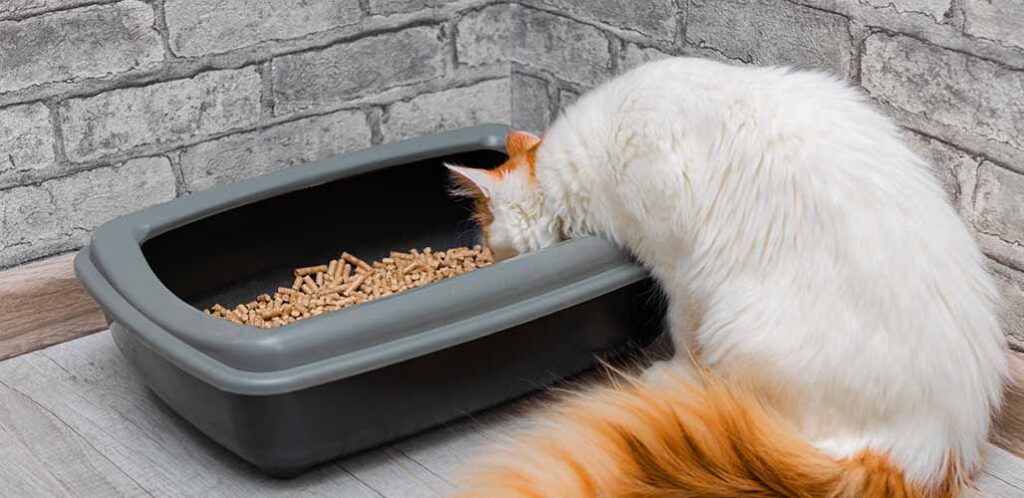 My family got our first cat when I was 10 years old. Without wishing to admit exactly how old I am now, suffice it to say that kitty litter has changed a lot since then. Clumping clay litters have improved to the point that litter boxes no longer need to be totally emptied every day to control odors. And new eco-friendly products are being made from things like recycled paper, crushed walnut shells, and even the by-products of tofu manufacturing! There are also a variety of reasons why someone might end up with more litter than they can actually use in the near future. But does cat litter expire? Most litters won't, especially if they are unopened. But they can deteriorate or become unusable over time, depending on what they're made from, how they're packaged, and where they're stored.
Contents
Does cat litter expire?
Most unopened kitty litters will last pretty much forever provided they are stored appropriately. This is especially true of inorganic litters, such as those made of clay and silica. But it would take a very long time to see changes in other litters as well. This is because cat litter has no moisture in it. Waiting for a paper kitty litter to expire is like waiting for a book to expire. It might change very slightly after many years have passed, but it will remain usable.
This means if you're tempted to bulk buy months or even years' worth of litter in one go, and you have a suitable place to store it, there's no real reason why you shouldn't. Or, if your cat passes away, and you're not sure whether to keep hold of some left over litter until you're ready to make a decision about getting another pet, then rest assured that you can. In a moment I've got some helpful tips for storing kitty litter so the quality doesn't change. But first, let's address some of the ways litter could change over time whilst still remaining useable, and some changes which could make it unusable.
Changes in smell
If you buy a scented kitty litter, the litter itself will stay basically the same and continue to work for months or even years. But the perfume added to it by the manufacturer might change or disappear. This is because the litter itself is chemically inert, meaning it doesn't readily react with anything or change. But the perfume is by its nature very volatile. Volatile substances are unstable and evaporate easily. It's how they end up in our nose so we can smell them, but it also means they have a limited shelf life, and they expire. Usually though, scented litters which have lost their scent over time are still fine to use.
When moisture gets into unused litter
The main enemy of unused cat litter is moisture. By definition, kitty litters are designed to absorb moisture. Clumping clay litters are so good at it that they will absorb water vapor from the air, even in moderate humidity. When litter is stored in airtight packaging, such as a sealed plastic bag, box or bottle, this isn't much of a problem.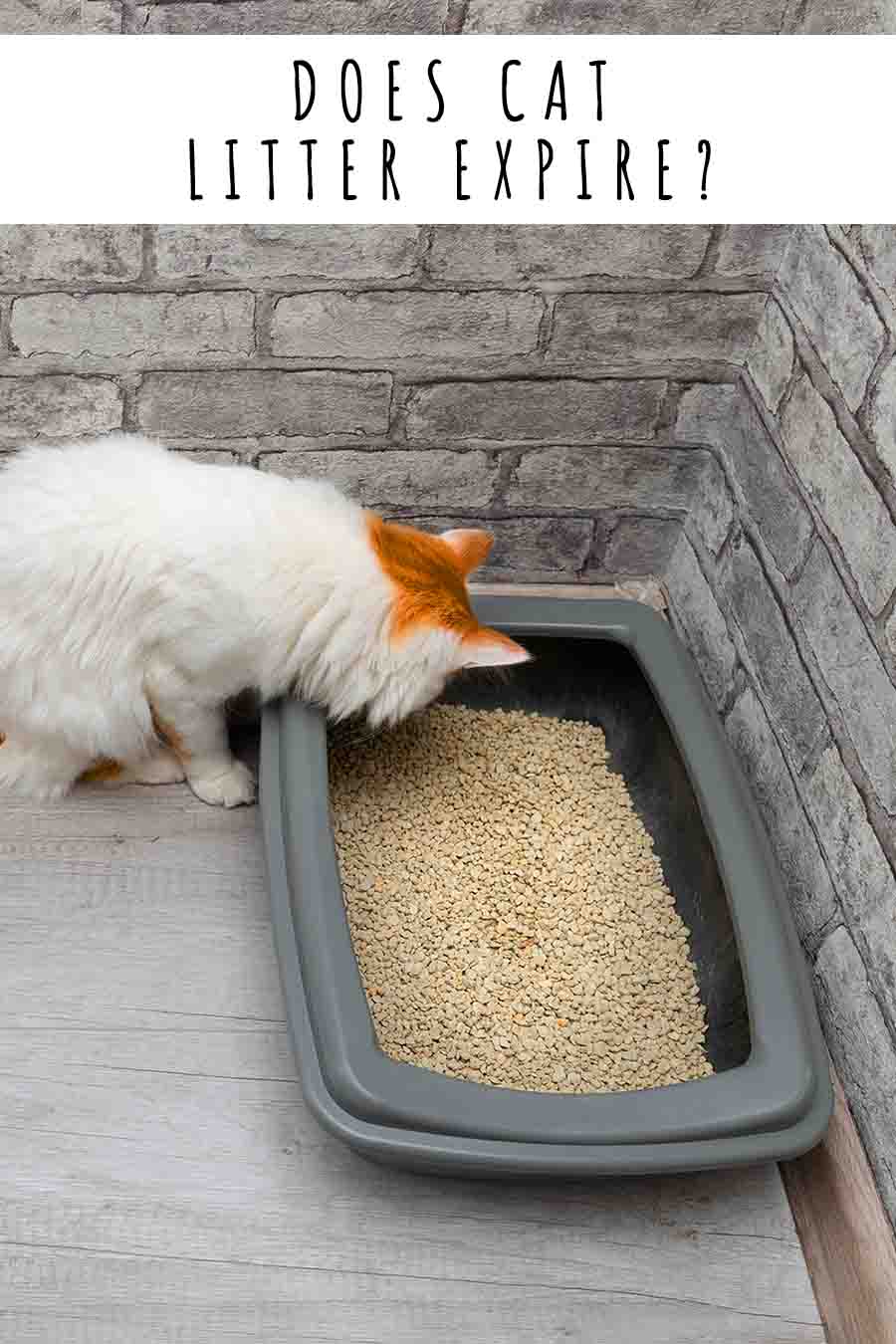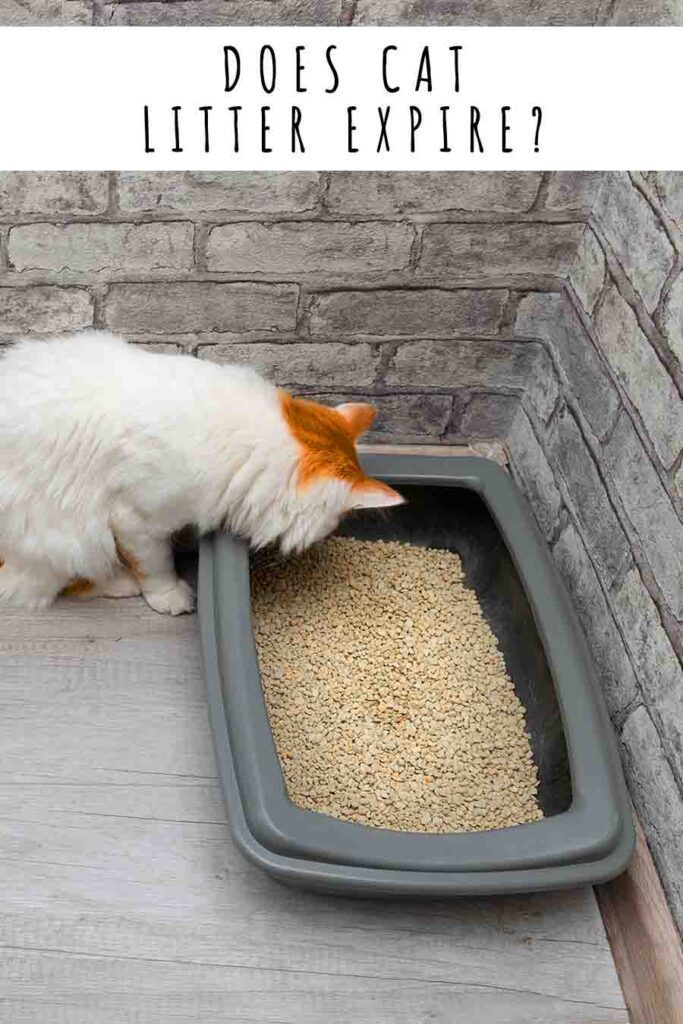 But in a drive to be more eco conscious, litters are increasingly packaged in paper bags or cardboard boxes. Over time, the contents can gradually absorb moisture from the environment. Especially if they are kept somewhere with high humidity (like a bathroom closet). Or somewhere which gets very cold (like a garage). Then when you come to open it, the contents is a slightly swollen, solid block. If it was manufactured from organic materials like paper, wood, or tofu, it might also grow mold or mildew. Litters which have already clumped up due to moisture should not be used. Nor should ones showing signs of mold or mildew.
Which kitty litter has the longest shelf life?
The list of things cat litters are made from these days is truly remarkable:
Clumping clay (benzonite)
Non-clumping clay
Silica
Walnut shells
Soybean husks (the material in so-called 'tofu' litters)
Pine
Paper
Wheat
Hay
Corn
Coffee grounds
Seaweed
The shelf life of any of these products, in unopened packaging, is pretty much indefinite. However, if the packaging does state an expiration date, then it is wise to heed it. So dispose of any remaining litter after that point. Once they have been opened, all litters will continue to last months or even years if they are tightly resealed, and stored in a cool dry place that gets neither very hot, nor very cold.
Under optimum storage conditions, all types of litter have extremely long shelf lives. But, litters made from materials that were originally living, such as soybean husks, paper, hay and corn, are more likely to change in non-ideal conditions than mineral litters. So you'll probably find that clay and silica litters last longer for you if you tend to be careless about resealing the packaging, or you can't avoid storing it in a cold garage.
How to store cat litter so it lasts
Most types of litter will last months or years when stored correctly, so if you've landed a bargain in CostCo, here's how to protect your stash:
Store cat litter in a cool but not cold, dry place.
Keep the packaging sealed until you need the contents.
If the packaging isn't airtight (for example a paper bag or cardboard box), keep it in a lidded plastic storage bin.
And that's it! It's kitty litter, not a Fabergé egg.
When to throw away unused kitty litter
It's unusual for unused cat litter to expire, but if either of the following happenit's safer to throw it away than use it:
It starts to look or smell moldy.
There is any sign that it has gotten wet (stains on the packaging, or clumps of litter in the box).
Litter which has mold or mildew in it could make your cat sick.
How long can you leave litter in the litter box?
Litter in its packaging might not expire, but litter in the litter box most definitely does! Not necessarily in the sense that it 'goes off' or stops working. But in the sense that after several uses, it won't feel like a comfortable place for your feline pal to use the toilet anymore. Providing suitable places for them to pee and poop isn't just a courtesy, it's integral to meeting their needs and giving them dignity as captive animals. What's more, failing to replaced used litter frequently enough increases the risk of problem behaviors, like soiling outside the litter box.
So, remove wet and dirty litter everyday, and completely replace the litter once a week, at least. While the box is empty, clean it with warm soapy water, but avoid cleaning products that contain ammonia, like bleach. Make sure the box is completely dry before you refill it, and if any nasty odors start to linger in the plastic, replace the box entirely.
Does Cat Litter Expire – Summary
Most kitty litters don't come with an expiration date. They will last more or less indefinitely provided they are stored correctly. If they litter you have does have an expiration date on the packaging, then don't use it after that point. Otherwise, you can keep it until you need it – even if that is months or years in the future! But, dispose of any litter which looks like it has been exposed to moisture, or begun to deteriorate.
Have you ever used up a really old bag of kitty litter? Let us know in the comments box down below!