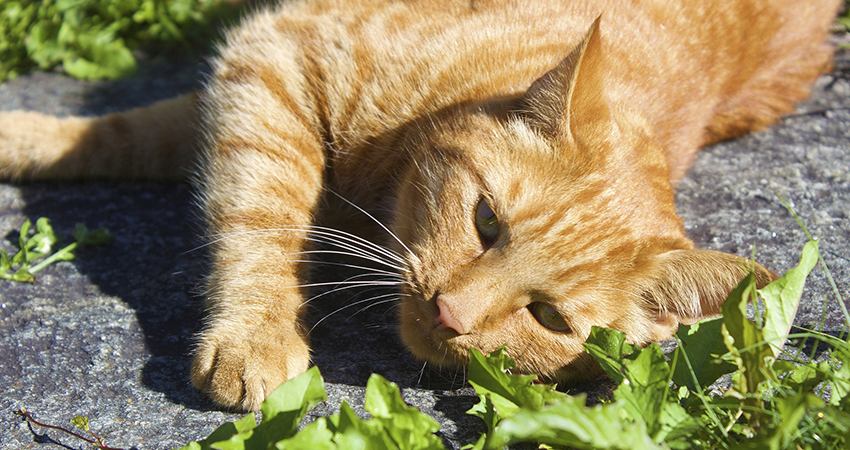 In this article we take a look at how coat color is inherited by kittens, and explore the relationship between ginger coat color and gender in cats.
The Ginger Male Cat
If there was ever a stereotyped cat, it's the big ginger tom.
They crop up everywhere: Garfield, Thomas O'Malley in The Aristocats, Crookshanks in the Harry Potter series.
And probably in every street you've ever lived on.
They're often typecast as either arrogant and lazy, or the swaggering Casanovas of the cat world.
But why do we usually picture ginger cats as boys?
Are all ginger cats male, or can you get female ginger cats too?
To answer these questions we need to find out how cat fur gets it color, and how coloring is passed down from parent to kitten.
Ginger Coat Color In Cats
Ginger cats are sometimes mistaken for being a breed of their own, like Siamese or Persian cats.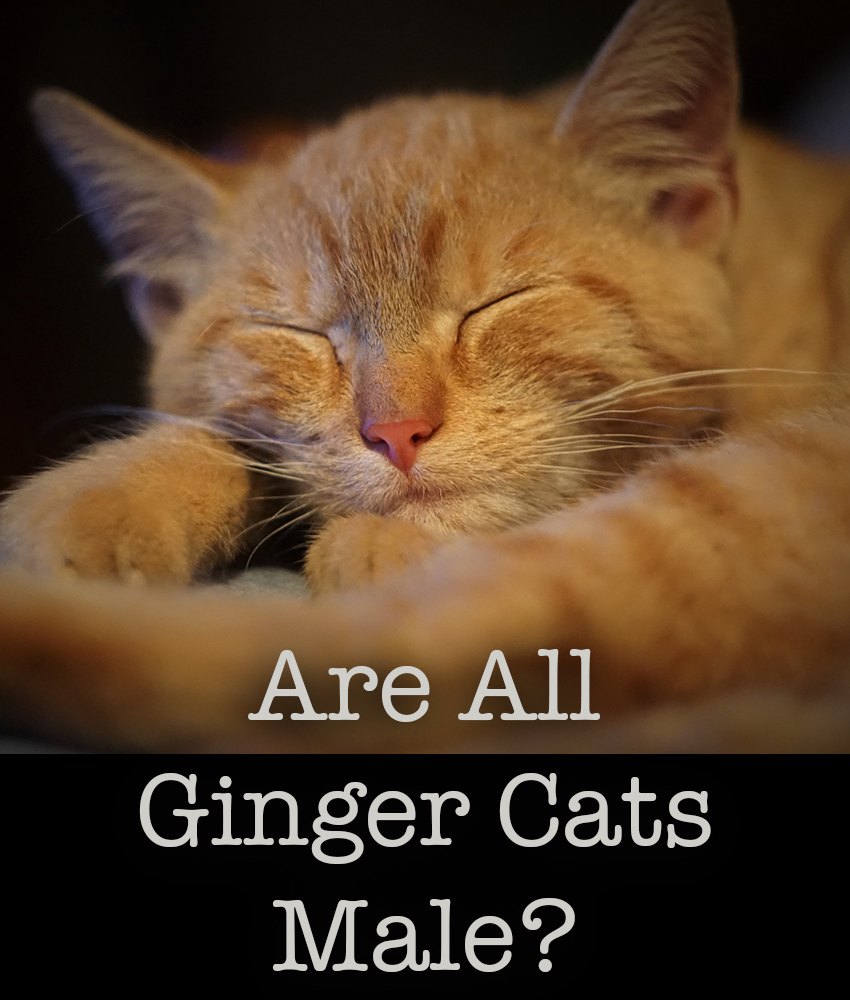 In fact, ginger coat color is like ginger hair color in humans – an option for many cats!
Some pedigree cats are ginger, but no breeds are specifically known for it. In fact, the cats most likely to have ginger coats are long-haired and short-haired domestic cats.
In this context, "domestic cat" simply means a non-pedigree cat of mixed ancestry (sweetly known as "moggies" in the United Kingdom).
How Ginger Cats Get Their Color
Cat fur is colored by melanin in the hairs.
We often talk about the melanin in our own skin, but did you know the term "melanin" encompasses a whole palette of naturally occurring pigments?
The two melanins found in cat hair are eumelanin and phenomelanin.
Eumelanin is a dark pigment which gives black or brown fur when it is concentrated, and light brown or gray fur when it occurs in small amounts.
Phenomelanin is the red pigment that gives ginger cats their vibrant orange coats. In low quantities, it's also the pigment which makes cream colored fur.
Just for ease of understanding in this article though, I'm going to call eumelanin 'black or brown pigment' and phenomelanin 'ginger pigment'.
Making A Female Ginger Cat: The Genetics
It helps first to think of black or brown pigment as the default pigment in cat hair.
To make a cat's hair ginger instead, they need to have the gene that codes for ginger pigment. We'll call that gene the ginger gene.
When a cat's skin cells lack the ginger gene they produce brown or black pigment, and grow black or brown hairs.
When they contain the ginger gene the brown or black pigment is replaced by ginger pigment and the ginger hairs grow from them instead.
Can Ginger Cats Be Female? How The Ginger Gene Is Inherited
All cats' genetic code is arranged on 38 chromosomes in nineteen pairs.
Why in pairs? Because one chromosome of each pair comes from mother, and the other from dad.
The nineteenth pair of chromosomes are known as the sex chromosomes, and they come in two types: X and Y.
A cat with two X chromosomes is a girl, and a cat with an XY combination of sex chromosomes is a boy.
This is all relevant because the ginger gene is also carried on the X chromosome, and we'll see next how that affects the ratio of female ginger cats to male ginger cats.
Genetic Coding For Male Ginger Cats And Female Ginger Cats
This is where it gets a bit complicated, but we'll take it step by step:
Male cats only have one X chromosome, so they either have the ginger gene, or they don't. If they do, it is present in every skin cell and makes them ginger.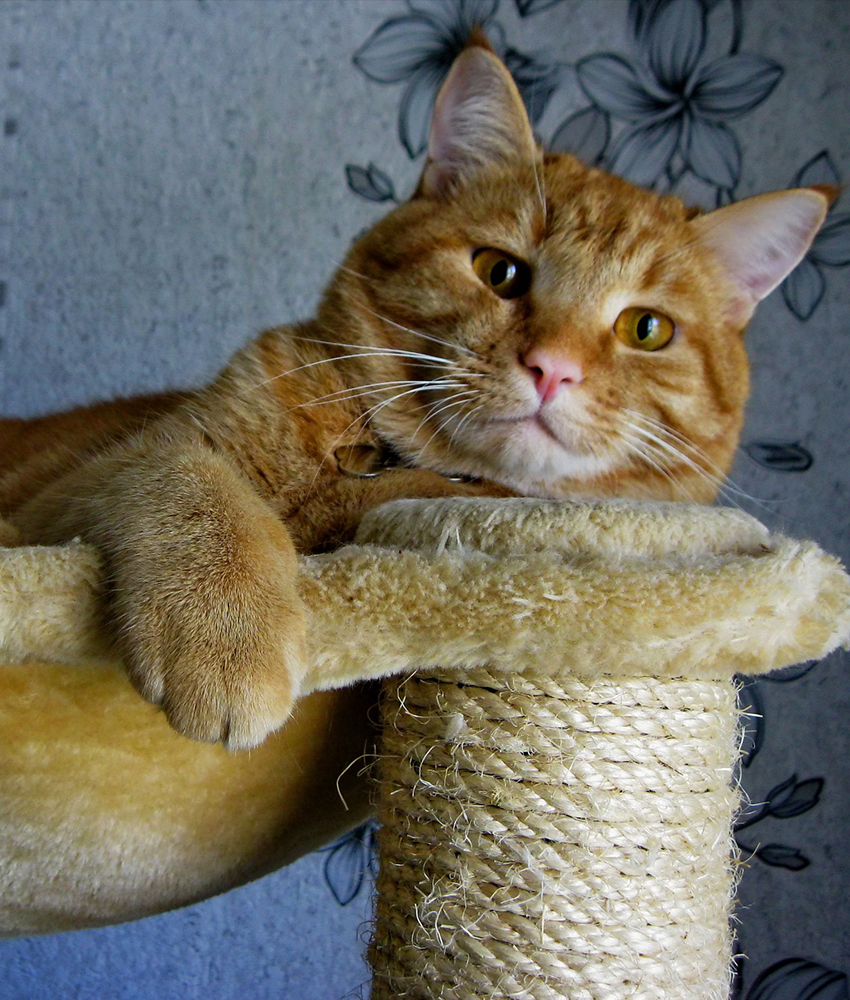 Female cats have two X chromosomes, so they could get two copies of the ginger gene, one copy, or no copies.
Female cats with no copies of the ginger gene don't produce any ginger pigment, and therefore don't have any ginger in their coat.
Something a bit funny goes on when female cats get just one copy of the ginger gene:
While the kitten is still a tiny embryo, one X chromosome in each cell is deactivated to manage the information overload from having two X chromosomes.
The cells don't communicate to deactivate the same X chromosome though.
So in some cells the X chromosome with the ginger gene is switched off, and in some cells the X chromosome without the ginger gene is switched on. This results in a kitten with patches of ginger fur and patches of brown or black fur: a lovely tortoiseshell!
Only female cats with two copies of the ginger gene are ginger all over.
So, male cats only need one copy of the ginger gene to be ginger all over, but female cats need two.
And that's why male ginger cats outnumber female ginger cats.
Are Female Ginger Cats Rare?
The probability of a male or female kitten being ginger depends upon whether their dad carries the ginger gene, and how many copies their mum has.
When a ginger tom cat fathers female kitten, he always gives them his X chromosome, and thus his ginger gene.
So his daughters will always either be ginger or tortoiseshell. Or possibly calico, if they also inherit the gene for white spotting.
And mating two ginger cats will always produce a litter of ginger kittens.
The website Science Focus estimates that roughly three quarters of ginger cats are male, and one quarter are female.
So ginger female cats are less common then male ginger cats, but statistically they are not that remarkable.
Are You Looking For Female Ginger Kittens For Sale?
This article is all good news if you would like a ginger female kitten, but thought you might be asking for the moon on a stick!
Watch out though for unscrupulous breeders who would have you believe that female ginger kittens are incredibly rare, and consequently especially valuable.
Fascinated By Female Ginger Cats?
If you found this article interesting, it's not the only time we've explored how cats' coat color is linked to their other physical characteristics.
Elsewhere on the Happy Cat Site:
Your Deaf Cat – Hearing Loss in Cats and Kittens
Investigating the link between having a white coat and hearing loss in cats.
Are All Calico Cats Female – The Link Between Coat Color And Gender In Girl Cats
Delving into the special genetic formula that gives calico cats their distinctive patches.
Are All Ginger Cats Male?
So to conclude with the short answer: no!
Male ginger cats outnumber female ginger cats by about three to one, but you certainly can get ginger female cats.
And finally, one last piece of trivia about ginger cats: a 2015 study from the Department of Psychology at California State University found that people have a strong inclination to associate different coat colors with specific personality traits in cats.
And the coat color perceived as friendliest of them all? Ginger of course!
Do You Have A Ginger Cat?
Are they a girl or a boy, and do you agree that they are friendlier than other cats?
Tell us about them in the comments section below!
Today's article is by Sarah Holloway. Sarah holds a bachelors degree in Zoology and has a special interest in animal behavior and communication
You can follow the journey of a ginger kitten from the very beginning on Billy's Blog here.
References
Delgado, M. M., Munera, J. D., & Reevy, G. M., (2015), "Human Perceptions of Coat Color as an Indicator of Domestic Cat Personality", Anthrozoos, 25(4): 427-440.
www.sciencefocus.com