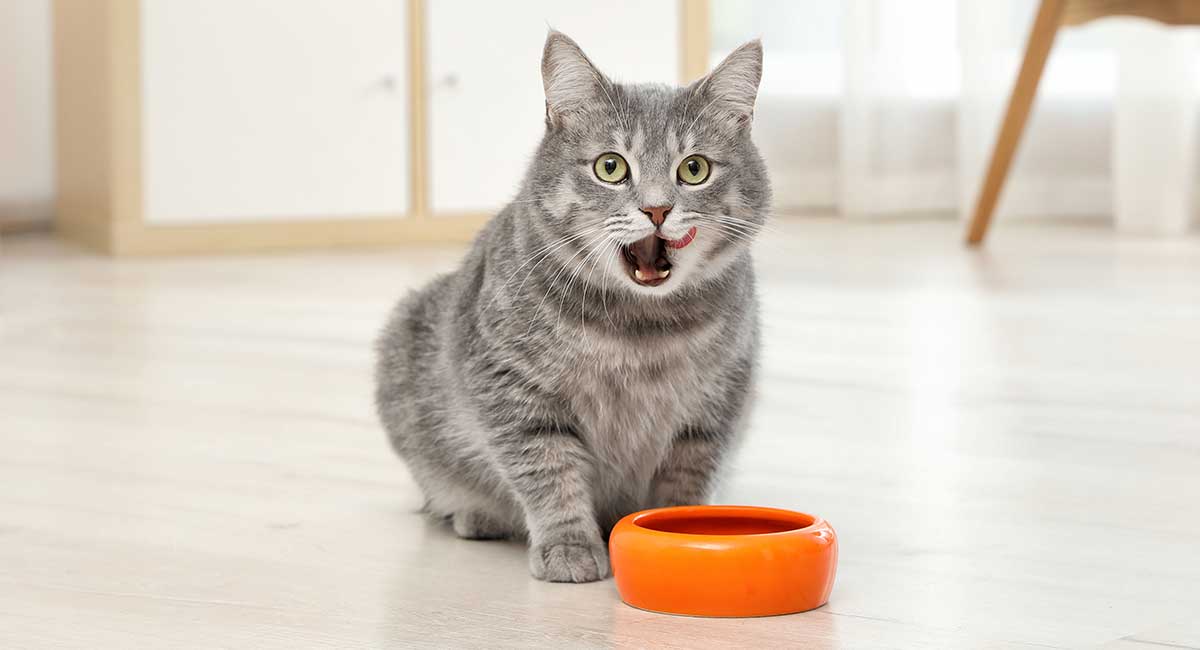 Finding the best cat food for indoor cats can be harder than you think. Indoor cats need a properly balanced diet that will keep them lean and healthy even though they are usually less active. From kittens to seniors, your indoor cats will need food rich in proteins that will offer them all the nutrients needed to live healthy, happy lives.
All of these products were carefully and independently selected by The Happy Cat Site team. If you decide to make a purchase from one of the links marked by an asterisk, we may earn a small commission on that sale. This is at no extra cost to you.
Cat Food for Indoor Cats Quick Links
Have you decided that your cat should be an indoor-only pet? Many cat owners are weighing the pros and cons of keeping their cats strictly indoors.
Your choice of cat food can be especially important if you want to keep your cat within the confines of your house or apartment. A more sedentary lifestyle combined with free-feeding can lead to obesity.
In this article, we will provide you with an overview of the best cat food for indoor cats.
Benefits of Indoor cat Food
There are many benefits to keeping your kitty indoors.
Studies of free-roaming cats have shown that they are at increased risk of getting hit by a car, fighting with other cats, and getting stuck in dangerous places like sewers and crawl spaces.
But there are some health issues common to indoor cats too.
These issues are mostly related to eating too much and exercising too little!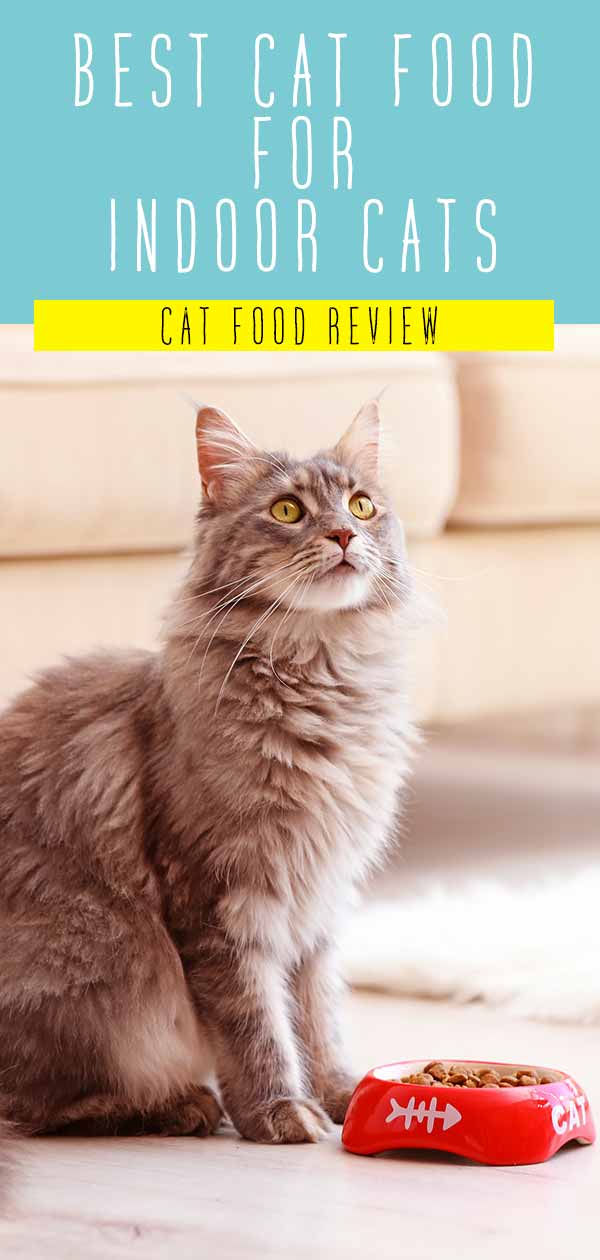 Before we look at good cat food for indoor cats, it's important to note that environmental enrichment is key to an indoor cat's well being.
Environmental enrichment includes simple things like providing your cat with scratching posts and cat trees, window perches, interactive toys, food puzzles, and of course, daily play sessions with you!
All of these things will contribute to keeping your cat healthy. But the most important factor here will be your kitty's dinner.
So what is the best cat food for indoor cats?
Unlike dogs that can eat a wide range of foods, cats are obligate carnivores.
This means that all felines—big and small—need meat to survive. All cat food should have high-quality animal protein as the primary ingredient, but this is especially true for indoor cat food.
A low carbohydrate diet is a key way to keep your indoor cat happy, fit, and healthy.
A poor diet can lead to health problems such as obesity and diabetes, as well as issues with the skin, teeth, and urinary tract.
What is the best diet for indoor cats? Let's look at some healthy options for your feline friend!
Best Cat Food for Indoor Cats
To be sure you are choosing the healthiest cat food for indoor cats, consider trying food that is specifically created for indoor or low-activity cats. What does the best indoor cat food contain?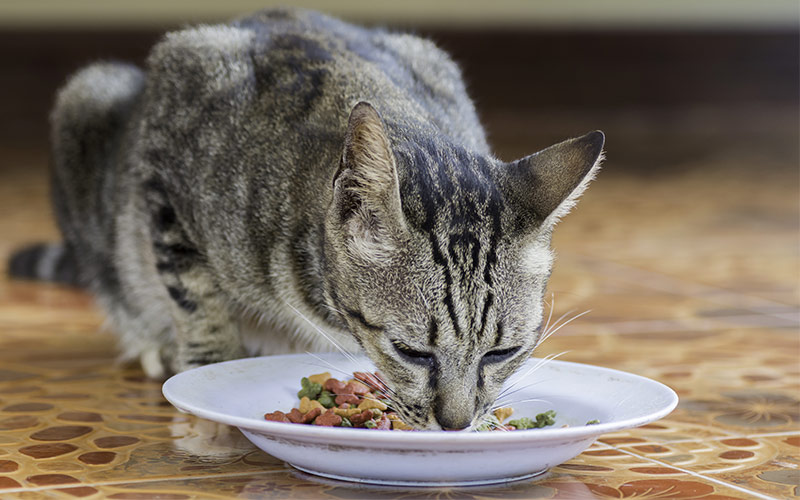 Look for brands with labels that say "indoor cat" or feature quality protein, no grains and fillers, and some (non-grain) vegetable fiber that mimics the grass cats sometimes eat in the wild.
Because indoor cats can be prone to obesity, remember to read all ingredient labels carefully, even ones that say "indoor cat." There are many indoor cat food brands, and some are higher quality than others.
Here are some of our top choices when it comes to the best cat food for indoor cats, both wet and dry.
Canned Cat Food For Indoor Cats
Many vets recommend wet food diet for indoor cats.
Studies have shown that two of the biggest risk factors for feline obesity are an indoor lifestyle combined with a dry food diet.
This is especially true if you allow your cat to free-feed on dry food throughout the day.
Given these facts, you may decide to feed your indoor cat canned food.
What is the best canned cat food for indoor cats? Check out these favorites.
Wellness CORE Natural Grain Free Wet Canned Cat Food
Wellness Core Natural* is a quality brand that makes low-calorie, grain-free canned food for indoor cats.
This food features a high amount of quality animal protein plus other nutrients like peas and cranberries that will keep your kitty lean and healthy. Of course, make sure to portion it according to your cat's size and age!
Halo Grain Free Natural Wet Cat Food
The Halo Spot's Pate is a grain-free indoor cat formula* that contains whole turkey and duck, complete with low-carb veggies great for your indoor kitty.


It also contains cranberries and vegetables like spinach and carrots for added fiber and nutrients.
Many owners report their kitties love Halo's pate, and some cats with vomiting issues have improved with this food!
BLUE Freedom GGrain-FreeWet Cat Food
BLUE Buffalo's line of BLUE Freedom indoor canned cat food* is high in protein and grain free.
It comes in kitten, adult, and senior formulas. This formula ensures your kitty is getting all the nutrients they need at every stage of their life, while the added non-meat ingredients are designed to promote urinary health.
Many owners state this food also helps to minimize hairballs and litter box odor, so it's a win for both you and your cat!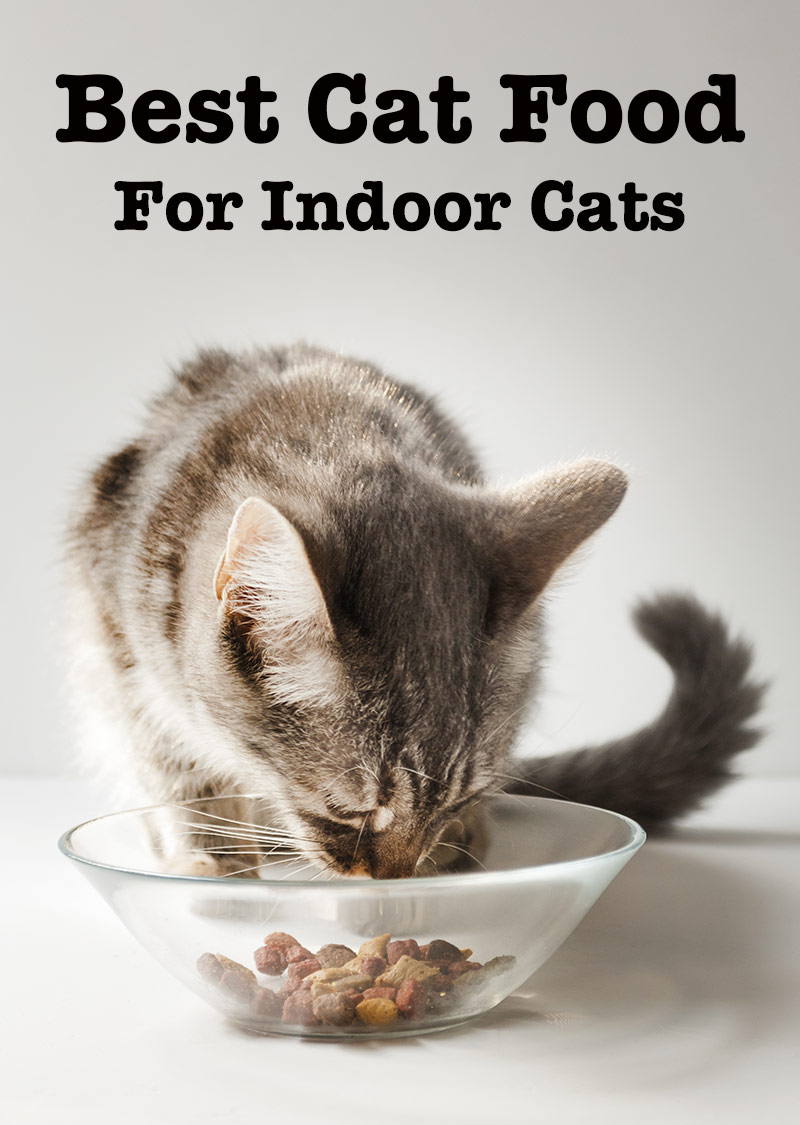 Dry Cat Food for Indoor Cats
Your vet may recommend dry cat food to maintain your indoor cat's dental health.
Dry food is a popular and convenient option for many cat owners.
If you choose to feed an indoor cat dry food, be sure to control the amount your cat is eating, as unlimited feeding on dry food can lead to obesity and other major health conditions.
Here are our top picks for the best dry cat food for indoor cats:
IAMS Proactive Health Specialized Care Adult Dry Cat Food
The well-known IAMS Proactive Health* makes a dry food formulated especially for indoor cats.
It has 10% less fat than the regular IAMS and is designed to maintain a healthy weight and control hairballs thanks to the extra fiber.
Kitty owners say that it does help with hairballs and even finicky cats are pleased to eat it.
Natural Balance Limited Ingredient Dry Cat Food
The Natural Balance Limited Ingredient blend* is a quality indoor cat formula, available in either salmon and chickpea or turkey and chickpea.
It contains a single animal protein source, and is designed to control hairballs, improve digestion, and maintain a healthy weight.
Because it has limited ingredients, it helps cats with food allergies and intolerances. Cats and their owners approve!
NUTRO Indoor Cat Adult Dry Cat Food
NUTRO's indoor cat food* comes in either chicken or fish, with brown rice.
It's a low-calorie protein formula to maintain an indoor cat's healthy weight, with added vegetable fiber for your cat's digestive health.
Many owners also report their kitties now have soft, shiny coats!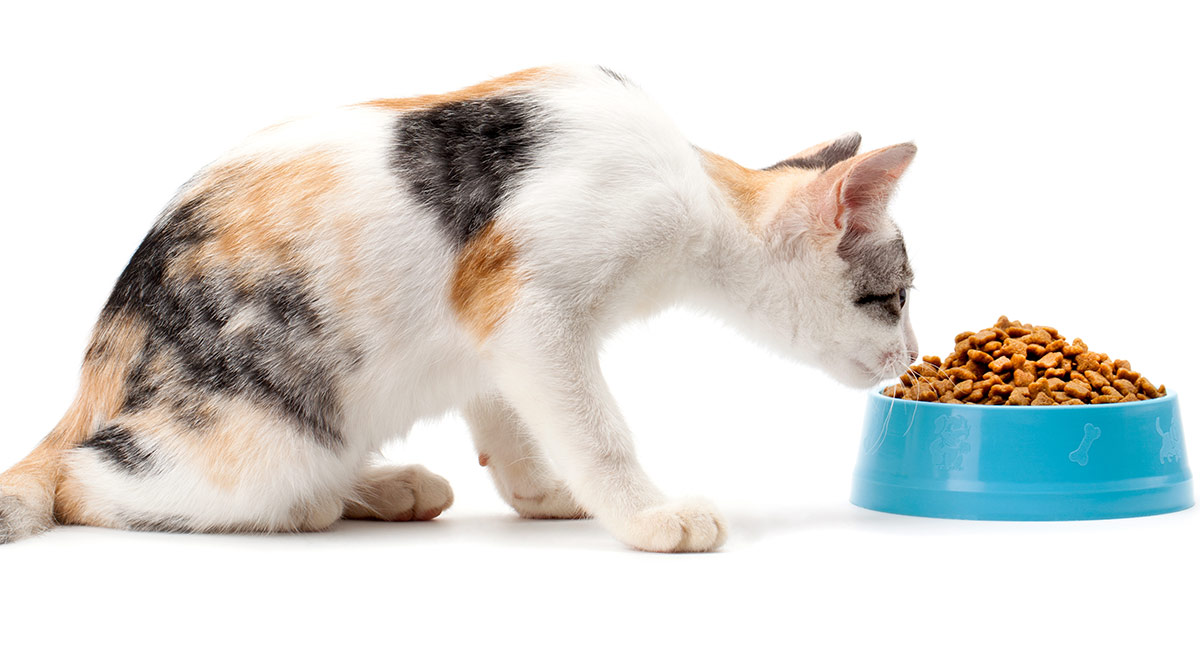 Best Wet Cat Food for Indoor Cats
Vets often recommend a wet food diet for cats because of its high moisture content.
Added moisture is good for your cat's urinary tract health, and cat owners know that felines aren't usually fans of drinking water.
If that's your case, maybe you should give wet cat food a try. Here are our top picks for the best wet cat food for indoor cats.
Nature's Variety Pride by Instinct Grain Free Flaked Canned Cat Food
The Nature's Variety Pride cat food* is a natural grain free formula that is a good choice for an adult indoor cat that also happens to be a finicky eater!
They offer novel protein choices if your cat turns up her nose at the usual meats.
You can tempt your cat with duck, lamb, and rabbit.
Weruva TruLuxe Grain-Free Canned Cat Food
The TruLuxe line from Weruva* is a great option for indoor cats.
It is formulated to be high in quality animal protein, with low fat and carbs.
You can choose from a variety of fish, chicken, duck, and beef flavors to entice your picky cat's appetite.
Pro Plan Focus Indoor Care Canned Cat Food
The popular Purina Pro Plan* makes an indoor cat wet food formula with salmon and rice.
It is designed to maintain lean muscles and a healthy weight, as well as control hairballs.
Best Dry Cat Food for Senior Indoor Cats
Senior cats sometimes have special dietary needs. Some may need low calorie food if they are less active and prone to obesity, while others might need a more calorie rich diet because their systems are less able to absorb and digest nutrients as they age.
Some senior cats are also more prone to constipation. What is the healthiest dry cat food for indoor cats that are also 7+ years of age? Here are a few options.
Purina Pro Plan Prime Plus Senior Adult Dry Food
Filled with chicken and rice*, Purina claims their recipe improves and extends the life of cats aged 7 and older.


This kibble is filled with antioxidants and prebiotic fiber that help your kitty stay healthy and happy throughout his golden years.
Some cat owners report their senior cats regaining their energy and strength after aving this food on a regular basis.
Halo Holistic Dry Cat Food for Senior Cats 7+, Chicken and Liver Recipe
This Halo Holistic senior option* is grain free and made with whole chicken as the main protein, plus chickpeas and other vegetables to support your mature indoor cat's digestion.


It's low in fat and carbs, but higher in protein and fiber, making it ideal for older indoor cats in need of a balanced diet.
Cat and owners love their all-natural ingredients without fillers, and many seniors are fans of the chicken recipe.
Hill's Science Diet Indoor Dry Cat Food
Hill's Science Diet makes two senior indoor cat formulas, one for cats 7+ years of age and one for cats 11+ years of age.
The 7+ Science Diet cat food* has fiber for digestive health and antioxidants for the immune system.
The 11+ Science Diet cat food* has ingredients that supports eye, kidney, heart, and joint health in elderly cats.
Both of these recipes are beloved by cats and owners alike. They are a great option if your senior cat can still eat dry kibble.
High Protein Cat Food for Indoor Cats
As we have already mentioned, cats are carnivores and need their diet to be very high in protein. Many available cat food doesn't offer the nutritional components felines need to live happy, healthy lives.
Unless otherwise stated by your vet, your indoor cat also needs a diet high in protein. Check out our top picks!
Purina Beyond Wild Grain Free Cat food
Made with real turkey* as the main ingredient, this wet food also features liver and quail, offering the nutrient-rich food your indoor cat needs.


This one is also one of our best cat food for overweight indoor cats, because of its high protein content and low carbs.
This food is also grain-free, ensuring your kitty doesn't have any extra gas and limiting food allergies and vomiting.
Many owners report seeing great improvements in their cats with Irritable Bowel Syndrome. Even picky eaters are enjoying the recipe!
Instinct Ultimate Protein Grain-Free Wet Cat food
Made with cage-free chickens*, Instinct canned food is high in protein and low in carbs, making it ideal for indoor cats of all ages.


Cat owners state their underweight seniors have started gaining a bit of healthy muscle and some cats with thyroid issues have had great results with this as their main food.
Kitties eating Instinct wet food also have shiny coats and more energy than before.
Nutro Wild Frontier Grain Free Cat food
This wet cat food* has everything your indoor cat needs in a properly balanced diet.


With a variety of protein sources available, your kitties will get to choose which flavor they like the most: chicken, beef, salmon or trout.
With high protein, this grain-free wet food has no additives and comes in perfectly portioned packages to feed one cat.
Kitten Food for Indoor Cats
Once they stop nursing, kittens need nutrient-rich food, and owners shouldn't be overly concerned about indoor kittens becoming overweight.
Some vets prefer wet food for very young kittens, others leave the choice of wet or dry up to you.
What is important is to choose a high protein, low carb food and feed your kitten (especially very young ones) small meals 3-4 times per day.
Some indoor cat food brands make kitten formulas as well as adult formulas.
BLUE Freedom Grain-Free Kitten Dry Cat Food
Blue Freedom indoor kitten dry food* that's grain free and made with real deboned chicken.
It also contains DHA (docosahexaenoic acid) to support brain development in your kitten.
Royal Canin Feline Health Nutrition Kitten Instinctive Thin Slice in Gravy Canned Cat Food
The vet-recommended Royal Canin Feline Health Nutrition Blend* makes a canned kitten food that has small chunks in a texture that's easy for kittens to eat.
It also contains antioxidants to boost the immune system of kittens in the 4-12 months of age growth period. The perfect choice for a growing feline!
Instinct Grain Free Recipe Natural Wet Canned Cat Food by Nature's Variety
The kitten recipe Instinct for indoor cats* is made with real chicken, plus beef liver and salmon for healthy exposure to multiple proteins.
It's grain free and contains DHA for brain development. Your kitten will thrive with this high-protein, grain-free food.
Choosing the Best Cat Food for Indoor Cats
You have many choices when it comes to the healthiest cat food for indoor cats.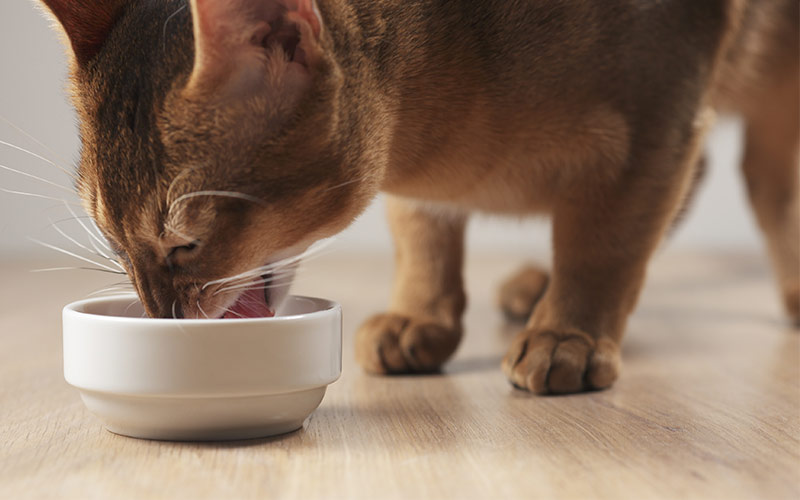 The best cat food brands for indoor cats offer both wet and dry food options, as well as specially-designed formulas for adults, kittens, and seniors.
Whatever indoor cat food you choose, keep in mind that all cats require a diet that's high in animal protein and low in fat and carbs.
If you have a less active or overweight indoor cat, be sure to reduce portion size and choose a moderate calorie food.
Some indoor cat foods contain added ingredients to improve digestion and reduce hairballs. Choose foods with added special ingredients based on the needs of your individual indoor cat.
And remember that in addition to the right food, play and exercise are key elements in keeping your indoor cat happy and healthy!
For another useful guide, check out how much to feed a cat!
Affiliate link disclosure: Links in this article marked with an * are affiliate links, and we may receive a small commission if you purchase these products. However, we selected them for inclusion independently, and all of the views expressed in this article are our own.
References and Further Reading
Loyd, K.A.T., Hernandez, S.M., Abernathy, K.J., et al. "Risk Behaviours Exhibited by Free-Roaming Cats in a Suburban US Town." Veterinary Record, 2013.
Scherk, M. "Optimizing an Indoor Lifestyle for Cats." Veterinary Focus, 2016.
The Ohio State University Indoor Pet Initiative (https://indoorpet.osu.edu/cats)
Dantas, L., Delgado, M.M., Johnson, I., et al. "Food Puzzles for Cats: Feeding for Physical and Emotional Wellbeing." Journal of Feline Medicine and Surgery, 2016.
Ohlund, M., Egenvall, A., Fall, T., et al. "Environmental Risk Factors for Diabetes Mellitus in Cats." Journal of Veterinary Internal Medicine, 2016.
Rowe, E., Browne, W., Casey, R., et al. "Risk Factors Identified for Owner-Reported Feline Obesity at Around One Year of Age: Dry Diet and Indoor Lifestyle." Preventive Veterinary Medicine, 2015.
Öhlund, M., Palmgren, M., & Holst, B. S. (2018). Overweight in adult cats: a cross-sectional study. Acta veterinaria Scandinavica, 60(1), 5. doi:10.1186/s13028-018-0359-7.