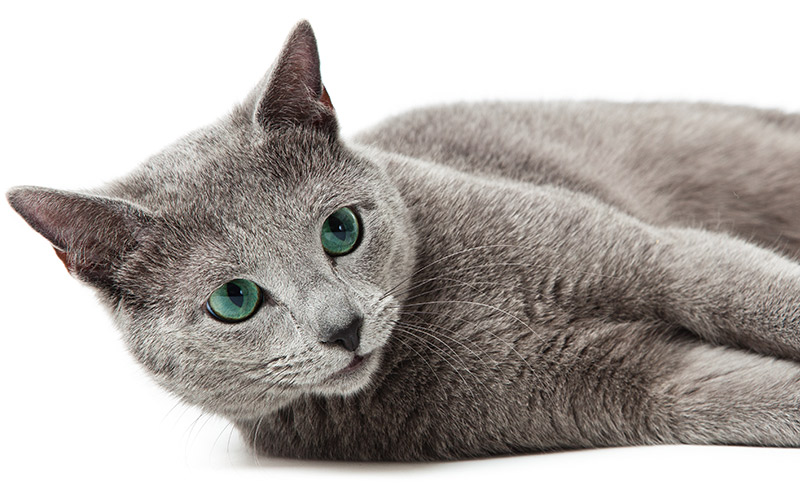 Russian blue cats are gorgeous, with beautiful coats and great personalities to match. Today I'll help you pick out the best names for your new friend, with ideas and inspiration as gorgeous as your new kitty is. Because this is a task that's important and difficult, right? But also fun. Your cat's individual characteristics can dictate which name fits, and we've collected a bunch of cool tags that could complement any Russian Blue kitten. We hope that they can inspire you to come up with something that works best for your cat!
Contents
Russian Blue Cat Names
When naming your cat, you can be inspired by lots of things. Book characters, for example. Superheroes. Favorite friends and family members even. Or, perhaps your cat has a funny expression that makes naming easy.
The options are pretty much limitless. So how can you choose? Our method is to break them down into batches by category. Then you can narrow the list based on your likes and dislikes, and choose the one you like best.
Is it her fur, gender, size, or eyes that inspire you? Do you want a short name, a long name, a funny name, a regal name? Do you wish to acknowledge her breed? Is it something your whole family likes? Is there a nickname that you prefer?
Male Russian Cat Names
Human names for animals can be very popular. And with Russian blues, it might be tempting to give yours a Russian name, right? You can find baby names on the Internet, both in English and Russian. Here are some we like for Russian blue cat males:
Addison
Alexi
Alyosha
Albs
Anatole
Arden
Barnes
Barrington
Bates
Beasley
Beck
Benson
Berkeley
Biff
Blake
Bogdan
Boris
Bowie
Boyce
Buster
Byron
Cadman
Calhoun
Chauncey
Colvin
Conrad
Dax
Dmitry
Dewey
Duke
Egor
Elvin
Farley
Forrest
Fyodor
Felix
Gavriil
Igor
Ilya
Isaac
Ivan
Jai
Jalen
Jasper
Jax
Kazimir
Kir
Kolya
Konstantin
Kuzma
Langston
Leo
Lester
Lyosha
Max
Melvin
Mikhail
Milton
Nikolai
Norton
Oliver
Oscar
Oswald
Ogden
Pasha
Palmer
Petya
Phineas
Poe
Prince
Pyotr
Radley
Ranger
Riley
Ridley
Sasha
Sammy
Sawyer
Sebastian
Sergei
Simon
Tobias
Tyler
Vadim
Vanya
Vladimir
Vova
Wiley
Yuri
Zander
Female Russian Blue Cat Names
If you have a girl cat, you can definitely pick some beautiful names in both English and Russian! Here are some options of monikers traditionally used for humans.
Alexandra
Alina
Anastasia
Anna
Asia
Audrey
Ava
Babushka
Callie
Camellia
Celeste
Claudia
Clementine
Daria
Dasha
Diana
Dominique
Elena
Eve
Fay
Gloria
Gracie
Gypsy
Harley
Harper
Haven
Holly
Hope
Heather
Inga
Irina
Isolde
Ivy
Jazz
Joy
Katerina
Kiana
Klara
Kimber
Kristina
Larissa
Lily
Leia
Lola
Lucy
Ludmilla
Lydia
Madison
Margarita
Marina
Marley
Maya
Mishka
Nadia
Natalya
Natasha
Nina
Nika
Nikola
Odessa
Olga
Oksana
Olesya
Paige
Paulina
Piper
Raven
Regina
Riley
Sadie
Sabrina
Serena
Shelby
Sofia
Sonia
Stella
Svetlana
Sydney
Tanya
Tasha
Valeria
Valentina
Vera
Veronica
Victoria
Viola
Violet
Wynne
Zoya
Zoey
Of course, this isn't even close to a complete list. Hopefully, you can use these to start getting inspired!
Cool Russian Cat Names
You can also name your cat based on descriptors of personality, color of fur, or color of the eyes. Russian blue cats tend to come in shades of gray, from shimmering silver to slate. They're so pretty, why wouldn't you use their color as an inspiration? Or, choose the day you adopted your cat, or the month! Does your cat like certain foods? Is he mischievous? Does she remind you of a favorite literary character or celebrity?
Angel
Archer
Ash
Azure
Belle
Beryl
Blossom
Cinder
Cleo
Cloud
Cyan
Dove
Dusty
Eban
Grey
Grayling
Indigo
Jasmine
Maverick
Midnight
Misty
Opal
Pearl
Puck
Rain
Rogue
Sable
Sapphire
Shadow
Tiger
Twila
Silver
Sky
Slater
Smoky
Star
Stormy
True
Tempest
Velvet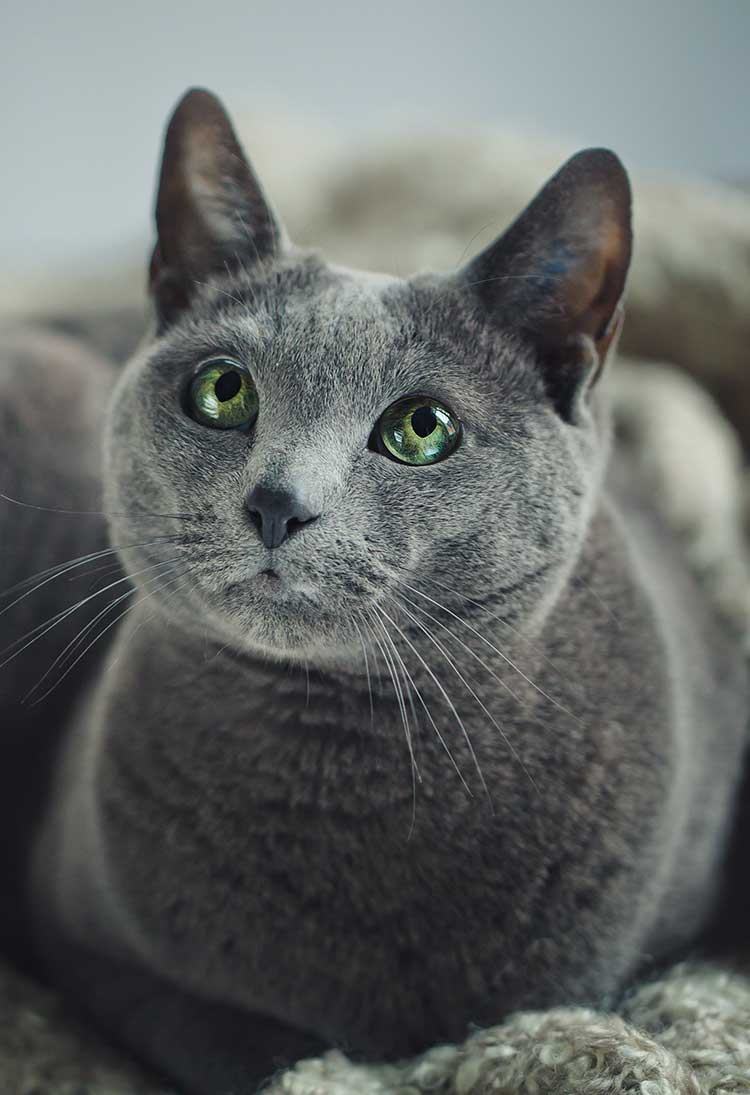 Unique and Unusual Ideas
Russian blues are so unique and personable, so why not choose a moniker that's a bit unusual for your boy or girl cat?
Berlin
Brunswick
Celeste
Czarina
Esme
Ghost
Gorky
Hunter
Heathcliff
Isis
Juno
Koschei
Koshka
Kotyenok
Loki
Luchik
Mazarine
Muse
Nightingale
Ninotchka
Onegin
Otto
Pushkin
Rurik
Sakharok
Solzhenitsyn
Salem
Sheba
Siren
Tigra
Names As Sweet At They Are?
You don't have to be silly if you want to give your kitten a cute name. Sometimes, just words that sound adorable or fun can fit the bill. And since all Russian blue cats are adorable, you're all set now. Right?
Baba Yaga
Bublik
Bubbles
Cuddles
Iris
Nibbles
Ninja
Jiggles
Lucky
Masha
Merlin
Moussa
Oxford
Pepper
Periwinkle
Poindexter
Popova
Pickles
Pixie
Poppy
Precious
Puff
Raskolnikov
Romeo
Sasha
Sparkle
Sputnik
Sprite
Tatlin
Twinkle
Zolushka
Funny Russian Blue Cat Names
In my family, we tend to name our cats with mostly regular-sounding names, but they end up with funny nicknames, like Miss Sassypants or Grumpycat. Funny names can show off your sense of humor, so if you really want to name your cat something out of the ordinary, go for it!
Blueberry
Boo
Bruiser
Buffy
Christian
Clyde
Cobalt
Earl Gray
Dolly
Dorian Gray
Duchess
Empress
Fluffy McFluffypants
Frankenstein
Inky
Jellybean
Kandinsky
Kitty
Lady Jane Gray
Lickers
Monster
Poof
Schrodinger
Stiva
TabithanTurbo
Winky
Whiskern
Vodka
Vron
Zelda
Best Names for A Russian Blue Cat
So, what's the truly best name for your blue Russian kitty? It's the one you like, that you can live with as long as you cat is with you. Choose the one that suits your pet, your family, and your life.
We've given you lots of ideas – hope you found something you liked! But in case you haven't decided, that's okay! Sometimes, the name will just come to you as your cat's personality develops after you get him home.