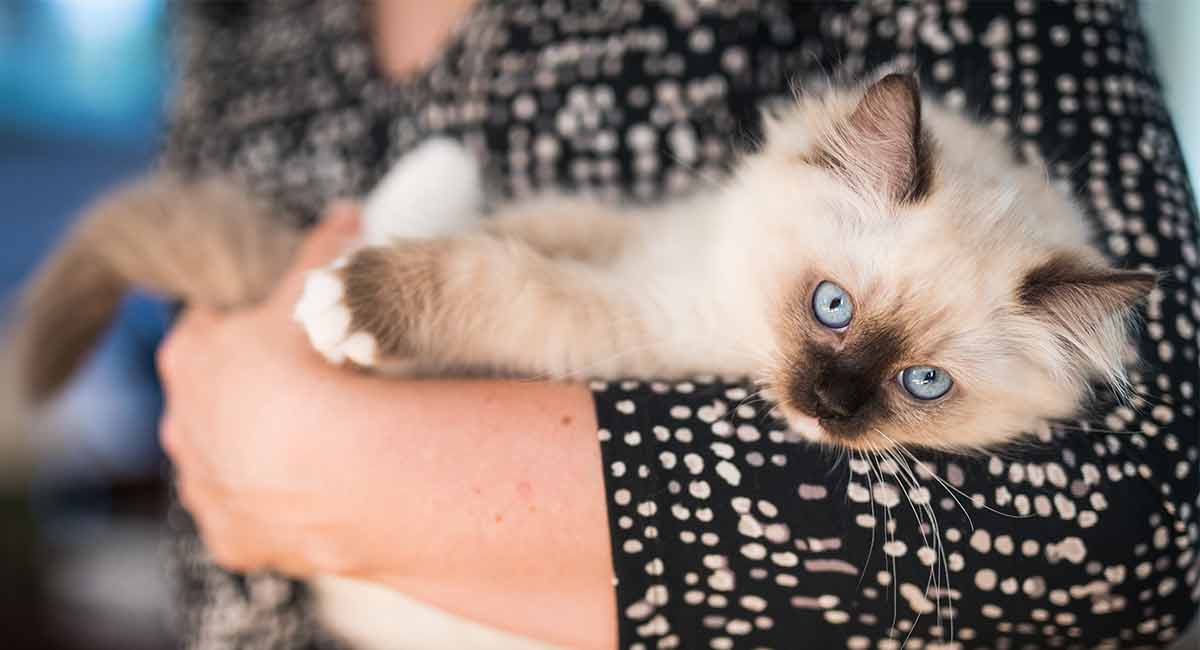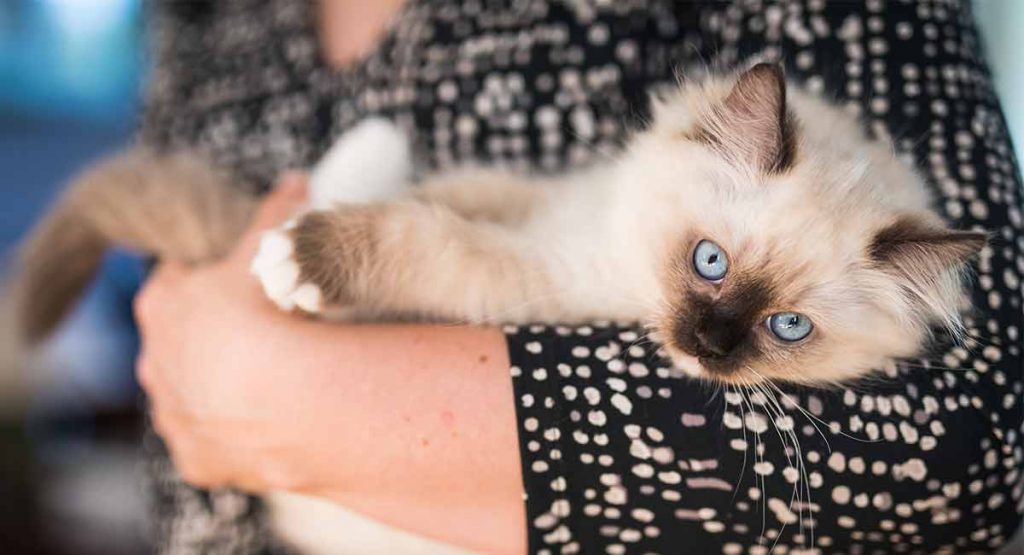 Ragdoll cats are at the large end of the scale for pet cats, but there weight has quite a range. 10 – 20lbs is the breed guideline, with neutered males the biggest and females nearer the bottom. That's a pretty wide variation, but fortunately our kind readers have shared their real cat's weights with us so that we can see how their size actually changes as they grow up.
Contents
Ragdoll Cat Weight Chart
Up the left hand side of the chart is weight in pounds, and along the bottom is age in months. We looked at cats aged 24 months and below, in order to show how a kitten's weight changes during their main growth and development period.
The scatter graph has a fairly typical cone shape though there are clusters at 5 and 24 months where we had the most information. It would be nice to have more data points from kittens of other ages.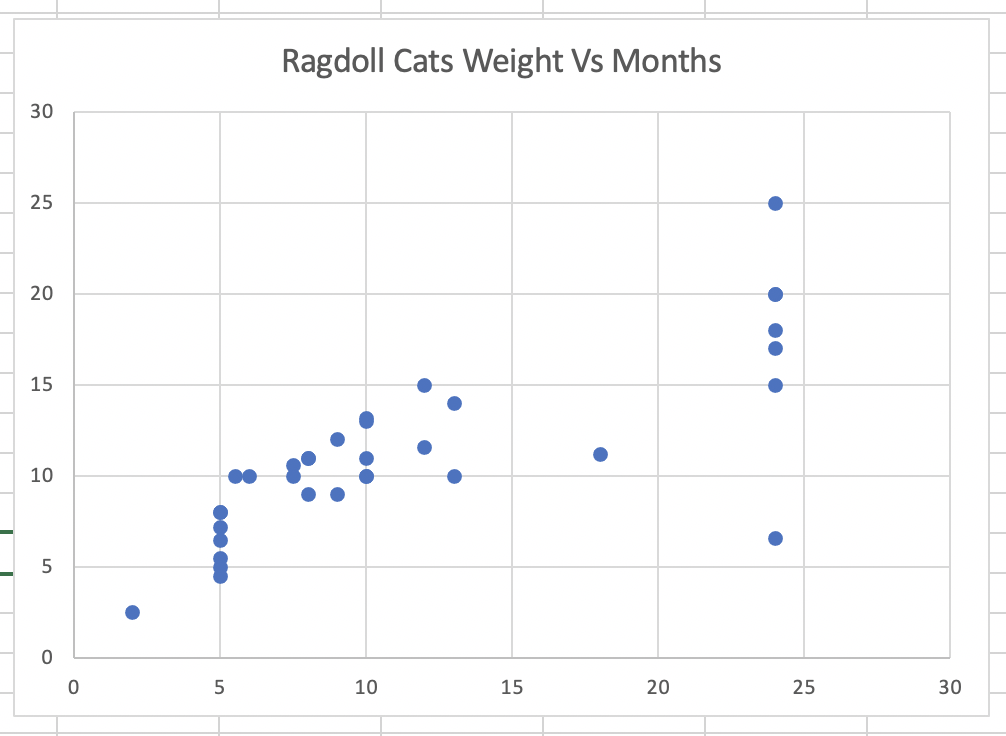 As you can see, the variation in weight is indeed quite wide. With most two year old cats falling between 15 and 25 pounds. We didn't separate males and females, it would be good to do that when we have more data, so don't forget to add your kitten's age and weight below!
Differences between Ragdoll cats and other breeds
The other significant difference between Ragdolls and many other breeds is their size. The average domestic cat weighs somewhere in the region of 10 pounds once they are fully grown. An 8 week old kitten usually weighs in at about 2lbs
At 12 weeks old, most kittens will weigh around 3 pounds. Ragdolls on the other hand tend to be larger.
Ragdoll cat size
While some families take their kittens home at 8 weeks, many breeders of pedigree cats prefer to wait until kittens are 12 weeks old.
By this point, kittens are no longer reliant on their mothers and usually settle in well with their new families. They are also less vulnerable to injury – kittens are a massive tripping hazard, and at 8 weeks are very tiny.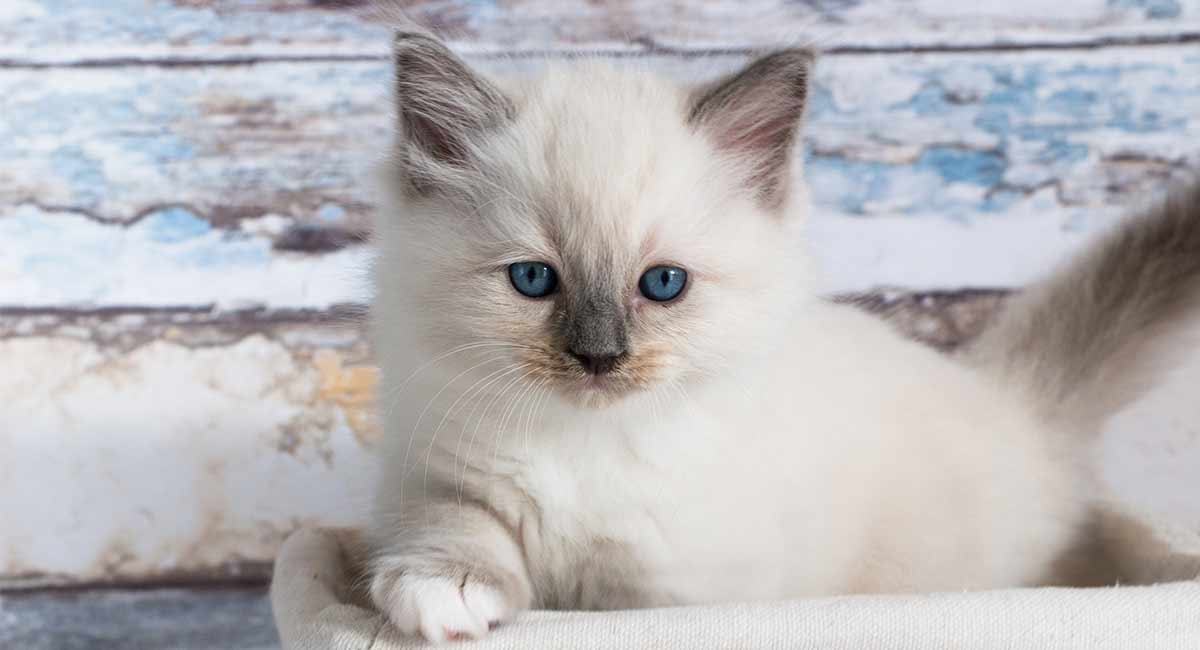 Kitten Weight
At 8 weeks old, a Ragdoll kitten will likely weigh between 1.5 and 2.5 lbs. By 12 weeks, this has increased to the range of 3 to 4 pounds. So, while they're not dissimilar to other kittens at this stage, you'll find your kitty will mature to be taller and heavier than the average domestic cat.
You can see on our chart that by 5 months of age, many Ragdoll kittens have had a large growth spurt and are now 5-9lbs in weight. Rapid growth makes kittens hungry so you may find you need to increase their food at this point.
After this mid-year spurt, your kitten's growth will start to slow down.
Weight Gain And Growth
As a rough guide, your Ragdoll kitten will probably gain one pound for each month of their life, up until they are 12 months old. And grow more slowly thereafter for the following year or so.
If your cat is a male they are likely to reach between 15 to 20lbs, with females weighing around 5 pounds less than this.
Is My Cat Overweight?
Cats have a reputation for being fussy, but cats from this breed are usually good eaters. It can be difficult to know whether your cat is just big boned, or whether they are actually piling on a few too many pounds.
The feel test is a good one. If you run your hands gently along your cat's sides, you should be able to just about feel their ribs underneath a layer of muscle and fur.
There should also be plenty of ground clearance underneath your cat, and they should be agile and find it easy to jump up on to beds and other furniture. If you are unsure, your veterinary practitioner will give you an honest opinion.
The average weight of an adult Ragdoll cat is around the 15lb mark. If your cat is much over 20lbs or much under 10lbs its definitely worth having a chat with your veterinarian, in case you need to step in and help them lose or gain a little weight.
Tall But Not Giant!
The average height of an adult male will usually be in the range of 9-12 inches. That does not include their elegant upraised tail! Females tend to be slightly smaller. These are taller than average cats, but just like their weight, there is quite a wide variation in height between cats of this breed.
Although the differences in height between Ragdolls and other cats isn't that great, if you are not familiar with the breed, it's probably enough to make you sit up and take notice when one of these elegant felines enters the room.