Homemade cat food is growing in popularity. It allows you to decide exactly what your pet is eating, and monitor their calories and nutrition completely. But is home cooked food better for cats? And just how hard is it to prepare your cat's meals from scratch?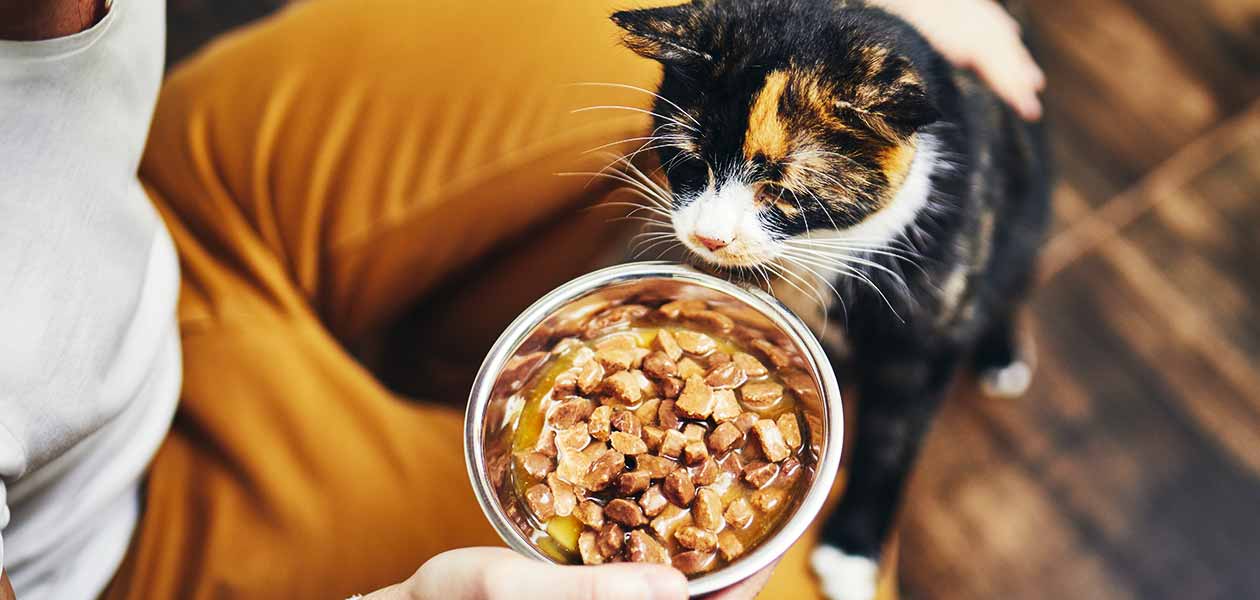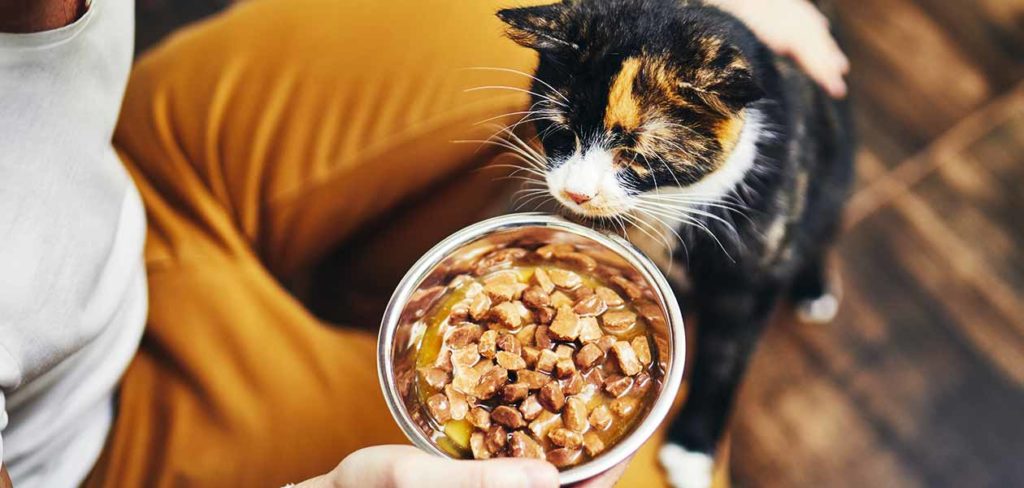 Today we are going to take a look at whether homemade cat food is the right fit for your cat, and give you some tips for preparing your own home cooked cat meals safely.
Home Cooked Vs Raw
When we talk about homemade cat food we are usually referring to home cooked meals rather than raw feeding, which is a specialist topic of its own.
Many cat owners have a medical, ethical or philosophical interest in preparing their cat's meals themselves. But there are a lot more ways to get it wrong than to get it right, so careful planning is vital. Cat's don't like to go hungry or without the right nutrients!
How Many Cats Are Fed Home Cooking?
Very few cat parents choose to feed their felines an entirely homemade diet. In fact, one survey of cat owners in the U.S. and Australia found that 98% of cats ate commercially available wet or dry food for more than half of their meals.
However, some vets report anecdotally that the proportion of cat owners electing to serve home prepared meals has notably increased since then.
Why Choose To Cook For Your Cat?
Even though only a small number of people feed their cat homemade meals, there are still a lot of reasons which can lead them to make that choice.
Some people are worried about the quality of commercial cat foods. For example, they might have concerns about:
artificial flavorings, colors and preservatives
whether food is still safe, following recalls by manufacturers
or contamination with harmful substances (such as mercury ) during the manufacturing process.
There are some owners who think their cat will reject commercial diets because they have finicky tastes. And other owners who would simply prefer to know, and have control over, everything which goes into their cat.
A Positive Choice
For some, creating home cooked meals for their cat is positive choice.
Many of us enjoy cooking for our loved ones. And some pet parents enjoy the act of preparing a meal for their cat, as an expression of their love.
Medical Advantages of Homemade Food
There can sometimes be good health reasons to choose a homemade diet. Some cats have one or more health conditions which make it difficult or impossible to match them with a suitable commercial diet. For those cats, a vet-approved recipe can be tweaked and tailored for their own unique needs.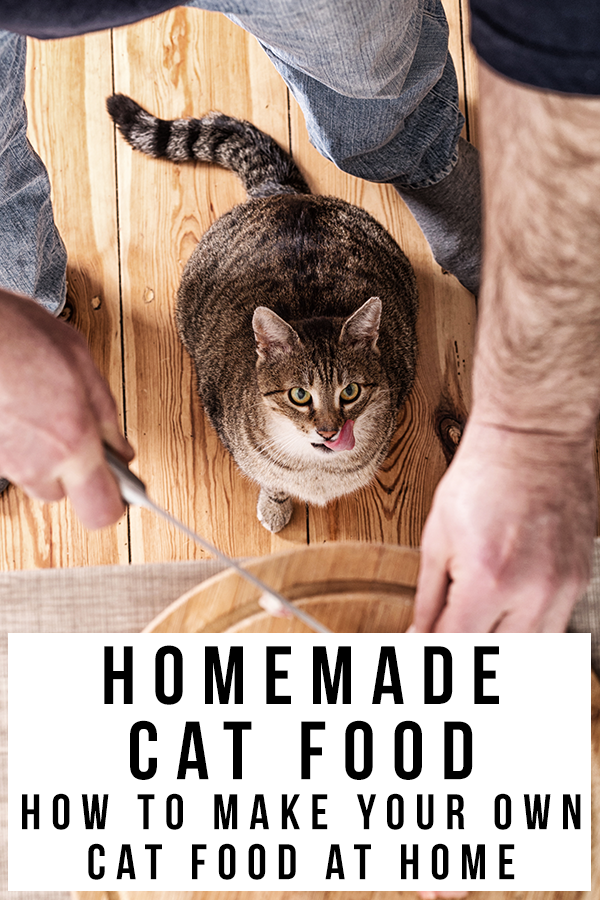 Furthermore, if your cat has suspected food allergies, then limited ingredient homemade meals are a good way to narrow down what's triggering them.
Partly homemade meals can also help nurse a sick cat back to health. For example, adding a little warm gravy to their regular meals might make the dishes more palatable. This could encourage a sick cat to eat.
The Drawbacks Of Home Cooked Cat Food
With so many reasons to take the plunge, what should hold you back from preparing all your cat's meals in future?
The first drawback is time. Drawing up suitable recipes, sourcing the ingredients. Preparing them, storing them and defrosting or reheating them. These tasks all take up time.
The next problem is finding and preparing the ingredients. As we'll see in a moment, healthy homemade cat meals include almost the whole carcass of a smaller animal. It's not enough to just cook some meat which is mainly muscle. Getting the right range of nutrients means different types of organ meat too.
Next is storage. You'll need plenty of space in a fridge or freezer for storing future meals.
And finally there's the cost. Commercial cat foods are made economically on a large scale. How much you can replicate that will depend upon how much space you have.
You might also need to pay for new kitchen equipment, like a meat grinder.
Overall, it has to be said that preparing cheap, nutritious cat food at home is challenging. Especially in the short term.
Your Cat's Oral Health
It's also interesting to note that there's a clear link between homemade cat food and an increased risk of oral health problems.
For example a build up of plaque, tooth decay, and gum disease.
Dry commercial cat foods are very good at scraping away plaque and the bacteria which live in it while your cat chews.
But most homemade diets don't work like that.
So if you'd like to give your cat homemade meals, it's likely your veterinarian will also recommend brushing their teeth. You'll probably need to do this once a day with a specialized toothbrush and toothpaste.
The Biggest Problem With Home Cooked Cat Food
Perhaps the biggest problem with most homemade cat foods at the moment is simply that people keep getting them wrong.
Let's look at some more stats from that survey of pet owners in the U.S. and Australia:
Less than 30% of owners giving their cat homemade meals said they prepared them to a recipe specifically designed for cats.
Of those 30%, only half were using recipes provided by a qualified veterinarian.
The rest came from web pages written by non-veterinarians. Or another undisclosed source.
What's the problem with this?
Shortcomings In Cat Food Recipes
The problem with cat owners finding recipes from unqualified sources is that they're frequently vague. Or nutritionally unsuitable.
For example, they might contain:
Too much much protein, which is closely linked to also being deficient in calcium.
Inadequate vitamins and minerals.
Too little fat. Or fat from unsuitable plant sources, such as olive oil.
Lack of detail about which cuts of meat to use.
Ambiguous information about cooking techniques, temperatures and time.
The American College of Veterinary Nutrition also warns of recipes that include unsafe ingredients, or rely on outdated nutritional advice for managing specific health conditions.
In 2012, a nutritional analysis of 28 homemade cat food recipes for cats with kidney disease was carried out. It found that none of them met all the recommended daily allowances of protein, essential amino acids, vitamins and minerals for adult cats.
Which meant they weren't suitable for long term feeding.
So what should a healthy home prepared cat food include?
What Does Homemade Cat Food Need To Include?
Cats are obligate carnivores. That means their bodies are only capable of digesting animal matter properly.
But 'animal matter' doesn't just mean meat from muscle, like a juicy steak, or store bought ground beef.
Meat from muscle is too high in protein. And it does not contain enough calcium to keep cats healthy.
It's also dangerously short of nutrients like taurine. Taurine is an essential amino acid which cats need in order for their heart, eyes, and digestive system to work properly.
So cat food should contain a balance of muscle, fat, organs and even bone in order to keep our cats healthy.
Home Cooked And Healthy
Healthy homemade cat food is tailor-made to your cat's life stage, dietary requirements and tastes.
It is also nutritionally complete. Which means it contains all the nutrients your cat needs, in sufficient quantities.
How can you be sure of making meals like these? By following these steps:
How To Make Cat Food At Home
Arrange a consultation with a member of the American College of Veterinary Nutrition (use their website to find one near you) to design a homemade diet suitable for your cat.
Prepare their recipes to the letter, without making any substitutions or improvisations.
Serve it in the correct portion size.
Keep an eye on your cat's body condition. And report any unexpected weight gain or loss to your vet.
And remember to clean their teeth!
For many people, the cost of the first step is enough to put them off.
If this is the case for you, then it might be better to stick to a nutritionally complete commercial diet for your cat, than attempt to "wing it".
Is Homemade Cat Food Better For Cats?
Home cooked cat food can have valuable advantages, but also drawbacks.
At the moment, it's clear that many cat owners preparing homemade food are relying on inadequate recipes.
There's no cheap option in the short run. You need to start by consulting an appropriately qualified vet to draw up a meal plan. And you'll probably need to invest in some new kitchen equipment.
But for those cat owners who do, there is an enormous sense of satisfaction and comfort in knowing that your cat is receiving the best possible meals for them.
Do You Cook Your Cat's Food?
What set you down that path, and what has your experience been?
Do let us know in the comments box down below!
More Cat Food Guides
References and Resources
The American College of Veterinary Nutrition
LaFlamme, Nutrition of Aging Cats, Veterinary Clinics: Small Animal Practice, 2014.
Case et al, Canine and Feline Nutrition, Mosby, 2011.
Zoran & Buffington, Effects of nutrition choices and lifestyle changes on the well-being of cats, a carnivore that has moved indoors, Journal of the American Veterinary Medical Association, 2011.
Weeth, Home prepared diets for dogs and cats, Compendium, 2013.
Buckley et al, The impact of home-prepared diets and home oral hygiene on oral health in cats and dogs, British Journal of Nutrition 2011.
Larsen et al, Evaluation of recipes for home-prepared diets for dogs and cats with chronic kidney disease, Journal of the American Veterinary Medical Association, 2012.
LaFlamme, Pet feeding practices of dog and cat owners in the United States and Australia, Journal of the American Veterinary Medical Association, 2008.
Gosper et al, Discrepancy between the composition of some commercial cat foods and their package labelling and suitability for meeting nutritional requirements, Australian Veterinary Journal, 2016.