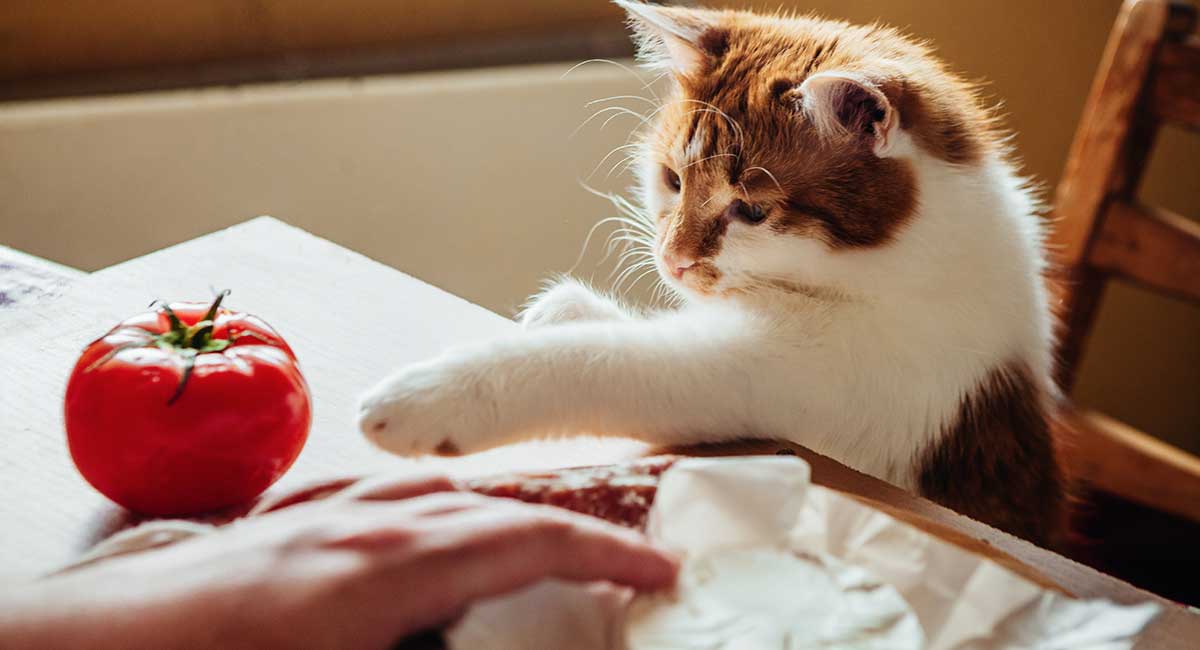 What human food can cats eat safely? Are there any risks involved with giving cats food made for humans? We take a look in this guide.
My roommate taught my cat to drink beer. This could be very dangerous!
More accurately, my cat taught her to share her beer. She'd take a sip and put the bottle down. He'd lick around the rim and then tap the bottle with his paw. You could practically see the speech bubble above his head demanding more.
Cats are so cute when we share our food with them, it's no wonder we enjoy seeing what they'll like. But it's not always the best thing for them.
What Do Cats Eat in the Wild?
No matter how much they like it, the fact remains that cats didn't evolve to eat cereal milk. Or marinara sauce or broccoli or whatever else your cat has developed a taste for.
Granted, if left to their own devices to scavenge, domestic cats will consume a diet that contains up to 80 percent human food. However, the further removed a cat is from human life, the less of that he or she will eat. In fact, true feral cats only tend to choose human food 50 percent of the time. Wild cats don't eat human cuisine at all.
By observing their hunting behavior, humans have learned that cats in the wild tend to gravitate toward small mammals as food. There's a good reason for that.
What Nutrients Do Cats Need?
Wondering what human food can cats eat will boil down largely to the nutrients they need. Cats are obligate carnivores. Their natural diet is high in protein, moderate in fat, and low in carbohydrates. They are so accustomed to using protein and fat to generate energy that even when meat is difficult to find, they can't properly maintain healthy blood glucose levels with other kinds of food.
Cats actually need more dietary protein than other omnivore species, including dogs. They also have a greater need for certain amino acids and vitamins that they can only get from meat. Vitamin A, for example, naturally occurs in animal tissue and is a necessary component of life-sustaining processes.
What Do Domestic Cats Eat?
Most domestic cats eat commercially prepared dry and/or wet cat food. Chicken is the most popular protein base in the United States where natural foods are becoming particularly popular, having reached 38 percent of dry and 33 percent of wet cat food sales by 2015.
These foods usually contain a combination of:
By-products of meat, poultry, and/or grain
fish meal
added vitamins and minerals
dietary fiber sources
dairy products.
Semi-moist foods and canned foods feature meats or meat by-products, but the nutritional value can vary significantly between brands.
Nutritional guidelines for cat foods come from the Feline Nutrition Expert Subcommittee of the Association of American Feed Control Officials (AAFCO), which also publishes nutritional guidelines to help pet owners understand what their fur babies' food contains.
AAFCO also collaborates with the US Food and Drug Administration (FDA) to develop labeling regulations. If a type of food carries an AAFCO-approved guarantee, experts consider it to be a balanced meal. For cats, these foods tend to have meat, meat by-products, or seafood among the first several ingredients.
Can Cats Eat Human Food?
Domestic cats can eat some of the same foods that humans eat. Human foods for cats are unlikely to be damaging as table scraps, provided that they are not provided in excess or prepared alongside indigestible or harmful foods.
That said, experts recommend against feeding your cat a homemade human-food diet without doing significant homework.
Searching for a published recipe may not be sufficient. A computer analysis of published recipes for pet foods showed that:
86 percent had an inadequate mineral balance
62 percent had a deficiency of at least one vitamin
55 percent did not include enough protein.
Even when the nutritional balance of a diet is correct on paper, variation in ingredients can make the diet incomplete. For example, if you use a recipe that calls for ground beef that is 20 percent fat and you choose a 10 percent fat product, the difference could affect your cat's health in the long-term.
A diet of human food for cats is also more expensive and labor-intensive than commercially prepared food, but dedicated owners can still make it work. In an article entitled "Unconventional Diets for Dogs and Cats" the Veterinary Clinics Small Animal Practice journal provides resources that can help you to prepare a homemade diet.
Now, if your cat is doing fine with commercial food and just likes some table scraps now and then, that's another story entirely.
What Human Food Can Cats Eat?
Some table scraps are okay in moderation, but some aren't. Some are mildly toxic and will likely lead to digestive upset, while others can cause more serious problems.
Toxins from the Table
Asking "what human food can't cats eat?" is just as, if not more important as asking "what human food can cats eat?". Chocolate is toxic to both dogs and cats, primarily because it contains high levels of theophylline and theobromine, both of which are methylxanthine chemicals. If consumed in high concentrations, it can cause central nervous system dysfunction and/or cardiac arrhythmias.
Onion contains toxic compounds that can harm red blood cells and cause a condition known as Heinz body anemia. It can cause harmful changes if a cat eats just 0.5 percent of his or her body weight in onions at once.
Avocado can cause fluid to accumulate in a cat's heart and lungs, causing oxygen deprivation. Science has not yet identified a lethal dose, so you should avoid giving any avocado at all to your cat.
Other popular foods that are harmful to cats include green tomatoes, green raw potatoes, grapes, and raisins. Do not give your cat table scraps that include any of these items.
The Dangers of Carbohydrates
Carbohydrates aren't flat-out toxic to cats. They do exist in a cat's natural diet, but in very low concentrations. They can, however, cause long-term negative health effects when consumed in excess, as veterinarians often see in cats whose owners free-feed them commercial foods that have too many carbohydrates.
Eating too many carbs can cause a cat to develop:
Obesity
Diabetes
Inflammatory bowel disease (IBD)
Dietary intolerances
Some of these responses depend on the carbohydrate source itself, while others simply develop when a cat eats more carbs than his or her body can handle. To be safe, avoid feeding your cat pasta, bread, or other high-carbohydrate human foods.
A Taste of Meat Is A-OK
So, what human food can cats eat? All of the foods your cat should stay away from don't mean you can never share food with your cat. A small bite of your Thanksgiving turkey is probably fine since poultry and poultry by-products are probably part of your cat's commercial diet anyway. The same goes for other simply prepared meat products or eggs.
Yes, it's hard to resist those big eyes and the plaintive "meow" that accompanies your consumption of kitty's favorite human treats. But remember, having something happen to your cat is even harder. Be strong, say no to the request to "haz cheezburger," and pass him or her some of the plainly prepared ground beef instead.
But not too much! Kitty is counting on you to keep him or her healthy.
References and Resources:
Biró, Z. et al, Feeding habits of feral domestic cats (Felis catus), wild cats (Felis silvestris) and their hybrids: trophic niche overlap among cat groups in Hungary, Journal of Zoology, 2005.
Kornreich B. Feeding Your Cat. Cornell Feline Health Center, 2017.
Kovalkovičová N et al, Some food toxic for pets. Interdisciplinary toxicology, 2009.
Michel, KE. Unconventional diets for dogs and cats. Veterinary Clinics: Small Animal Practice, 2006.
Zoran DL. The carnivore connection to nutrition in cats. Journal of the American Veterinary Medical Association, 2002.