Are you searching for the best catnip as a treat for your precious kitty?
We answer your most pressing catnip questions in this informative article!
You will also learn about the most popular forms of catnip and read recommendations about the best catnip products other cats love!
All of these products were carefully and independently selected by The Happy Cat Site team. If you decide to make a purchase from one of the links marked by an asterisk, we may earn a small commission on that sale. This is at no extra cost to you.
What is catnip?
Catnip, or Nepeta cataria, is a naturally-occurring wild herb.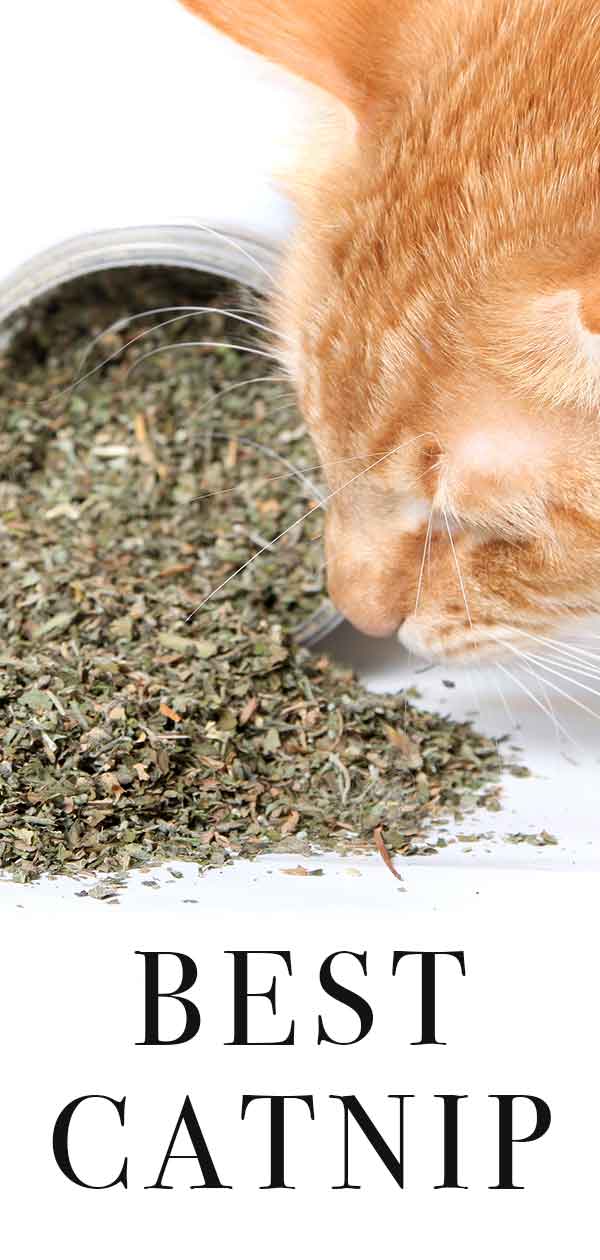 The plant has heart-shaped leaves and pretty white or purple/blue flowers, and it can grow to be three feet tall.
Catnip is a member of the mint plant family, which explains why it is sometimes also called catmint.
However, some veterinarians say its effect on the average feline is closer to cat LSD!
Happily, unlike LSD, catnip is widely considered to be safe for cats and research to date supports this assertion.
Catnip's effects typically last no longer than 10 to 15 minutes and the herb is not addictive.
The active ingredient in catnip is called nepetalactone.
This chemical compound is responsible for the random bouts of silly, euphoric behavior many cats exhibit after encountering catnip.
Nepetalactone activates the olfactory bulb and causes a reaction in the feline brain not unlike how a cat would respond to another cat who is ready to mate and is giving off pheromones.
Your cat may sniff catnip, lick it, or even eat it.
The reaction you see may be different depending on how your cat approaches the catnip.
Sniffing catnip
Common reactions to sniffing catnip include
rolling on the floor
drooling
rubbing against it
batting it about
doing flips
dilation of the pupils
running around madly
and vocalizing.
In many ways, catnip is essentially an intoxicant, which explains these reactions quite well.
After several minutes of this type of hyperactive behavior, the catnip effect will wear off and your cat may fall asleep to, essentially, "sleep it off."
But if you offer more catnip after your cat wakes up, you can expect to see the entire sequence start all over again!
Licking or eating catnip
If your cat licks or eats catnip, you are more likely to hear snoring, since ingested catnip tends to have a sedating effect on cats.
As you might imagine, this can make catnip a great tool for when you need to take your kitty to the veterinarian!
Different forms of catnip
The best catnip comes in many fun forms.
Loose dried leaves, sprays, dental chews, scratch pads, toys, live grasses, and treat balls are all common forms that are easy to find in pet stores or online.
There is also a new "cat wine" which is really a tea brewed from dried catnip leaves!
You may find your kitty prefers one form of catnip over all the others. Some kitties prefer to sniff catnip while others seem to prefer to eat it. And some cats like both!
SAFETY NOTE: In a minority of cats, exposure to catnip can cause aggression. If you are introducing a new cat to catnip for the first time, proceed with caution with your interactions until you know how catnip affects your cat. It can also be wise to remove other family pets – especially other cats – during your new cat's first exposure to catnip.
How to use catnip
There are so many ways to use catnip!
Catnip can make a great treat.
It can be a very effective training tool.
Catnip can calm your cat before and after stressful experiences like visiting the vet.
Catnip can also be a good aid for relieving feline separation anxiety and for encouraging exercise and active play if your cat is more of a couch potato or is having weight issues.
Veterinarians generally agree that "overdosing" on catnip is not anything to worry about.
However, if your cat eats too much catnip, this may cause illness.
Do all cats like catnip?
As it turns out, even the best catnip won't entice all cats.
Veterinarians estimate that anywhere from 50 to 75 percent of kitties are sensitive to catnip, which means that a cat enjoys catnip and is attracted to it.
But some kitties just don't seem to care about catnip.
Feline researchers believe that catnip sensitivity may be genetic (heritable) and this may explain why some cat breeds seem more prone to love catnip while others remain indifferent.
Choosing between varieties of catnip
The best catnip is always organic and all natural.
Whenever possible, you always want to opt for organic catnip grown in the U.S.A. This is the only way you can be sure that the catnip you offer your cat is free from pesticides, insecticides, herbicides, and chemicals.
The best catnip will be organic, all natural, free from fillers, artificial ingredients, preservatives, colors, fragrances, additives, or known allergens.
Reading the ingredients list will tell you whether the catnip product is 100 percent pure catnip.
You want to make sure to store fresh catnip in an airtight container in a cool, dark place or in your freezer to retain maximum potency. You can also easily grow fresh catnip if you have a home garden.
If you are not sure what is the best catnip to give your kitty or how much to offer, it is always a smart idea to ask your veterinarian for guidance!
Best catnip dried leaves
These fresh dried catnip leaves will liven up your cat's day – and yours!
Yeowww Catnip
This catnip* is organically grown in the USA.
It is a leaf and flower blend.
You can use it on its own or use it to refill any Yeowww catnip toy your cat plays with.
Frontier Co-Op Organic Catnip Leaf and Flower
If you have a multi-cat family, you will appreciate the larger quantity of fresh dried organic catnip* grown and harvested by an eco-friendly company.
This herbal blend includes leaves, stems, and flowers for maximum enjoyment.
Sojos Natural Pet Food Certified Organic Catnip
This lovely tin of organic catnip* is perfect for single-cat families.
It is grown in the USA in Washington state and a little goes a long way according to cat owners!
Best catnip spray
Many cat owners prefer catnip spray because it is neat and easy to use and – best of all – portable for travel and vet visits.
KONG Naturals Catnip Spray for Cats
This all natural catnip is steam-distilled* and made in the USA.
You can spritz it on toys, cat scratchers, your cat's bed, and anything you want your cat to notice!
Meowijuana Catnip Spray
This all organic catnip spray* is made of pure catnip oil and distilled water.
If you want to extend the life of scratching posts, cat toys or cat trees, a spritz of this should do the trick!
The spray is 75 percent organic catnip and 25 percent water.
From The Field Catnip Spray Rejuvenator
This all natural catnip spray* is made from catnip essential oil and distilled water.
The catnip is guaranteed 96 percent potency (contains the active ingredient).
Best catnip cat scratcher
A catnip cat scratcher is a great way to teach a new cat what a cat scratcher is supposed to be used for!
Catit Scratcher with Catnip
This cat scratcher* comes in two widths, narrow and wide.
The included packet of dried leaf catnip can be sprinkled directly on the scratcher to train a new kitty on how to use it or entice your cat to come check it out!
FATCAT Big Mama's Scratch 'n Play Reversible Cardboard Toy
This unique cheese wedge-shaped cat scratcher* includes a suspended detachable cardboard toy and a packet of enticing dried catnip to lure your cat over to play.
Petstages Cat Scratcher Cat Hammock Cat Scratching Post
This neat cat scratcher doubles as a cat hammock*, which will be perfect for a nice snooze after your kitty has enjoyed the included catnip and is ready for a rest!
Best catnip treats
Catnip treats are a great addition to your cat's regular treat rotation, especially since these treats also help keep your cat's teeth clean!
Temptations Blissful Catnip Treats for Cats
These super-popular and highly rated catnip treats* contain catnip powder along with other nutrients.
The treats are designed to be crunchy outside to help remove tartar and plaque buildup as your cat chews.
EMERALD PET Cat Catnip Dental Grain Free Treats
These catnip dental treats* can help to keep teeth, gums, and tissues clean by removing bacteria, plaque, and tartar buildup.
The treats are free from known allergens, artificial preservatives, and fillers.
They are just 2 calories per treat.
Cat-About by MiracleCorp Gimborn Single Cat Grass
If you have the interest, you can grow your own fresh catnip cat grass* for your kitty to enjoy!
This treat makes it easy – the organic catnip buds will grow right from the container.
Best catnip
We hope this article has helped you to choose the best catnip treats for your precious fur baby!
If you've got a catnip product which never fails to send your cat into fits of ecstasy, tell us about it in the comments section!
Affiliate link disclosure: Links in this article marked with an * are affiliate links, and we may receive a small commission if you purchase these products. However, we selected them for inclusion independently, and all of the views expressed in this article are our own.
References and Further Reading
Turner, R., "How Does Catnip Work Its Magic on Cats?," Scientific American, 2018. 
DePorter, T., et al, "Nepeta Cataria: An Overview," Feline Behavioral Health and Welfare, 2016. 
Block, K., et al, "Crazy for Catnip," The Humane Society of the United States, 2018. 
Zielinski, S., "Catnip's Effect on Big (and Little) Cats," Science: Smithsonian, 2010.