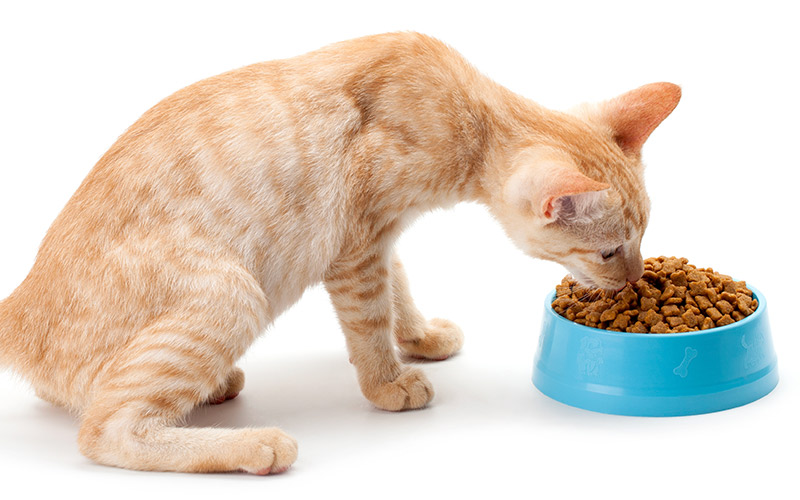 Welcome To Our Complete Guide To The Best Dry Kitten Food. Letting You Know How To Feed A Kitten Dry Food, With Reviews Of The Best Dry Kitten Food Brands.
You are the proud new parent of the world's cutest petite ball of fur.
Your heart swells with love and pride every time you look at your precious kitten.
You just want to be sure to provide only the best of everything as she grows up into a lovely, strong, healthy cat!
Picking out a good dry food for kittens is an important part of the weaning process.
But with so many kitten dry food brands to choose from, how will you ever know which one is the best dry kitten food for your fur baby?
Not to mention that you've heard that kittens and dry food don't mix. Is this true?
If so, how come there are so many types of dry kitten food options available in pet stores and online?
We will answer all of these questions for you here!
By the time you reach the end of this article, you will know when, why and how to feed your new kitten dry food.
You will also learn about some of the best rated dry kitten food brands to consider feeding your kitten!
Can you give a kitten dry food?
First things first: can you actually give a kitten dry food? The short answer is YES.
In fact, this is something you absolutely want to do once your kitten begins the process of weaning away from nursing and towards eating solid kitten food.
The longer answer to this question, of course, is a bit more detailed.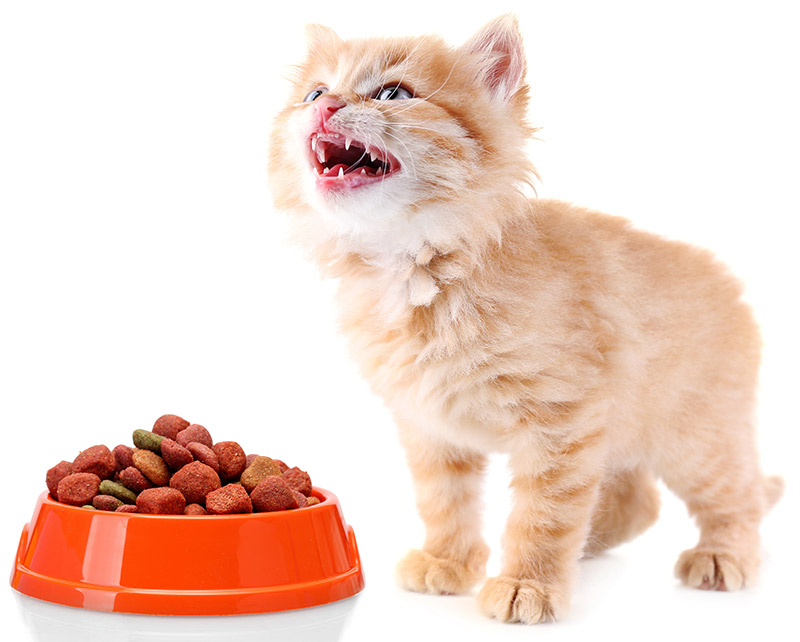 For starters, if your kitten is very young and is not yet weaned from nursing, you can expect this process to begin around two and a half to four weeks after his birth.
At this time, you can start offering your kitten soft dry kitten food kibble (moistened with a bit of water) and/or you can mix dry kitten food and wet kitten food together (this will also soften the dry kibble naturally) to assist your kitten through the weaning process.
It is important that your kitten does get used to eating dry kitten food regularly for a few very important reasons:
Dry cat food is portable and travel-friendly in a way that wet food often is not.
Cats that get used to eating both dry and wet foods, and different flavors of each, will be less picky eaters as adults.
The process of chewing dry kitten food will help naturally loosen up plaque and clean your kitten's teeth with each feeding.
How to feed a kitten dry food
So how exactly do you go about feeding your new kitten dry kitten food? Here are some helpful hints:
At first, always soften dry kitten food kibble by mixing it with some water or with wet kitten food.
Not only does this make dry kitten food easier to chew, but it ensures more moisture goes into your kitten, lessening the threat of a urinary tract infection (UTI) that can be caused by not drinking enough water.
If the kibble bits are big (adult cat-sized), break them into smaller pieces.
Everything is smaller in a kitten, including their teeth and jaws, and you don't want them to struggle to chew as this may put them off dry food or cause digestive disturbances.
Offer the dry kitten food either as free-feed (available all day long) or at least four times per day.
Do this whether you mix the dry food with wet kitten food or water to soften it at each feeding.
If you have been feeding your older kitten one type of food and you want to switch it, do NOT mix it with your kitten's old food – this may put him off both foods!
Rather, alternate the two foods, steadily decreasing portion sizes of the old while doing the opposite with the new.
For more specific information about feeding a kitten, we invite you to review this excellent and comprehensive article on the topic!
Choosing the best dry kitten food
It won't take you long to notice how many brands proudly proclaim themselves to be top rated kitten dry food brands, making the choice challenging!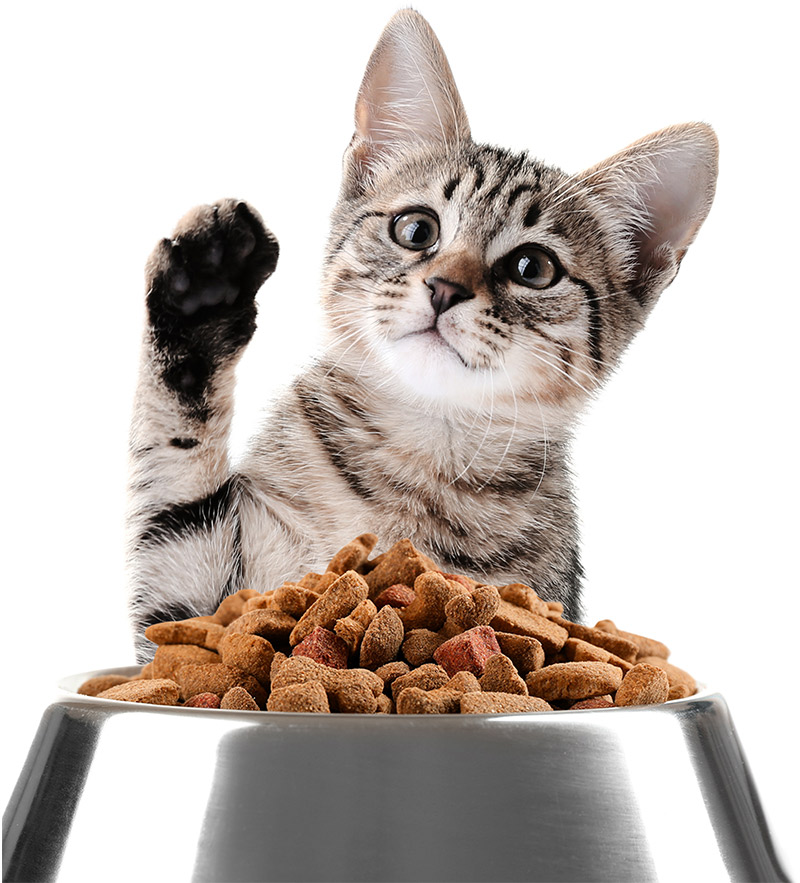 But here, it is important to know that choosing the best dry kitten food for your trusting little fur ball doesn't have to be difficult.
Here are some tips to help you make quick work of choosing the best dry kitten food!
Ask your veterinarian for recommended dry kitten food brands.
Ask for a recommendation for at least 2 to 3 brands, and plan to switch them up every six months or so, which will help your kitten get used to different foods and flavors and be more open to any necessary (vet-indicated) food switches or short-term diet plans later on in life.
Read the ingredients lists with care.
Cats are more likely to develop food-specific allergies than dogs. However, a cat is also more likely to have an allergy to fish than to grains! Here, unless your kitten already has a known food allergy, the most important aspect of picking out a good dry kitten food is to look for whole food ingredients with added taurine and plenty of vitamins and minerals.
Look for an AAFCO statement.
AAFCO stands for the Association of American Feed Control Officials, and it verifies that any pet food brand marketed specifically as "kitten food" will have demonstrated its ability to meet a growing kitten's nutritional content needs through food trials and testing.
Look at the protein and fat content closely.
Kittens need more protein and fat than adult cats or senior cats. So here, look for a kitten food that is specifically formulated to be high in protein (at least 10 grams daily) and fat (at least 4 grams daily) and low in carbohydrates.
Best kitten dry food brands
These well-known and trusted best kitten dry food brands are often recommended by veterinarians.
Hill's Science Diet Kitten Indoor Chicken Recipe
Science Diet produces a top-rated kitten dry food as well as an adult cat dry food.
The brand is very deliberate about developing recipes with balanced nutrients for different cat ages and stages of life.
The kitten dry food recipe contains plenty of pre-biotic fiber and antioxidants plus vitamins C and E to help your kitten's immune system develop optimally.
As well, veterinarians state that Science Diet is their first choice for feeding their own pets (reported by the manufacturer, based on an annual survey).
You can choose from a 3.5-pound, 7-pound or 15.5-pound bag.
Wellness Complete Health Natural Dry Kitten Food
Each bag of Wellness Complete kitten food is fully backed by the manufacturers own satisfaction guarantee.
The ingredients are all natural with added taurine (important for your kitten's heart and vision development) with no soy, corn, wheat, animal by-products, artificial flavors or colors or preservatives.
This formula is specifically designed for kittens aged 12 months or younger.
Choose from a 2.9-pound or 5.9-pound bag.
Royal Canin Feline Health & Nutrition Mother and Baby Cat Dry Food
Royal Canin is one of the best dry cat food for kittens options, since it is designed specifically for cat moms who are lactating as well as kittens up to four months old.
It is chock-full of important minerals, antioxidants and vitamins such as taurine, Vitamins E and C and lutein, plus pre-biotics to ease your kitten's digestive transition from mother's milk to solid foods.
The kibble bits are quite small and can be moistened to help kittens eat them more easily.
Choose from a 3.5-pound or 7-pound bag.
Good dry food for kittens
These brands each feature kitten-specific recipes that are grain-free and include taurine and plenty of vitamins and minerals. Each option represents a potentially good dry food for kittens as they grow up.
The organic option is a particularly good choice for any breeds with known food sensitivities. Since ingredients must also be free of sometimes irritating trace chemicals present in some non-organic ingredients that can bother some kittens and cats.
Organix Grain Free Organic Dry Healthy Start Kitten Formula
The Organix Grain Free all-organic healthy kitten dry food formula is grain free (no corn, soy or wheat), which can be important for a kitten's still-developing digestive system.
Kitten owner ratings are high as a good dry food for kittens. It is made in the U.S.A. and certified by Oregon Tilth. It comes in a 4-pound bag.
Merrick Purrfect Bistro Healthy Kitten Grain Free Dry Cat Food
The Merrick Purrfect dry kitten food comes highly rated from kitten owners.
It is enriched with essential fatty acids, minerals, probiotics, vitamins and antioxidants and boasts a 74 percent protein content. The manufacturer states that this formula is designed to meet the nutritional needs of kittens ages 12 months and younger.
It comes in a 7-pound bag.
Blue Wilderness Kitten Grain-Free Chicken Dry Cat Food
The highly rated Blue Wilderness dry kitten food is made with only de-boned real chicken (no by-products), sweet potato and plenty of antioxidants, vitamins, minerals, amino acids and Omega-3 and 6 fatty acids.
This food contains no artificial ingredients, wheat or soy. You can choose from a 2-pound or 5-pound bag.
Soft dry kitten food
The best way to offer your kitten soft dry kitten food is simply to choose the kitten dry food you want to serve and then moisten it with some water or by mixing it with wet kitten food.
This will make dry kitten food more palatable and easier for your kitten to chew, which can be very confidence-building during the weaning period!
Nutro Max Cat Kitten Dry Food Roasted Chicken
Cat owners say Nutro Max is a very good soft dry kitten food in terms of both taste and ease of eating.
The small kibble bits have thin ends and are easy to crunch, and you can easily wet them down to make a soft dry kitten food that is very palatable and healthy.
There are no chicken by-products, just real chicken meal plus vitamins, minerals, antioxidants, amino acids and Omega-3 and 6 fatty acids. It comes in a 3-pound bag.
Check it out on Amazon here.
IAMS Proactive Health Kitten Dry Cat Food
IAMS is a trusted name in pet food and pet supplies and is vet-recommended according to the manufacturer.
This kitten food is designed to meet the needs of kittens aged 12 years or younger. It is formulated to mimic the nutrient balance of a mother cat's milk.
Kitten owners say softening the kibble with a bit of water or milk works perfectly and their kittens love it.
Purina ONE Healthy Kitten Formula Premium Dry Cat Food
Purina ONE is another trusted name in cat food and supplies and is vet-recommended. This food is designed to match the formula of a mother cat's milk. It also contains DHA, an ingredient found in mother cat milk.
This food doesn't contain any fillers but does contain lots of vitamins, minerals, and amino acids.
And best of all, cat owners say their kittens love the taste.
Best grain free kitten dry food
Many brands are now offering grain free kitten dry food. As more cat owners become worried about potential allergies to grain.
What this means for you is that you have lots of choices. More options when selecting the best grain free kitten dry food for your little bundle of furry joy!
These three brands are high in protein and fat, as well as low in carbohydrates. And come packed with taurine. Along with the essential vitamins, minerals and nutrients a growing kitten needs to thrive.
CANIDAE Grain Free Pure Elements Cat And Kitten Formula Food
The Canidae kitten grain free dry food is made with just eight key ingredients and no grains to help ease the transition during weaning.
Only whole foods (chicken, turkey, lamb, fish meal, peas, potatoes, plus probiotics, vitamins and minerals) are used. This is to help a kitten's still developing digestive tract work optimally.
It comes in a 2.5-pound or 5-pound bag.
Check it out on Amazon here.
Instinct Original Grain Free Recipe Natural Dry Kitten Food by Nature's Variety
The Instinct Original kitten-specific food is 81 percent protein and healthy oils and 19 percent vegetables/fruits and whole foods.
It includes plenty of DHA, vitamins and minerals and zero grains. Protein comes from chicken, fish, lamb, turkey and salmon. It comes in a 4.5-pound bag.
Check it out on Amazon here.
Wellness Natural Pet Foods TruFood Baked Blends Natural Grain Free Dry Raw Kitten Food
This Wellness Natural kitten dry food contains 70 percent whole-chicken protein and no fillers, soy, artificial ingredients, preservatives or grains.
It is made in North America and the manufacturer offers a satisfaction guarantee. It also contains vitamins, minerals, amino acids and probiotics.
Check it out on Amazon here.
Should you make your own dry kitten food?
Generally speaking, veterinarians and feline experts advise against making your own dry kitten food. Kittens have very specific nutritional needs that include certain vitamins, minerals, amino acids, antioxidants and essential proteins and fats.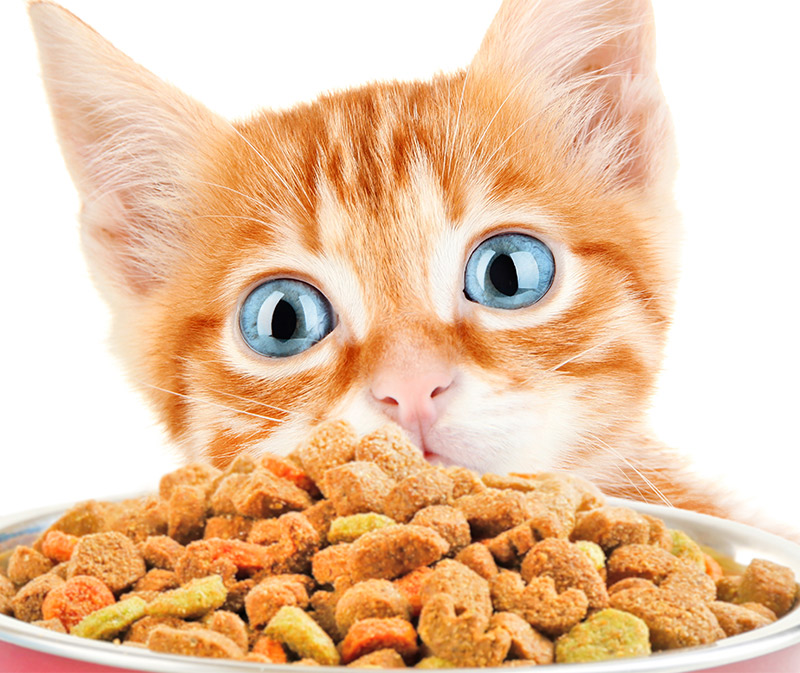 It can be difficult (if not impossible) to duplicate these precise nutritional needs in a home-prepared kitten food. If you feel strongly that you want to make your own dry food to feed your kitten, please talk with your veterinarian first!
A word about kittens and water
When you feed your kitten dry kitten food, be sure to always provide clean, fresh water day and night. This is critical whether you moisten your kitten's dry food with water or not.
Your kitten needs to drink plenty of pure water to help in the transition from nursing to eating solid kitten food, and also to avoid health issues linked to dehydration.
Best dry kitten food
We hope you have enjoyed this article on the best kitten dry food!
More importantly, we hope reading through the information provided here has answered many of your questions and helped you choose a dry kitten food you feel confident offering to your precious kitten!
We would love to hear about your kitten's favorite dry kitten food! Please take a moment to share your kitten's favs in the comments section here!
Resources and Further Reading
Eisenschenk, M., MS, DVM, DACVD, Veterinary Dermatologist, "Food Allergies and Food Trials for Dogs and Cats," Pet Dermatology Clinic, 2017.
Bukowski, J. Al, DVM, MPH, PhD, et al, "Kitten Care, Merck Veterinary Manual, 2016.
Beitz, D. C., et al, "Your Cat's Nutritional Needs: A Science-Based Guide for Pet Owners," National Research Council of the National Academy of Sciences, 2006.
Lawler, D.F., "Neonatal and pediatric care of the puppy and kitten," ScienceDirect: Theriogenology, 2008.