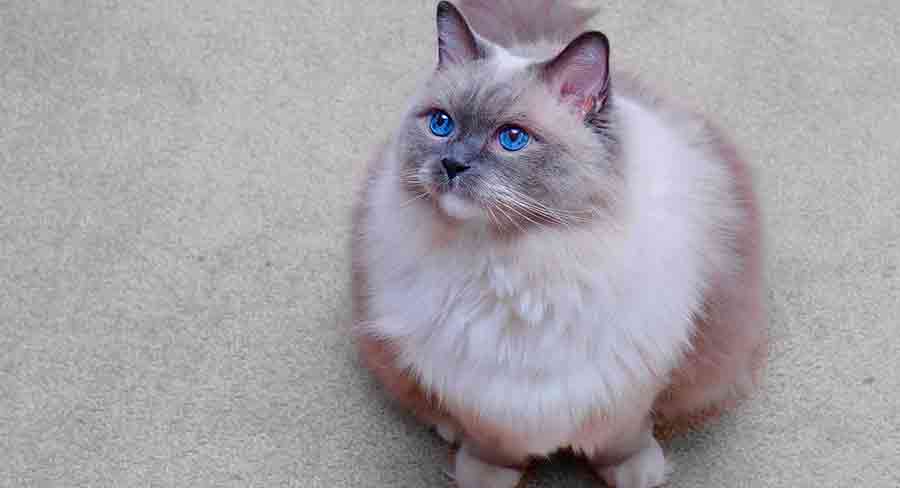 Blue mitted is one of the many possible Ragdoll color and pattern combinations accepted by their official breed standard. Blue point mitted Ragdolls have slate grey points, pale grey bodies, and bright white mittens on their paws. In this complete guide to the blue mitted Ragdoll cat, I will share what makes this pattern so special, and whether blue mitted Ragdoll kittens grow up to be good pets.
Contents
What Does A Blue Mitted Ragdoll Cat Look Like?
A blue mitted Ragdoll is a Ragdoll cat with a very specific combination of coat color and pattern.
Blue
Blue is the second most common Ragdoll cat color. Of course, it isn't literally blue like the sky! It's actually a cool (as in not warm), shade of pale grey.
Points
A common question from our readers is 'are blue mitted Ragdolls pointed?' And the answer is yes! Even though the color point pattern is slightly obscured by the mitten pattern, it is still there in the background.
Ragdoll cats are a color point breed, which means they produce pigment most densely on their muzzle, ears, legs and tail – also known as their 'points'. On the rest of their body, including their belly, the pigment is so dilute that the fur looks almost white. Due to this background pattern, a blue mitted Ragdoll is also sometimes called a blue point mitted Ragdoll. However, since a solid blue mitted Ragdoll without a colorpoint background would be vanishingly rare and not accepted by the breed standard, including 'point' in the description is largely unnecessary.
Mitted
The mitted pattern is a series of white patches on Ragdolls' paws, chin, and sometimes nose.
Front paws. The white patches on their front paws usually just cover their feet, and look a bit like they're wearing white mittens, hence the name.
Back paws. The white patches on their back paws the white patched extend further up the legs, like knee high white socks.
Chin. The white patch on their chin should extend all the way to the practically-white underside of their belly.
Nose. Some mitted Ragdolls also have a small white patch on their nose, shaped like either a star, diamond, hour-glass or plain line in one patch or broken. For a blue mitted Ragdoll cat to be of show quality, this patch should be central and symmetrical.
Blue lynx mitted Ragdoll
A blue mitted lynx Ragdoll also has blue colorpoint markings and white patches in the mitted pattern. But, the blue areas also have visible tabby stripes within them, and they have the characteristic tabby 'M' in darker stripes on their forehead.
Do blue mitted Ragdolls have blue eyes?
Have you seen a blue mitted Ragdoll kitten with beautiful blue eyes, and now you're wondering if they're going to stay that way? Well yes they will! Blue eyes are a characteristic of all Ragdolls, whatever their color or pattern.
Blue mitted Ragdoll cat fact!
Despite the Ragdoll being officially recognised by the main U.S. cat breed registry since the 1960s, mitted Ragdolls have only been accepted for registration since 2006, and they have only been eligible to compete in championship shows since 2008.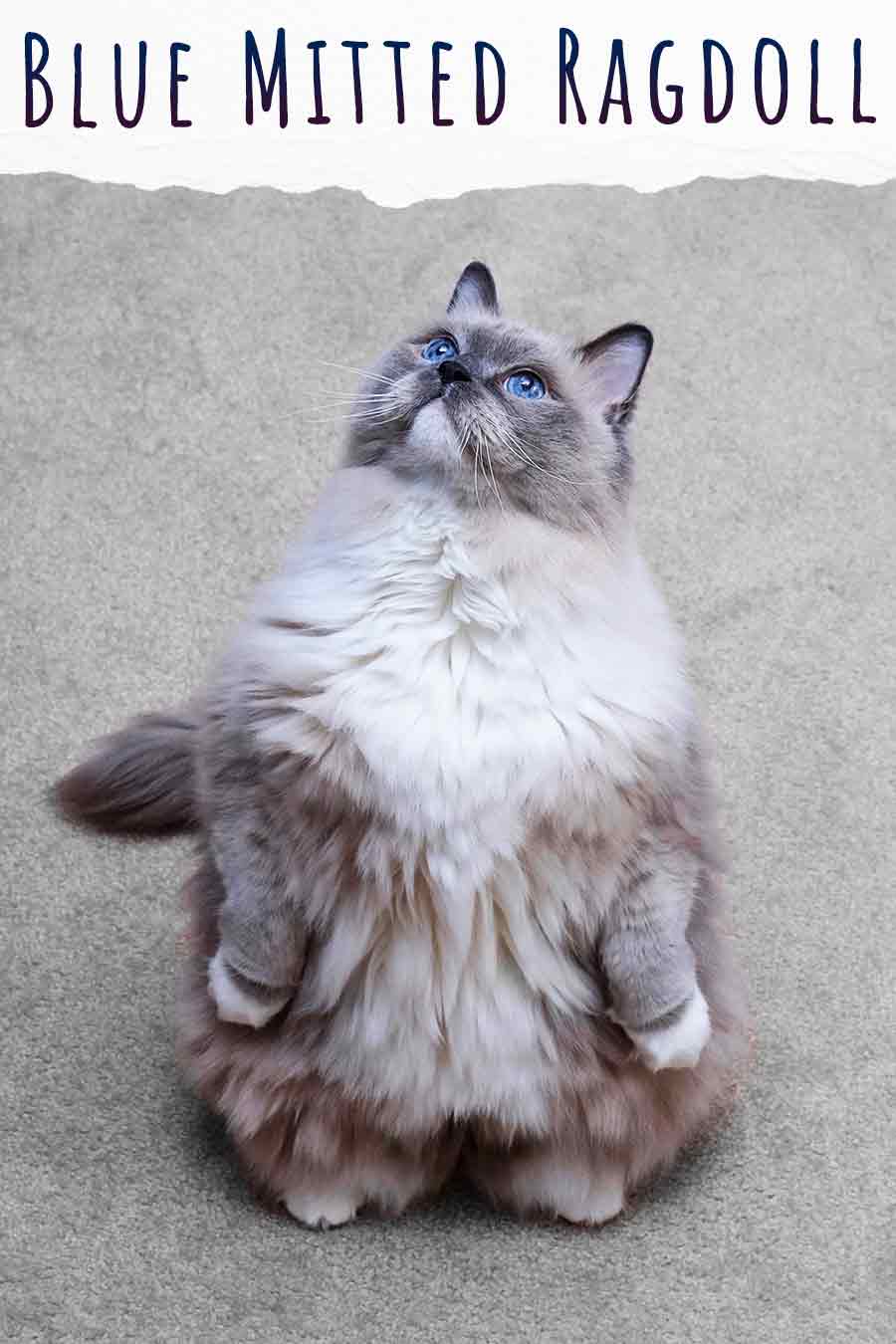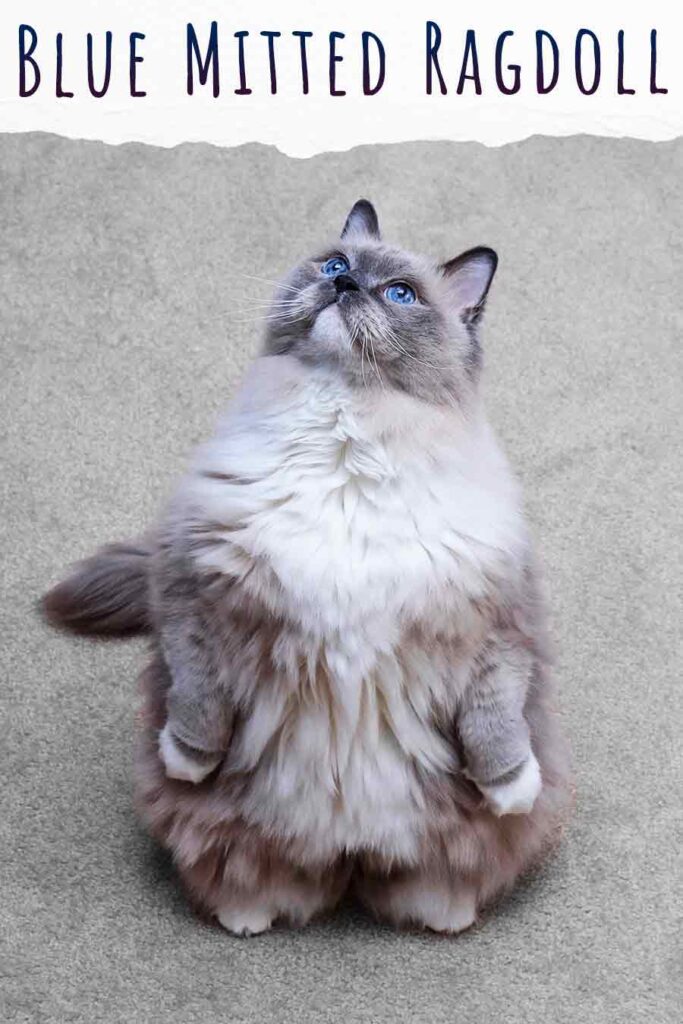 Blue Mitted Ragdoll Genetics
The blue mitted pattern is the product of a very particular genetic recipe. Looking more closely at that recipe is a fascinating insight into just how special and remarkable the blue mitted pattern is. So let's do that – but don't worry, we won't make it overcomplicated!
Dilution genes
Firstly, the blue color is produced by the genes for seal color interacting with a special dilution gene. Seal is the 'default' Ragdoll color, and kittens must inherit a copy of the dilution gene from both of their parents in order to express it. So, a blue Ragdoll tends to be less common than a seal point Ragdoll.
Colorpoint genes
All blue Ragdoll cats express a gene for temperature-sensitive albinism, which is rather unintuitively abbreviated to cs. This gene blocks production of pigment in the coat where the surface temperature of the skin is warmest, and causes the color point pattern. Since the color point pattern is temperature sensitive, you might notice that if you live in a very warm climate your cat's points are less deeply pigments than in pictures of blue mitted Ragdoll cats you've seen online. And if you live in a very cold climate, your Ragdoll might even produce pigment in places where colorpoint cats usually do not, such as on their back.
White spotting genes
A mitted cat's mittens are produced by white spotting genes. It's thought that there are a series of white spotting genes, each causing bigger white patches than the last. The mitted pattern represents the smallest amount of white spotting. If the patches were any bigger, the cat would be a blue bicolor Ragdoll instead.
Did you know?
Blue mitted Ragdoll kittens are born completely white! In fact, all Ragdoll kittens are born white all over. The mitted pattern is already there, but disguised by the absence of color point markings. The color points will start to appear when they're about a week old, and develop until they're about 3 months old. During this time, the outlines of their white patches will also reveal themselves.
Color vs Temperament
Ragdolls are famous for their personalities. They are so sociable and affectionate that they are frequently described as being more dog-like than cat-like. They are also sometimes described as velcro cats. Ragdolls adore human companionship, and frequently follow their owner around. If you let your Ragdoll roam outdoors via a cat flap, you might even have to be careful leaving the house, in case they try to follow you!
For a long time there was a persistent myth that Ragdoll cats go floppy when picked up. This isn't actually true. But, Ragdoll cats do tend to be quite laid back and chilled out about being handled. However this is actually the result of selective breeding from ancestors with laid back personalities, and careful socialization in kittenhood by knowledgeable breeders. Ragdolls are also quite playful, and clever too. They can even be trained to follow simple commands and taught to play games like fetch.
The good news is that all of these traits apply equally to Ragdolls in any color or pattern. There's no evidence that a blue mitted Ragdoll cat will be any different. A blue mitted male Ragdoll is more likely to scent mark his environment, pick fights with other males who enter his territory, and roam in search of a mate than a female. But these are all sex behaviors observed in male cats of all types.
Does This Pattern Have Health Problems?
There's no evidence of the blue mitted Ragdoll coat pattern affecting a cat's health either. Ragdoll cats are a medium to large breed, weighing between 12 and 20 pounds. Like all breeds on this scale, they are somewhat prone to orthopedic problems including hip dysplasia. Hip dysplasia is a malformation of the hip joint, which causes painful arthritis. It is a hereditary conditions, although environmental factors can also affect how severely cats are affected. To protect future litters of blue Ragdoll kittens, potential breeding cats should be checked and cleared for hip dysplasia before mating takes place.
Ragdoll cats are also somewhat prone to the heart condition hypertrophic cardiomyopathy (HCM), which is a thickening of the muscles in the heart wall, so that it pumps less efficiently. Cats should be screened for HCM before they are sued for breeding, and good breeders can show proof of this.
Finally, Ragdolls' long fur is vulnerable to matting, which can be painful indeed. In the next section we'll look at how a diligent grooming routine can prevent that.
Blue Mitted Ragdoll Grooming
A blue point mitted Ragdoll doesn't need any more or less grooming than any other Ragdoll. But all Ragdolls need regular help with their coat to keep it free from dirt, debris, mats and tangles. Elderly and overweight cats in particular may need help combing hard-to-reach areas. Luckily, their unique temperament means they're usually quite amenable to being brushed, and regard it as a luxurious pampering session with you! It's a good idea to brush them every week from the moment you bring them home, to get them used to being groomed by you.
Your Blue Mitted Ragdoll
Blue Ragdolls are a slightly unusual but strikingly beautiful variation of of the Ragdoll breed. They're bound to receive compliments and questions about their looks, but their temperament should be reassuringly like the temperament of all other Ragdolls.
Do you have a blue point mitted Ragdoll? Or perhaps your blue Ragdoll kitten surprised you by revealing white mittens when their color developed? Whatever your story, please share it with us in the comments section down below!