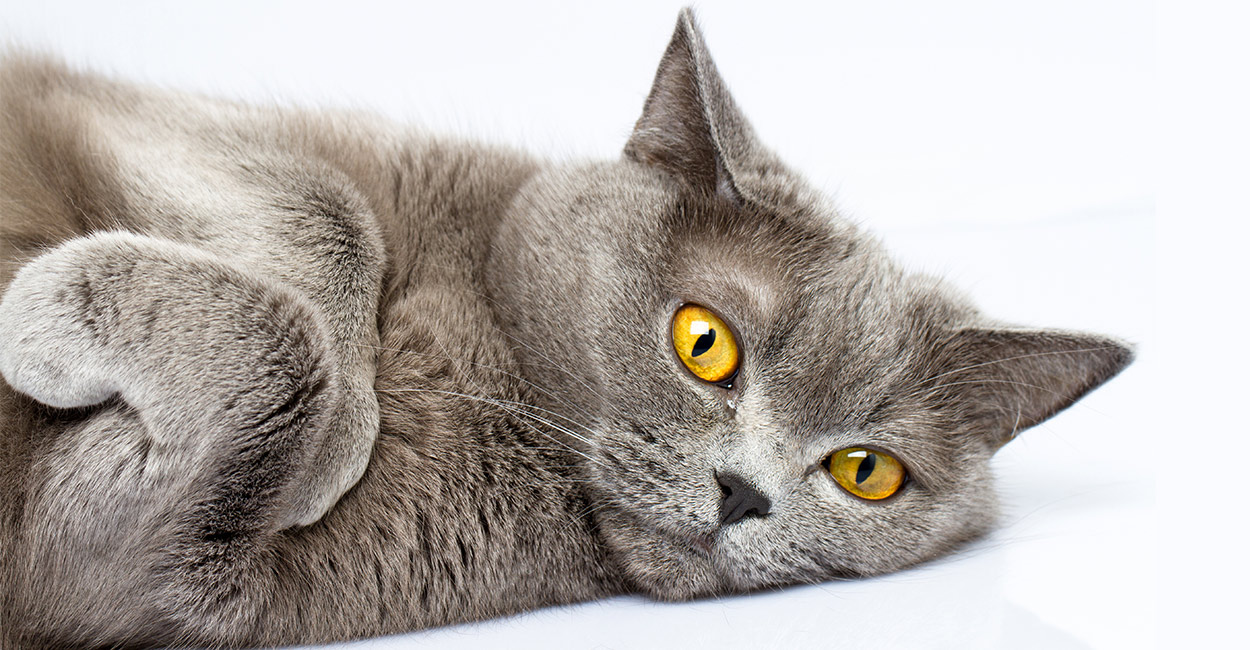 The British Shorthair is both one of Britain's oldest and most enduringly popular cat breeds. This cat is often described as teddy bear like, and this description is as much about personality as about appearance. If you are seeking a calm, self-contained cat that is also loving, affectionate and great within a diverse family setting, the British Shorthair could be your perfect match!
Contents
How The Breed Developed
The British Shorthair cat can trace its lineage all the way back to ancient Rome! Originally working cats, known to be accomplished hunters aboard ships and on the streets, this cat breed had a setback in the mid-19th century.
Only the dedication of breeders kept this cat breed moving forward, and in 1870, the breed was successfully re-established. In 1874, a British Shorthair cat named Brynbuboo Little Monarch won the Grand Championship of the Governing Council of the Cat Fancy.
It is said that every single British Shorthair cat alive today can trace their lineage all the way back to this particular cat!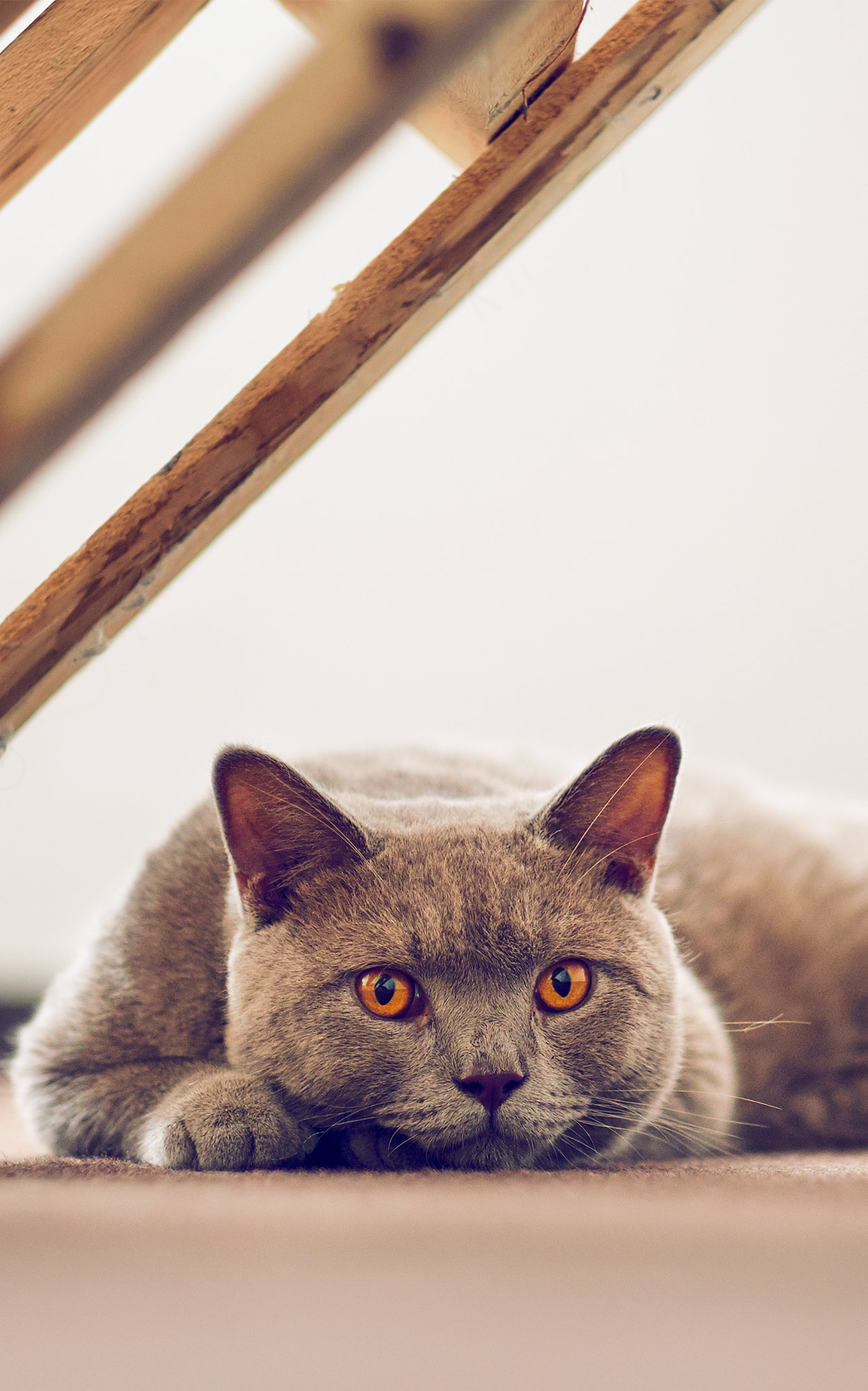 British Shorthair Cat Weight
This cat doesn't grow up quickly. It may take three or even five years for a British Shorthair adult cat to reach full weight and size.
The British Shorthair female typically weighs anywhere from 7 to 12 pounds (3.2 to 5.4 kg). The British Shorthair male typically weighs anywhere from 9 to 17 pounds (4.1 to 7.7 kg). An adult can stand 12 to 14 inches high (paw pads to shoulder).
Coat Colors
The popular British Blue is in fact a British Shorthair? The British Blue, has taken on an identity of its own with its distinctive grey-blue fur, but this cat breed can show more colors than just grey-blue. For example, the bicolor may be grey and white (cream). There is also a tabby, pure cream, black and white, calico, blue spotted, silver red spotted and pure white.
Their eyes are most commonly a distinctive copper-amber color. But the eyes can also be green, hazel, blue or even odd-colored (two different colored) eyes.
British Shorthair shedding
While the British Shorthair does have short fur, it is very dense and double layer.
The undercoat actually sheds more than the top coat does.
Overall, you will need to commit to regular brushing and grooming (twice per week is best) to keep shedding under control.
The overall look of this cat is sometimes described as feline bulldog because of their plush coat, stocky appearance and gait.
This is a very balanced looking cat overall when well-bred.
Personality and Temperament Traits
The British Shorthair cat personality is laid back, calm, easygoing, and at times downright lazy. Watching one lounging on the sofa, it can be hard to imagine them breaking a sweat hunting down rodents on military and trade ships! Perhaps this beloved cat knows that its working days are done now that it is established in the hearts of humans worldwide!
This breed is a great choice of feline if you have a family or other household pets. They love kids and can get along well with dogs and even more exotic pets.
These cats are relatively quiet and do not tend to vocalize too much.
Despite this cat's teddy bear looks, the British Shorthair really doesn't care much for being picked up or carried (although there are always exceptions).
Just because they don't want to be in your arms doesn't mean they don't want to be in your presence! This curious kitty will want to be where you are and involved in what you are doing. They will also need plenty of exercise and a strict diet to avoid this breed's tendency to overeat and gain weight.
Health
The British Shorthair cat can have a remarkably long lifespan among cat breeds. The average lifespan is around 14 to 15 years, but some cats have lived as long as 20 years!
Of course, the type of food you feed your cat, how much exercise and enrichment is available and regular attention to preventative veterinary care will all play their part in how long your cat is with you.
To date, no single cat breed is exempt from at least a handful of heritable health issues. The British Shorthair cat is no exception, although these cats are generally long-lived and healthy. Breeders have worked hard to strengthen the lineage and only pair healthy parent cats, which bodes well for you when selecting a kitten from a reputable breeder.
Conditions to watch out for are diabetes, gum disease, Polycystic Kidney Disease, heart problems and obesity.
Feeding Your Cat
The British Shorthair cat can be particularly prone to obesity, simply because it can be hard to tell if all that bulk is muscle or fat!
Also, once this cat reaches adulthood, their metabolism tends to slow down naturally, meaning the biggest risk of your cat becoming overweight begins after year five or once full height and weight is achieved.
However, the biggest danger is over-feeding during the first year of life, which some owners may do because they assume this kitten will be done growing in 12 months.
But the breed can take three to five years to reach full adult size and weight. So here, it is important to pay close attention to portion sizes and calories. This will help you to avoid over-feeding and too-fast growth, which can be very hard on the bones, muscles and joints.
British Shorthair Kittens
British Shorthair kittens temperament is typically lively, intelligent and active. When you are selecting one from a litter, look for clear eyes and ears, and even fur.
They should have a curious and confident demeanor. A willingness to interact and play with you, and littermates and to be handled.
British Shorthair cat breeders are not difficult to find, since this is a very popular cat breed! However, the price is one that can cause a bit of sticker-shock in some first-time owners of this breed. The range starts around $1,000 and can easily go up to $3,500 or more.