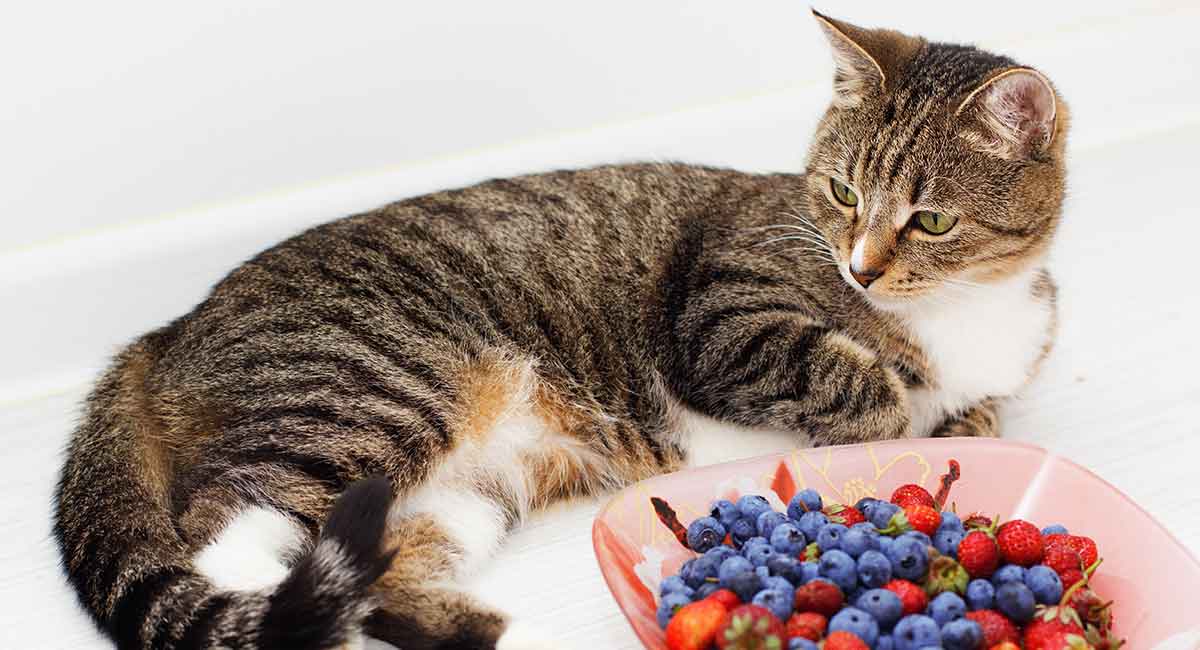 Can cats eat fruit?
Many fruits are safe for curious cats to try.
However, cats cannot digest fruit or vegetables efficiently. So they won't gain much nutritional benefit and shouldn't rely on fruit as a significant part of their diet.
Some fruits, including: grapes, raisins, citrus fruits, and cherries are toxic to cats, so they should never eat these.
Tomatoes are also a fruit! But you can read more about cats and tomatoes here.
Cats and Fruit
Fruit is tasty, healthy, and refreshing.
So as a pet parent, you may ask yourself, can cats eat fruit too?
If you are enjoying a fruity snack, you may be tempted to share a piece or two with your feline friend. But can cats eat fruit?
The good news is that cats can eat certain fruits. So long as you feed them in moderation.
But, while some fruits are perfectly safe for cats to eat, others are extremely dangerous. So owners need to proceed with caution.
First, let's look at what fruit is and why you may want to share it with your kitty.
What Is Fruit?
A fruit is the fleshy product of a flowering tree or plant that is sweet tasting, edible and either pulpy or succulent.
Some fruits such as apples, oranges, and cherries grow on trees. Whereas fruits like strawberries, watermelon, and grapes grow on vines.
Other fruits, which include raspberries and blackberries, grow on bushes.
A seed or seeds are inside the fruit, except for strawberries which have seeds on the outside.
But while wild bananas contain seeds, commercial bananas have been specially bred over the years to be seedless and grow from a bulb or rhizome.
Fruit Benefits
Eating fruit provides numerous health benefits for humans. But this doesn't necessarily mean cats can eat fruit with the same benefits.
Fruit consists of fiber that aids digestion as well as being rich in essential vitamins and minerals. This helps you feel energized and healthy, thus preventing many diseases and cancers.
Most fruits are low in fat, calories, and sodium and contain no cholesterol.
This makes them ideal for those on a diet. While the potassium content helps to maintain healthy blood pressure.
It is no wonder, then, as caring pet parents, we're interested in sharing this healthy food with our cats!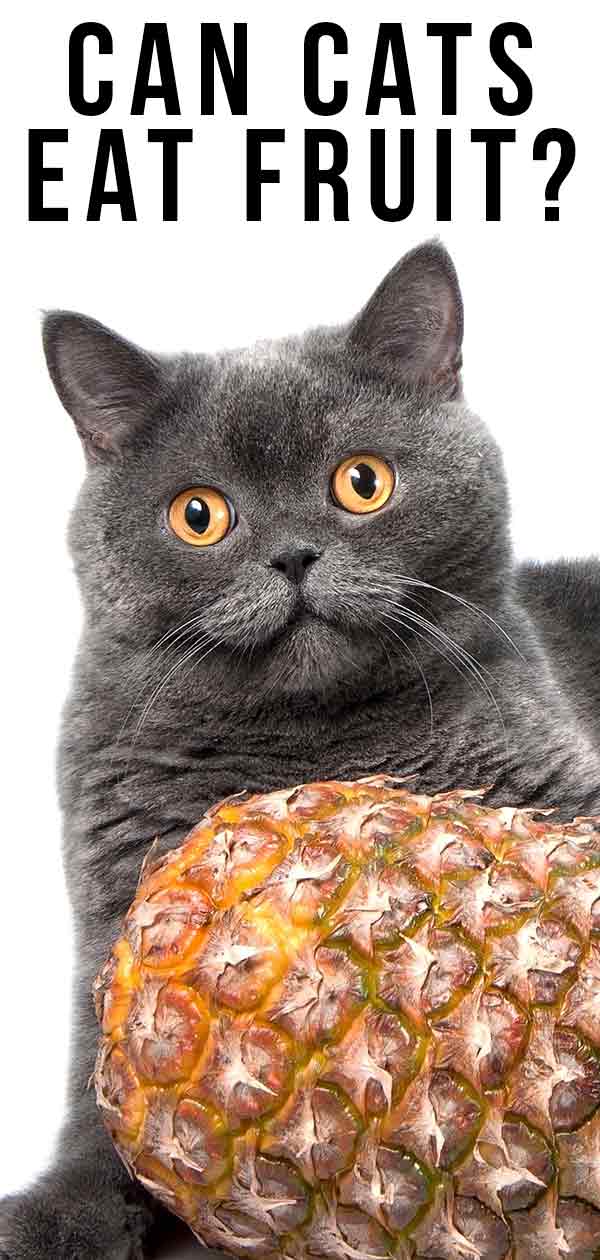 What Is a Natural Cat Diet?
It is vital to remember that cats are obligate carnivores. This means they rely on animal proteins and fat to meet their nutritional requirements.
A cat's intestinal tract is very short and not designed to digest plant fibers.
Felines also cannot develop specific amino acids that other animals can make from either an omnivorous or herbivorous diet.
The cat's digestive system evolved to accept a meat-based diet.
Only a small percentage of fruits and vegetables should be given to avoid nutritional imbalances.
Cats May Not Want Fruit
Cats crave animal proteins, which is what drives them to hunt.
Generally, if a food isn't meat, cats are not always interested. Plus, they consider fruit to be boring prey. So, although we've learnt cans can eat some fruits, they may not want to.
The other reason many cats show no interest in fruits is because they are unable to taste sweet flavors.
That said, cats do consume the occasional plant matter such as grass or the vegetation in the stomach of their prey. As well as chewing on catnip.
Is Fruit Good for Cats?
Fed in small amounts, fruit is harmless for curious cats. But it should never be considered as regular food for your kitty.
They do, though, make a healthy and refreshing alternative to commercial cat treats. But they should not make up more than 10% of the daily diet.
Benefits
Fruit is full of essential nutrients like vitamins A and C, folate, fiber, and potassium.
Vitamin A is vital for cats. It helps their night vision and maintains healthy skin.
But, cats do not require Vitamin C in their diet. As they produce all they need in their liver.
Potassium assists the proper functioning of muscles, enzymes, and nerves. Whereas folate helps the body make healthy new red blood cells.
And if your kitty is struggling in the litter box, she may benefit from a little extra fiber, found in a piece of fruit.
Fruits are also full of antioxidants, which assist in maintaining a healthy immune system.
But, if you feed your cat a healthy balanced diet, they do not need to get these nutrients from fruit.
Is Fruit Bad for Cats?
So can cats eat fruit? Certain fruits are fine for cats when fed correctly.
But, be aware that fruit is high in sugar so should be fed sparingly. Especially if you don't want your kitty to gain weight (and not at all if they have diabetes).
Also, feeding a large amount of fruit to a cat can have a laxative effect because of the high fiber content.
Care is needed when introducing any new food to your feline friend. As they may have an allergic reaction, causing vomiting or diarrhea.
Only feed one type of fruit at first, monitoring any changes in your cat's health or behavior, and always cut it into small bite-size pieces to prevent choking.
When Fruit Can Be Harmful
Never feed your cat rotten fruit. As it will most likely give them diarrhea.
Fruit sprayed with pesticides is particularly harmful to cats if consumed. So it is crucial that you wash the fruit first.
And always remove seeds from fruit, as they may contain cyanide. This is poisonous for felines, along with the skin or rind and core.
What Fruit Can Cats Eat?
Here we look at some of the fruits that are safe for your kitty to eat when fed in small quantities:
Apples
Apples are high in fiber and low in fat. So they are ideal for senior or overweight kitties.
You can also give your cat cooked apples so long as you do not include other ingredients.
Bananas
Bananas are easy for cats to chew, as well as being packed with essential nutrients. This includes vitamin B6 which helps in the absorption of protein.
Be aware that this fruit has a high sugar content. So don't give too much.
Many cats dislike the smell of bananas and rubbing some on your furniture can discourage your kitty from scratching it!
Pears
Many cats develop a taste for pears. They are a great source of dietary fiber as well as having anticancer properties.
Never give your kitty canned pears though. As these are swimming in a sugary syrup.
Cantaloupe
The smell of cantaloupe is what entices many cats to want to eat this fruit. As well as containing many of the amino acids found in meat.
Because of the high water content, cantaloupes are an excellent way to keep your kitty hydrated in hot weather.
Strawberries
Although it is safe for cats to eat strawberries, they provide very few nutritional benefits.
But, they do have antioxidant qualities that may be good for your kitty.
Be aware that the leaves from strawberry plants can cause itchiness in cats.
Mango
Many cats can benefit from the low-calorie content found in mangoes.
Mango is also a suitable fruit to feed a kitty with digestive issues.
Never feed dried mango, though. This is hard to digest and contains added sugars and preservatives.
Blueberries
Blueberries may not be the super food for cats it is for humans. But they do contain important minerals as well as plenty of antioxidants, which can benefit your kitty.
Many complete and balanced cat foods include blueberries.
Which Fruit Is Toxic to Cats?
If you have any of the following fruits in your home, make sure they are kept away from your cat in a secure place.
Grapes and Raisins
Grapes and raisins are toxic for cats and can cause sudden kidney failure.
Vomiting can sometimes occur within 12 hours of ingestion, while other signs like abdominal pain, diarrhea, and lethargy show up within 24 hours.
Citrus Fruits
Citrus fruits like lemons and oranges contain psoralens and essential oils, which are extremely toxic for cats.
If your kitty consumes any, they are likely to get diarrhea and probably start vomiting too.
Cherries
Although a small amount of deseeded cherry is considered safe for cats, the rest of the plant contains excessive amounts of cyanide. This is poisonous to our feline friends.
If your kitty consumes cherry pits, stems, or leaves, they may show signs of poisoning such as dilated pupils and difficulty breathing.
Do Cats Like Fruit?
Cats cannot taste the sweetness in fruit. But they are known for being neophiliac, which means they have a desire to try new things.
As cats like wet textures, your kitty might enjoy a piece of fruit.
But like us, cats are individuals.
Some might like fruit. Whereas others show no interest.
Can Cats Eat Fruit?
As obligate carnivores, cats depend on meat and fat for their survival, maintaining their blood sugar levels using protein rather than carbohydrates.
It is, therefore, unnecessary for cats to eat fruit.
Fruits also contain high amounts of fructose, which adds excessive calories to a cat's diet.
That said, cats can be fed certain fruits as alternative treats that can have added health benefits. But this is providing you remove the peel and seeds beforehand.
Does your cat have a favorite fruit?
Share your stories with other readers in the comments below.
Other Helpful Food Guides
Maybe you'd like to find out about other foods that you can give your cat! Make sure to check these guides before trying any new human food with your cat.
References and Resources
By Ernest Ward, DVM; updated by Rania Gollakner, BS DVM Vitamin A Toxicosis in Cats VCA
Xia Li et al. Cats Lack a Sweet Taste Receptor PMC July 2006
Feeding Your Cat Cornell University College of Veterinary Medicine July 2017
John W.S.Bradshaw et al Food selection by the domestic cat, an obligate carnivore Science Direct July 1996
Rui Hai Liu Health benefits of fruit and vegetables are from additive and synergistic combinations of phytochemicals The American Journal of Clinical Nutrition, Volume 78, Issue 3, September 2003