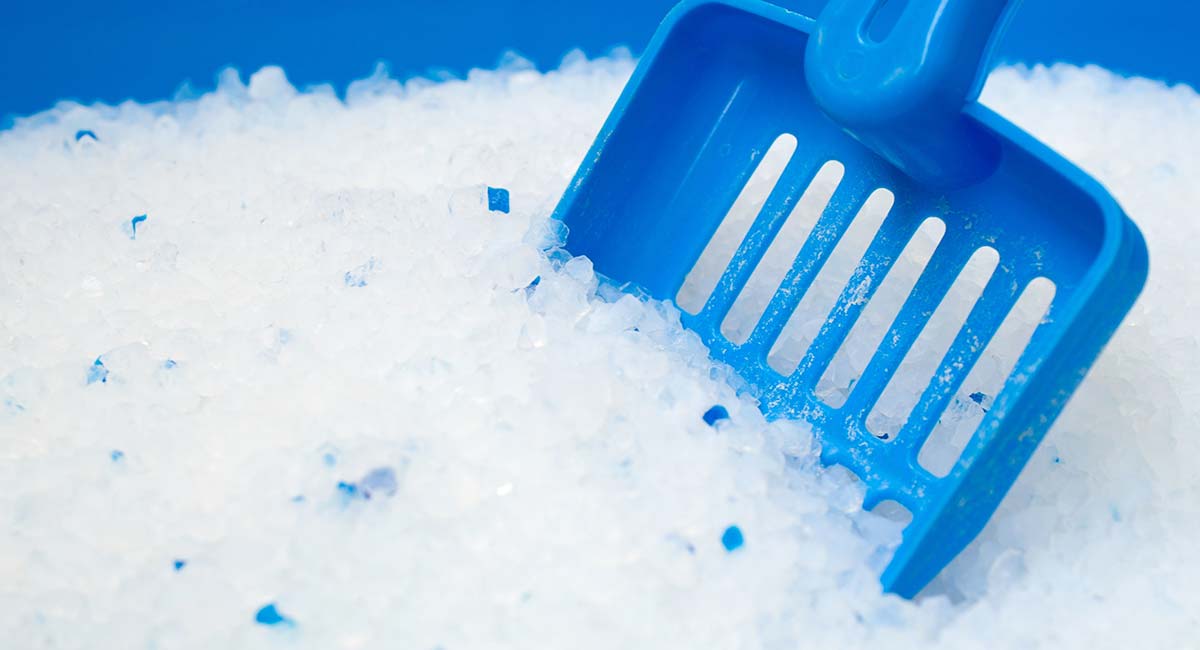 Crystal cat litter is made from silicon dioxide—the same compound that makes up sand and quartz.
The best crystal cat litters may have several advantages over clay and wood pellet alternatives.
But questions have also been raised about its safety. We investigate.
All of these products were carefully and independently selected by The Happy Cat Site team. If you decide to make a purchase from one of the links marked by an asterisk, we may earn a small commission on that sale. This is at no extra cost to you.
Best Crystal Cat Litter
Our goal is to help you decide if crystal cat litter is the right choice for your cat.
In this guide, you learn about different types of crystal cat litter and our recommendations for the best one in each category.
Also pick up helpful tips for how to introduce your kitty to this type of litter.
Make visiting the `litter box the best possible experience for your cat.
What Is Crystal Cat Litter?
At its most basic, crystal cat litter is made of silica dioxide. This is a naturally-occurring mineral compound.
It can be either crystalline or non-crystalline (amorphous). Also, it can be clumping or non-clumping.
Crystal cat litter is most commonly made of the crystalline form of silica dioxide in a gel that also includes oxygen and water.
The crystals are naturally porous. So this allows them to absorb liquid and solid waste quite efficiently while also controlling odor.
Typically, the crystals themselves are more like small rocks than the fine sand research indicates most cats prefer.
Some of the new crystal cat litter products offer micro-crystals that are more like fine sand.
What About Price?
But crystal cat litter can cost more than traditional clumping or non-clumping cat litter.
However, cat owners say it also lasts longer and needs to be replaced less often.
Crystal cat litter is also lighter in weight than traditional clay cat litter. This makes it much easier to manage.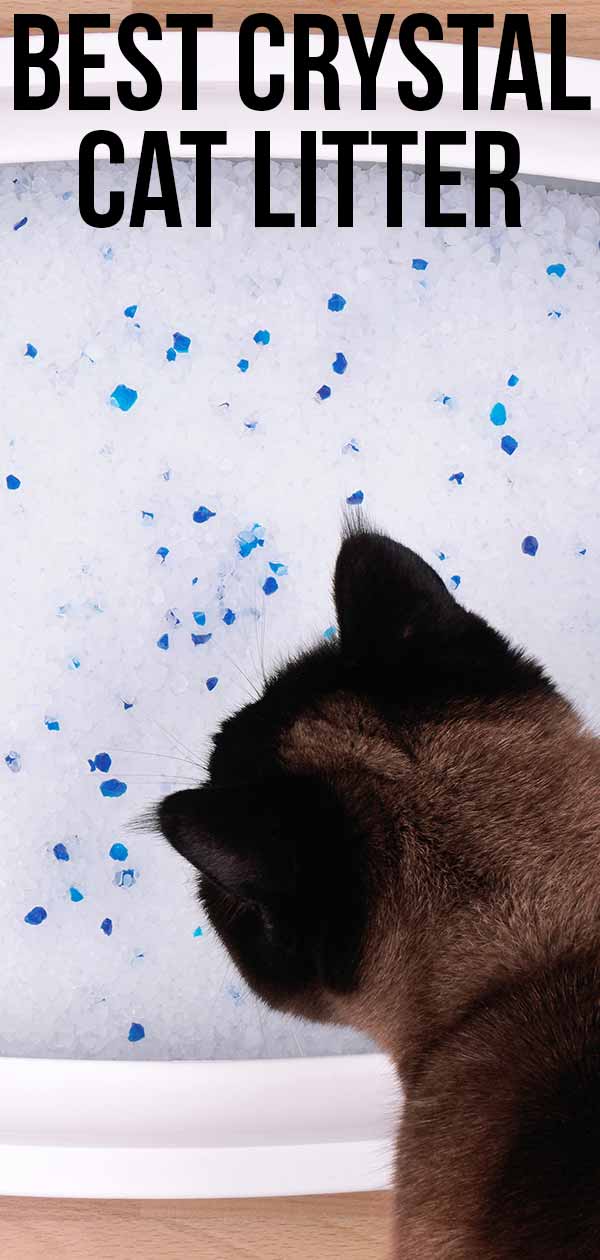 Is Crystal Cat Litter Safe?
So, is crystal cat litter safe?
This is perhaps the number one question owners have when making a switch from traditional clay litter or non-clumping litter to crystal cat litter.
Concerns about safety include:
inhalation of silica dust
ingestion of silica crystals
paw abrasion from walking over the sharp crystals
irritation from agents added for scent and color.
Some new crystal cat litters are made with the goal of being soft under the paws.
Silica Dust and Feline Respiratory Disease
One research study looked for a link between silica dust inhalation and feline respiratory disease.
The study concluded crystal dust likely does not cause feline respiratory issues. But it may make existing issues worse.
Scented Versus Unscented Cat Litter Crystals
Another research study showed that most cats dislike scented litters (fish, cedar and bleach scents excepting).
This is a clear call to avoid scented crystal litters if your kitty seems to be fragrance-averse.
For people or pets with sensitive respiratory systems or chronic allergies, fragrance-free crystal cat litter may also be the best choice.
Using Crystal Cat Litter With Kittens
Some experts believe that crystal cat litter may not be completely safe to use with young kittens.
If the crystals get stuck on a kitten's paws, the curious kitten may be more likely to lick and ingest the litter.
A kitten's digestive and immune systems are still developing.
This means ingestion of the crystals may lead to gastrointestinal issues that would typically not arise in a healthy mature adult cat.
Silica Crystal Safety for People and Pets
To date, there is no evidence that ingesting small amounts of silica dioxide is toxic.
As another benefit, crystal cat litter tends to have a lower dust content than either traditional clumping clay litters or non-clumping litters.
This is beneficial for both people and pets.
Safety of Silica vs Traditional Litter
There is a much larger body of evidence suggesting that traditional clumping cat litter, which is made primarily of sodium bentonite clay, can potentially be harmful to people and pets when ingested or inhaled.
It is also harmful to the environment because much of the clay used in cat litter today is strip mined.
When switching from traditional clumping or non-clumping litters to a crystal cat litter, the biggest initial risk to watch for is paw abrasion from walking over the crystals.
The other big risk is that the switch may trigger litter box aversion, which can then lead to inappropriate elimination.
Transitioning Your Cat to Crystal Cat Litter
If you want to start using crystal cat litter, the best approach is to do a gradual transition from your cat's old litter to the new product over a seven-day period.
Start by mixing one-quarter of the new crystal litter with three-quarters of the old litter product.
Next, switch to half old litter product and half new crystal litter mixed together.
Then switch to one-quarter of the old litter product with three-quarters of the new crystal litter.
At the end of this transition, your kitty should be ready to comfortably use the new crystal litter.
Best Crystal Cat Litter With Small Crystals
There are pros and cons to small and large crystal size.
On the pro side, research shows cats prefer a sand-like litter. Smaller crystals come closer to mimicking sand.
On the con side, small crystals don't last as long or absorb moisture as thoroughly as large crystals can.
When you buy cat litter crystals for the first time, try to pick the smallest package size you can until you are sure this brand is a keeper.
Fresh Step Crystals
This popular and highly rated crystal cat litter brand by fresh step crystals* features small crystals to avoid irritating your cat's paws.
The litter is lightweight and easy to scoop and replace.
The manufacturer states this litter will repel odor up to five times as well as traditional clay clumping litter.
You get two eight-pound bags of crystal cat litter.
Felight Combination Litter
This combination cat litter by Bob Martin* features calcium silica super-light crystals with natural absorption and antibacterial properties.
This cat litter will not stick to your cat's paws. It offers up to five times the odor control of traditional cat litter.
And it is clearly a hit in the United Kingdom, too, judging from most of the reviews.
UltraPet Litter
This silica cat litter by UltraPet* is offered in two types: ultra micro crystals and pearls.
The litter is made to be soft so it won't abrade your cat's paws and low dust so it won't irritate you or your cat.
Best Crystal Cat Litter With Large Crystals
When it comes to absorption capacity, larger cat litter box crystals seem to outperform smaller crystals.
This can be especially important for larger cats and for multi-cat households—and for any cat that uses the litter box a lot.
Fresh Magic Premium Litter
This large crystal litter by Fresh Magic Premimum* is chunk-shaped to last longer, absorb more, and reduce the risk of tracking and dust.
The crystals are biodegradable and non-toxic to kids and pets.
If you have a multi-cat household and need bulk kitty litter crystals, this product is offered single bag, four bag (16 pounds) and eight bag (32 pounds) options.
Littermaid Large Crystal
This large crystal litter by Littermaid is 99 percent dust-free* and comes in its own easy-pour plastic bag.
It is safe for use around other pets and is low-tracking.
The larger crystals absorb three times as much liquid as their smaller counterparts.
Just Crystals
Cat owners rave about these fragrance-free, coarse, larger-size crystals by Just Crystals*.
The crystals are uniform in size, which reduces tracking and paw abrasion.
The litter is low dust and long-lasting.
Best Crystal Cat Litter With Odor Control
To hear many cat owners tell it, the best cat litter odor crystals absorbs odor to the degree you may forget where you put the litter box.
However, scooping is still important to make sure your cat remains willing to use the litter box.
So Phresh Litter
This crystal cat litter by So Phresh* is free from fragrance, low in dust and low tracking.
It uses odor-lock technology to absorb moisture and eliminate that "kitty litter" odor.
If you are looking for bulk kitty litter crystals for multi-cat use, this product can be purchased in a 15-pound or 30-pound bag.
Amazing Litter
This 100 percent silica crystal cat litter by Amazing* is free from any additives, fillers, scents or other ingredients.
It is low-dust and non-tracking. One eight-pound bag can last up to 80 days when used as directed for a single cat.
Natures Miracle Just for Cats
This low-dust crystal cat litter by Natures Miracle* features dehydrating crystals that provide superior ammonia (urine) odor control.
The fragrance is released as the crystals become moistened to instantly repel odors.
The crystal litter is designed not to stick to the bottom of the litter box pan for ease of cleaning.
Best Cat Litter Colorful Crystals
Crystal cat litter with colored crystals often includes a fragrance for extra odor control.
Sometimes white or clear crystals indicate non-scented cat litter.
Blue Crystal Litter
This crystal cat litter with blue crystals* also comes in purple crystals and clear (white) crystals.
The blue crystals (original scent) and purple crystals (lavender fragrance) are designed to be odor-free as well as self-cleaning.
The clear crystals are dye-free for cats and people who may be sensitive to fragrances or dyes.
Some cat owners say the dye-free crystals do not work as well to control odor.
This cat litter is designed to be used with the PetSafe ScoopFree litter box system*. If you already have the ScoopFree trays, you may want to buy the cat litter crystals only.
Mattys Pet Stop Litter
The lightweight silica crystals in Mattys Pet stop Crystal litter* have lavender crystals mixed in to help absorb odors quickly and completely.
The non-toxic crystals are low dust and long-lasting. This cat litter is offered in an eight-pound bag.
Pawsetined Anti-Bacterial Litter
This non-toxic, anti-bacterial crystal cat litter by Pawsetined* is unscented and low dust.
Cat owners say it does a great job of controlling odor and is safe to use around kids that have allergies.
It is low-tracking and long-lasting. It comes in a nine-pound bag.
Best Cat Litter Gel Crystals
Choosing silica gel crystals cat litter can be better for long-haired cats to reduce the likelihood that the crystals might stick to your cat's long coat, and cause tangles or mats or skin irritation.
Precious Litter
This crystal cat litter by Precious is infused* with herbs designed to attract your kitty to use the litter box.
The litter itself is non-toxic, low-tracking, biodegradable, hypoallergenic and amorphous (non-clumping).
It is lightweight, and easy to scoop and manage.
Dr Elsey's Silica Crystals
If your cat suffers from stress, anxiety or respiratory issues, Dr Elsey's silica gel crystals* cat litter comes highly recommended.
It is free from chemicals, hypoallergenic and free from airborne dust.
It doesn't clump but absorbs moisture to make scooping and litter box cleaning easy.
Mimi Ultralight Litter
This ultralight, ultra-absorbent silica gel crystal kitty litter by Mimi* comes in four-pound bags that are designed to last for 30 days when used with a single cat.
The litter is low dust and environmentally friendly. It is highly absorbent to make scooping and cleaning easy.
Best Crystal Cat Litter Clumping
Many cat owners prefer clumping litter because it is easier to see and scoop out waste, and easier to maintain overall.
In this case, clumping litter may offer the best of both worlds.
Your cat may also have an easier transition if you switch from one clumping-style litter to another clumping-style litter.
Ultra Pet Crystals
This clumping crystal cat litter by Ultra Pet* combines white crystals with multi-colored crystals in a unique silica gel formula.
It is soft on your cat's paws to avoid abrasion, low in dust, and offers excellent odor control with twice-per-week scooping for a single cat.
Owners say scooping more frequently makes the litter work even better.
Neon Litter
This silica gel cat litter by Neon* comes in three vibrant colors: green, orange and pink.
The crystals are designed to be super absorbent, low in dust, high in odor control, and soft when your cat walks across the litter.
With this litter, you can scoop twice a week for a single cat when used as directed.
Best Crystal Cat Litter
We hope you have enjoyed learning more about the best crystal cat litter and reading about the different products out there.
Are you considering making the switch to crystal cat litter?
Or, are you already using it with your kitty?
Please share your stories in the comment section below. We love to learn from our readers.
Other Cat Litter Products
If you're interested in reading about other types of cat litter available to you, we've got a lot more for you! Take a look at some of the articles below.
We've got other cat litter and cat product guides you'll love.
Affiliate link disclosure: Links in this article marked with an * are affiliate links, and we may receive a small commission if you purchase these products. However, we selected them for inclusion independently, and all of the views expressed in this article are our own.
References and Further Reading:
Borchelt, P.L., "Detection of Silica Particles in Lung Wash Fluid From Cats With and Without Respiratory Disease," Texas Animal Guardians
"Kitty Litter Preferences," Washington State University College of Veterinary Medicine
Neilson, J.C., 2009, "The Latest Scoop on Litter," DVM360
"Preventing Litter Box Problems," South Novato Animal Hospital
"Silicea," 2003, British Homeopathic Association
Walden, L.A., 2017, "Cats' Litter Box Preferences in Multicat Environments," American Veterinarian
Yarnell, A., 2004, "Kitty Litter," Chemical and Engineering News