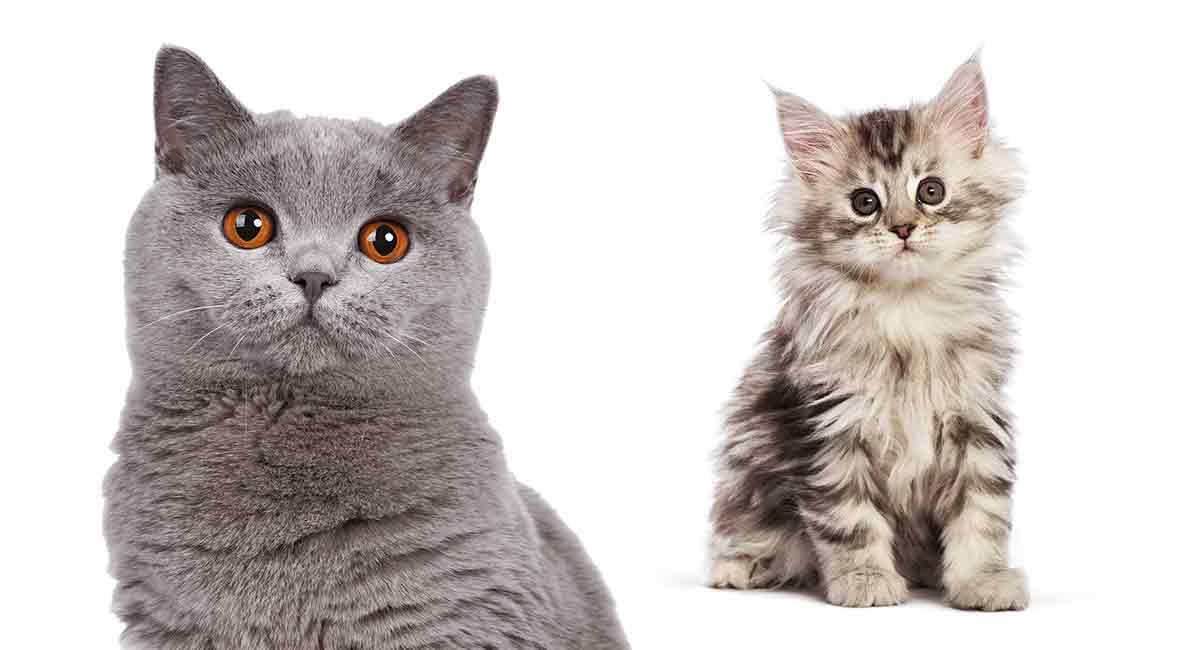 Wondering how to introduce a cat to a kitten?
Make sure you introduce a cat to a kitten very gradually. Use physical barriers to manage the shift in territorial rights.
Plus, introducing the new kitten's scent before the kitten himself can also help. Plan the first meetings in advance, and choose the right time to introduce a new kitten to a cat carefully.
Read on for more information on how to introduce a cat to a kitten.
How to Introduce a Cat to a Kitten
"Cats, as you know, are quite impervious to threats." —Connie Willis, author.
I'd love this quote to be true. But if you're thinking about how to introduce a cat to a kitten, unfortunately it couldn't be further from reality.
Our feline companions are, in fact, super sensitive to threats. And the greatest threat of all is that posed by other cats.
Introducing another set of paws into the house, even tiny ones, can be incredibly stressful for your existing cat.
So before rushing out and acquiring the first kitten you see, it's vital to slow down and put head before heart when considering how to introduce a new kitten to your cat.
Should I Get a Kitten?
Before you even start thinking how do I introduce a kitten to my cat, you should first decide whether getting a kitten is right for you and your resident family feline.
There are lots of reasons why people who already own a cat might choose to acquire a kitten.
They believe that their cat is lonely or bored or is grieving the loss of a former feline housemate.
Perhaps they want a kitten for their children to play with. Especially if the other cat is getting on in years and no longer as spritely as he once was.
Some people might simply acquire a kitten on a whim because, let's face it, there are few things cuter than a kitten.
It's at this early stage in the decision-making process that the work of determining how to introduce a new kitten to a cat actually begins.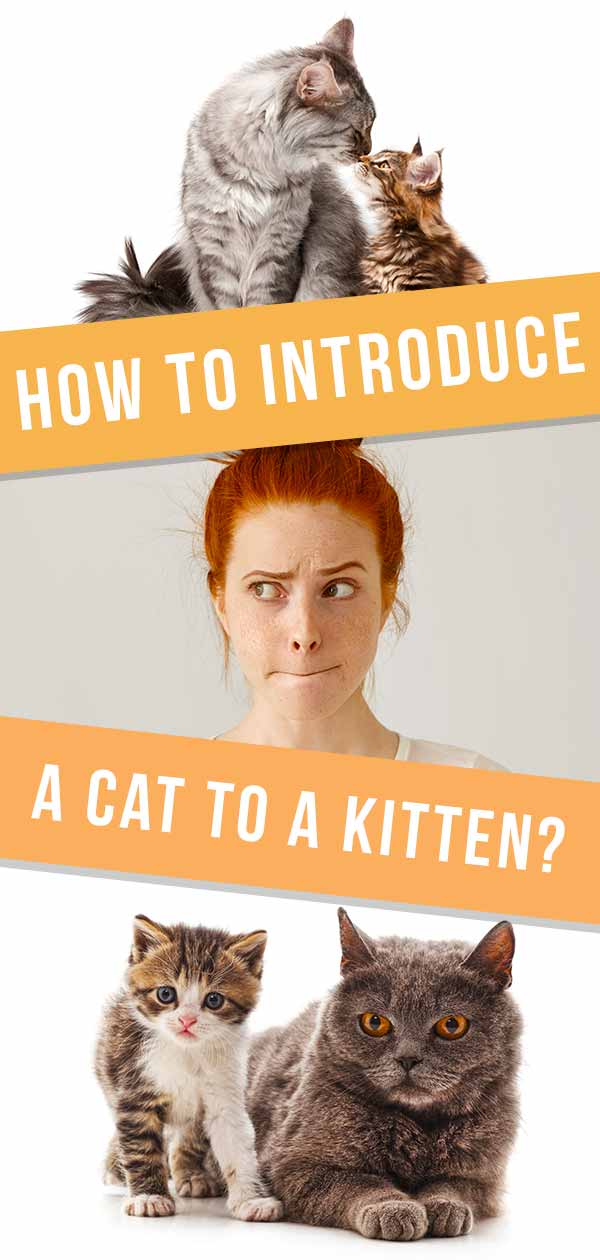 Important Things to Consider Before Acquiring a New Kitten
Before deciding how to introduce a kitten to a cat, it is essential to consider the impact that bringing another cat into your home can have on your existing cat.
Does he really need a companion?
Cats aren't naturally gregarious.
Introducing another into a household in which the resident cat has already established territory is always going to be a gamble. Even if he's been sociable with previous cats.
Like people, each cat has its own unique personality, and they're not always going to get along.
Different Personalities
Imagine you're renting a room in an apartment and one day a newcomer arrives who is much younger than you, has very different habits, likes his music loud, and generally takes over.
Even though you've enjoyed good relationships with previous tenants, with this one you either spend all your time in your room or engaging in seemingly never-ending confrontations with the newcomer.
This is what it will be like for your existing cat and why it's vital that you understand how to introduce a cat to a kitten correctly to increase the chances of the relationship working.
Space
Another important consideration before looking at how to introduce a cat to a kitten is whether or not your home is big enough for two cats.
Cats value territory over everything else (even their relationships with us!)
So when it comes to owning multiple cats, size does matter.
The greater the amount of space that's available to put between them, the better it is for their emotional health.
So when deciding how to introduce a kitten to your cat, make sure you preserve the areas in your home that are important to your existing cat.
Cat Supplies
Don't forget all the additional cat paraphernalia you're going to need. Not only to keep your kitten amused, but to avoid putting any strain on the resources used by your existing cat.
Resources include feeding stations, drinking stations, litter trays, beds, high perches, hiding places, scratching posts, and toys.
Ideally these should be supplied in the quantity of one per cat plus one in different locations.
Age Changes a Cat
Something that often gets overlooked is that cats can go through personality changes during different phases of their lives.
One such phase is called social maturity.
Social maturity occurs between the ages of approximately 18 months and 4 years.
It is where cats start to develop their adult personality and become more territorially aware.
Your existing cat may be going through this phase and will not take kindly to a young upstart muscling in on his territory.
On the other hand, when your kitten enters this phase, he might go from being a little cutie to an adult cat willing to defend, at all costs, what he now views as his territory!
Bereavement
It's important not to rush into getting a kitten if your existing cat has recently lost his feline housemate.
If they were close, his behavior might naturally change while the scent of the other cat lingers.
This doesn't mean to say he's looking for a replacement.
Make sure you leave a reasonable amount of time for your cat to adjust before deciding to get another. Only then do you need to worry about how to introduce a cat to a kitten.
How to Choose a Kitten
If your heart is set on a kitten, there's another important step to take before learning how to introduce a cat to a kitten.
It's vital that you do your research before you visit any litters.
Naturally, once you see the kittens, your heart will melt and all practical considerations will fly out the window.
Make sure you contact the seller and find out whether the kittens have been reared in a home environment or an outside pen.
You want your kitten to be familiar with all the sights and sounds of a normal domestic home.
Litter Size
Ask how many kittens there are in the litter.
A female can give birth to up to ten. But the average is between three and four.
If there are too many kittens in a litter, it's possible that some might have impaired physical or emotional development or both.
It's also important that you find out at what age the kittens are to be rehomed.
The longer they can be with their littermates, the more time they'll have to learn about social behavior with other cats and what the boundaries are!
If you want to maximise the chances of a good relationship between the kitten and your existing cat, I would advise bringing the kitten home when he is a minimum of 12 weeks old.
Visit the Breeding Site
When you visit the kittens, make sure you're able to meet their mother.
Kittens learn behavior and responses from their mother. So if she is fearful or aggressive, this may rub off on her offspring.
Take note of the rearing environment.
Is it clean?
Are there sufficient litter trays?
Do the kittens look healthy?
Are they friendly, alert, playful and interacting with the other kittens in the litter?
Rescue Centers
If the kittens are in a rescue centre, then it is important to find out as much as possible about their background.
Try not to feel sorry for kittens that spit and hiss and are reluctant to be handled.
They may never make an ideal friendly pet.
Think about the temperament of your existing cat and choose a kitten whose personality appears to match it.
If your cat is timid, then avoid an overly assertive kitten.
How Do You Introduce a Kitten to a Cat?
Patience is key when learning how to introduce a cat to a kitten.
In the excitement of bringing your new kitten home, you might be tempted to let your cat meet him straight away.
However, cats don't care for surprises. So this experience is unlikely to be positive.
Thereafter, all meetings between the two will be sullied.
The best chance of creating a happy feline (and human!) home is to allow the two to meet gradually.
Separation
Before the kitten arrives, buy or hire a kitten pen.
This should be large enough to house a bed, food, water, litter tray, and toys.
Locate this in a room or area of the house that your existing cat rarely uses.
This allows him to maintain his own routine while the kitten can create a "micro-territory" and get to know his owners before his next challenge – meeting the cat.
Have Time to Be Home
Collect your kitten on a day where you're more likely to have time to devote to settling him in, such as on the evening before a weekend off.
Place the kitten in the pen and keep the door to the room closed. Initially, his food, water, litter tray, and toys can be placed in the pen with him.
When he is confident enough to start exploring the room in which the pen is located, these can be positioned outside of the pen, except for the litter tray, which should remain inside it.
Learning how to introduce your cat to a new kitten includes giving your kitten enough time to get comfortable with you and his new surroundings and for the resident cat to adjust to the unfamiliar feline scent behind the closed door before allowing them to make eye contact.
This can take anywhere between a few days and two weeks.
To further familiarize the kitten and cat to the other's odor, it might be helpful to introduce each cat's bedding and toys to the other.
Visual Introductions
Visual introductions can be attempted when both kitten and cat show no adverse reaction to the other's scent.
Visually introduce your cat and kitten by opening the door to the room in which the pen is located and while the kitten is eating food in his pen (with the pen door shut).
At this time, distract your cat with a fun or rewarding activity, like treats or interactive play using a favorite toy.
This should take place at a distance from the pen that your cat will tolerate, which might be a long way off!
This first exposure should last five minutes only.
Reduce Distance Gradually
Reduce the distance between where you play with your cat and the kitten's pen by small amounts each day.
When your cat is comfortable with the kitten's presence in this location, you can manage his territorial expectations by placing the kitten pen in other rooms in order of their importance to your cat.
He'll need to learn that the kitten has as much right to be in these areas as he does.
Maintain Routines
During the introduction period, it's important to maintain the routine of your existing cat to show him that, despite the appearance of a kitten, things haven't otherwise changed.
This includes not giving him any more attention than you would normally.
It might take several weeks before you're able to open the pen door to let your cat and kitten meet physically.
If this goes consistently well, the formal introduction program can end, and the two felines can be allowed free access to each other.
However, for the first few months, or until your kitten is big enough to defend himself, it may be wise to keep him separated from your cat at night and when you're out.
If you witness any confrontations, grab a cushion or pillow, ready to place between them.
Most negative encounters usually consist of noise and posturing, so only intervene if it looks like the kitten is going to be physically harmed.
How to Introduce a Kitten to an Older Cat
If your existing cat is a senior citizen, introductions should be conducted as described above.
However, when looking at how to get older cats to accept kitten, making special provision for their age is important.
Your feline fossil may not take kindly to being ambushed by an overly enthusiastic kitten. So consider offering him a safe haven to which the kitten is not allowed access.
This can be achieved using a smart internal cat flap programmed with his microchip number only.
Spotting relationship problems between cats can be difficult, as much of the time they use passive intimidation techniques with each other.
So let's look at some signs to help you identify whether your kitten and cat are happy feline housemates.
Signs That Your Cat and New Kitten Are Getting Along
Look out for moments when they:
hold their tails upright when they see each other
greet each other by touching noses
rub themselves along each other's body when they walk beside each other
sleep in physical contact with one another
play with each other without escalating into a confrontation
share their toys
intertwine their tails.
Signs That Your Cat and New Kitten Aren't Getting Along
On the other hand, these behaviors signal that your cats aren't getting along just yet:
one cat leaves the room when the other enters
contact is generally avoided
either cat appears to be on constant alert, even feigning sleep while keeping one eye open
they sleep as far apart as possible
one or both takes to hiding for periods of time
encounters involve chasing each other or running away from each other
one or both starts seeking the security of high resting places
one appears to be deliberately blocking the other's access to a resource, such as a litter tray, cat flap, or favored area
they hiss when they see each other.
How to Introduce a Cat to a Kitten
Choosing a kitten should always be a labor of the mind rather than the heart.
Of course, this is easier said than done, especially if other family members are trying to persuade you one way or the other!
You have a better chance of coming to the right decision for humans and felines alike by carefully considering:
all the reasons for wanting a kitten in the first place
your existing cat's temperament
emotional and social needs (or lack thereof)
the practicalities of having another mouth to feed.
Thereafter, careful selection and learning how to introduce a cat to a kitten in the correct way will make the difference between a good and bad relationship and a happy and unhappy home.
Want More Kitten Articles?
If you love reading about cats and kittens, take a look at some of the guides below!
References
The Domestic Cat. The Biology its Behaviour. Dennis C Turner & Patrick Bateson. Second edition. 2000.
Feline behavior. A Guide for Veterinarians. Bonnie V. Beaver. 2003.
John Bradshaw. Cat Sense. 2013.
The Complete Cat. Vicky Halls. 2008.
Adding Another Cat Isn't A Piece Of Cake. Sarah Heath, BVSc, DECAWBM, CCAB, MRCVS. 2016.
Affiliative Behaviour Of Related And Unrelated Pairs Of Cats In Catteries: A Preliminary Report. John Bradshaw & Suzanne Hall. 1999.