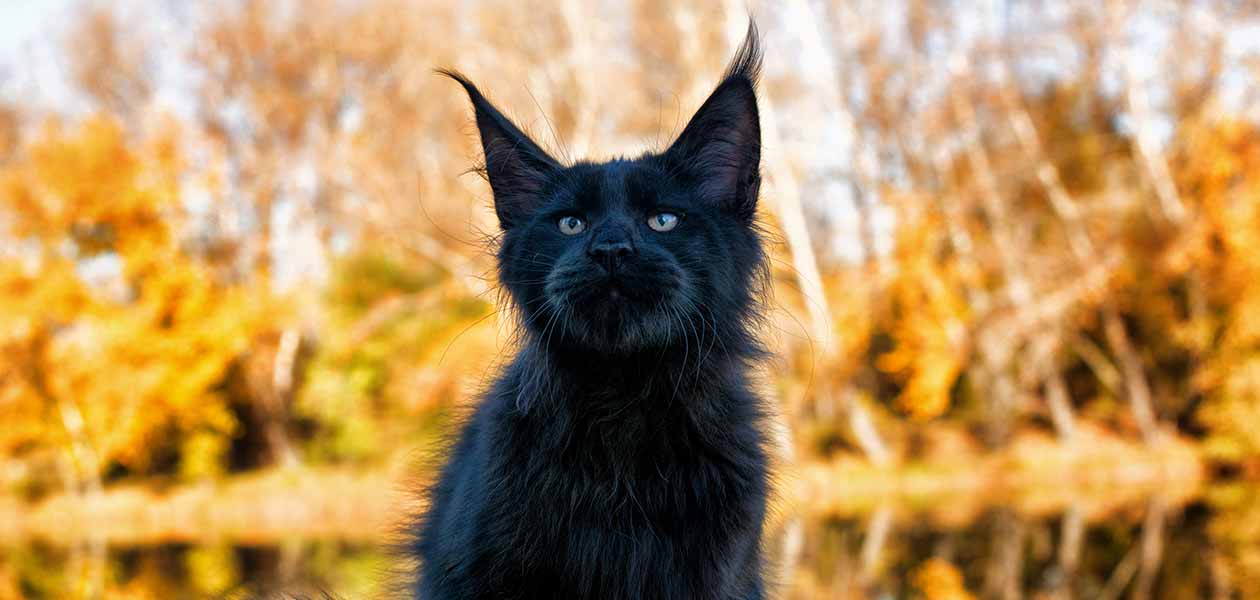 A black Maine Coon is a striking cat. Whether you're looking for a solid black coat or a patterned coat like a black tabby or a tortie with black.
An all black Maine Coon will have the same personality as any other color. But, they will also have a unique appearance that you'll love!
Let's take a closer look at how these kitties get such a dark, beautiful coat.
Black Maine Coon Genetics
Before we find out more about the types of black coat Maine Coon cats can have, we need to explore how this color is possible!
There are two pigments that control all cat colors. These are eumelanin (black) and pheomelanin (red).
Eumelanin is the one which will give your Maine Coon cat a gorgeous black coat. Eumelanin production is controlled by the B gene.
If your cat inherits the B gene from either parent, its coat will be black.
Because of that, we call it a 'dominant' gene.
Types of Black Maine Coon Cat Coat
When we say 'black Maine Coon' you might automatically think of a solid black cat.
But, there are actually loads of ways a black coat can be expressed on this beautiful breed.
Here are a few of the most popular ways for your Maine Coon cat to have a black coat.
Solid Black
An all black Maine Coon will have a completely solid black coat.
They have no other color anywhere else on their fur.
Bi-Colored
A Maine Coon with a bi-colored coat will have black fur with one other color. For instance, black and grey or black and white.
Black and white Maine Coons can have a tuxedo coat.
This is where white markings are imposed on a black coat, making a cat look as though they have a tuxedo jacket on!
Black Smoke
A black smoke Maine Coon has an interesting coat. They have a light undercoat underneath their black top coat.
This gives their coat a smokey sheen, hence the name of this color!
Black Tabby
Tabby is a pattern that Maine Coon cats can have. There are a few different types of tabby coat that your Maine Coon can have.
A black tabby coat on a Maine Coon cat will be black with a lighter color – usually brown.
Black Tortie
Black torties are also known as black tortoiseshell Maine Coons.
Maine Coons with a black tortoiseshell coat will have a cool combination of black and red on their coats.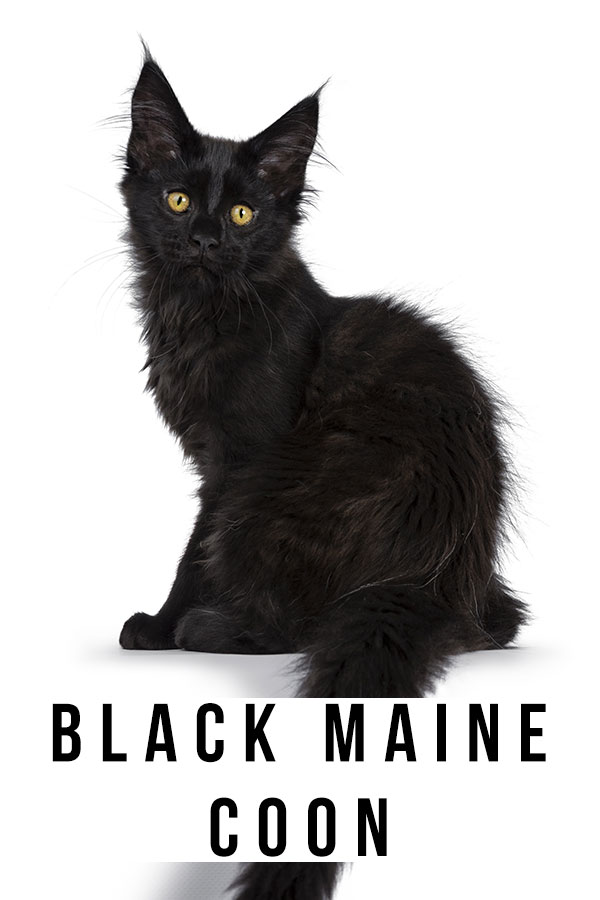 Black Maine Coon Appearance
So, a black Maine Coon can have any variety of the coat patterns and colors above. But what about the rest of their appearance?
No matter what their color, this breed is large. As adults, they can weigh anywhere from 10 to 20 pounds. But, males are usually bigger than females.
Maine Coons have delicate features and high cheekbones, giving their faces a regal appearance.
Their coats are most often long, soft, and very fluffy. This fluffiness will extend to your cat's tail, and even the tips of its ears!
Can a Maine Coon Change Color?
If you love the coat that your cat has right now, you might be worried that it's going to change color as your cat ages.
Studies have shown that black cats can develop a reddish-brown coat if they are given a tyrosine-deficient diet.
But, black coloring was maintained and restored with diets rich in tyrosine or phenylalanine.
Another study found that gelatin was another ingredient that turned cat coats from black to reddish-brown.
So, if your cat's hair is changing color, it could be related to their diet.
Black Maine Coon Personality
Even though you love the look of a black Maine Coon, you need to make sure their personality matches your home before bringing them into your family.
Maine Coons are often seen as more dog-like than cat-like.
They often enjoy spending time with their family, whether cuddling or playing games. But, they also enjoy and need time to relax by themselves.
These cats can be vocal, but also quiet. They are usually very loyal to their families, but may be wary of strangers.
Black Maine Coon Health
If you have a black Maine Coon cat, there are some health issues to be aware of. These affect all Maine Coon cats, regardless of color.
Here are some of the health conditions to learn about before bringing this cat home:
Hip dysplasia
Feline Hypertrophic Cardiomyopathy
Spinal Muscular Atrophy
You can read more about these conditions in our full guide to the Maine Coon cat.
It's important to find and choose a reputable breeder in order to minimise the risk that your cat suffers from these issues.
Black Maine Coon Kitten
Finding a reputable breeder can take time. But, it will be worth it when you bring your black Maine Coon kitten home.
In the US, you can find Maine Coon kittens for anywhere from $400 to $1000. In the UK, this price often ranges from £300 to £600.
But remember, this is a rough price guide. It will vary depending on where you are in the country.
Make sure the breeder shows you any health tests. Don't be scared of asking lots of questions!
Avoid bad breeders and pet stores, even if they are cheaper. The lower upfront costs are often offset by bigger vet fees and the heartache of a sickly cat later in life.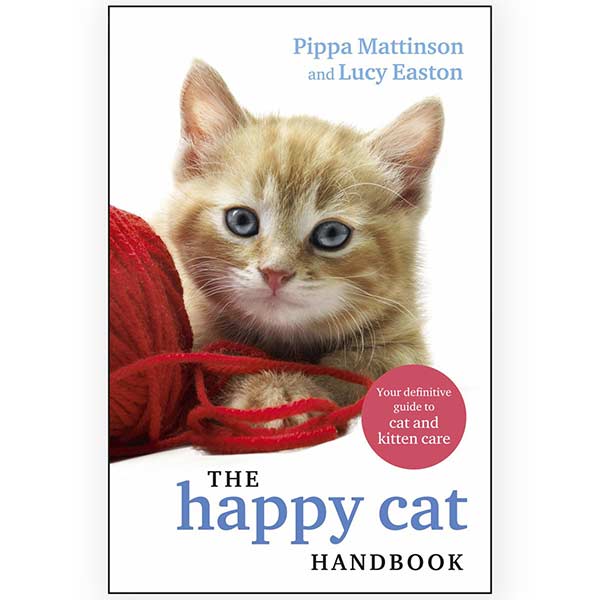 Black Maine Coon Cat Summary
Do you think the black Maine Coon is right for you? This cat has a beautiful coat, and looks striking in all black, or even a black pattern!
If you have a black Maine Coon cat at home, please let us know about them in the comments!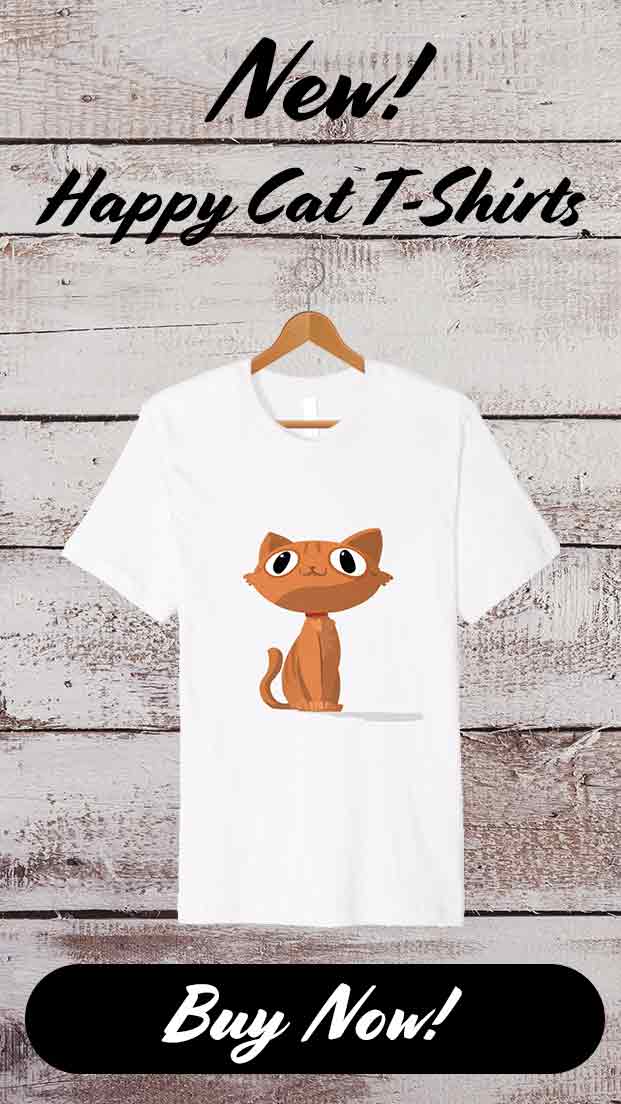 We would love to hear your stories.
Readers Also Liked
References and Resources
Your Amazing Cat!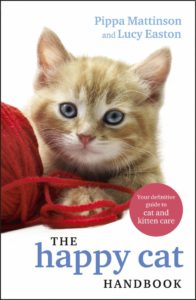 We are so excited to share our new book with you!
If you have enjoyed your visit to The Happy Cat Site we think you'll love The Happy Cat Handbook.
Written by the founders of this website including the author of the hugely successful Happy Puppy Handbook, it's packed with cat care information and fascinating cat facts.
Grab your copy today!