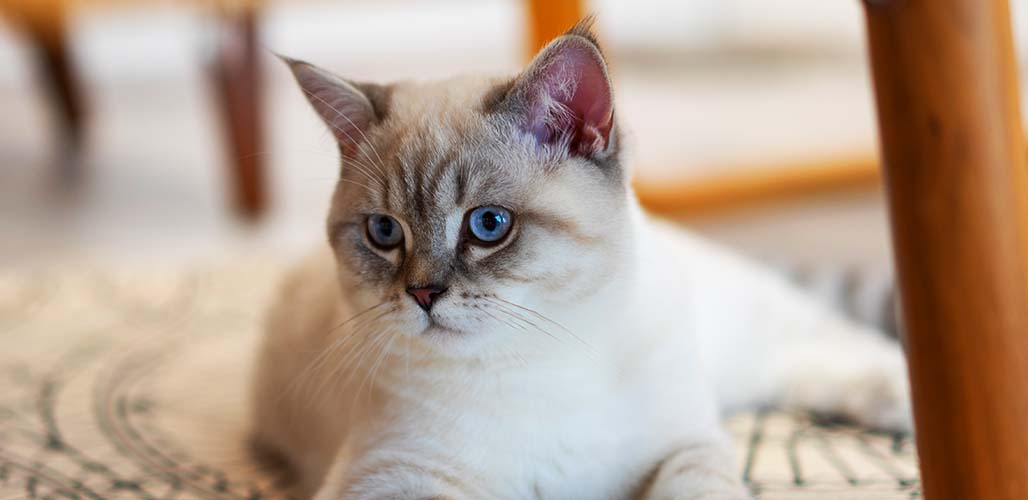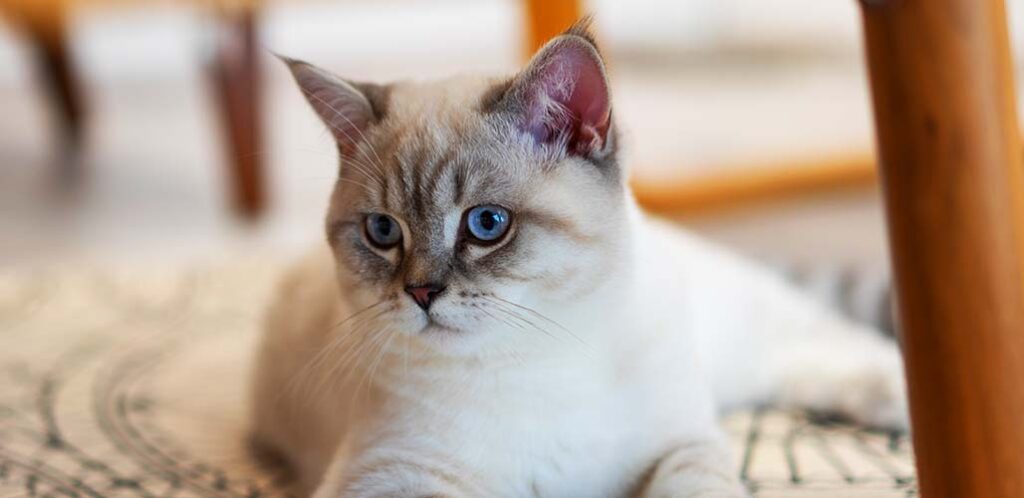 A 7 month old kitten looks and behaves increasingly like an adult cat. But physically and emotionally they've still got a little way to go before they're fully mature. Today I'll share everything you need to know to prepare you for owning a 7 month old kitten. From what to feed them and how much, to dealing with unwanted adolescent behaviors!
Contents
This 7 month old Ragdoll kitten Zeus is full of energy and needs lots of interaction and engagement from his owners. Let's find out more about the milestones he'll be reaching at this time.
7 Month Old Kitten Appearance
By the time they reach 7 months old, kittens' soft baby fur has been replaced by a stiffer, shiner adult coat. Most, if not all, of their deciduous (baby) teeth have fallen out and been replaced by 30 strong permanent teeth. Physically they are well co-ordinated, and confident at climbing, jumping and play hunting. Overall in fact, they look much more like small adult cats, than infants.
7 month old kitten size
At this age, small cat breeds are much closer to their final adult weight than large cat breeds. For example Singapura kittens at 7 months old are probably within a few ounces of being fully grown. Medium sized cat breeds like a Persian or Exotic Shorthair will keep growing until they are about a year old, but the rate they grow at will be much slower than previously. Large cat breeds like Maine Coons and Norwegian Forest Cats take the longest to reach physical maturity – sometime 2 or 3 years! And at 7 months old, they can still be a couple of pounds or more off their final adult weight.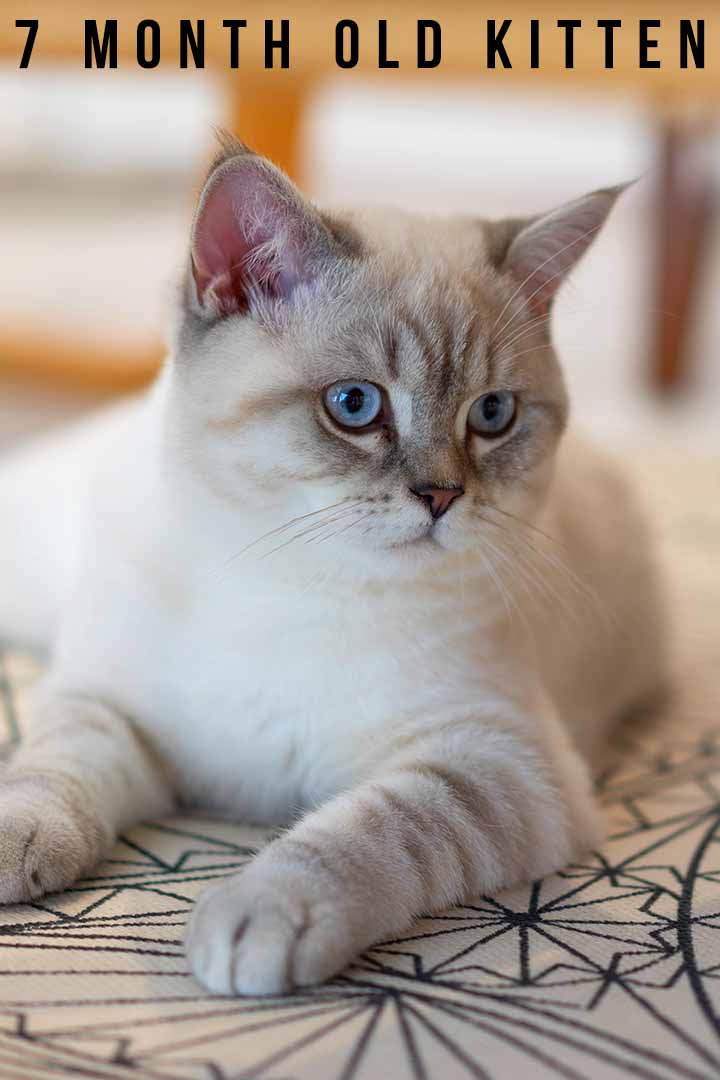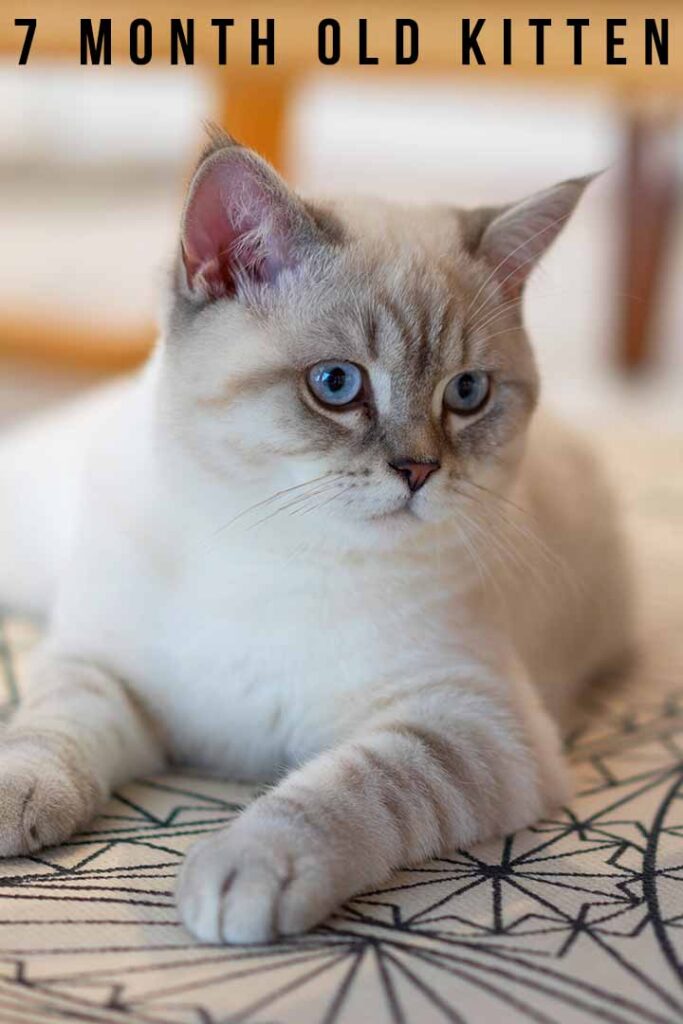 So, the healthy size for your 7 month old depends upon their breed, and also other factors such as their sex. Rather than focussing on a specific number, it's better to monitor their overall body condition. Their ribs shouldn't be visible, but you should be able to feel them easily under the skin. When you look down on them from above, they should have an obvious waist. If you're at all worried about your kitten's size, always ask a vet's opinion. Being underweight is a symptom of several common feline diseases, and being overweight is the cause of several more!
How much to feed 7 month old kitten
Continue feeding your kitten according to the portion guidelines on the packaging. You might notice that the recommended portion size was increasing rapidly month-on-month before, but now it's only increasing a little each month. This isn't a typo on the packaging! Young kittens need a lot of calories to fuel a very rapid period of growth. Now that period is coming to an end, they don't need as many additional calories.
When to switch from kitten to cat food
When your cat has finished growing altogether, they will need to switch to an adult cat food instead of a kitten food. This is because, as mentioned, kitten foods are more calorie-dense, to support a period of rapid growth. When that period is over, eating such calorific food could lead to obesity and related health problems. Most kittens don't switch to an adult diet until their first birthday, but if you're not sure about this being the most appropriate time for your kitten, chat it over with your veterinarian.
When is a kitten a cat?
Now your new friend is over half a year old, and hitting lots of maturity milestones, is it time to stop telling people you have a kitten, and start telling them you have a cat instead? Well, this is subjective. Some people regard their kitten as a kitten until they hit puberty, around 6 or 7 months old. Some people call their cat a kitten until their first birthday. And still others think that a cat is a kitten until they have reached full physical maturity – any time between their first and third birthday. It's up to you which of these thresholds you use. We won't even judge if you privately call your cat a kitten for the rest of their life!
7 month old cat behavior
Your 7 month old cat has almost certainly started puberty by now, and you might have noticed this has triggered some behavioral changes too. These are a natural part of reaching sexual maturity, but some of them can be pretty undesirable in a housemate! Research shows that cat owners armed with a bit of knowledge about cat behavior are less likely to report behavioral problems, and more likely to have a strong bond with their cat. This is probably because they're less likely to misinterpret behaviors as being deliberately naughty.
For example, from adolescence onwards, male cats are more likely to display territorial behaviors such as scratching and urine spraying. Appropriately placed scratching posts help to redirect scratching from sofas and carpets. Your vet may recommend neutering to stop urine spraying. Giving your cat ample opportunities to practice natural behaviors reduces the likelihood of them directing the instincts behind those behaviors in unwanted ways. Cats need:
Quiet, private hiding places
Toys to play with on their own (such as balls, catnip toys, and puzzle feeders
A window seat with a view of the outdoors
A comfortable cat bed
Scratching posts positioned at thresholds and thoroughfares in the home
Climbing trees, cat shelves, or other perches
Time playing and interacting with you
Don't punish unwanted behavior – if you can't find a solution among our cat help pages, ask a vet for help. Some unwanted behaviors, such as soiling indoors, might actually have an underlying medical cause. If this is ruled out, your vet will be able to recommend an experienced behaviorist in your area.
Dealing with kitten energy at night
A common problem behavior in 7 month old cats is playing and vocalizing at night, and keeping everyone awake. 7 month old kittens have a lot of energy, and they don't instinctively know that nighttime is for sleeping. In fact, they can see nearly as well as in daylight, and in the wild they would remain active at night to hunt nocturnal prey.
The best way to reduce night time kitten energy is to make sure their need for physical and mental stimulation has been fully met during the day. As we saw with Zeus and his owner, this means a mix of independent games with 'static' toys like stuffed mice, and interactive games. Interactive games include playing with you, exploring outside, and solving puzzle feeders.
7 month kitten milestones
Meeting your kitten's increasing demands for mental stimulation and enrichment are likely to take up a lot of your time this month. But other things to keep in mind are:
Talk to your veterinarian about spaying or neutering if you haven't done so already. Now your kitten has reached puberty, they will be very determined and creative about gaining access to romantic encounters!
Keep an eye out for retained baby teeth – deciduous teeth which don't fall out when the adult tooth comes through. It's important to seek veterinary attention for this.
In a similar theme, keep their adult teeth healthy by using a toothbrush or dental chews.
Make sure youunderstand your cat's body language, to avoid misunderstandings and frustration.
Your 7 month old cat
We'd love to hear how your 7 month old cat is getting on. Do you think you can see their finished adult personality yet? Are they as you expected? Let us know in the comments box down below?
Also in this series
References
Grigg & Kogan. Owners' Attitudes, Knowledge, and Care Practices: Exploring the Implications for Domestic Cat Behavior and Welfare in the Home. Animals. 2019.
Oskarsson et al. Dental Problems and Prophylactic Care in Cats—Knowledge and Perceptions among Swedish Cat Owners and Communication by Veterinary Care Staff. Animals. 2021.
Witzal Rollins & Murphy. Nutritional assessment in the cat: Practical recommendations for better medical care. Journal of Feline Medicine & Surgery. 2019.