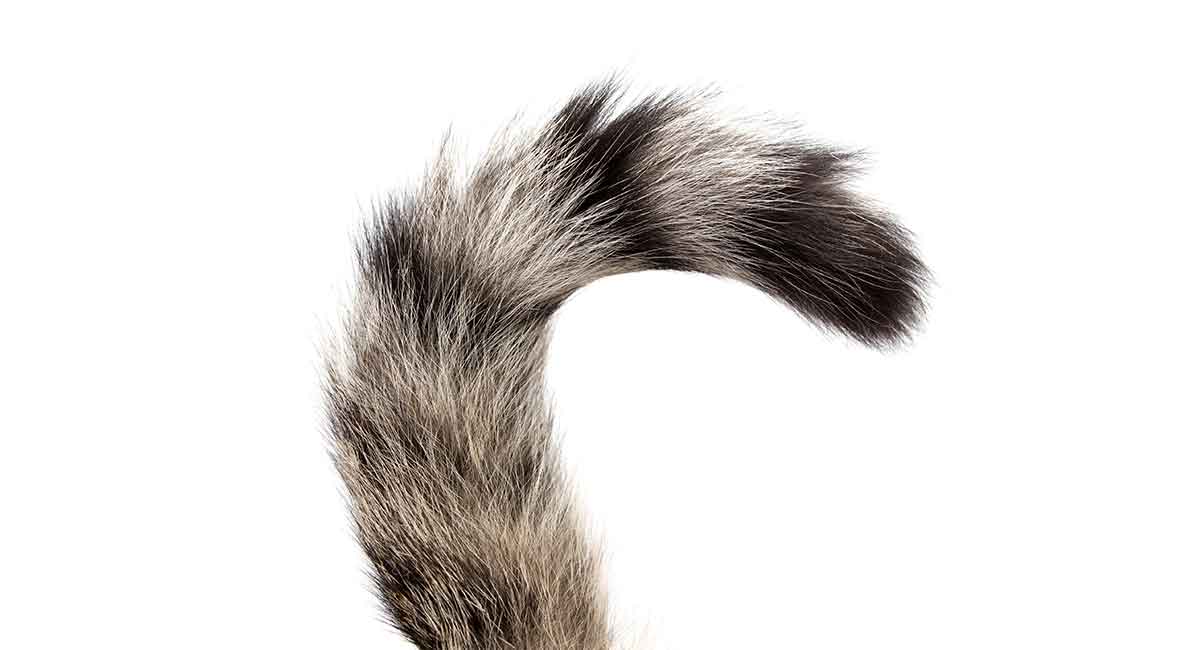 Why do cats wag their tails? What does it mean when a cat wags its tail? Well, when a cat waves his tail, they are sending a strong message. We're going to help you understand cat tail language. Cats like to communicate with each other and with people using body language. And a cat's tail has a language all of its own! From waving or wagging their tails from side to side, or raising them high in the air, cats are sending signals to anyone who is watching.
Contents
Cats use their tails to tell those around them how they are feeling — just like dogs do! But cat tail messages are often different from those of dogs. And their meaning is not always clear. Understanding the signals cats give us helps to improve the way we get along.
What Are Cats Tails For?
To answer – why do cats wag their tails – we need to see what they're used for! Many animals have long tails. Some use their tails for swishing away insects, some for balance, while some even have tails that can grip and hold on. Tails also have an important social function too, and we'll look at that in moment..
Every mammal's tail is an extension of their spine. Tails consist of a long column of tiny bones called vertebrae. A cat has around twenty of these bones inside his furry tail.
Cats are masters of climbing and walking along impossibly narrow fence tops and branches. And like kangaroos, monkeys and many other animals, cats use their tails to help them balance. The way the tail bones are connected and the structure of the muscles that wrap around them are what gives the tail its ability to bend and curve.
But your cat's tail isn't just for balancing. It has another purpose. It enables your the cat to communicate with other cats and people in a very useful manner.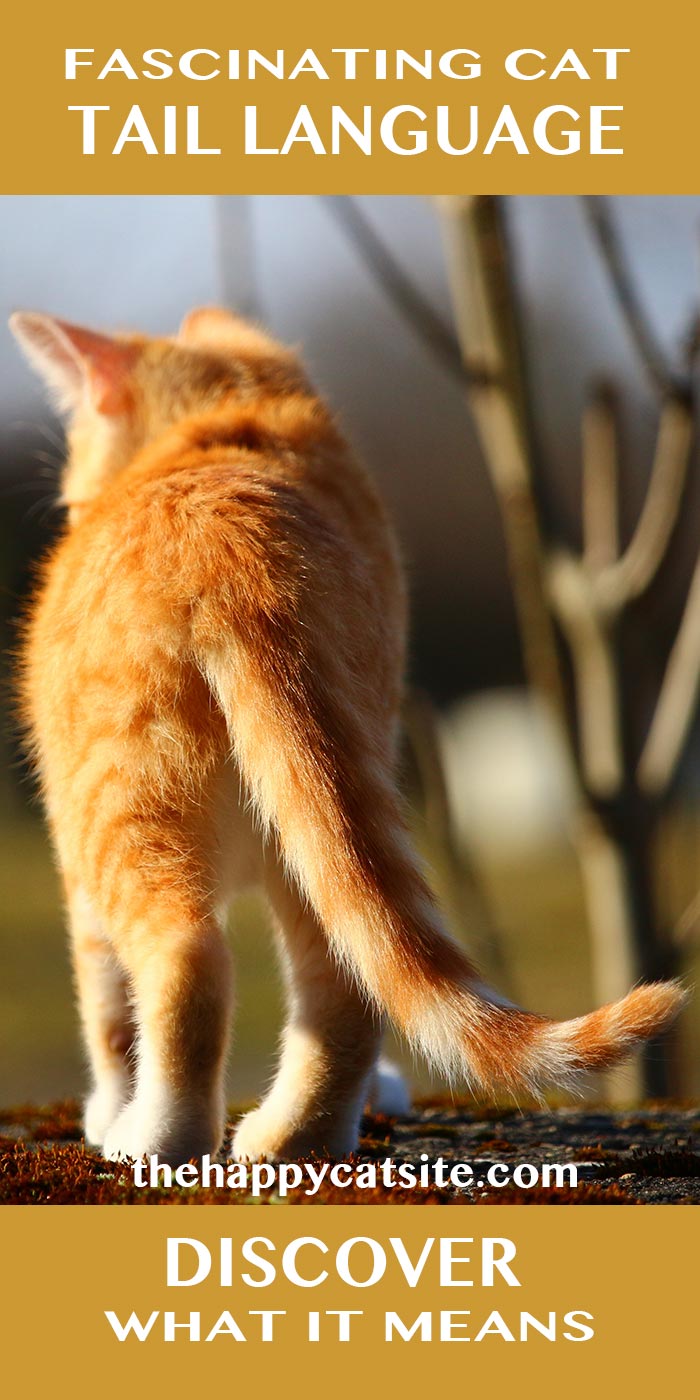 Why Do Cats Wag Their Tails?
So why do cats wag their tails? Different types of tail signals in cats mean different things. Here are some of the ways in which your cat's tail can communicate how they feel.
Wagging or lashing tail
Bottle brush tail
Relaxed twitch
Predatory twitch
Wrapped tail
Vertical tail
Quivering tail
Cat swishing tail
Lashing Tail Wag
Why do cats wag their tails hard from side to side? A cat who is wagging their tail fast and hard, lashing it from side to side, is sending a clear signal.
It is the nearest approximation to the way in which a dog wags their tail. But it the meaning of the wagging tail in cats could not be more different.
What Does It Mean When a Cat Wags Its Tail Violently?
As a general rule, the harder a cat wags his tail, the more upset they are. Violent tail lashing is a clear warning of impending aggression from a cat. Cats tend to assume that everyone knows what this means.
They use this warning system in their interactions with other cats, other pets such as dogs, and even with people. Anyone interacting with a cat needs to be able to read this important signal.
It means "back off now or face the consequences." If you persist in trying to handle a cat in this state, you are highly likely to be bitten or scratched.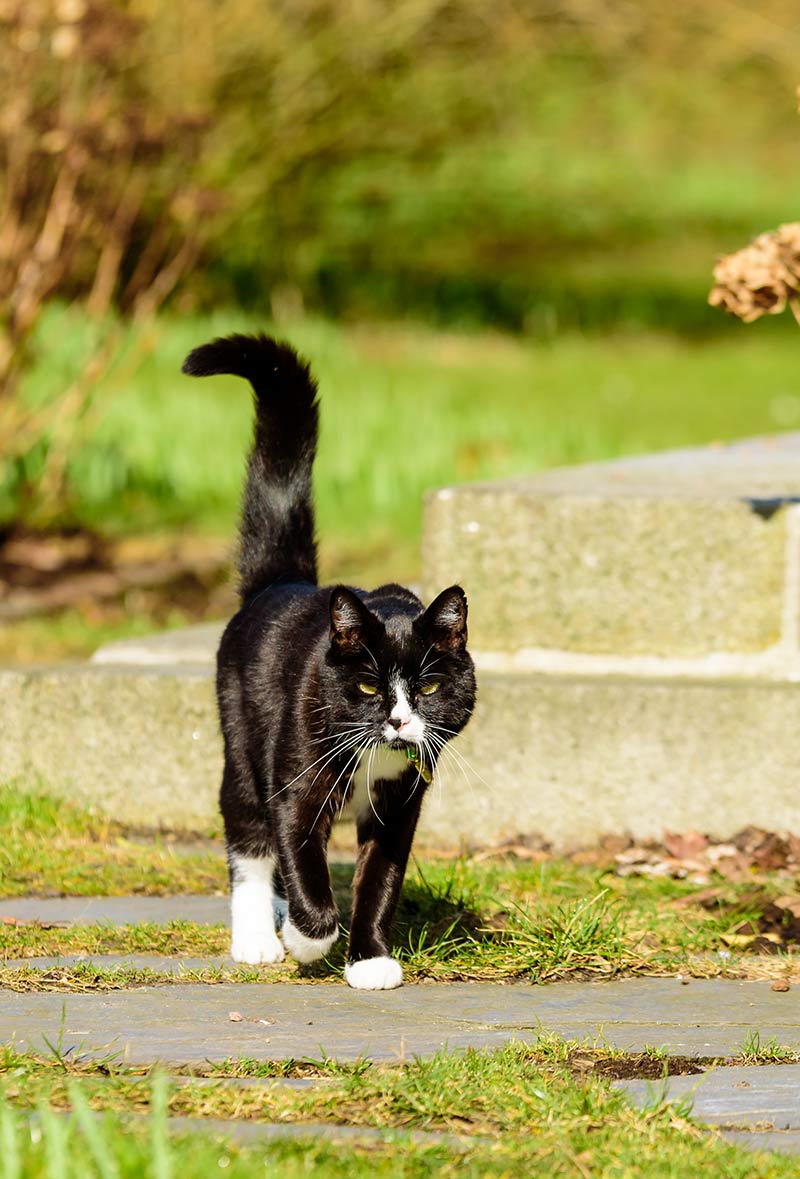 Other Signs of Cat Aggression
Like dogs, cats will often give a low warning growl before they attack. Typically, the lashing tail may precede or accompany this.
Bottle Brush Tail
An angry, or frightened cat may also flatten their ears. And fluff up their tail so that it resembles a bottle brush. If the threat doesn't go away, they may throw a few angry "spits" into the mix. A cat spitting sounds a bit like a small explosion and just like tail lashing is a sign they may be about to bite or scratch.
So, if a wagging tail lashing from side to side means a cat wants you to back off, what does the tail do when they are pleased to see you?
Your Cat's Happy Tail Is Vertical
The cat who is pleased to see you carries their tail high in the air. It may go straight up, pointing at the ceiling, or it might turn over at the tip
When you come home from work in the evening, the chances are your cat will greet you by twining himself around your legs with his tail held high in the air. Feel free to pet your kitty and give it some warm cuddles at this point — while it still likes you.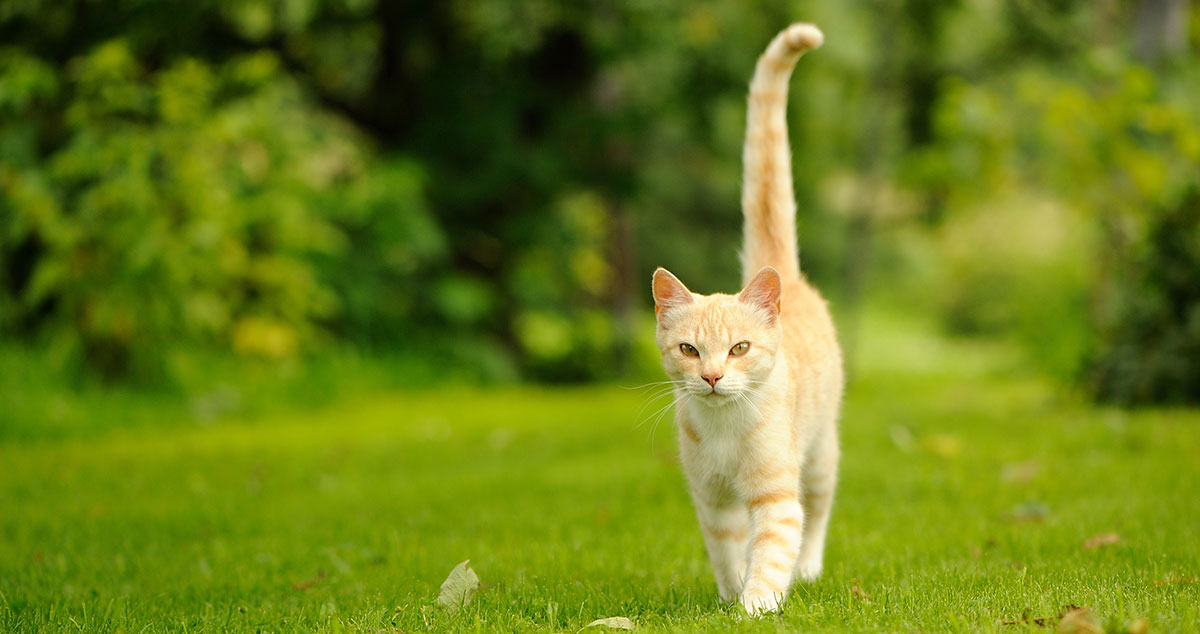 Twitching Tail
Why do cats wag their tails when hunting? Cats are skilled predators. If you watch your cat stalking a bird or insect, or playing with a toy, you'll see the predatory tail twitch.
Unlike the fully wagging tail, the twitch doesn't involve the whole tail, just the upper part of it The cat will often twitch the tip of his tail just before he pounces.
The purpose of the twitch may lie in mesmerizing prey or in attracting the prey's attention to encourage movement. Then the cat can target his strike more accurately. Still, this may happen at other times. For example, sometimes a relaxed cat will gently twitch his tail when looking out of the window or watching something going on around him.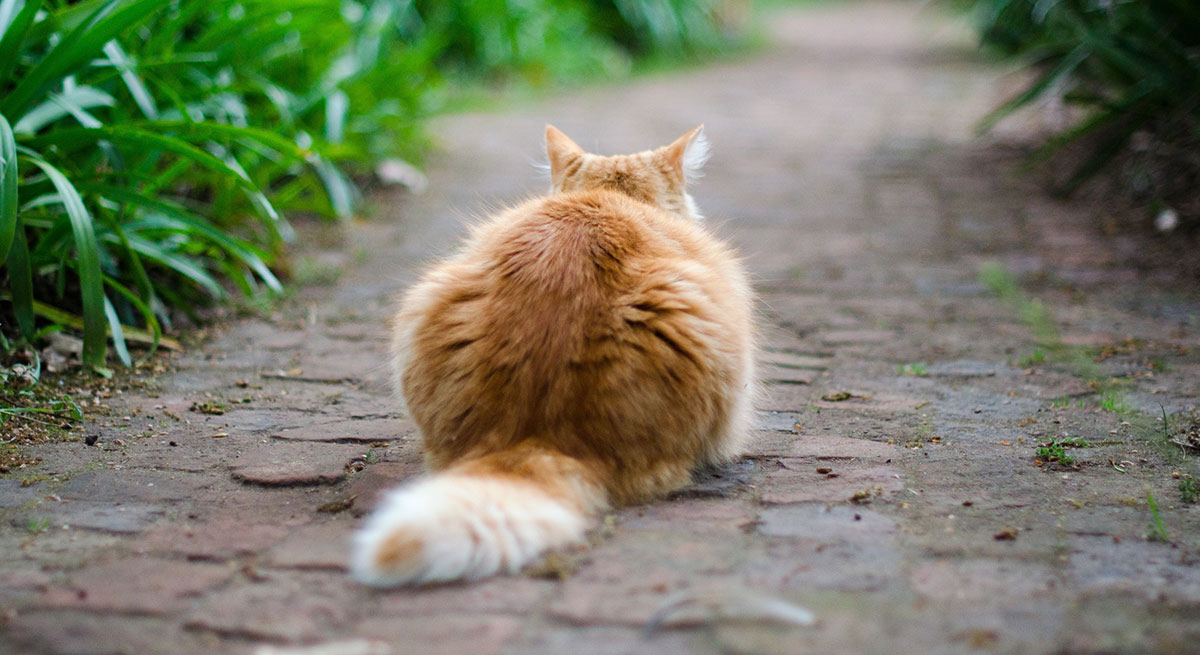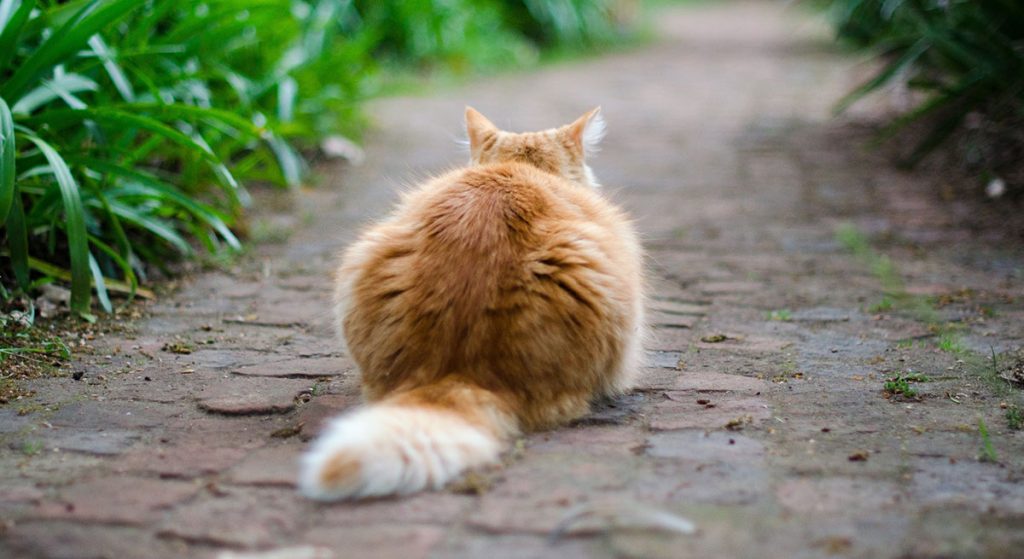 A Cat's Wrapped Tail
A cat may wrap his tail around him when sleeping. This usually signifies a relaxed and contented cat. It may even help your cat keep himself snug and warm
Some cats wrap their tails around your limbs when greeting you or being carried. This too signifies contentment and affection.
A Cat's Quivering Tail
The cat who is backing up, with his bottom in the air and a strongly quivering tail is about to spray urine. But if your cat is moving towards you tail held high and quivering very gently, you don't need to panic. This is just an extra-friendly greeting.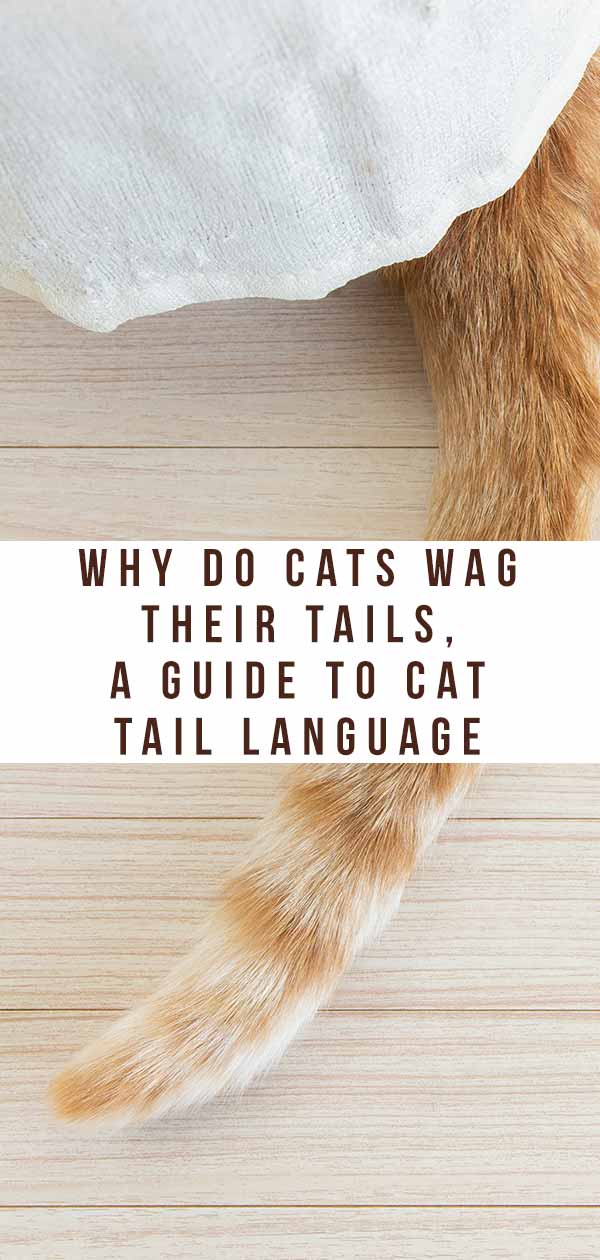 Cat Swishing Tail
Many cat-owners who wonder "what does it mean when a cat wags its tail?" do so because they've seen a cat swishing tail when lying on the floor. This is fairly common. Generally, it happens when you're playing with your cat and they're trying to pounce on something. This could be a toy or your hand.
Cats could also swish their tails slowly when they sleep or while relaxing. This is generally a reflection of a good mood and means your cat is ready to chill or play.
Why Do Cats Wag Their Tails?
So what does it mean when a cat wags its tail? Your cat's tail is an excellent barometer of how much they are enjoying the attention they are getting. It tells you when they are pleased to see you and when they are feeling irritable.
Understanding cat tail language and cat body language, in general, can be useful. It helps small children learn when a cat is ready to be petted and when he wants to be left alone. Plus, it helps all of us to get along better with our beautiful four-legged friends.
How about you? When does your cat wag his or her tail? Do they have any other ways of showing their displeasure?