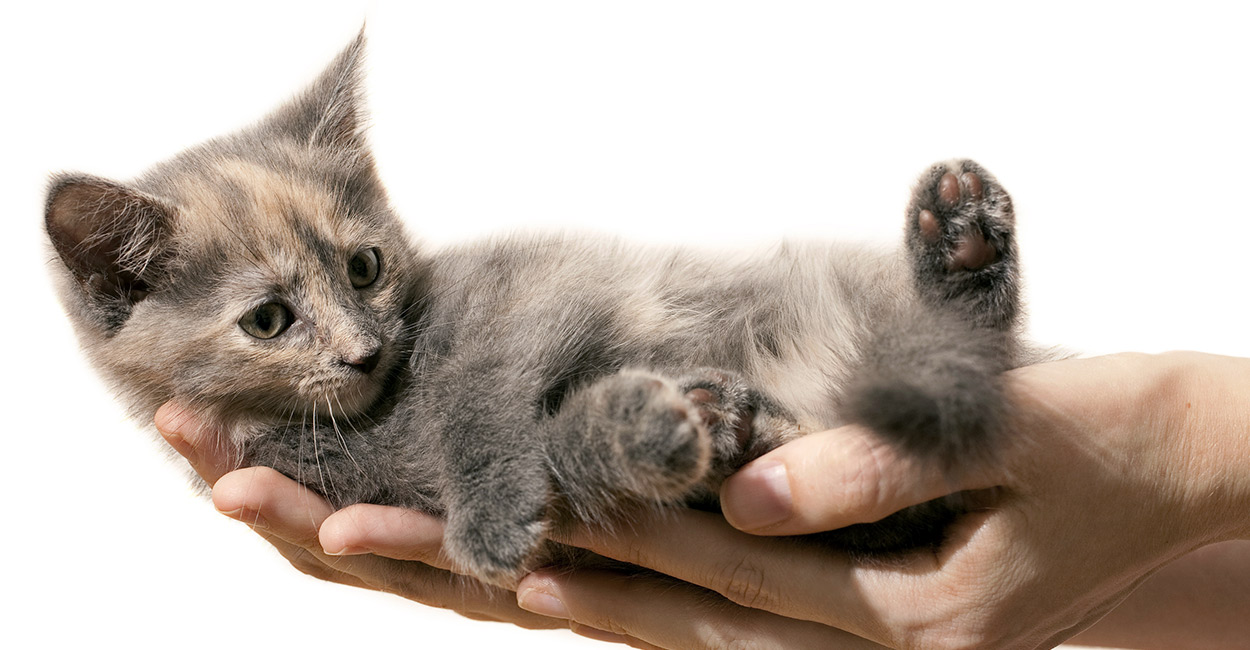 In this article we find out how the dilute tortie coloring came about, whether it affects cats' personality, and if it's true that you can't get a male dilute tortie cat.
What makes dilute tortie cats so unique? Are dilute tortoiseshell cats rare? Is there any truth to the rumors that torties have a special tortie personality? If you have ever found yourself asking these questions, you are not alone. Here is everything you need to know about dilute tortoiseshell cats.
What is a dilute tortie?
Tortie is short for "tortoiseshell", a popular coat pattern seen on many cat breeds. In the world of cat fanciers, some coat colors elicit more curiosity than others. Tortoiseshell cats attract attention wherever they go.
Standard torties have a mix of orange and black fur, either finely interspersed (a brindle tortie), in big splodges (a patchwork tortie), or somewhere in between (just a tortoiseshell tortie!) In calico cats there are patches of white fur mixed in with the tortie pattern, but the tortoiseshell and calico are genetically very similar.  Dilute tortie cats have a tortoiseshell coat pattern with one remarkable difference: instead of the striking, dark mix of orange and black, dilute tortoiseshell cats have a muted, almost blue and yellow color.
How does this happen?
Before we get into the reasons for dilution, it helps to understand the genetics behind the standard tortoiseshell coloring. This can get a little confusing, but the results are worth the struggle!
All of a cats physical characteristics are determined by their genes, which are arranged in 19 pairs. One pair – the sex chromosomes – decide your cat's gender. Female cats have two X sex chromosomes; male cats have one X sex chromosome, and one Y chromosome.
Dilute tortoiseshell cat genetics – what do sex chromosomes have to do with coat color?
The X chromosome is a sex chromosome, but it also contains lots of other information, including instructions about coat coloring. Female cats have two X chromosomes, and therefore receive two sets of instructions (genes) for coat color.
In tortoiseshell cats, these instructions don't match – they've got one gene for orange fur, and one gene for black fur. Now it gets amazing – during an unborn kitten's earliest development, one X chromosome in every single cell deactivates.
This process is known as lyonization and which X chromosome deactivates is completely random in each cell. So some skin cells retain the instruction for orange fur, and others keep the instruction for black fur. And ta da – a tortoiseshell pattern emerges!
Adding the "dilute" to dilute tortie – more genetics!
Color dilution of the tortoiseshell pattern is also influenced by genetics. The pastel colors that make dilute torties so appealing are actually just diluted versions of black and red pigmentation. Once diluted, black pigment turns to blue, and red pigment turns to cream, rather like adding white paint to black or red paint.
How do these pigments get diluted?
The answer lies in a specific mutation of a gene called the melanophilin gene, commonly abbreviated to the MLPH gene. The MLPH gene plays an important role in the pigment producing cells which give our cats' coats their color.
When it's mutated, it doesn't work properly, so those cells can't produce as much pigment. And the hairs that grow from them take on take on a characteristic washed-out, or dilute, appearance. This mutation is recessive, which means a tortie cat needs to inherit it from both of her parents for it to show in her coat.
Are dilute tortoiseshell cats rare?
With all of this talk about sex-linked pigmentation and recessive genes, you're probably wondering if dilute tortoise cats are rare. The answer is yes—and also no.
On the one hand, from a statistical perspective the odds are still against dilute torties. To have a tortoiseshell pattern, cats need two X chromosomes. That is, they must be female, ruling out half of the feline population. Of these female tortoiseshell cats, they also need to carry two recessive genes for dilution.
This makes dilute tortoiseshell cats pretty special. But on the other hand…
Have you met a dilute tortoiseshell cat?
Probably. In fact, you might know several! Since the tortoiseshell coloring can appear in many cat breeds, there are more dilute tortoiseshell cats out there than you might think from the genetic odds alone. From the classic domestic shorthair to fancier breeds like the Persian or the Scottish Fold, dilute torties sport their unique colors in all shapes and sizes.
There is even some evidence that suggests people prefer lighter colored cats like dilute tortoiseshells, and that selective breeding may increase the prevalence of the pattern. However there is one kind of dilute tortie that is truly unique: males.
Can you get a male dilute tortoiseshell cat?
You may have heard that only female cats can have a tortoiseshell coat color. This is almost always, but not 100% true.
Most male cats have the XY combination of sex chromosomes. They've only got X chromosome, so only one instruction for coat color – ruling out tortoiseshell patterning.
Male dilute tortie cat
In very rare cases, male cats are born with two X chromosomes and a Y chromosome (XXY), a condition called Klinefelter syndrome in humans. These can express tortoiseshell and dilute tortoiseshell coloring. These cats are frequently infertile, but their rare coloring makes them a fascinating conversation starter.
The male tortoiseshell cat is even used as an example in many genetics classes, making your male tortie both rare and a supporter of the spirit of scientific inquiry.
Dilute tortie long hair cats
Dilute tortie patterns can pop up in most cat breeds. Some of these cat breeds are long-haired.
Maine Coon dilute torties are exceptionally striking, thanks to their larger size and distinctive long coats. If you are looking for long-haired dilute tortie cat, start by checking out your local shelter.
Dilute tortie personality
Some owners of tortie cats swear by their cats' "tortitude." Tortitude is the term coined by cat lovers for the tortie cat personality, and the name says a lot.
Many tortoiseshell and calico cat owners believe that their cats have more attitude than cats of another color, according to a study that examined links between coat color and increased aggression. However, the results of the study were not conclusive enough to persuade the researchers that there was a really was a correlation between coat color and behavior without performing further research.
Other tortie owners report that their cats are just like other cats. Some have cattititude, and some don't.
Dilute tortoiseshell cats
Dilute tortie cats have a relatively rare coat pattern that stands out in a crowd, thanks to their unique genetics. While we can't say for sure if these cats really have tortitude, we do know that tortie owners are proud of their cats' colors, and are usually willing to put up with any cattitude that may appear.
You can find the dilute tortoiseshell or even dilute tortoiseshell tabby coloring in many cat breeds, giving enthusiasts equal opportunity for embracing torties of rare breeds as well as more common ones.
Do you have a dilute tortie?
Did you deliberately set out to find a cat of this coloring, or was it serendipity? What breed are they, and do you think they have tortitude?
Tell us all about them in the comments section below!
Further Reading and Resources