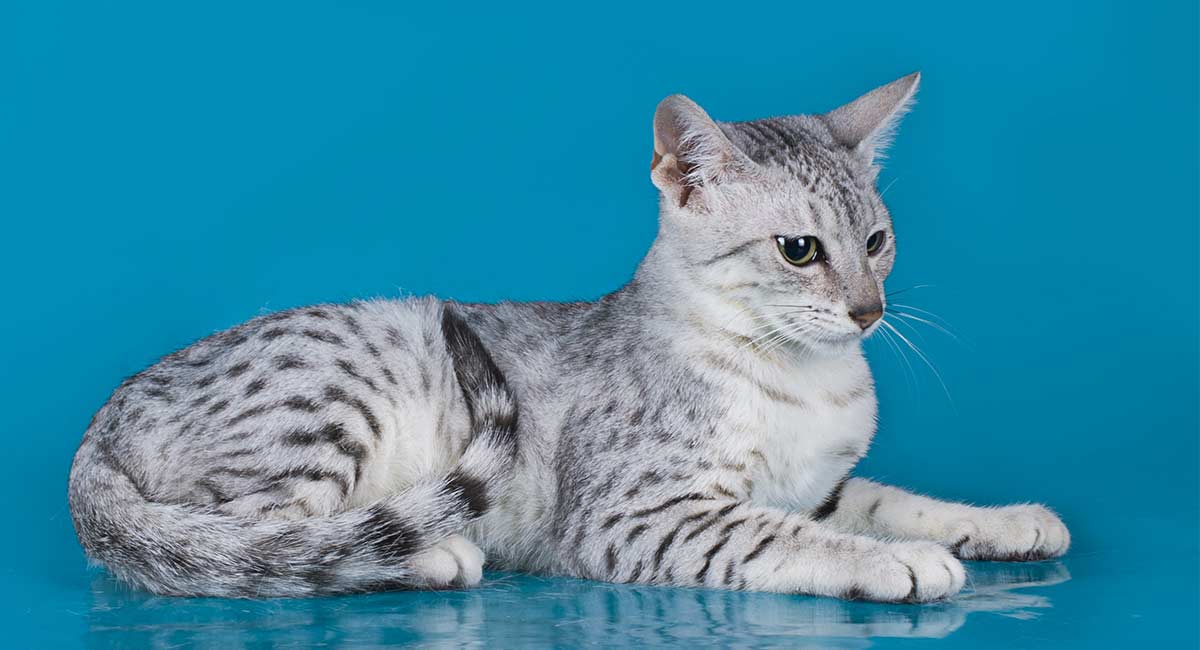 When it comes to feline coats, Egyptian Mau colors and patterns are simply spectacular.
The hues range from bronze to blue to black, and each and every coat comes complete with a very rare, natural collection of spots!
The breed is one of the oldest of the domestic breeds, and closely related to the Siamese and Abyssinian breeds.
According to the Egyptian Mau Breeders & Fanciers Club, this athletic and lithe feline was domesticated from a spotted subspecies of African Wild Cat.
The unique spots are placed about in a random fashion, with no two cats quite alike in terms of shape, color, size, and placement of the spots.
The most important aspect of spots (at least on show cats) is the degree of contrast between the markings and the background color.
Show cats should have intense and discrete markings, while pet-quality cats are allowed quite a lot of leeway in terms of how bright or distinct their markings appear.
If you are looking for a cat with a medium to high energy level who enjoys being around humans, you may want to give a thought to bringing home one of these exotic, playful creatures.
You can learn much more about the Egyptian Mau here.
How many Egyptian Mau colors are there?
Here, we're going to take a close look at the different gorgeous shades that envelop the Egyptian Mau.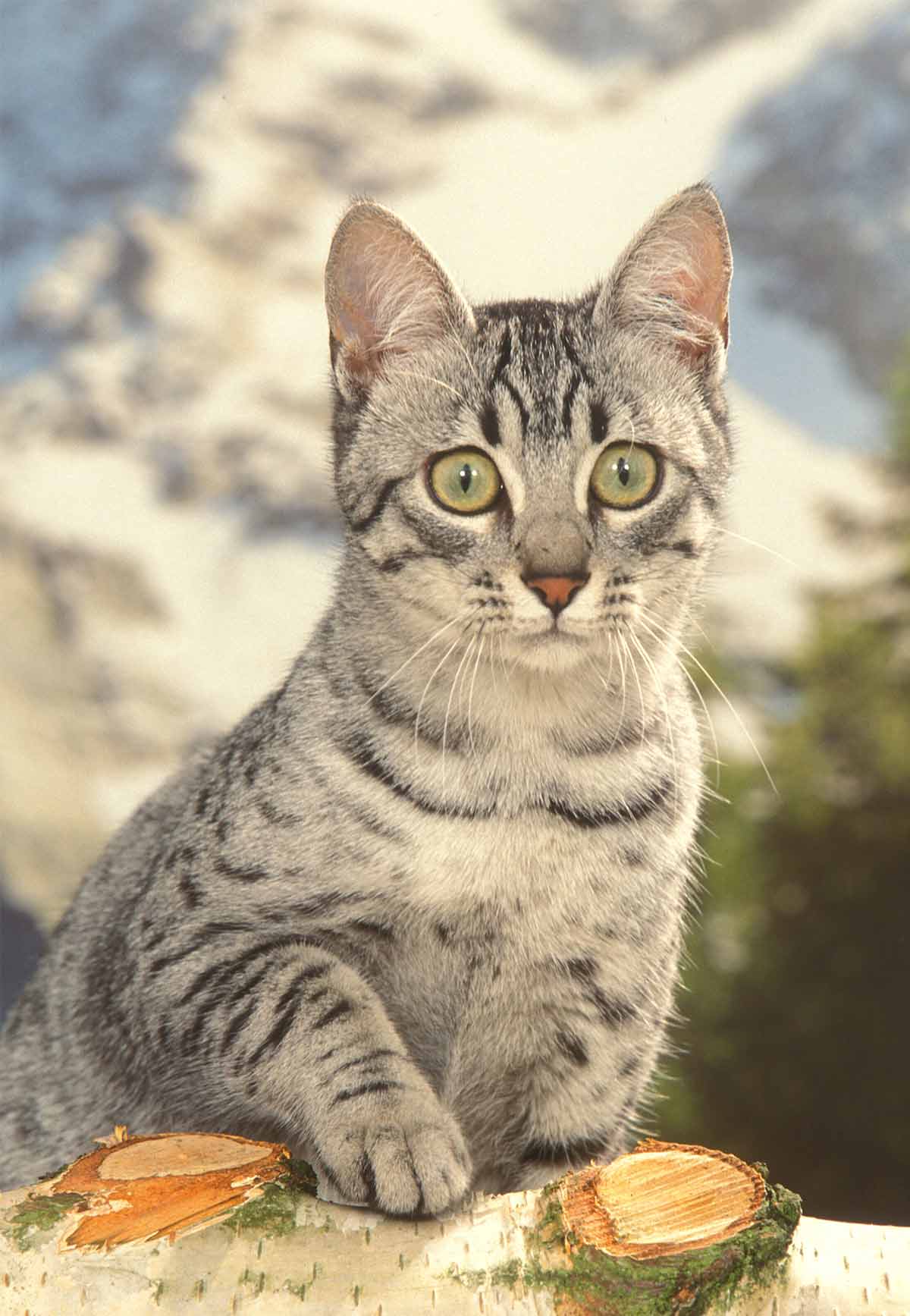 Mau is the Egyptian word for cat, and acceptable show-quality cat colors include silver, bronze, and smoke, each with dark markings.
If you are interested in a pet-quality moggie, the color choices expand to include blue smoke, blue silver, and solid black or blue.
The Egyptian Mau colors of black, silver, bronze, and smoke are also seen in dilute versions of these hues, including blue, blue silver, blue spotted, and blue smoke.
No matter the color, Egyptian Mau fur feels silky smooth to the touch- thick yet soft.
How do Egyptian Mau colors come about?
Genetics is the final arbiter of Egyptian Mau colors.
Every feline has two genes involved in determining characteristics such as coat color; one inherited from the mother and one from the father.
If a gene carries the same form from each parent, say, black fur, the kitten will also have black fur.
If a cat receives two different forms of two genes, one or the other gene will be expressed.
Some genes are dominant and always expressed, while others are recessive (or hidden).
In the case of color, the gene that is dominant is the one that is expressed.
Silver Egyptian Mau
Have you ever seen a silver Egyptian Mau cat? If so, it's a sight you will not soon forget.
This lovely shade is the most commonly seen hue and involves a background color of pale silver splashed across the back, tail, head, shoulders, and outer limbs.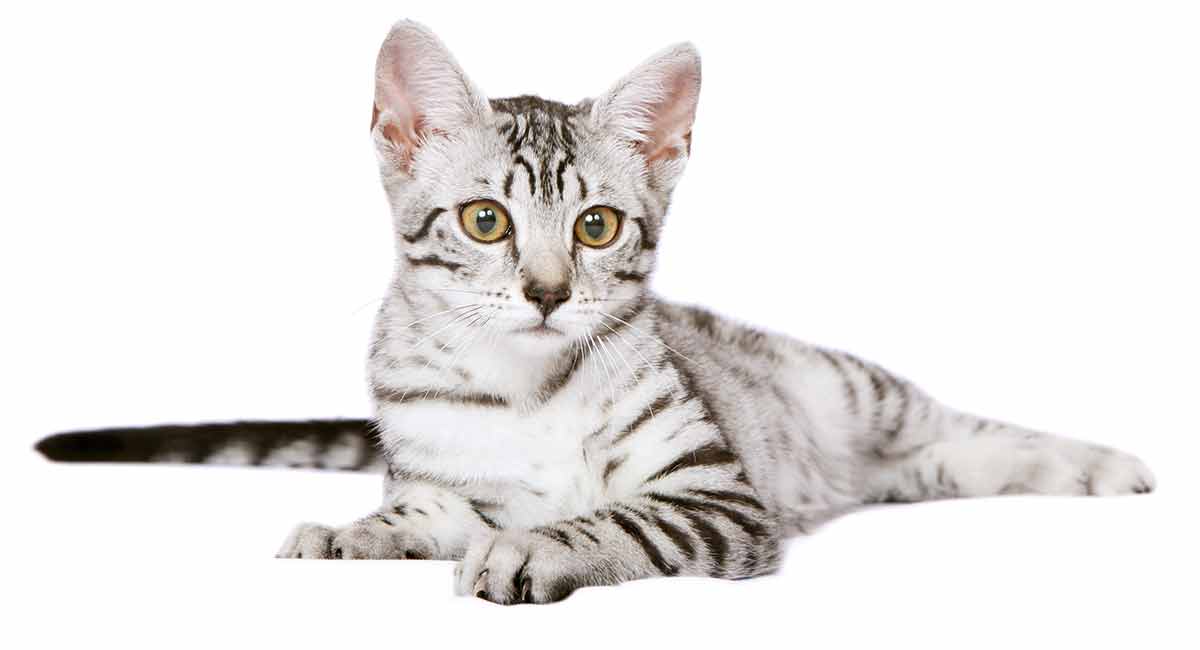 In contrast, the stomach area will be a brighter shade of pale silver.
Show cats should have markings in sharp contrast to the background tint, with hues ranging from charcoal with white to pale silver.
If the coat is exceptionally light in color it may be described as a white coat with dark black to grey markings.
While some may describe this moggie as Egyptian Mau grey, the proper term to use is silver Egyptian Mau.
Bronze Egyptian Mau
Bronze is the second most common Egyptian Mau color.
The first thing you will notice about this attractive moggie is a warm, bronze colored background tint that covers the limbs, head, shoulders, outer back and tail.
The middle of the back is the darkest region, with the color expanding out to a light sandy color, and the tummy a light shade of ivory.
At times the bronze color is described as brown (in light to dark tones) with the markings described as dark brown.
Smoke Egyptian Mau
A smoky toned Egyptian Mau feline sports an all-over lovely shade of pale silver.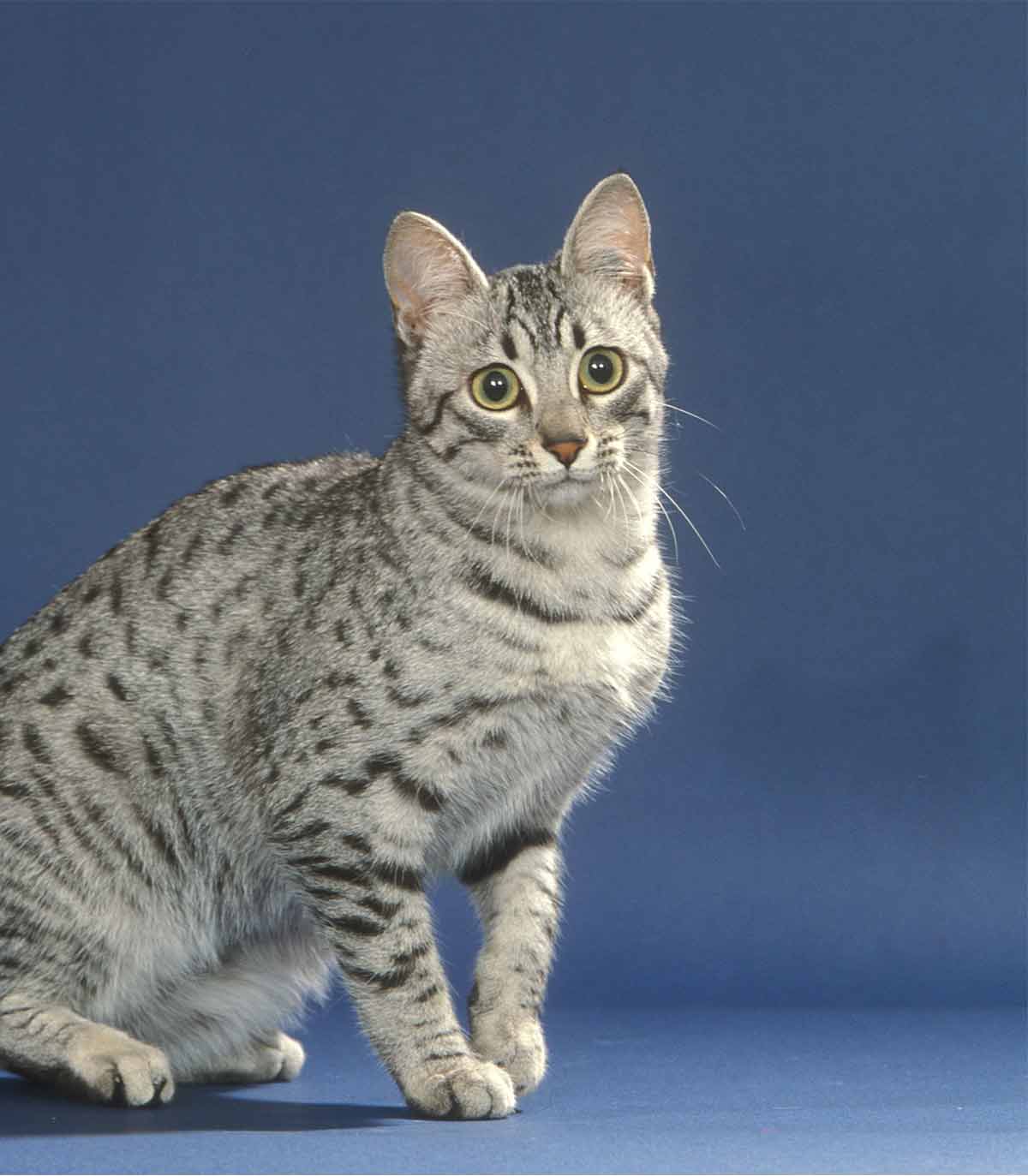 Each individual strand of hair is tipped in black, and the markings should be inky black, so dark that they stand out from the background color.
The Mau breed is the only domestic feline with a patterned smoke color.
The smoke color is an exquisite, sophisticated tone, and the least commonly seen among the three official Egyptian Mau cat breed colors.
Black Smoke Egyptian Mau
The smoke Mau is genetically a non-agouti black smoke cat. This cat appears almost two-tone with a silvery underbody and darker blackish-silver spots.
Because the coat is a pale silver color with tips of black, some people describe this feline as a black Egyptian Mau.
What other Egyptian Mau colors exist?
The three colors described above are considered traditional show colors. But non-show cats sport coats in plenty of other colors beyond this narrow range.
Within the Egyptian Mau cat breed colors exists a solid shade of midnight black.
The black Egyptian Mau cat is a handsome fellow, although his spots are not as apparent.
There are solid blue Egyptian Mau cats as well, in which the color blue is actually a dilute of black.
Since this color type carries the gene for spotting, such a feline can be used for breeding purposes.
Other dilute colors include golden Mau and cream Mau, which is a red dilution.
Strictly speaking, the Egyptian Mau does not come in shades of orange, nor will you find an Egyptian Mau white, nor Egyptian Mau brown cat.
Egyptian Mau Cat
We hope that you enjoyed our look at the brilliant range of Egyptian Mau colors. Do you have an Egyptian Mau cat at home? Are her markings vivid and distinct or do you have more a more muted, but still lovely, colored moggie?
We'd love to hear about your experiences with this unique and stunning cat in our comments section!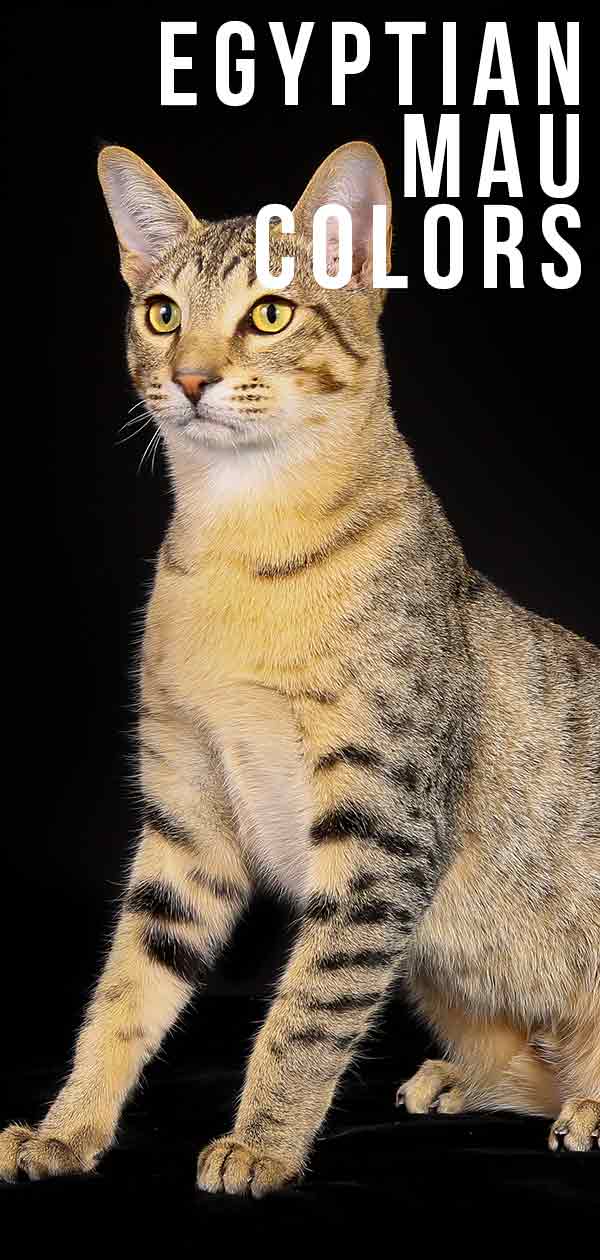 References and Further Reading