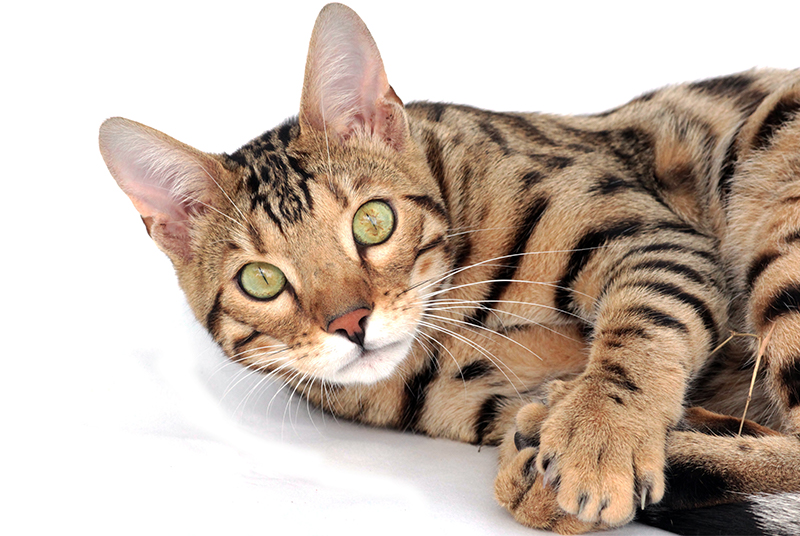 Welcome to our complete guide to exotic cats.
Looking at the different types of exotic cat, and whether you might like to bring one into your home.
What are exotic cats?
You might think that exotic cats are limited to prowling the jungles and savannahs of the world.
However, domestic exotic cats are growing in number and popularity among cat enthusiasts.
These felines have been bred to resemble their wild relatives.
Some of them are the result of hybrid crossings between domestic cats and wild cats.
Others are purely domestic.
Exotic cat breeds have their own distinct personalities and appearances that set them apart from other domestic cat breeds.
If you have always wondered if an exotic cat could be the feline for you, here is the information you need to begin your research.
Hybrid cats
Hybrid cats, when talking about exotic cats, refer to a cross between a domestic cat and a wild cat.
These crossings have been used to create exotic cats that have the look and some of the mannerisms of wild cats. But the affectionate nature of domestic cats.
Exotic cat breeds
Not all breeds of exotic cats are hybrids.
Exotic domestic cats also exist, developed by breeders for their exotic look but without the temperament of exotic wild cats.
The following breeds come from both hybrid crossings and domestic crossings.
Resulting in a wide array of wild looking cat breeds to pique any cat lover's interest.
Abyssinian cat
Abyssinian cats are among the oldest breeds of domestic cats.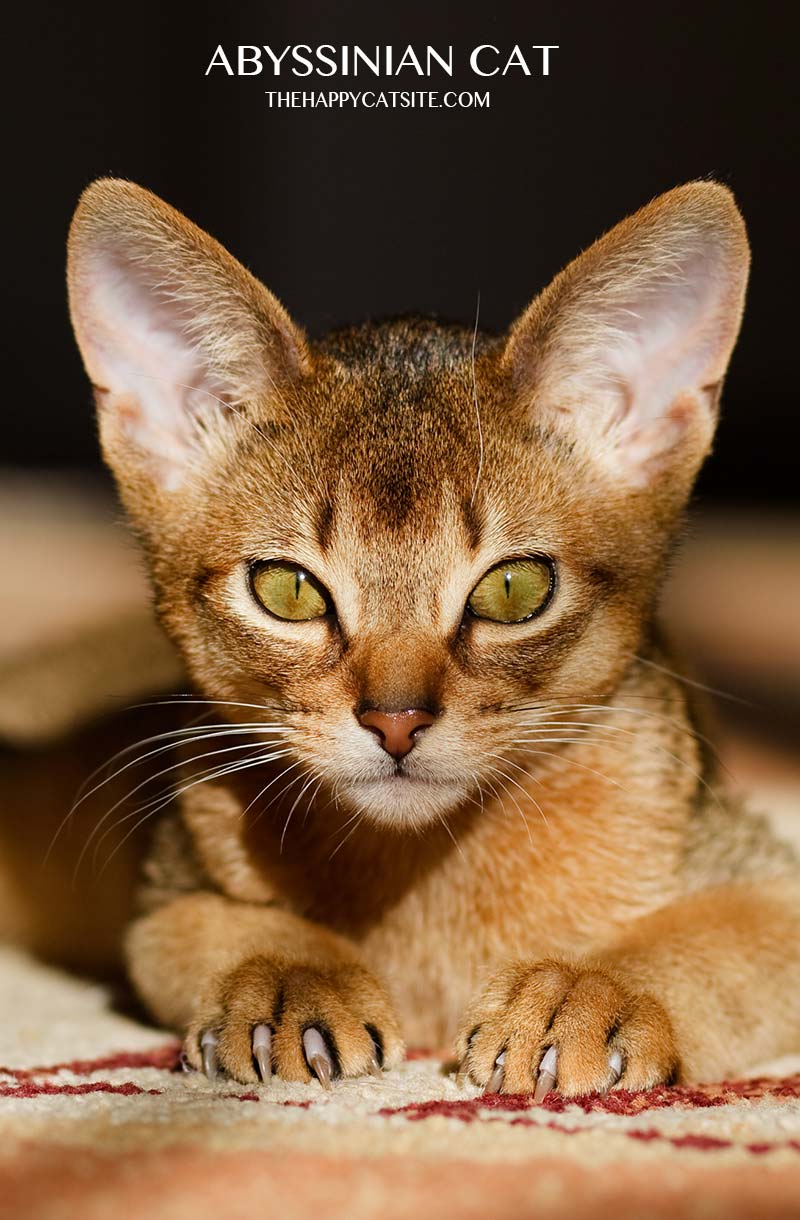 They closely resemble their wild ancestor, the African wild cat, in appearance with their unique coats.
Abyssinians have a ticked coat that comes in chocolate, ruddy, cinnamon, blue, fawn, and lilac, with a silvered ticking variation for all of these colors.
The Abyssinians, or 'Aby cats,' are curious, athletic, and intelligent felines. These short hair exotic cats prefer exploring to sitting on laps. They do best in homes where owners are home during the day to play and interact with them.
Bengal cat
With the markings of a leopard and the temperament of a domestic cat, the Bengal cat was developed in the early 1900s.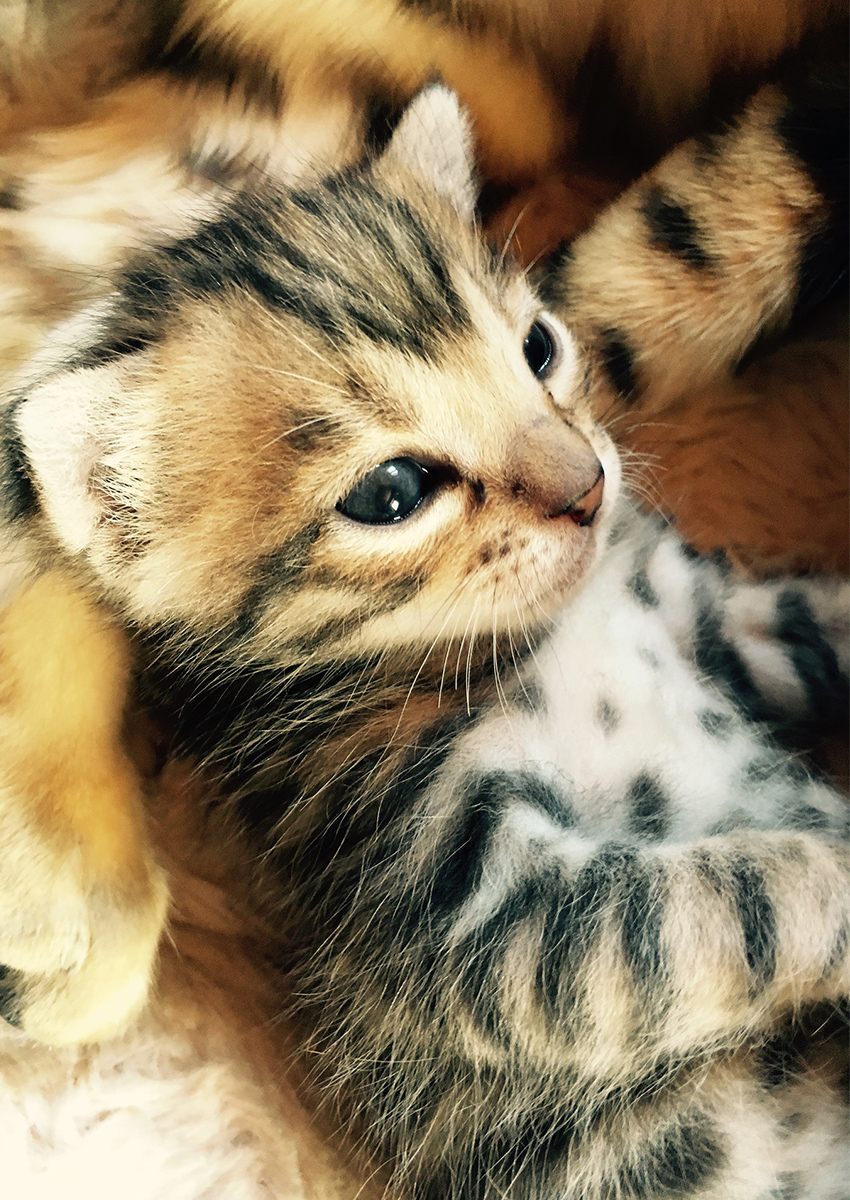 It was created for cat enthusiasts who wanted the beauty of a wild animal in their homes, without the risks.
Bengals are domestic cats, but they are considerably more active than the tabby you grew up with.
They thrive on social interaction, but if they don't get it, they will find more destructive ways of entertaining themselves.
Bengals are big climbers, and these highly intelligent, active felines do best with owners who can take the time to play with their cats. You can even teach your Bengal tricks.
You can find out all about the Bengal cat in our breed guide here.
Chausie cat
The Chausie cat is the result of a hybrid breeding between domestic cats and the Jungle cat.
Jungle cats, a wild cat native to the Middle East and parts of Asia, can weigh up to 35 pounds, and Chausie cats share their size, coloring, and athletic build.
That is where the similarities start to end. Chausies are affectionate and good-natured with a love of play.
Like many exotic cat breeds, they are highly active, and require lots of physical and mental stimulation to keep them happy. This can even include leash walks.
These little cougars retain some wild tendencies that make them ill-suited for homes with small children. But they do well sharing their homes with other pets, like dogs.
Cheetoh
The Cheetoh cat, not to be confused with the cheesy snack, is a relatively new breed of pedigreed feline.
They were first developed in 2001
When a breeder decided to cross an Ocicat with a Bengal cat.
The result was a cat with a wild appearance but a tame temperament, making Cheetohs better suited for family life than some hybrid cats.
Breed enthusiasts describe the Cheetoh's personality as dog-like, and these cats are exceptionally intelligent. These exotic house pets require a lot of attention, and thrive in homes with owners who can devote plenty of time to play.
Jungle Bob
The Jungle Bob is a hybrid cat. Breeders crossed domestic felines with the Jungle cat, along with the Chausie, Bengal, and Pixiebob to create one of the most unique exotic domestic cats available.
The Jungle Bob is a large, spotted hybrid with a short tail and a variety of coat lengths and a broad, lion-like face.
They can be intense in play and bond strongly with their owners.
Maine Coon cat
The Maine Coon cat is one of the better known exotic cat breeds.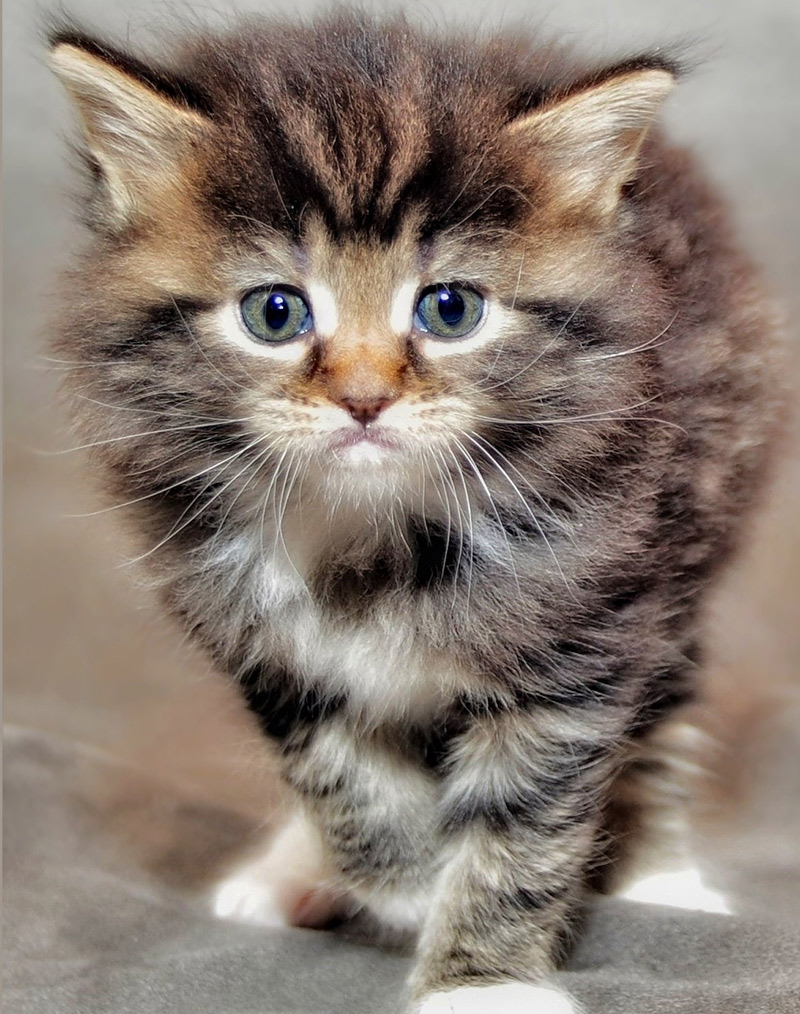 The official cat of the state of Maine, this hardy long-haired cat breed developed naturally through selection, thanks to the harsh winters of the Northeast. The result was an excellent mouser capable of surviving frigid winters.
Considered the 'gentle giants' of the cat world, Maine Coons are positively dog-like in their behavior, and are well-known for their friendly and outgoing dispositions.
Maine Coons come in a wide variety of colors. With their fluffy tails, tufted ears, and warm personalities, they make excellent family pets.
For a complete guide to the Maine Coon cat, follow this link.
Margay
The Margay is an exotic wild cat native to South and Central America.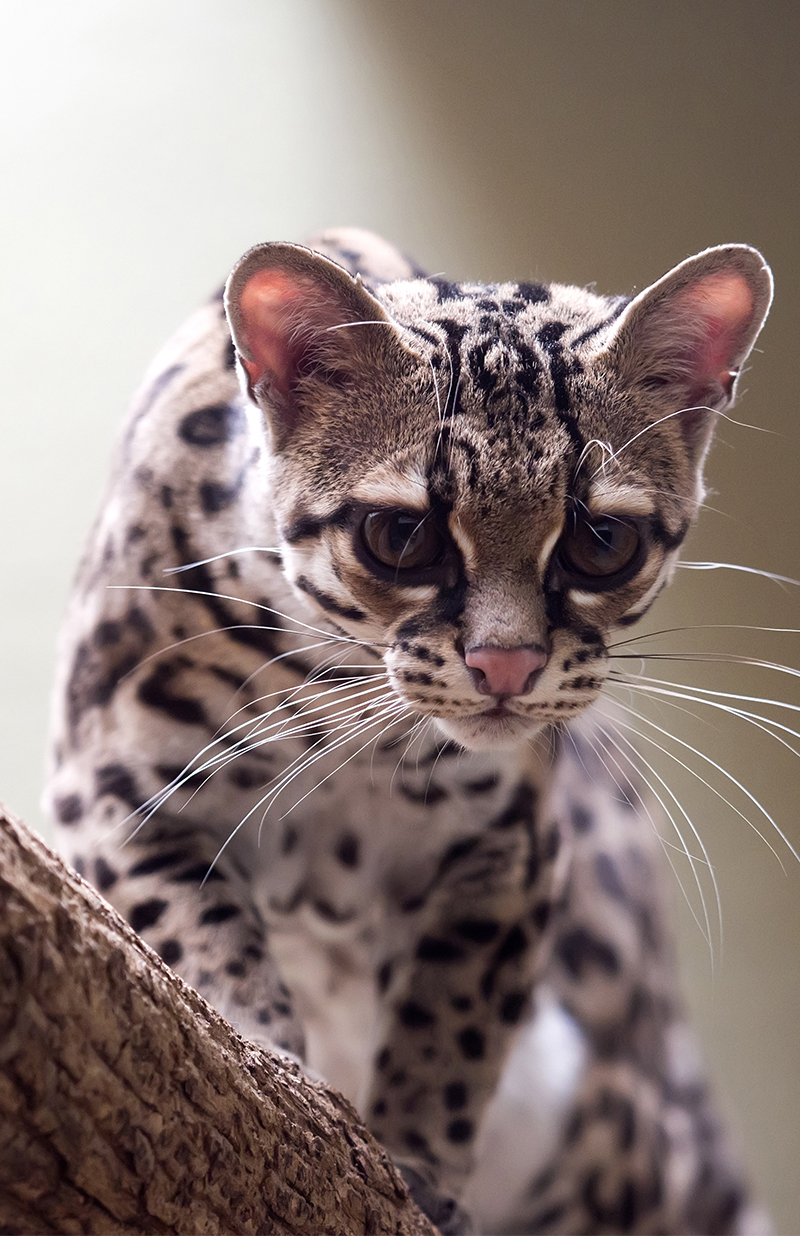 These elusive cats are formidable hunters. They roam the treetops in search of prey, relying on their long whiskers and large eyes to find food.
You can watch a video of the nocturnal Margay hunting here.
Male Margays can weigh up to 35 pounds, and the breed's spotted coats have particularly eye catching spots, stripes, and bands.
Margays are wild animals and it is illegal to own them in many states, however some people do raise these wild cats for pets.
Ocicats
If you want an exotic house cat with a wild look and an entirely domestic lineage, look no farther than the Ocicat.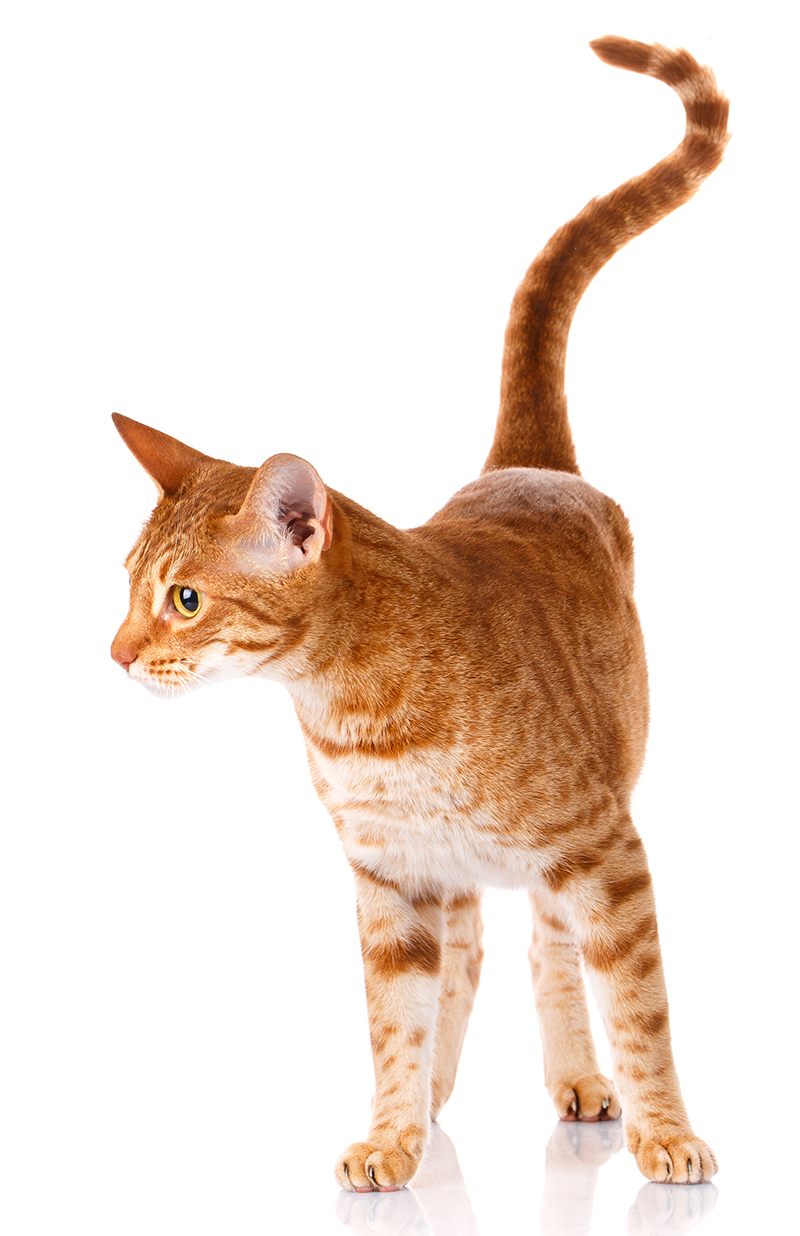 These cats are not hybrids. They were developed by breeding Abyssinian, Siamese, and American Shorthairs.
The result is a cat with a predictable, domestic disposition that is affectionate but not demanding, and confident as well as loyal.
Pixiebob cat
Admirers of the Bobcat who don't fancy the idea of one in their living room adore the Pixiebob.
This medium sized cat has an uncertain history, but today it is entirely domestic.
The Pixiebob has the short, bobbed tail and the brown, spotted tabby pattern of a bobcat, but the friendly personality of other domestic breeds like Maine coons.
Pixiebobs are talkative cats. With their 'muttonchop' facial fur and heavy brows, these cats are sure to charm their way into your hearts.
Pixiebobs are also polydactyl, which means they have more than the usual number of toes.
Safari cats
Safari cats are hybrids, produced by crossing domestic cats with wild Geoffroys cats.
Geoffroys, natives of South America, are a small breed of wild cat that is approximately the same size as a domestic cat. Hybrid offspring, however, are considerably larger than their parents, weighing around 25 pounds.
Safari cats are an F1 generation, which means they are first generation hybrids. While they are reported to be affectionate, they retain many traits of their wild parents, making them suitable only for experienced cat owners.
Savannah cats
Savannah cats, like their name, look like they belong in the wild. This new breed of cat was created by crossing African Servals with domestic cats.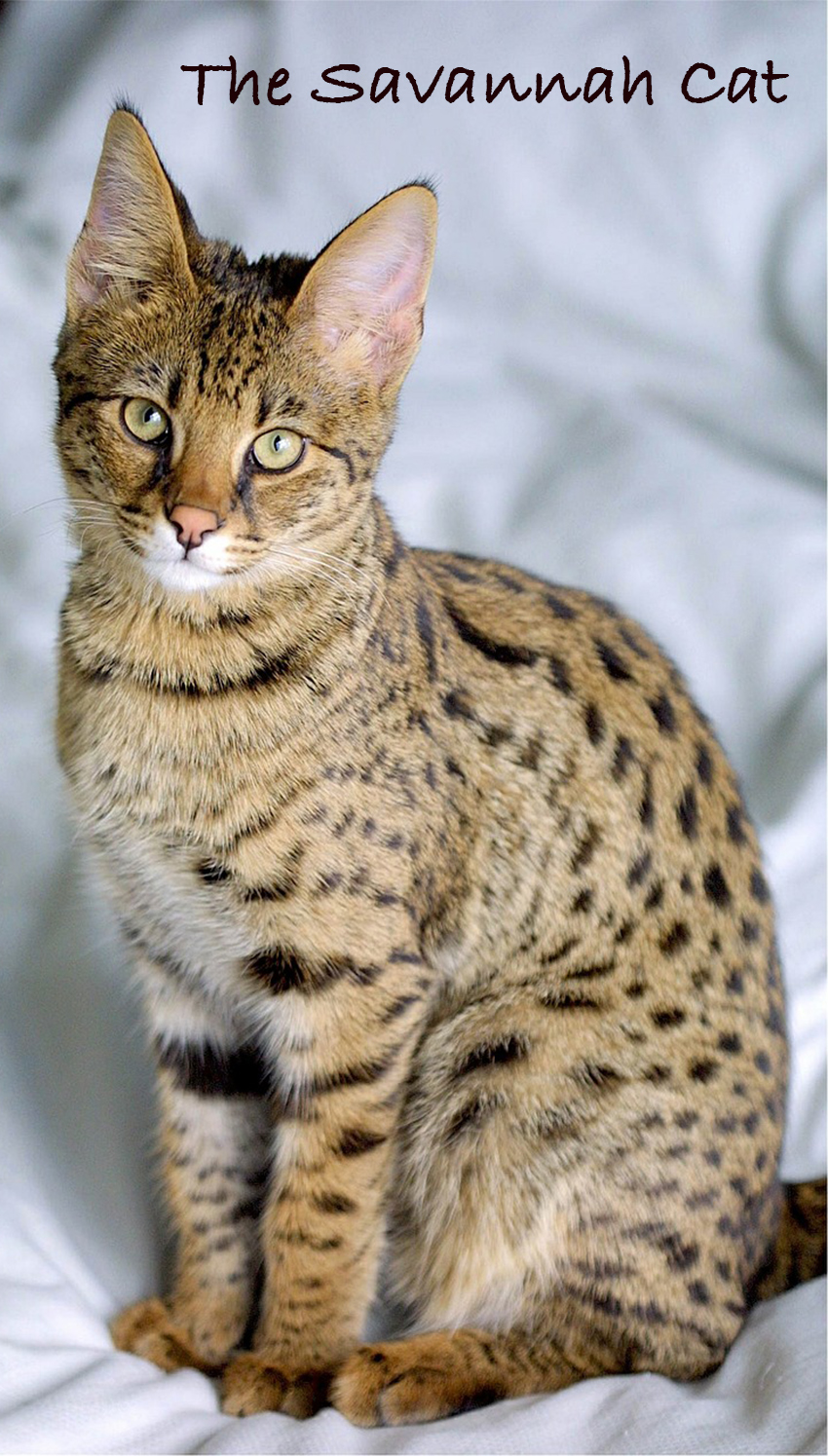 The offspring were then bred to cats like the Oriental shorthair, Ocicats, Egyptian Maus, and other Savannah cats to create a domestic breed.
Owning a Savannah cat is incredibly rewarding if you have the time and patience.
These serval cat hybrids love a good joke at their owner's expense. Be prepared to spend a lot of time playing with your Savannah cat – or being played with.
If you don't, your Savannah will force you to interact with it by engaging you in games of tag, knocking things over, and even dropping toys in your drink.
Click here to find out all about the Savannah cat breed.
Serengeti cats
If the wily and wild Savannah is too much for you but you like the look of Serval cat hybrids, then the Serengeti cat could be the breed for you.
Serengeti cats were created by crossing Bengal cats with Oriental Shorthairs. They are a long- legged domestic cat with a short, silky coat that typically ranges from yellow to gold in color with black spots.
They have large, rounded ears, which gives them an alert, listening expression, and they are very vocal. This is a cat you can feel like you're having a conversation with.
Serengeti cats are active. They also feel it is their responsibility to assist you with all your household tasks, whether you actually need help or not.
Sokoke cats
The genetic origin of the Sokoke cat, also known as the Sokoke Forest cat, is unknown!
A litter of kittens with unusual marking was discovered by the breed founder, Jeni Slater, on the edge of a forest in Sokoke, Kenya. Realizing their potential, Slater took a male and female home with her, and the Sokoke cat was born.
Sokoke cats are chatty. They can carry a 'conversation' for hours and display affection by following their owners around.
Their most unique feature is their striking coat with its characteristic wood grain marking, ranging from light brown to a deep chestnut.
Toyger
Very few sane people want a tiger in their living room, but the Toyger is 100% domestic.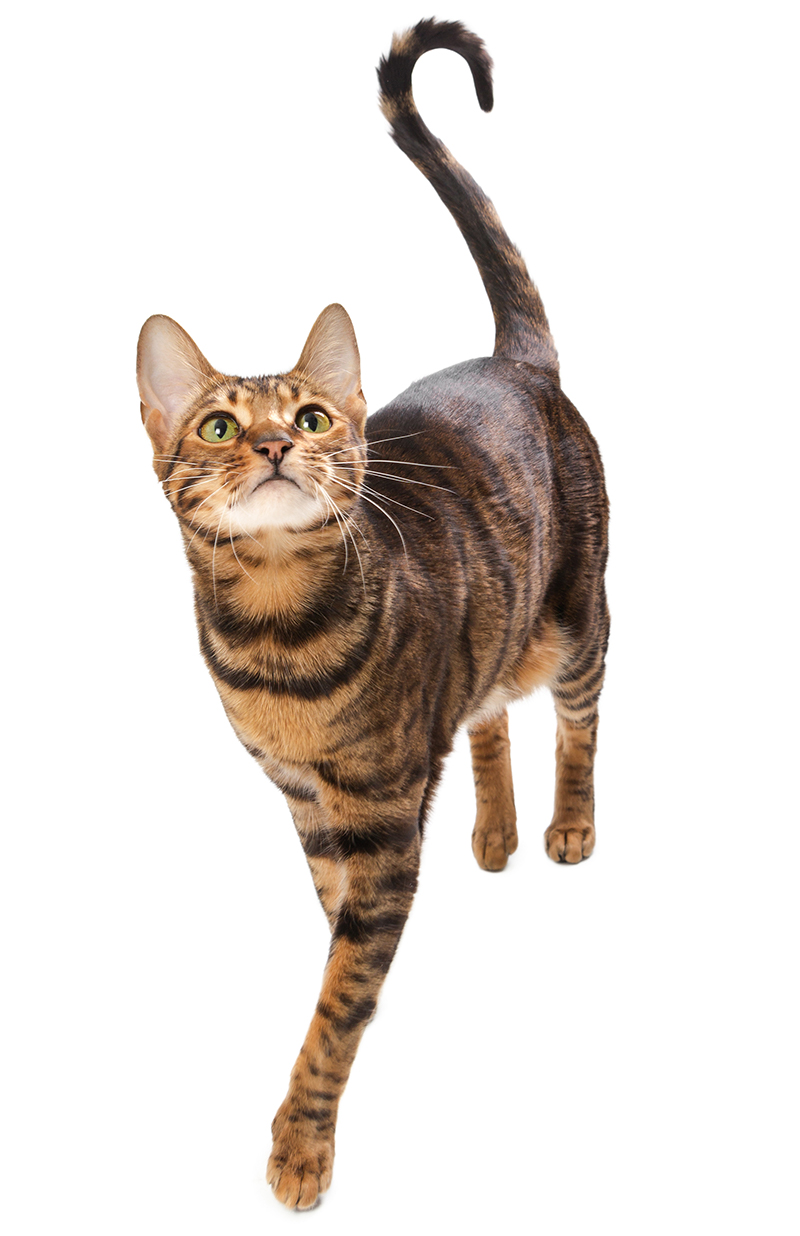 Toygers are the result of crossing a Bengal cat with striped domestic shorthairs to create a domestic feline with a wild, tiger striped appearance.
The easy going Toyger loves playtime, but unlike some exotic cat breeds, this kitty has an off-switch. Regular play times are enough for this cat, and they also enjoy just spending time with their families.
Should I get an exotic cat?
Exotic cats are undeniably unique, but should you consider owning one?
The exotic cats and hybrid cats require more research and thought than their domestic cousins. There are larger responsibilities that come with owning exotic cats, and they are not suitable for every home.
Hybrid cats, or exotic breeds with more recent wild out-crossings, may be a little "too wild" for the average owner. These cats may spray to mark their territory, and have less restraint when it comes to using tooth and claw to get what they want.
Many exotic cat breeds have higher energy requirements than domestic cats. These cats need social interaction and can be destructive if left alone for long periods of time.
Keep in mind that some cats, like the Chausie cat, may have special dietary needs that require a grain free, all meat diet.
Before you choose to purchase or adopt an exotic cat, do as much research as you can about the breed, and when possible, arrange to meet one of these cats at a local cat show or event. Talk to other breed owners to see if the breed's personality will fit into your lifestyle.
Pedigreed exotic cats can be pricey. Expect to pay more for an exotic cat than you would for another cat breed, and be prepared for any other veterinary bills that come up.
Exotic cats with hybrid origins are superb hunters. This makes them a threat to the local wildlife in your neighborhood, and possibly to any unguarded fish or small pets in your home, so keep exotic cat breeds indoors or with access to enclosed outdoor runs.
Exotic cat rescue
Many pet owners find that they are unable to keep their exotic cats for a variety of reasons.
For some, the exercise and dietary needs may turn out to be more than they can handle. Others may not have realized the extent of the wild instincts in some of these breeds, and some states do not allow certain exotic cat breeds to be kept as pets.
Whatever the reason, exotic cat rescues are full of cats in need of homes, and are an excellent place to begin your search for an exotic cat.

Further Reading and Resources