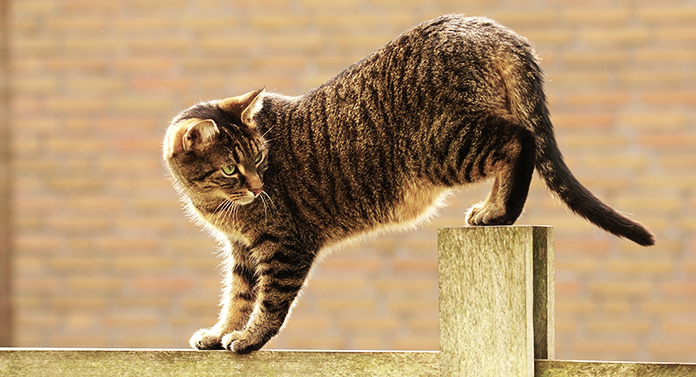 There are a huge number of benefits to allowing your cat to spend some time outside, but most owners worry about their safety. Free roaming cats can annoy neighbours, get hurt by pesticides, vehicles or other animals, and eat things they shouldn't. In an ideal world we'd let them roam the backyard, but stay within its boundaries. Which of course is tricky, because cats can scale most barriers without a second thought. Fortunately there are a few ways you can stop a cat from climbing a fence, and today i'll share the best and worst of them. Helping you to keep your outdoor space completely secure.
Contents
My cat is eleven years old but he can still jump to the top of our six foot fence within a pause. He could climb up the panels if he wanted to, but there is no need. To him it's nothing, the equivalent of us propelling ourselves over a larger than average stair. These agile and athletic animals need something a bit special to stop them roaming.
How to Stop a Cat From Climbing a Fence
There are a number of ways people try to keep their cats from climbing the fence and escaping into the wider outside world. Each method comes with its own pros and cons. Some may be more suitable to your situation than others, so it's important to consider them all before making your decision:
Netting
Bars
Spikes
Catios
Repellents
Electricity
Overhead Netting or Barrier
An overhead netting or mesh barrier is what people are most commonly referring to when they say "cat proof fence". This method involves a strip of netting or a mesh barrier running along the top of your entire boundary. It will sit either horizontally, or will hang at a 45 degree angle from the top of your fence, into your yard.
The netting or barrier will not stop your cat from climbing the fence – but it will prevent them from being able to jump or climb over the very top when they reach it. This method is usually quite affordable for most people, but some people don't like it because it can be quite an ugly sight. Also, if they can manage to get out, there's a chance that they'll struggle to get back into your yard.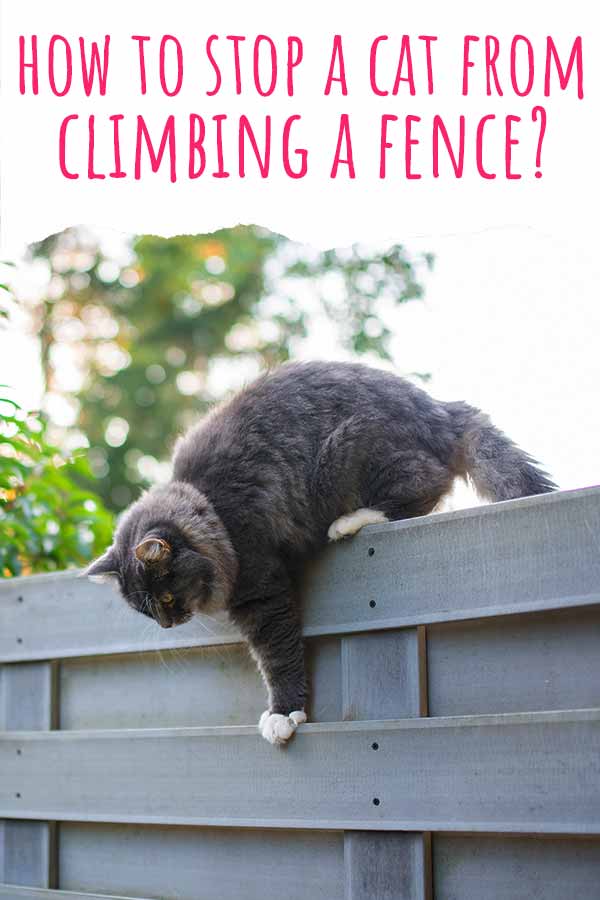 Roller Bars
A roller bar is exactly what it sounds like. It's a rail that turns and rolls as soon as your cat, or any other animal, puts any pressure on it. These go on top of the fence and make it very difficult for cats to get a balance or to vault over.
If your fence is quite short, there's nothing to stop your cat jumping straight over from the very top. Plus, some cats learn to balance themselves on the rollers. So, it's not a foolproof method.
Anti-Cat Spikes
These are blunted spikes that will sit along the top of your fence. They're designed to make it hard for your cat to climb over the top, but this method isn't always as useful as owners might think. In fact, if you search online for images of this product, you'll find plenty of images where cats are snoozing on top of the cat spikes!
Metal Fencing
Cats often climb fencing with their claws, and have to be able to get a good grip. Replacing your wooden fencing with a metal alternative can stop your cat from scaling it.
Metal fencing isn't as popular with a lot of homeowners, because it is not necessarily as attractive. But, there are still plenty of options for you to consider.
Of course, your cat may be able to climb over some types of metal fencing – such as metal wire mesh fencing. But, most are too slippery to give cats any grip, particularly if paired with a cat-proof topper. Make sure there are no trees near the fence that your cat could simply jump over from.
Metal fencing is sadly usually a more expensive option, as it involves replacing all of your current barrier.
Build Higher Fences
No matter what your fence is made from, if it is too short, there's nothing to stop your cat from jumping straight over the top! In this case, they won't even need to climb the fence to escape over the top.
However, this won't necessarily stop your cat from climbing over them and hopping over the top once they've climbed there. So, this method can be a lot of expense for no gain.
Outdoor Runs For Cats
So far all of the methods that we've looked at have involved making changes to your fence to deter your cat from climbing it and jumping over it. But, there are alternatives you can consider.
If you aren't allowed to make changes to your fence, or simply don't want to, a catio will let your cat spend time in your yard without the risk that they'll escape over the top.
Cat Repellent
Another alternative is using a cat repellent on or around your fences. These are spray bottles that include things like strong citrus scents or ultrasonic sounds.
However, some cats don't actually mind these smells, and occasionally products used to deter cats can actually be poisonous to them. You'll also need to regularly reapply them, and hope that it doesn't rain too much!
Electric Collars
Electric collars or shock collars are another common fallback for owners who are desperate to keep their cats within their yard. These collars can be set up with a perimeter trigger to shock your cat when they cross an invisible boundary – i.e. when they go near your fences.
Shock collars can deliver anything up to 6,000 volts when they are triggered. In fact, the use of these devices is banned in some countries.
Aversive training methods like this are known to be stressful, painful, and frightening for cats. And, your cat may not realise that attempting to get over the fence is causing the pain – they may even flee over to try and get away from the pain.
I am not a fan of this solution, and would advise that you consider one of the others for your pet's benefit.
Other Ways To Keep Them Close To Home
Cats are very curious little animals. So, it makes sense that they'll want to explore the world outside of your yard. Other than exploring just for the fun of it, your cat may climb your fence to get some extra exercise, hunt birds and other animals, or to mate if they haven't been desexed.
Desex Your Cat
Neutered cats are less active and aren't tempted to go looking for a mate. So, there's a chance that desexing your cat will reduce their desire to get over your fence and search for a mate. However, this isn't a guaranteed solution.
Your cat may be climbing your fence because they are bored and need to find a source of entertainment. If this is the case, you can try offering them more interactive, stimulating toys. Giving them things to do that satisfy all of their natural behaviors is a good way to cut down on their wanderings. Chewing, scratching and hunting based toys like teasers all help.
Can You Stop Cats Climbing Fences?
No matter which of the above methods you try, some cats will still want and try to explore. Even if you choose a cat-proof fence they may try everything they can think of to get over it. This can be a little frustrating, but as long as your cat is safe, healthy, and not obviously stressed at being kept in your yard, you won't need to worry too much.
Cats are naturally curious creatures, so it makes sense that they will want to explore their environments. The only guaranteed way to keep your cat within your grounds is to use a catio or keep them indoors.
Have you tried any of the methods that we've talked about above? If so, did they work for you? We would love to hear from you in the comments!