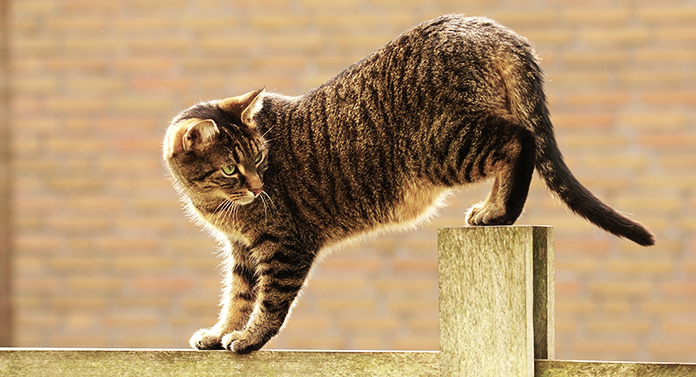 Knowing how to stop a cat from climbing a fence is important for a lot of cat owners.
As soon as your cat climbs over your fence, they can annoy neighbours, get hurt by pesticides, vehicles, or other animals, and eat things they shouldn't.
Common methods to stop a cat from climbing a fence include installing cat proof fences, cat repellents, or restricting your cat to an outdoor run.
However, each of these methods have important pros and cons to consider.
How to Stop a Cat From Climbing a Fence – Quick Links
You can jump straight to each method using the quick links above. But, before we tackle each one individually, let's learn more about why cats try to climb fences in the first place.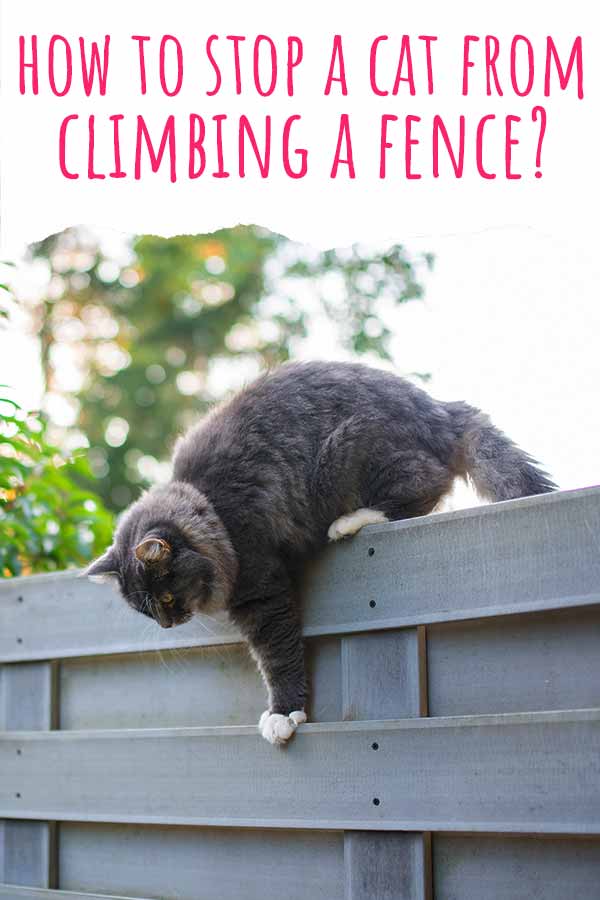 Why Do Cats Climb Fences?
Cats are very curious little animals. So, it makes sense that they'll want to explore the world outside of your yard.
They'll need to get over the fence to do this, and many fences are too high to jump. Which leads to climbing!
Other than exploring just for the fun of it, your cat may climb your fence to get some extra exercise, hunt birds and other animals, or to mate, if they haven't been desexed.
They may also climb your fence to find other sources of food.
Some people think that restricting cats to a life indoors can actually be harmful and stressful to them.
But, it's much harder to keep your cat safe if they are constantly jumping the fence.
Why Should You Let Your Cat in the Yard?
Restricting your cat's time outdoors to just the yard can have a couple of benefits for most people.
Firstly, it ensures your cat is safe away from traffic, other cats, and anything toxic to them. You have complete control over their environment.
It also means they're less likely to be able to eat things they shouldn't – although it's likely they'll still hunt birds and creatures that come into your yard.
Secondly, your yard can be a great place for exercise. It's hard to give your cat enough exercise in your house alone, and indoor cats often sit watching the world go by at the window.
So, letting them have some valuable time outside can be really rewarding – for both of you.
How to Stop a Cat From Climbing a Fence
There are a number of ways people try to keep their cats from climbing the fence and escaping into the wider outside world.
Each method comes with its own pros and cons. Some may be more suitable to your situation than others, so it's important to consider them all.
We're going to take a look at each of them now, to help you decide which one is right for you and your cat.
Overhead Netting or Barrier
An overhead netting or mesh barrier is what people are most commonly referring to when they say "cat proof fence".
This method involves a strip of netting or a mesh barrier running along the top of your entire fence. It will sit either horizontally, or will hang at a 45 degree angle from the top of your fence, into your yard.
The netting or barrier will not stop your cat from climbing the fence – but it will prevent them from being able to jump or climb over the very top when they reach it.
This method is usually quite affordable for most people, but some people don't like it because it can be quite an ugly sight.
For most people, this method is best to stop your cat from getting out of your yard. But, in rare cases, some cats may be able to maneuver over the barrier.
If they can manage to get out, there's a chance that they'll struggle to get back into your yard. So, it isn't a method without risks and downsides.
It also requires a degree of setting up, often involving drills, which can be difficult for some people and problematic for those that are renting and not allowed to make changes to their property.
As is the case with any cat-proof fencing, make sure there are no trees nearby that your cat could climb to jump over the fence.
Roller Bars
This method is very similar to the one above. But, rather than netting or a barrier being attached to the top of your fence, a roller bar is attached.
A roller bar is exactly what it sounds like. It's a rail that turns and rolls as soon as your cat, or any other animal, puts any pressure on it.
This means that it becomes very difficult for cats to get a balance on the top of your fence, or to climb over.
Like the previous method, cats can still climb to the top of the fence, it will just be harder for them to get over the very top.
If your fence is quite short, there's nothing to stop your cat jumping straight over from the very top.
Plus, some cats learn to balance themselves on the rollers. So, it's not a foolproof method.
This method has the same potential drawbacks as the netting. It will require some level of assembly, and may not be feasible for renters.
Anti-Cat Spikes
Anti-cat spikes are blunted spikes that will sit along the top of your fence.
They're designed to make it hard for your cat to climb over the top of the fence, but won't stop your cat from climbing the fence at the bottom.
However, this method isn't always as useful as owners might think. In fact, if you search online for images of this product, you'll find plenty of images where cats are snoozing on top of the cat spikes!
This shows that the product isn't necessarily as dangerous as the name suggests.
But also suggests that it might not be that useful in stopping your cat from getting over the fence!
Use Metal Fencing
Metal fencing is usually a more expensive option than the ones we've already suggested, as it can involve replacing all of your current fencing.
Cats often climb fencing with their claws, and have to be able to get a good grip.
Replacing your wooden fencing with a metal alternative can stop your cat from climbing the fencing.
Metal fencing isn't as popular with a lot of homeowners, because it is not necessarily as attractive. But, there are still plenty of options for you to consider.
Of course, your cat may be able to climb over some types of metal fencing – such as metal wire mesh fencing.
But, most are too slippery to give cats any grip, particularly if paired with a cat-proof topper. Make sure there are no trees near the fence that your cat could simply jump over from.
And, if the fence isn't high enough, your cat may be able to just jump straight over.
Build Higher Fences
No matter what your fence is made from, if it is too short, there's nothing to stop your cat from jumping straight over the top!
In this case, they won't even need to climb the fence to escape over the top.
One way to stop your cat from jumping over a fence is to build taller fences.
However, this won't necessarily stop your cat from climbing over them and hopping over the top once they've climbed there.
So, this method can be a lot of expense for no gain.
Build an Outdoor Run
So far all of the methods that we've looked at have involved making changes to your fence to deter your cat from climbing it and jumping over it. But, there are alternatives you can consider.
If you aren't allowed to make changes to your fence, or simply don't want to, one of the following methods will be best for your circumstances.
An outdoor run will let your cat spend time in your yard without the risk that they'll escape over the top.
Outdoor runs are fully enclosed, and can be quite small. So, to help your cat get the most out of their time in the garden, choose the biggest run possible.
You can buy one, or choose to make one yourself. Just ensure there is enough ventilation if you're making your own.
This way, they'll be able to run around and get a little exercise without you having to make changes to your fencing.
Cat Repellent
Another alternative is using a cat repellent on or around your fences. Cat repellents include things like strong citrus scents, ultrasonic sounds,
However, you must take care when using cat repellents.
Certain plants, including citrus plants like orange, lemon, and lime are all listed as toxic to cats on the ASPCA.
Make sure to check ingredients carefully before using any form of cat repellent.
Other common ones include ingredients such as lavender and lemongrass, which are also listed as toxic to cats.
Cat repellents won't necessarily work to keep your cat from climbing the fence, and can be toxic to cats. So, use them with caution and do plenty of research first.
Electric Collars
Electric collars or shock collars are another common fallback for owners who are desperate to keep their cats within their yard.
These collars can be set up with a perimeter trigger to shock your cat when they cross an invisible boundary – i.e. when they go near your fences.
Shock collars can deliver anything up to 6,000 volts when they are triggered.
In fact, the use of these devices is banned in some countries.
Aversive training methods like this are known to be stressful, painful, and frightening for cats. And, your cat may not realise that attempting to get over the fence is causing the pain – they may even flee over to try and get away from the pain.
Negative reinforcement methods like this can be stressful and painful for cats. And, they're illegal in many places.
So, it's best to choose one of the other methods if you're hoping to stop your cat from climbing your fence.
Desex Your Cat
A 2019 study looking into the effect of neutering on unowned cat populations found that the most obvious effect was a significant reduction in activity levels.
So, there's a chance that desexing your cat will reduce their desire to get over your fence and search for a mate.
However, finding a mate isn't the only reason that cats will explore over the fence. And many cat owners will find that their cats climb the fence even after being desexed.
There are other benefits to desexing your outdoor cat – including unwanted litters. So, you can always speak to your vet if you're considering this.
But, it's not necessarily going to stop your fence climbing problem.
Change Up Their Toys
Your cat may be climbing your fence because they are bored and need to find a source of entertainment.
If this is the case, you can try to stop a cat from climbing a fence by offering them more interactive, stimulating toys.
If your cat is getting plenty of entertainment and exercise at home, they might not bother climbing over the fence to find it elsewhere.
However, like the previous section, this isn't guaranteed. You can play with your cat as much as possible, and they still might try to climb your fence.
If you're keen to try this method, take a look at some of our best cat toy guides below.
Some Cats Will Still Explore
No matter which of the above methods you try, some cats will still want and try to explore.
Even if you choose a cat-proof fence (which is probably the most likely method to keep your cat in your yard) they may try everything they can think of to get over it.
This can be a little frustrating, but as long as your cat is safe, healthy, and not obviously stressed at being kept in your yard, you won't need to worry too much.
Cats are naturally curious creatures, so it makes sense that they will want to explore their environments.
Which Method Works for You?
Have you tried any of the methods that we've talked about above? If so, did they work for you?
Did you manage to find a way to stop a cat from climbing a fence?
We would love to hear from you in the comments!
References and Resources