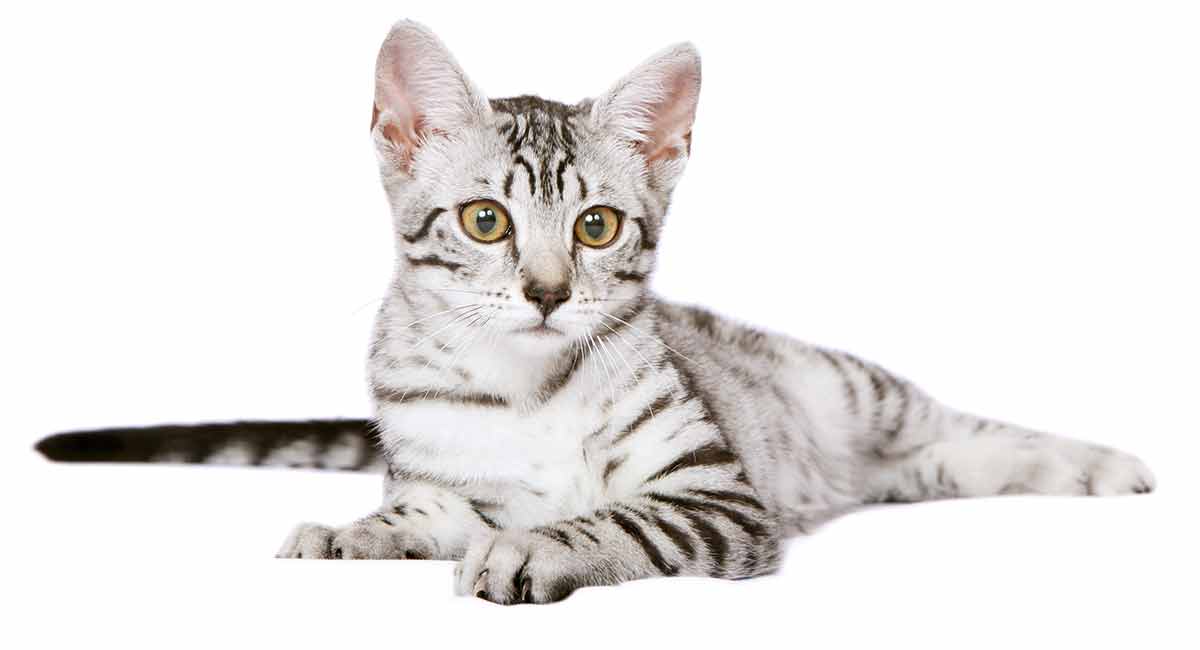 The Egyptian Mau size is just one of many visually striking aspects of this unusual ancient cat breed.
To truly appreciate the Egyptian Mau cat, we would need to travel back in time more than 4,000 years ago!
The Egyptian Mau's origins are untraced and untraceable – although we know they share a lot in common genetically with Abyssinians and Siamese cats.
So many fans prefer to believe the legend that they are descended from the earliest domestic cats in ancient Egypt.
In the ancient Egyptian language, the word "mau" translated to mean "cat." So you can also think of the Egyptian Mau cat as simply the "Egyptian cat."
But perhaps most intriguing about this breed is its spotted coat – the only naturally occurring domestic spotted cat breed one the planet!
For many enthusiasts, this means that owning an Egyptian Mau cat comes about as close as is possible to owning a true wild cat, even though there isn't a speck of wild cat blood in this modern domestic cat breed today.
Read on to learn more about Egyptian Mau size, weight, height and what you can expect as your Egyptian Mau cat grows up!
How big are Egyptian mau cats?
In the feline world, the Egyptian Mau size is considered to be "small to medium."
For comparison's sake, let's look at the size of the average un-neutered or -spayed adult cat.
The average adult female cat typically weighs around 7.2 pounds.
The average adult male cat is bigger – about 8.6 pounds.
Those are averages, but a cat's weight in adulthood can vary anywhere from just 5 pounds to over 20 pounds!
Egyptian mau weight
The Egyptian Mau size at maturity can vary anywhere from just 6 pounds to 14 pounds.
However, the most typical weight range for an adult Egyptian Mau cat is 7 to 9 pounds.
Generally speaking, an adult Egyptian Mau male will outweigh an adult female by one to two pounds.
The Egyptian Mau cat has a short-to-medium length coat, which can make this cat seem smaller and lighter than it actually is.
For many new to this breed, it is only when you pick up an Egyptian Mau cat that you realize how muscular and strong they truly are!
Egyptian Mau cat growth
Now we know the weight range of Egyptian Mau cats, when will you find out where your cat lies on it?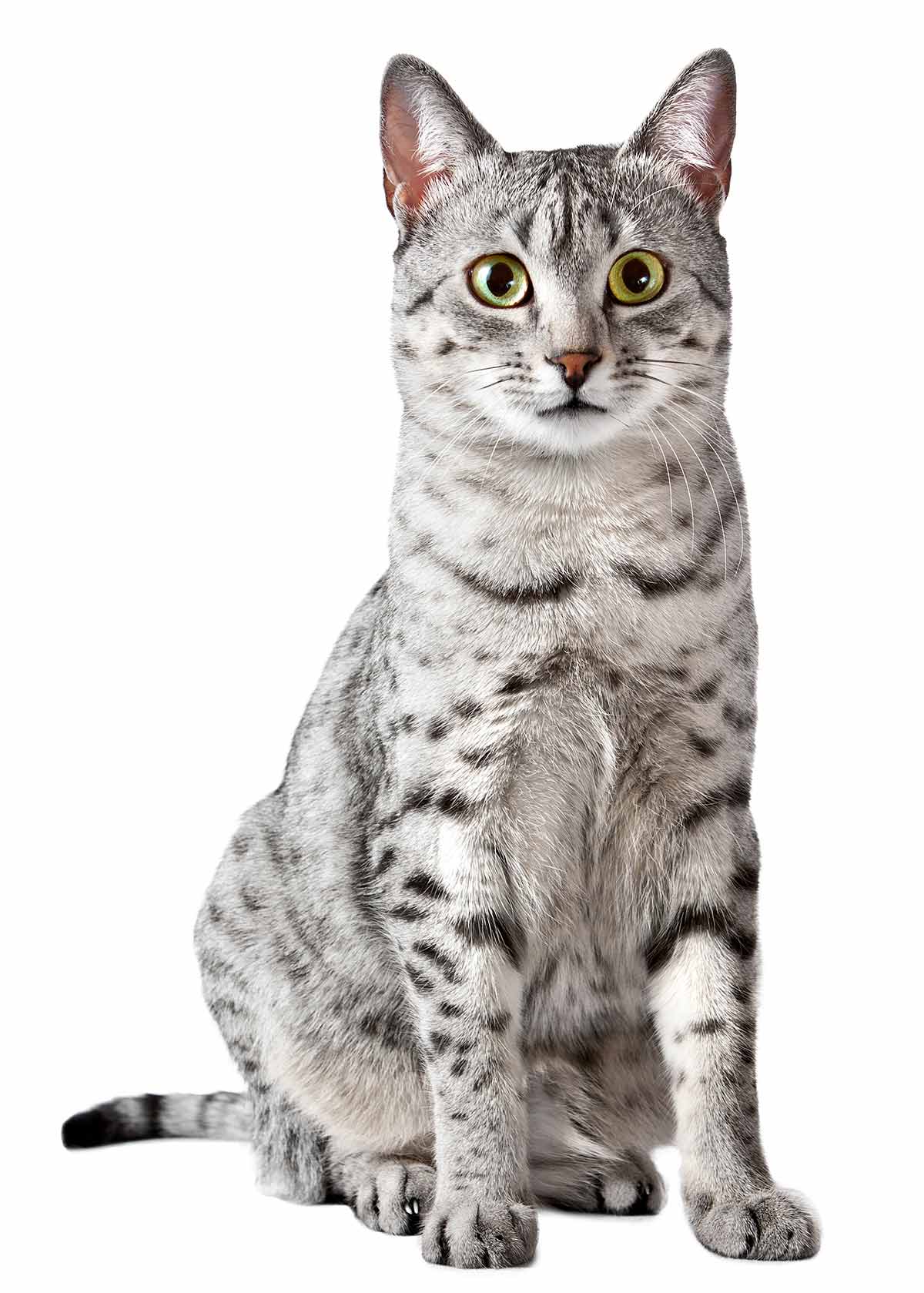 The smaller the cat breed, the more quickly a kitten tends to grow to their full adult height, weight and size.
As a small to medium cat breed, the Egyptian Mau cat typically reaches full adult size by the age of 12 months.
Egyptian Mau kittens follow a typical growth pattern, weighing around 3.5 ounces at birth and between one to two pounds around the age of two months.
From this point, an Egyptian Mau kitten will gain around 0.2 ounces per week until fully grown.
If you monitor your kitten's growth on an electric scale (which is a great way to keep tabs on their overall health too!) you'll notice the rate they're growing at start to slow down and plateau around one year old.
Egyptian mau height
How tall will your Egyptian Mau be when he's fully grown?
Adult Egyptian Mau height can range from 8 to 10 inches on average.
Adult male cats tend to stand slightly taller than adult females by about one to two inches.
One really interesting characteristic of Egyptian Mau size and height is that this cat's back legs are slightly longer than its front legs!
This can make the Egyptian Mau appear to be standing on tiptoes on the hind legs.
And these long powerful back legs mean the Egyptian Mau is (probably) the fastest domestic cat in the world today!
One cattery reports these cats have been clocked while running at a rate of 30+ mph (48 kph)!
Not surprisingly then, this stance is also considered a highly desirable trait in show quality Egyptian Mau cats.
In the show ring, the Egyptian Mau's unusual "tiptoe" stance often makes this cat appear to be striking a pose for the judges.
Egyptian Mau length
The Egyptian Mau breed standard calls for cats to be "medium long", and specifically never "cobby" (meaning short and stocky).
But what does this mean in numbers?
From nose to tail, the Egyptian Mau cat can grow to reach up to 24 inches or even longer at maturity.
It is not surprising that these cats are frequently described as elegant and graceful both in and out of the show ring.
Egyptian Mau size
We hope you have found the answers you were looking for in this article on Egyptian Mau size, height, weight and length!
Compared to their pet cat brethren, Egyptian Maus are medium-small, with long and lean proportions.
They typically weigh 7 – 9 pounds, but their dense musculature means you might easily underestimate their weight before you pick one up!
Like many cat breeds, males are usually a little bigger than females?
Do you have an Egyptian Mau?
Are they pint-size or plus-size?
Maybe you have a kitten and you're trying to predict what their adult weight might be?
We'd love to know what size your Egyptian Mau cat is – let us know in the comments box!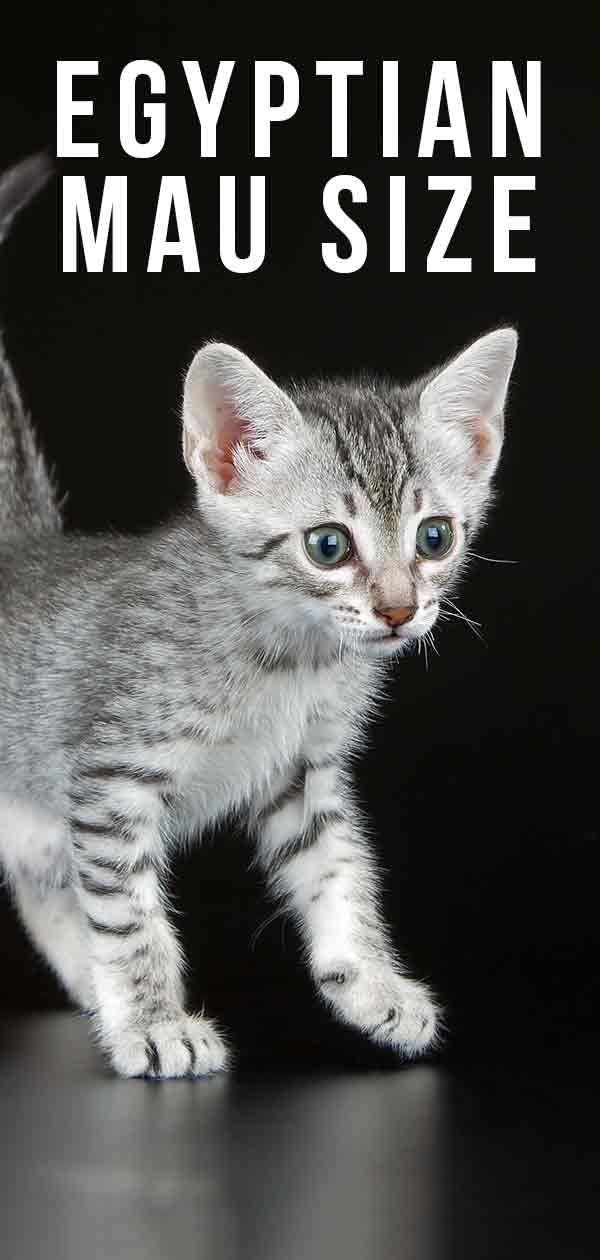 Sources
Woodley, S., et al, "Egyptian Mau – Origin & History/Standard of Points," The Egyptian Mau Club, 2017.
Goodell, P., "Egyptian Mau," The American Cat Fanciers Association, 2018.
Patterson, J., et al, "General Description: Egyptian Mau," The International Cat Association, 2018.
Noske, B., "About the Egyptian Mau," Egyptian Mau Cattery Noske, 2018.
Mathas, R.G., "About Maus – Spots and stripes and bars! Oh, Mau!," Aar-gee Em Cattery, 2009.
Gallo, P., DVM, et al, "Fast Feline Facts," The Boston Cat Hospital, 2018.
Robinson, B., et al, "How Old is that Kitten?: Kitten Progression At a Glance," Alley Cat Allies, 2018.