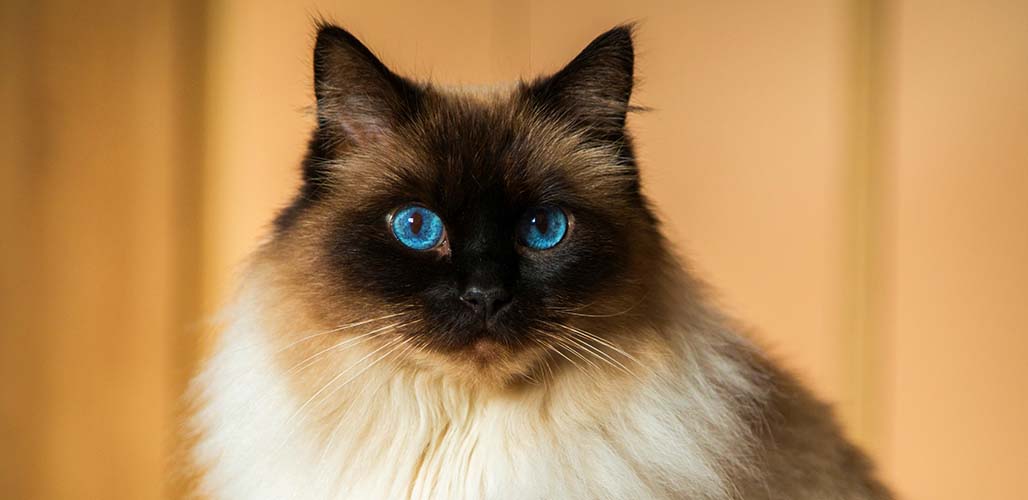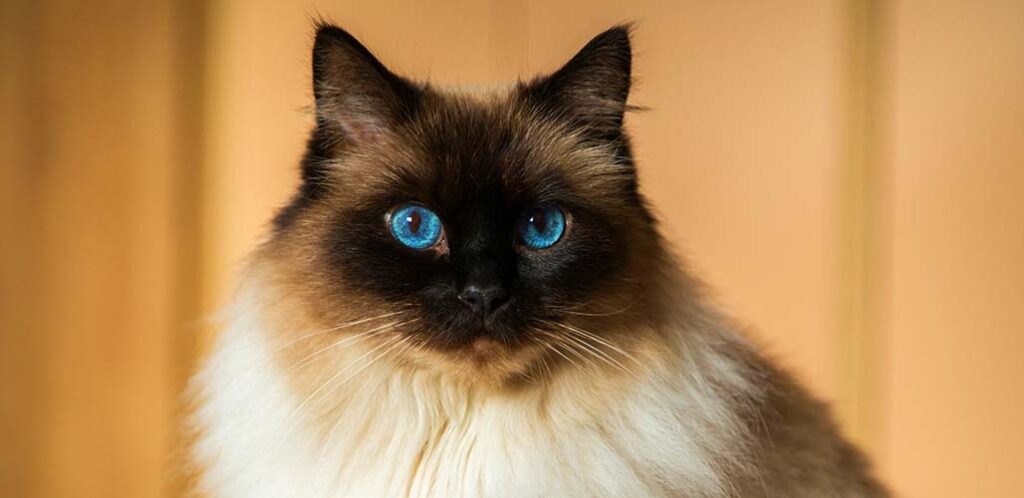 Ragdoll cats are highly sought after thanks to their sweet and affectionate personalities. They're also extremely pretty to look at. And since they have become so popular, I can hardly see a longhaired cat in a window without first asking if it's a Ragdoll, and then considering all the other possibilities second! Whether you're starting the search for a new kitten, curious about the ancestry of your rescue cat, or just interested to work out what breed a neighborhood cat is, here's everything you need to know about how to identify a Ragdoll cat too.
Contents
A super simple spotting guide
First of all, here are the primary defining features of Ragdoll cats. This is a casual observer needs to know, to have a pretty good chance of identifying a Ragdoll accurately. Since these cats are so popular, whenever you see a cat which meets this description it is more likely to be a Ragdool than anything else:
Large. Female Ragdolls weigh 8 – 15lbs and males weigh 12 – 20lbs. This is already large by pet cat standards, but add a thick fur coat, and we're talking about one impressive silhouette indeed!
Long hair. Speaking of their fur, Ragdolls always have long, luxurious and rather glamorous looking coats.
Blue eyes. Ragdoll cats always have blue eyes.
Color point markings. Ragdolls all have color point dilution, which means the pigment in their coat appears like a heat map. It is darkest on their muzzle, ears, lower legs and tail (where the surface temperature of their skin is coolest) and fades to lightest on their torso and abdomen. BUT – they can also have white markings with crisp edges, which cover up some of the color or pattern on their points.
Friendly. Is that cat showing an interest in you? Ragdolls are famously friendly, and more fond of staying on the ground among people than climbing.
Placid. It's a myth that Ragdolls go limp when you pick them up, but they are still uncommonly calm and chilled out.
How to verify a Ragdoll kitten from a breeder
So you've got a reasonably strong chance of recognizing a Ragdoll cat from a distance now. But what if you're more invested than that? Ragdoll kittens can sell for hundreds of dollars – especially ones with show winning ancestors. Whilst the love and enjoyment you'll get from your kitten is more important than any rosettes they might also win in the future, no one should be tricked into paying a premium price for a fake pedigree Ragdoll either!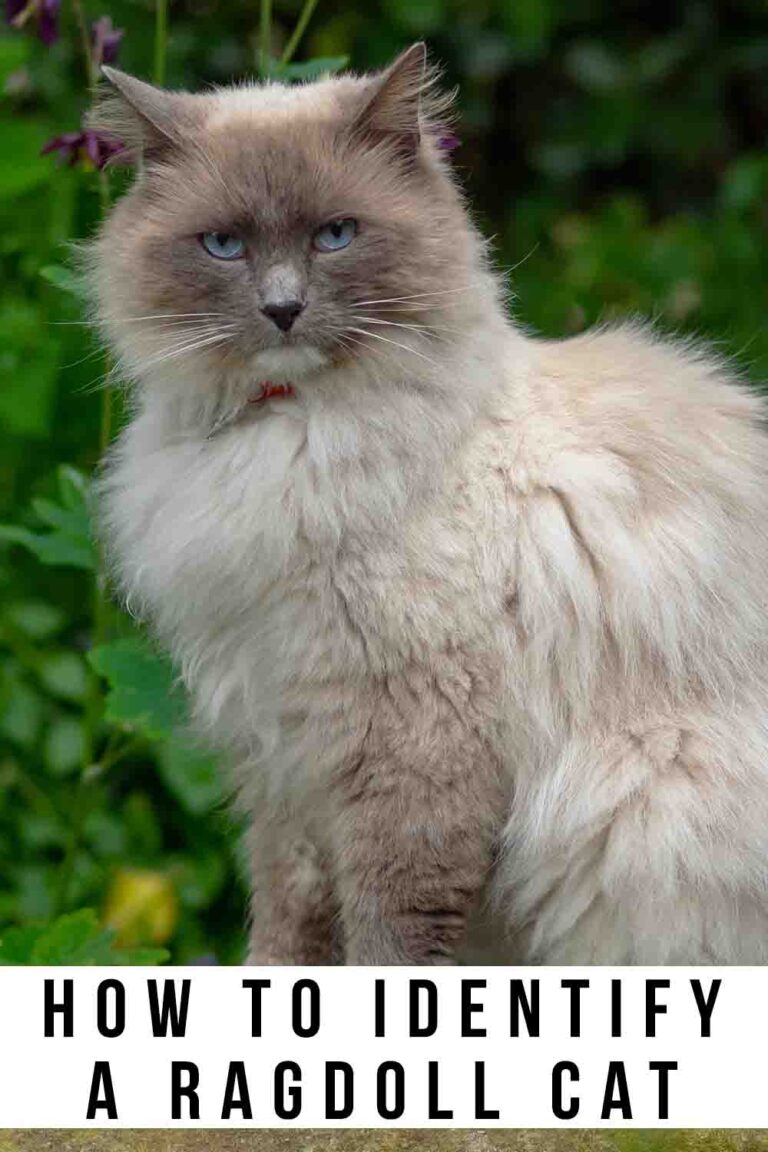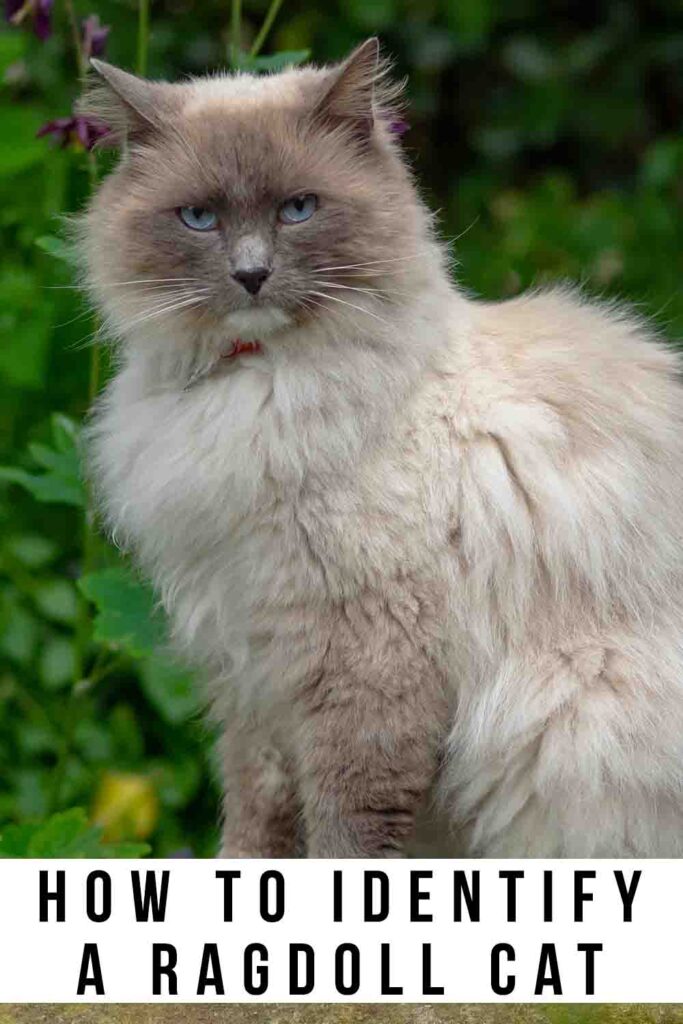 The simple way to verify that a breeder is selling genuine Ragdoll kittens is not by looking at them, but by asking to see their 'papers'. A cat's papers are the documents which prove they are recognized as purebred by an official breed registry.
If a breeder describes their kittens as Ragdolls, they should be able to provide copies of the pedigree for both of the litter's parents, from either the Cat Fanciers' Association, The International Cat Association, or the Governing Council of the Cat Fancy (in the UK). Furthermore, by the time your kitten is ready to collect, they should also provide a Certificate of Individual Registration for them, together with the information you need to register yourself as the new owner.
Look out for breeders who
Keep stalling over sharing papers.
Who only offer an incomplete set of papers.
Or whose papers aren't in the proper format for their registry (look online for example papers, so you know what you're looking for).
These are all tactics of unethical breeders, who are lying about the ancestry of their kittens to get a higher price.
How to identify a Ragdoll cat using their breed standard
What about unregistered cats? It's true that not all Ragdolls which qualify to be registered as pedigree are actually registered at birth. Unless registration is applied for retrospectively at some point, their kittens won't qualify for papers either, even if their other parent is registered. The breeder could honestly describe that litter as being purebred, but the bottom line is that they won't be able to prove it, and you'll have to decide whether you believe them and if their price is still fair.
One thing you might like to do is compare the parents to the Ragdoll breed standard. This is an extremely exacting and nuanced document, describing the 'ideal' appearance of a Ragdoll cat. Fitting the breed standard isn't proof of pedigree, and lots of cats with impeccable pedigrees have 'faults' that deviate from the breed standard.
But it's an interesting document nonetheless. Here are some key details from it which expand on the basic details outlined above are:
The proportions of their face are roughly in an equilateral triangle.
Ragdoll eyes are large and oval, and slant upwards slightly at the outer corner.
Their nose is straight.
They have triangular ears that are medium sized and set wide apart.
A Ragdoll's overall frame is big boned and somewhat heavy set.
Their neck and shoulders are broad and strong – emphasized by a pronounced ruff of long hair here, like a mane.
They have long body – overall their proportions are rectangular rather than square.
Ragdoll tails are long and fluffy – known as 'full plume'.
Their coat mostly consists of outer guard hairs, with limited fleecy undercoat.
The hair is shorter on their front legs than their back legs.
Furthermore, Ragdolls' points must be in one of the following colors:
Seal
Blue
Chocolate
Lilac
Red
Cream
Can genetic testing recognize a Ragdoll cat?
Can science remove all doubt when it comes to identifying a Ragdoll cat? It is possible to buy a DNA test from companies such as Wisdom Panel. These work by taking a painless cheek swab from your pet, and sending it to a lab for analysis. The information you get back includes an estimate of your cat's ancestry, by comparing their DNA to other cats of known ancestry. It's does not claim to be 100% accurate, but it's a fun option if you've adopted a cat with a mysterious past, for example. The results may also include useful information about genetic diseases your cat may be at risk of.
Similar breeds, and how to tell them apart
Finally, here are some other cat breeds commonly mistaken for Ragdolls, and vice versa.
Birman
Ragamuffin
Himalayan
Norwegian Forest Cat
Turkish Van
Birman
Birmans are one of the oldest long haired color point cat breeds. The Ragdoll's own color pointing is thought to be inherited from Birman sires, right at the beginning of the breed. How to tell them apart: Birmans are significantly smaller than Ragdolls. Birmans also have a slightly convex (Roman) nose, whilst the Ragdoll's is straight. Birmans have no undercoat at all, and they always have white 'gloves' on their paws.
Ragamuffin
The Ragamuffin started out as an offshoot of the Ragdoll breed, and was regarded as a subcategory of Ragdoll until 1994. Most of the differences between them are still very subtle, and practically imperceptible to the untrained eye. How to tell them apart: Ragdoll must have a color point coat, Ragamuffins are permitted for registration in every color except color point. So if it looks like a Ragdoll but it doesn't have a color point coat, it is probably a Ragamuffin!
Himalayan
Himalayans were created by crossing Persians with Siamese, to create a new long haired and color pointed cat. How to tell them apart: Himalayans' faces and eyes are more round, whereas a Ragdoll's face is more triangular and their eyes more oval. Himalayans look grumpier, whereas Ragdolls look more regal and serene.
Norwegian Forest Cat
Norwegian Forest are similar in size to Ragdolls, and they have about the same eye, ear, and head shape. But from ancestry to temperament, they could hardly be more different! How to tell them apart: Norwegian Forest Cats have a thick under coat, and their coat is tabby all over, not color point. They are also far more likely to be found up a tree!
How to identify a Ragdoll cat – Summary
If a cat is large and longhaired, with color point fur and a triangular head that has slanting oval eyes, then it is almost certainly a Ragdoll. If you're still unsure, then comparing them to the finer detail of the breed standard, checking their papers, or even testing their DNA are all ways to get confirmation. Let us know what you think the most important hallmarks of a Ragdoll cat are in the comments box down below!