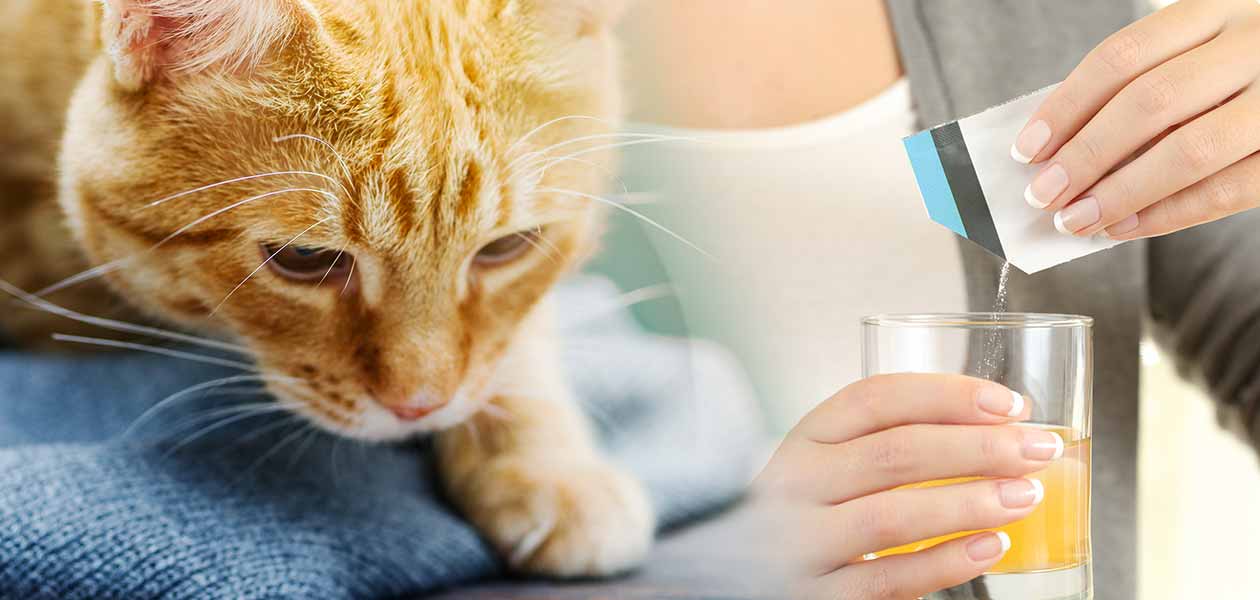 Miralax is a laxative powder that is added to your constipated cat's drinking water. When your cat digests this drug it binds to the water in their gut, preventing it from leaving their intestines. Your cat's poop becomes larger and softer inside them, contracting the bowel and making the poop pass more easily. This medication is routinely prescribed by veterinarians as a treatment for feline blockages, and works well to relieve discomfort in your constipated cat.
Contents
Today I'll share why Miralax for cats is so popular, what it does, how it works and what makes it safe and effective. But I'll also let you know what side effects to look out for, and when to stop using it and go back to the pet doctor.
What is Miralax for Cats?
Miralax for cats is a laxative, which usually comes in a powdered sachet that you add to their drinking water. It is a stool softener that makes them easier to pass.
How Often Should Cats Poop?
The general consensus is that cats poop, on average, once a day. However, there is plenty of room for healthy variation. This may be due to age, diet, or simply the fact that all cats are unique.
In fact, attempting to monitor the frequency of your cat's bowel movements is rarely the most effective way of telling whether they're constipated. Outdoor cats might do poops that you don't observe. And indoor cats might only manage to partly evacuate their bowels during a toilet trip, so that unpassed feces continue accumulating in their bowel.
Cat Constipation Symptoms
If your cat is showing any or all of the following signs, they might be suffering from constipation:
frequent unsuccessful trips to the toilet
loss of appetite
vomiting
weight loss
lack of energy
poor coat condition
What To Give Your Constipated Cat
The best treatment for constipation depends upon why they're suffering in the first place.
Cats With Megacolon
Some research suggests that most cats (around two thirds) who experience constipation had pre-existing megacolon. Megacolon is a progressive disorder where the bowel is too large. Because of this, the muscles in the bowel wall don't work properly. For these felines, constipation is a symptom of an underlying structural problem.
Blockages
The next most common cause of constipation is a tumor or healed injury 'blocking the exit', so to speak. These cats need the obstruction to be removed in order to achieve normal bowel movements again.
Less Common Causes
Still further, less common causes of cat constipation include:
dehydration
unwillingness to use their litter box because it is dirty, being shared by another cat, etc
loss of nervous control over the bowel
and side effects of medication.
Your veterinarian is best placed to determine why they are constipated. Then they will recommend a course of treatment which solves the underlying problem if possible, and shifts the existing blockage. This might involve laxatives, an enema or a new diet. And very occasionally it may involve surgery to empty or remove the affected section of bowel.
What Laxatives Are Safe For Your Cat?
Several prescription and over the counter laxatives are considered safe for cats. But none of them should be used without a vet's say-so.
For a long time, Lactulose has probably been the best known laxative used for cats. Your pet might also have been prescribed the active ingredient in Miralax under its generic name PEG 3350, before it was available over the counter. These days it is one of the most commonly recommended laxatives for cats. This is because it is easy to administer, and almost completely flavorless.
How To Use Miralax For Cats
This drug is sold as a water soluble powder, either in a tub, or single dose (for humans!) sachets. The powder can be dissolved in your cat's drinking water, or a wet food meal. Adding it to your cat's food is usually a more reliable way to ensure they consume the right dose, since cats rarely empty their water bowl.
If your constipated cat has lost their appetite, you can try adding Miralax to a warm broth instead of plain water. For some cases of constipation, your vet might prefer to admit them as an inpatient. They can then administer via a nasal drip. This is a good way to make sure they receive the correct does promptly, and monitor their response to it.
How Does Miralax Work In Cats?
The active ingredient in Miralax is polyethylene glycol 3350, or PEG 3350. PEG 3350 is hydrophilic which means it attracts and bonds water molecules. One molecule of PEG can bind up to 100 molecules of water!
When cats take this drug it binds to water in the gut and stops that water being absorbed out of the intestine. This makes their poop larger, and softer. The increase in volume stimulates the muscles in the bowel to contract and start moving their contents normally again. And being softer, it is more easily passed.
Miralax Dosage For Cats
Your veterinarian will recommend how much to add to her meals, how often, and how long for. They'll base their recommendation on factors like how severely constipated your cat is. And how far their stools are from the "optimum" consistency.
Vets report that the effective dose varies widely from cat to cat, so individualised dosing is essential. As a general guide, cats only need about ⅛ to ¼ of a teaspoon, twice a day. This is much less than the contents of a 'single dose' sachet. Those sachets contain single doses for humans!
How Long Does It Take For Miralax To Work In Cats?
This can vary a lot, from a couple of hours to a few days. Most owners notice their cat experiencing some relief within 6-12 hours of their first dose. One study found that the average time taken for Miralax to take effect in cats receiving it via nasal drip was eight hours.If it is not working after 3 days then you will need to go back to your animal doctor for further advice.
Can I Give My Cat Miralax Daily?
Give your cat Miralax once a day unless advised otherwise by your veterinarian. Continuous treatment of constipation caused by megacolon using laxatives gradually loses its effectiveness. Remember – that is most cases of constipation.
Which is why it's so important to see a vet, and establish why your cat is constipated in the first place. Because tackling the underlying cause is the only way to permanently solve the problem.
If your cat has chronic, or long term constipation, your vet might recommend a combination approaches. This could include frequent laxatives, drugs to stimulate muscle function in the gut, and a specialist high fiber diet.
How Can I Get Miralax For Cats?
The Miralax cats take is the same product widely available over the counter at pharmacies and grocery stores. If your vet recommends it, you'll be able to go and pick it up yourself, without a prescription. You can then administer it to your cat at home, with their normal meal.
Is Miralax Safe For Your Cat?
Miralax for cats is a safe, effective and palatable treatment for constipation when used under veterinary supervision. It might be insufficient to treat a large and severely impacted volume of constipation, and administered too frequently it can make a chronic constipation problem worse.
It can't solve constipation where the volume of retained poop is too much to expel normally. If this happens, your vet might recommend manually removing the blockage under general anaesthetic.
Side Effects Of Miralax In Cats
Miralax works by binding water in the gut. This stops it being absorbed through the gut wall into the rest of the body. Due to this, it can cause or exacerbate dehydration. Cats taking it should be encouraged to drink plenty of fresh water
Good ways of doing this include adding tasty, meat or fish broths to their wet food. Drinking fountains work well too.
Like any laxative, a large dose can also go a little too far, and cause diarrhea. Call your vet if you believe your cat is experiencing any side effects. (Besides the pleasant relief of finally being able to use the litter box!)
Avoid Home Remedies for Cat Constipation
Although it might be tempting to try to treat your cat's constipation with home remedies, the best course of action is to see your veterinarian. You don't know the cause of their lack of bowel movements, and it could be something that needs immediate and effective action.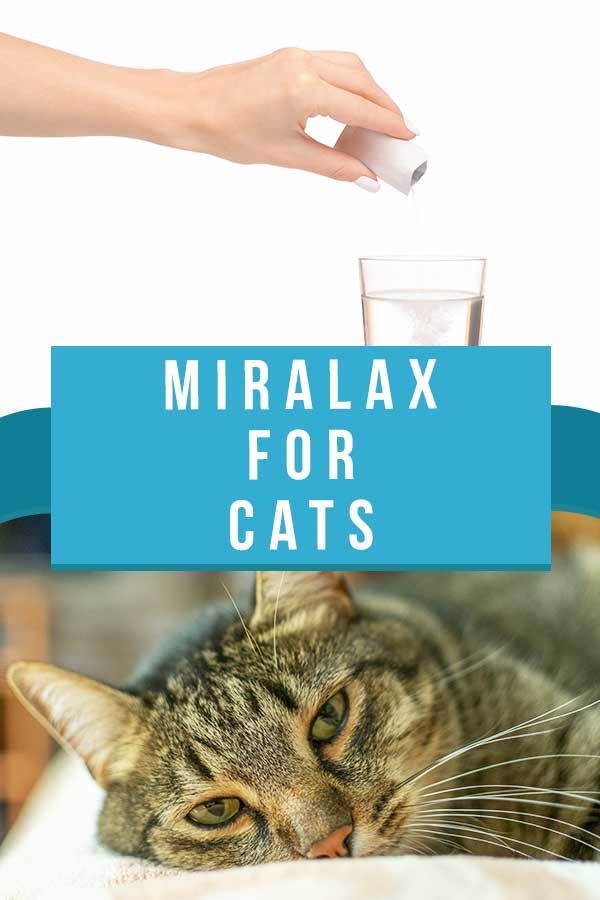 Has Your Cat Ever Needed Miralax?
Did you find it straightforward and effective to use? Have you got any tips for making it as palatable as possible, and encouraging cats to take on plenty of fluids during treatment? Let us know in the comments box!