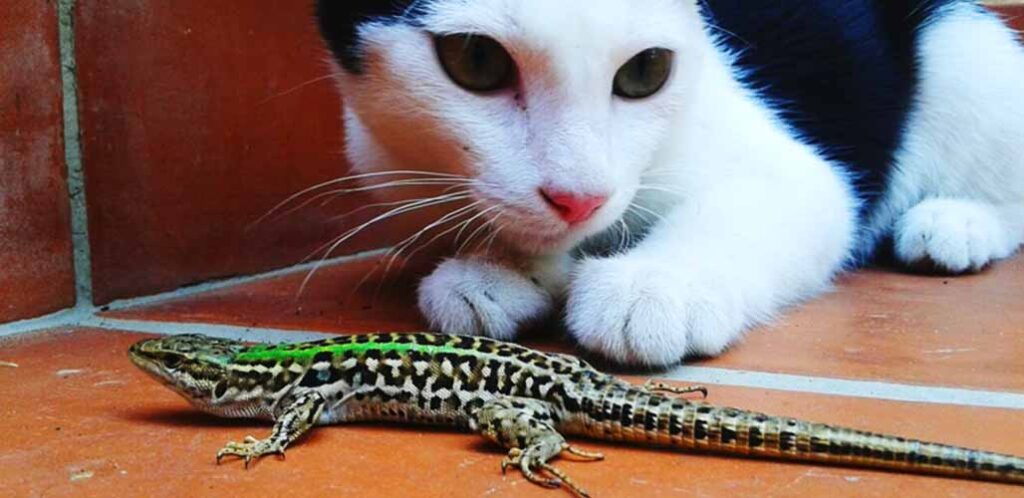 In my experience, cats are practically unrivaled in the animal kingdom for doing bizarre and alarming things with complete nonchalance. Among the most startling things I've borne witness to was when my cat ate a lizard. Honestly, a big part of the surprise was that she even found a lizard in our part of the world, but I was also pretty taken aback to see her eat it. Since then I've discovered that lizards and other reptiles are actually common prey species for both African wildcats (our pet cats' original wild ancestor) and feral cats. So they are largely safe for pet cats to eat too, but their are some important potential side effects to be aware of. Here's everything you need to know about when cats eating lizards is safe, and when it is not.
Contents
Can cats eat lizards?
It might be surprising to contemplate, but yes, cats can eat lizards. In fact, reptiles are an important prey species for African wildcats – our pet cats' original wild ancestors. Feral cats – domestic cats that have reverted back to a wild lifestyle – also hunt and eat lizards for survival. In fact, both African wildcats' and feral cats' diets are 'facultative', meaning that what they eat is largely dictated by what's available. Since small reptiles live all over the world, they are an important food source for cats who rely on hunting to survive, alongside small mammals (mostly rodents) and birds. In fact, in summer when lizards are most abundant, they can comprise up to one fifth of an African wild cat's daily diet. This suggests that cats regard them as a valuable source of energy and nutrition.
Since our pets cats remain a closely related subspecies of African wild cats, and feral cats once were domestic cats, it follows that our pet cats can eat lizards too.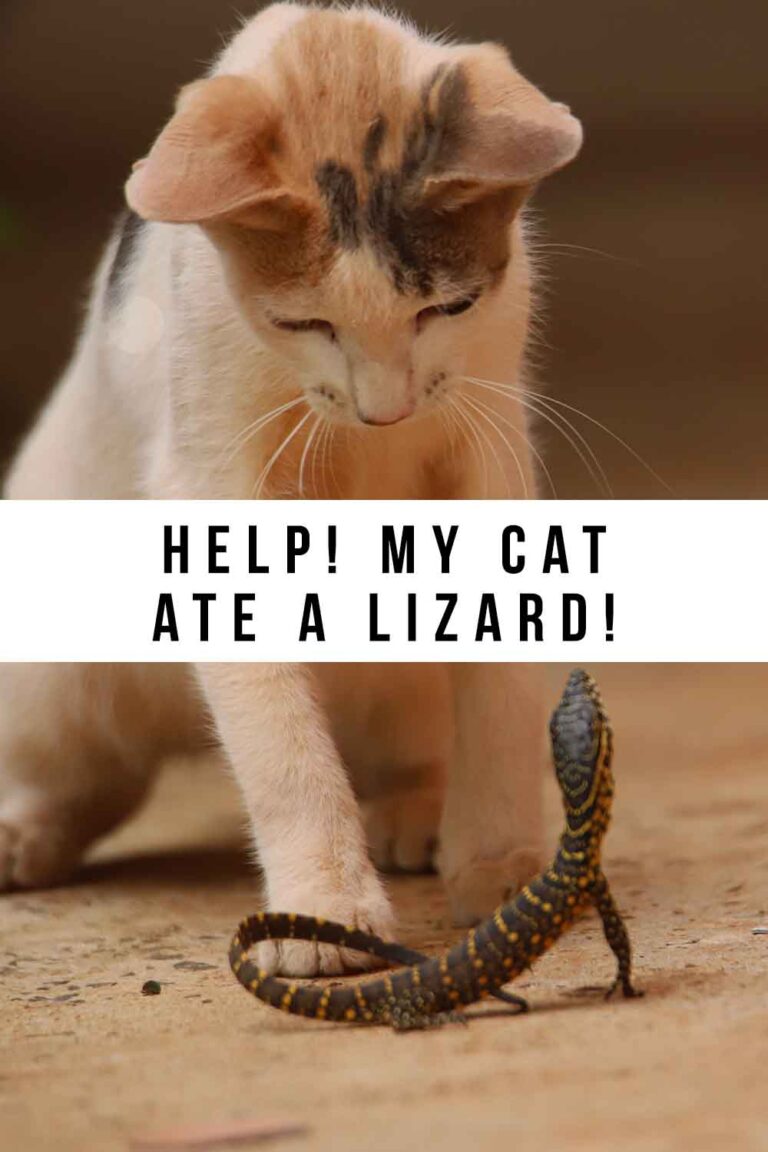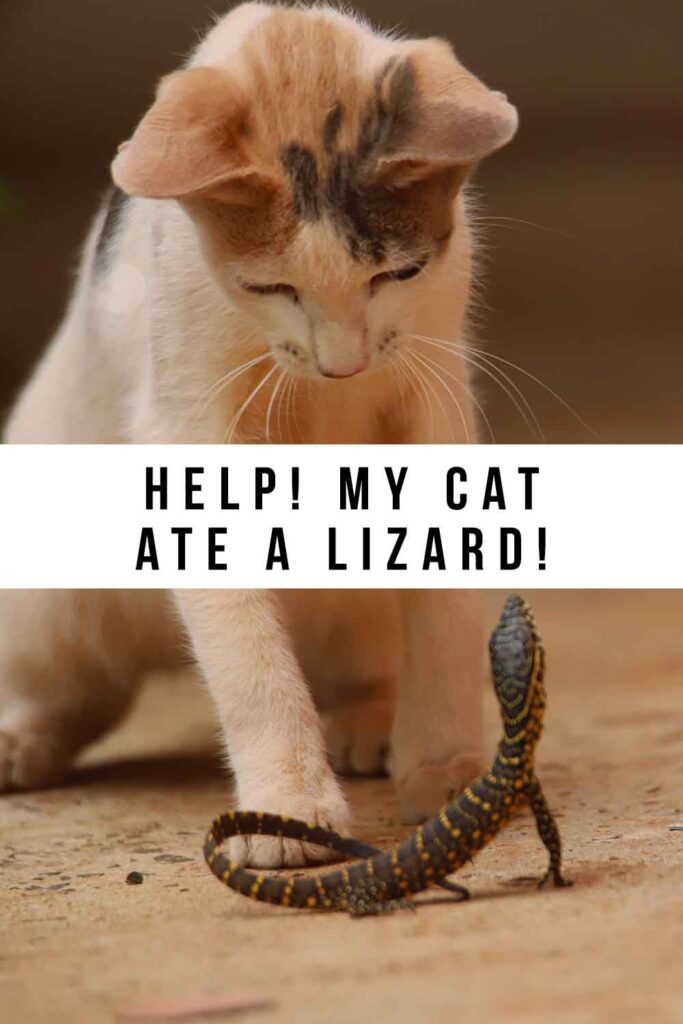 Are lizards poisonous?
So far, no poisonous lizard species have been discovered. So, most of the 150+ lizard species which call America home won't do your pet any immediate harm if they become an impromptu cat snack.
The only notable exception to this is the gila monster lizard, which is venomous. Just as a reminder: if you bite into it and it kills you, it's poisonous; if it bites you and you die, it's venomous! Gila monsters are around two feet long from their nose to the tip of the tail, and covered in distinctive rounded, knobbly scales. Their color is black mottled with yellow, pink or orange. Owing to their size, it's unusual for cats to try and catch them, but a bold cat might try to catch a juvenile lizard, or mistake a larger individual for an easy catch because they are quite slow moving. If your cat does try to catch one, it is likely they will sustain a venomous bite. And if they succeed in eating one, they could ingest the venom that way instead.
The good news is, inside America gilas are pretty restricted to southern Arizona, and small areas of Nevada and New Mexico where they border Arizona. Outside of these regions, it's unlikely your feline will ever have the opportunity to try and catch one.
Symptoms of lizard venom toxicity
Signs that your cat has been bitten by a gila monster lizard or ingested their venom are:
Bleeding and swelling at the site of a bite
Drooling
Watery eyes
Needing to pee or poop more frequently, or uncontrollably
Weakness and lack of energy
If you suspect your cat may have eaten a gila monster lizard, let your vet know right away, and follow their instructions for monitoring and controlling side effects. The good news is that venom from these lizards, whilst painful, is rarely fatal.
Skinks are not toxic
There's a common misconception the juvenile western skinks found all over the western United States are also venomous. This probably came about because their tails are bright blue when they are young. And we tend to assume that brightly colored reptile skin is a warning that the owner is poisonous, venomous or otherwise dangerous. In fact, there is no evidence that skinks are either poisonous or venomous. So their blue tail when they're young is actually more likely to be a form of Batesian mimicry – adopting the warning signs of another species to deter predators, even though they themselves are harmless.
Potential side effects of hunting and eating lizards
Unfortunately, poison and venom aren't the only ways a that snacking on a lizard could leave your cat feeling full of regret. Two other hazards, from ingesting any lizard species are:
Liver flukes
Salmonella poisoning
Liver flukes
Lizards are a key carrier species for liver flukes, especially in Texas, Louisiana, Alabama, Florida, Hawaii and Mexico. In these regions, it's estimated that anywhere between 15 and 85% of cats who are allowed to hunt outside end up infected with liver flukes due to eating lizards or toads. The flukes, which are like tiny worms, take up residence in the bile ducts which transport bile from the liver to the small intestine. Cats infected with fewer than 125 flukes don't usually experience any symptoms, but individuals with greater numbers of flukes, or who have been infected for a long time may experience:
Loss of appetite
Fever
Lethargy
Weight loss
Dull coat or hair loss
Vomiting
Jaundice
Diarrhea
Because cats acquire liver fluke infections from eating lizards, the symptoms of infestation are sometimes called lizard poisoning. But it wasn't the lizard itself that was poisonous!
Salmonella poisoning
Lizards can also carry salmonella – the bacterial infection we humans dread because it causes us fever, diarrhea and stomach cramps. Most cats infected with salmonella don't suffer any of these symptoms, unless they are very young, or their immune system is already being put under pressure by another disease. When salmonella does make cats sick – known as salmonellosis – symptoms include:
Diarrhea
Vomiting
Fever
Shallow, irregular, labored or noisy breathing
Weakness
Loss of energy
Lack of appetite
Confusion
Inflamed, watery eyes
My cat ate a lizard – what should I do next?
Oftentimes, when a cat eats a lizard there is no need to do anything about it at all. In the wild, small reptiles like skinks, geckos, whiptails, anoles and fence lizards would be part of your cat's natural diet. Especially in summer, when they are most numerous and active. Far from harming your cat, they would be a valuable source of protein!
If your pet shows any signs of poisoning, liver fluke infection, or salmonellosis after eating a lizard, contact your vet and ask for advice. It will help if you know exactly what species your cat ate.
My cat ate a lizard – summary
In the majority of cases, there is no cause for alarm if your cat catches and even consumes a lizard. In fact, they are an important part of wild cats' and feral cats' natural diet. But in regions where gila monsters live, or liver flukes are a big problem, some cat owners prefer to protect their pets by keeping them indoors.
Does your cat catch and eat lizards? Let us know in the comments section down below!